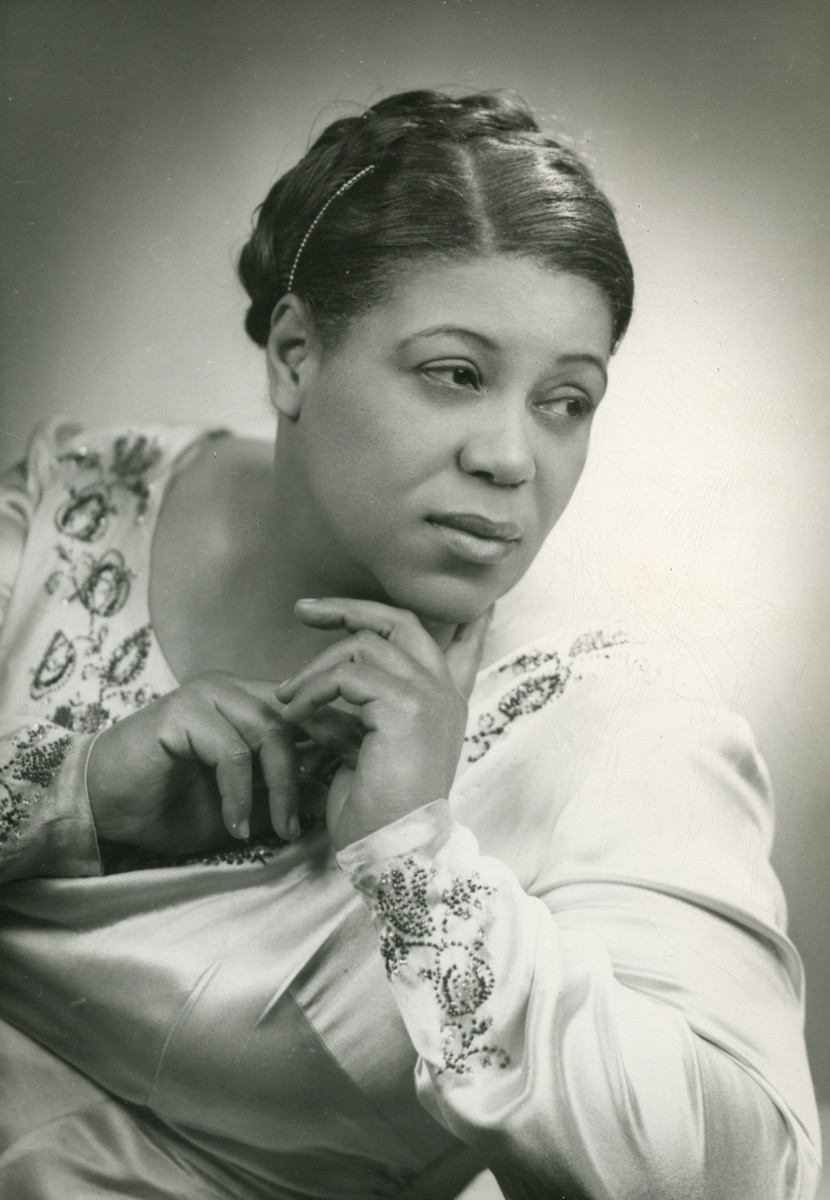 Lee, Alyne Dumas (1903–1970)
×
Benjamin Baker, Ph.D. (Howard University, Washington, D.C.) is the author/editor of seven books and 150 articles and is the creator of two websites on Adventist history. He has taught history, religion, education, literature, and English at eight universities.
First Published: January 1, 2021
Alyne Dumas Lee, world-renowned African American lyric soprano soloist, was born on March 22, 1903, in Knoxville, Tennessee. Her parents, Joseph and Clora Dumas, a common laborer and domestic, respectively, were Seventh-day Adventists.1 When Alyne was five, her mother moved the family to Cincinnati, Ohio, and then at age nine to Chicago, Illinois. Although they lived in poverty, Clora Dumas ensured that, at an early age, her promising daughter developed her musical abilities. By age eight, Alyne was her local church's organist, and at thirteen, she had obtained a musical diploma and begun teaching piano.2
Lee attended Oakwood Junior College (now Oakwood University) in the early 1920s. When her mother died in 1922, she dropped out of school and taught piano. Later she earned a Bachelor's in Music from the Detroit Institute of Musical Arts, and received additional training from masters in New York City, Germany, and France. Lee married a singer and minister, John Frank Lee, and for years taught piano and directed her local church choir.3
Lee made her major debut as a lyric soprano soloist when she performed Handel's Messiah at the Detroit Art Institute Lecture Hall on November 17, 1948.4 After a move to Chicago in 1949, Lee's professional career was managed by concert promoter and manager Bertha Ott. In the summer of 1950, Lee was a cowinner with Theodore Lettvin of the Michaels Memorial Award, the first African American to receive the distinction. The awardees performed with William Steinberg and the Chicago Symphony Orchestra on WGN radio during the first broadcast performance of the Ravinia Festival.5
On October 26, 1952, Lee debuted at New York City's Town Hall. The New York Herald Tribune exclaimed that "Alyne Dumas Lee's performance is one of the most finished and exciting to be heard anywhere."6 Critic Louis Biancolli wrote that "great voices are still few and far between. Miss Lee's is one of the few."7
Over the next decade, Lee performed music by Bach, Mozart, Handel, as well as Negro spirituals, singing in four languages, in the great musical halls of Chicago, New York City, Los Angeles, London, Paris, and Rome. Lee performed on numerous occasions with renowned orchestras including the Chicago Symphony Orchestra, with Leonard Bernstein, guest conductor, and the Philadelphia Orchestra conducted by Eugene Ormandy. She appeared on television and radio across the United States.
Reviews of Lee's performances appeared in the New York Times, Chicago Tribune, Washington Post, and Los Angeles Times. Claudia Cassidy (Chicago Tribune) wrote that Lee has "one of the genuinely beautiful voices of our time."8 "Miss Lee is doubtless a dramatic soprano whose breadth of utterance reaches far outside the recital hall into the operatic beyond," stated Seymour Raven (Chicago Tribune).9 Julian T. Sullivan (Indianapolis Star) said that Lee's "name belongs in the same breath with that of Marian Anderson."10
After heart attacks in 1962 and 1964, Lee severely cut back on her public performances. In 1962, she began teaching voice repertoire at the Cosmopolitan School of Music in Chicago.
A lifelong Seventh-day Adventist, Lee was Oakwood College's first Artist in Residence from 1966-1970 while also a professor of voice in the Music Department.11 Throughout her life, she prolifically raised money for Seventh-day Adventist churches and programs, and also performed at two General Conference sessions. Chapel Records, an imprint of Pacific Press, produced two Dumas records: Alyne Dumas Lee, Soprano and Prayer, Praise, and Power.
Alyne Dumas Lee died from a massive heart attack on March 30, 1970, leaving behind her two adopted daughters, Angela Lee Merriweather and Susan Lee Baker. That year, at the General Conference session in Atlantic City, New Jersey, there was a "pause to pay respects to fellow workers who have fallen in the past quadrennium." The final name spoken was "Mrs. Alyne Dumas Lee of Oakwood College."12 Since her death, there have been several music scholarships in Dumas' honor.
Sources
Abdul, Raoul. Blacks in Classical Music: A Personal History. New York: Dodd, Mead & Co., 1977.
Bertha Ott Papers, 1890s-1961, Chicago Collections. http://explore.chicagocollections.org/ead/newberry/72/h990n58/.
Hollomon, Lillian Wright. "My Cousins and Me." Unpublished manuscript, 1988.
McGinty, Doris Evans. A Documentary History of the National Association of Negro Musicians. Chicago: Center for Black Music Research, Columbia College, 2004.
Morrow, Sara Sprott. "She Sings the Lord's Songs." Message, December 1953.
Moseley, C. E. "A Great Voice Arrives." North American Informant, December 1952.
Notes