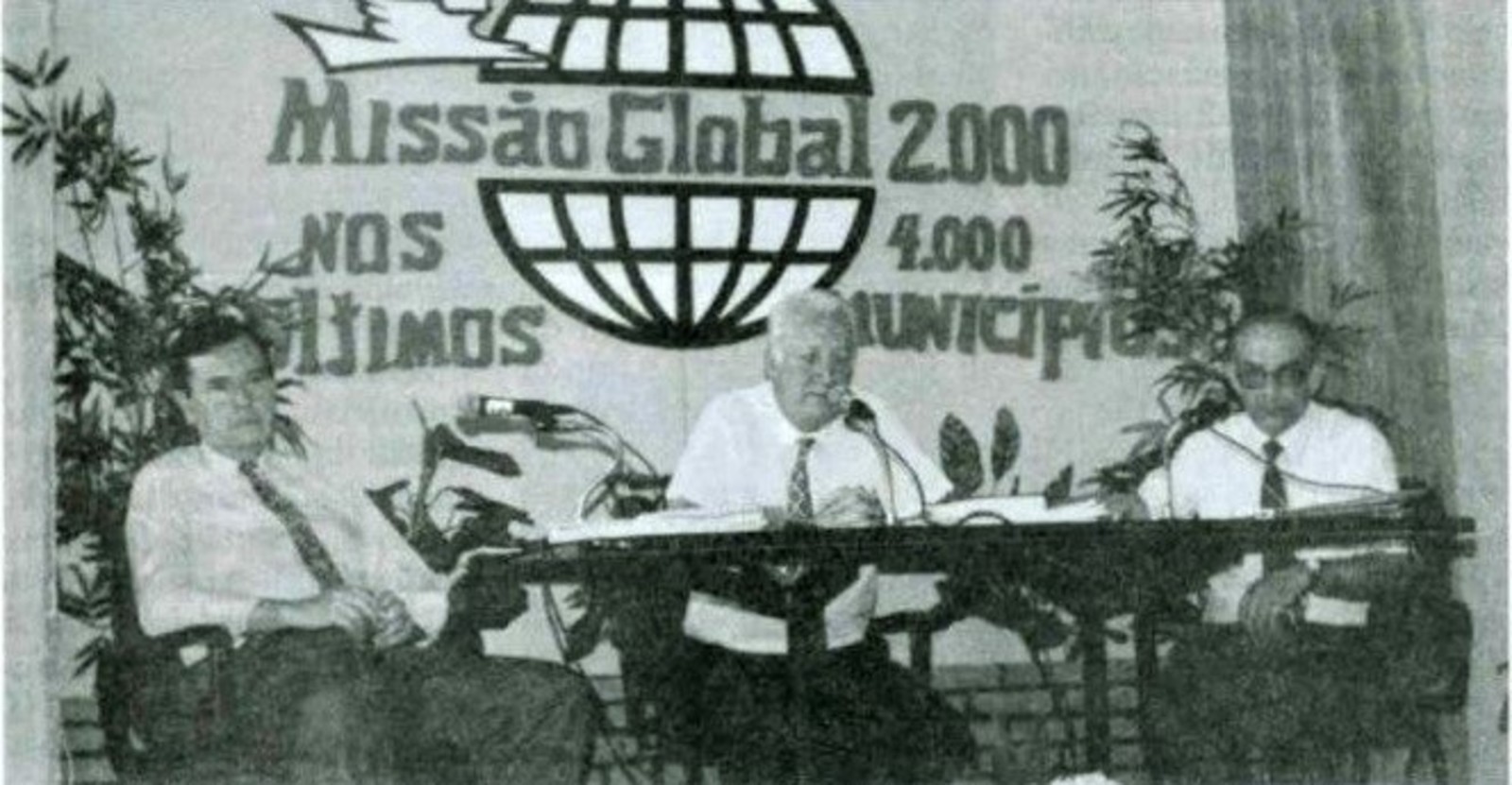 Nestares, Daniel (1922–2018)
First Published: January 29, 2020
Daniel Nestares was a pastor, church institutional and field administrator, and department director in the Austral Union Conference of the South American Division as well as in the Philippines and Nepal.1
Early Years and Studies 
Pastor Daniel Nestares was a descent of Spanish and French immigrants who came from Europe seeking a life free from war and financial hardship. Nestares was born June 29, 1922, in the city of Bahía Blanca, Buenos Aires province, Argentina. His parents were Lesmes Nestares (1880-1962) and Graciana Chute (1895-1979).2 Graciana learned of the Adventist message in Bahía Blanca, Buenos Aires province, and in 1919 Pastor James T. Thompson baptized her. For several years she was a member of Bahía Blanca church, where she was the children's Sabbath School teacher.
Lesmes and Graciana Nestares had two children: Manuel Héctor (1920-1992) (for 30 years the presenter on "The Voice of Prophecy" radio program conducted by Dr. Braulio Pérez Marcio) and Daniel Nestares. Their mother took both of them to the Adventist congregation in Bahía Blanca from infancy.
When Daniel finished primary school, he attended Bahía Blanca Escuela Nacional de Comercio, where he graduated with a business degree that served him well in his subsequent work as an administrator within the Adventist Church. Graciana's firm influence, despite her husband's opposition (he never joined the church), shaped the future of her two sons who went to study theology at River Plate Academy, Entre Ríos, Argentina. Manuel graduated from the ministerial course in 1942 and Daniel in November 1943.3 While at school, Daniel also worked as an office assistant at River Plate Sanitarium (1941-1943).
Marriage and Ministry 
On January 18, 1944, Daniel married Ester Gaudino (1921-2011) in a ceremony officiated by E. I. Mohr at River Plate Academy. Ester was born March 22, 1921, in Puiggari (currently Libertador San Martín), Entre Ríos, Argentina, the daughter of Pedro Gaudino and María F. Gutiérrez. Baptized on November 9, 1935, Ester graduated with an educational degree (1951), in addition to studying shorthand and typing. Her sewing skill was useful with the arrival of the family's three children: Roberto Daniel (born December 30, 1945, in Puiggari, Entre Ríos) and married to Delia Dupertuis; Nélida Ester (February 19, 1948, and died 2005), married to George Díaz; and Raúl Ariel (born June 20, 1960, in Florida, Buenos Aires, Argentina), an economics teacher and public accountant currently serving in the treasury department of the General Conference and married to Silvia Morales. Ester and Daniel Nestares had seven grandchildren: Gustavo, Marcelo, Rubén, Sussy, Jorgito, Martín and Gretel. They also had seven great-grandchildren: Lucy, Lara, Nico, Maty, Harald, Eirik, and Franco.
The first call he received was to serve in Bolivia, but because of Ester's serious health problems, physicians advised them not to accept it. Then they received an invitation to work in the Uruguay Republic. Daniel started his ministry in Montevideo, Uruguay, as an assistant to Mario Rasi, an evangelist for the Uruguay Mission. Nestares then continued his ministry at Melo, Treinta y Tres, and Río Branco, Uruguay.
Héctor J. Peverini, president of Austral Union Conference, ordained Daniel at River Plate Academy (1962) in a ceremony attended by pastors Juan Riffel from the South American Division, Pablo Seidl, president of Central Argentine Conference, José Tabuenca, director of River Plate Academy, and other ministers.
During 51 years of uninterrupted services, Nestares did evangelism in Uruguay (1944-1946), was treasurer of Uruguay Academy (1947-1949) and River Plate Academy (1950-1954), vice treasurer of the Austral Union Conference (1954-1956), treasurer of the Austral Union Conference (1956-1965), manager of River Plate Sanitarium (1966-1970), health department director of the South American Division (1971-1975), executive secretary of the South American Division (1976-1985), manager of the Adventist International Institute of Advanced Studies (AIIAS) in the Philippines (1986-1992), and finance manager of Shears Memorial Hospital in Nepal (1993-1995).
Final Years 
Retiring in 1996, he lived in Libertador San Martín, Entre Ríos, Argentina, and took care of his wife, who suffered from a progressive illness, for 14 years. He actively participated in community organizations such as the Public Services Cooperative, a water utility for the neighborhood. People highly valued his experienced and prudent advice. In addition, he was active in the support of fellow retirees.
Dying January 9, 2018, at the age of 95,4 Nestares left a testimony of love to God and service to his neighbor.5
Sources
La voz del colegio [Voice of the Academy]: review published weekly by the students of River Plate Academy. Puiggari, Entre Ríos: November 1943.
Nestares, Roberto. Roberto Nestares to the author, March 19, 2018. Author's personal archive.
Mayr, Werner. "Daniel Nestares: Satisfacciones que superan los sueños" [Daniel Nestares: Satisfactions that surpass dreams]. Revista Adventista [Adventist Review], May 1994.
Noticias – Adventistas [Adventist News]. "Fallece pastor adventista Daniel Nestares" [Adventist pastor Daniel Nestares dies]. https://noticias.adventistas.org/es/noticia/institucional/fallece-pastor-adventista-daniel-nestares/. Accessed on March 27, 2018.
Notes