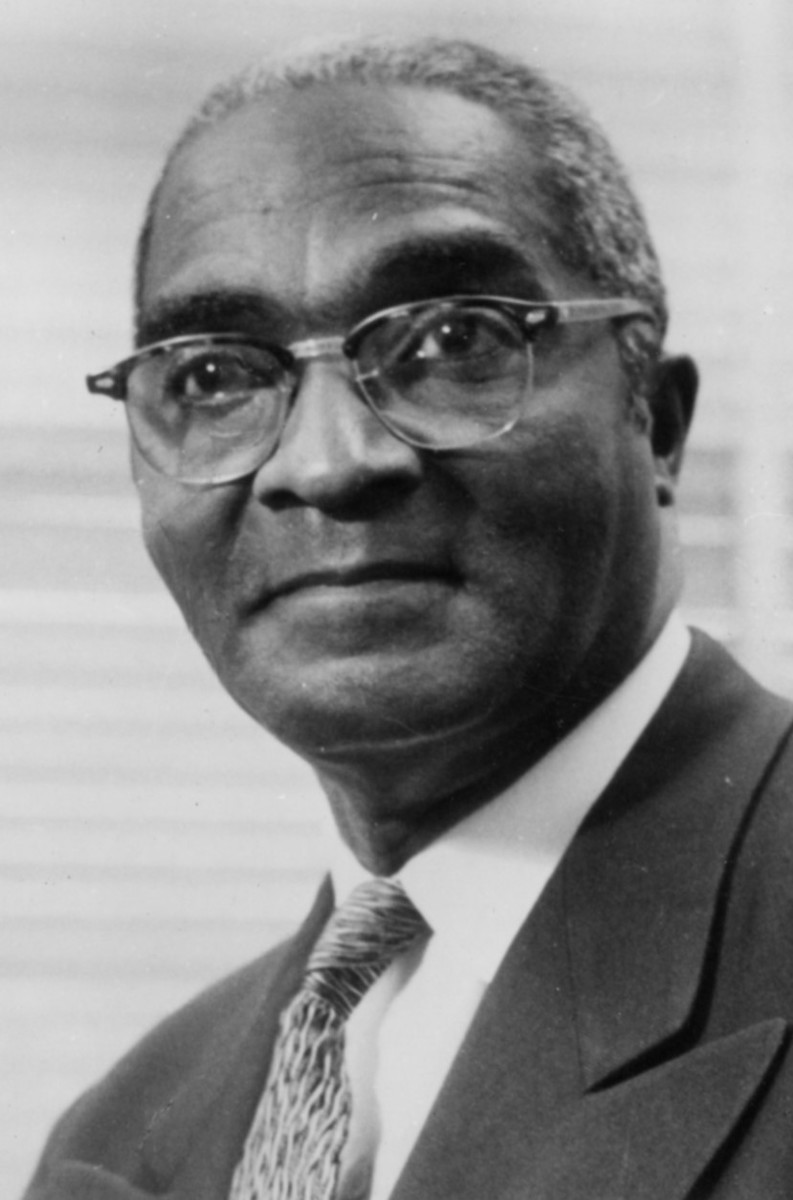 Peterson, Frank Loris (1893–1969)
×
Calvin B. Rock has served the Seventh-day Adventist church for more than six decades as pastor-evangelist, administrator, scholar and author. He has given leadership as president of Oakwood University (1971-1985) and as a general vice president of the General Conference of Seventh-day Adventists (1985-2002). He holds a D.Min. and a Ph.D. in religious ethics, both from Vanderbilit University. The most recently published of the several books he has authored is Protest and Progress: Black Seventh-day Adventist Leadership and the Push for Parity (2018).
First Published: November 3, 2021
Frank L. Peterson, pastor, educator, administrator and author, was one of the denomination's foremost Black leaders from the 1930s to the 1960s. He was president of Oakwood College for nearly a decade and the first Black Adventist to become a vice president of the General Conference.
Early Life and Education (1893-1916)
Frank Loris Peterson was born August 12, 1893, in Pensacola, Florida, the youngest of four children of Frank and Elizabeth Peterson. Raised in a devout Methodist household, he received his education in both public and private Methodist schools, completing high school at Pensacola Normal School. When J. H. Laurence (1885-1987) conducted an evangelistic series in Pensacola in 1907, Frank was baptized and joined the Seventh-day Adventist Church at the age of 14.1
Frank enrolled at Pacific Union College in Angwin, California, majoring in religion and music. In 1916 he became the first African American graduate of that institution.2
Teacher and Administrator (1916-1930)
Peterson spent the first 14 of his 50 years of church service in the areas of education, evangelism and church administration. His initial assignment following graduation was as a school teacher for the Kentucky-Tennessee Conference for the 1916-1917 school year. During the summer of 1917, Peterson used his musical gifts and training to assist P. G. Rodgers (1885-1961) with evangelism in Baltimore, Maryland.3 From 1917 to 1927, Peterson taught music and English at Oakwood Junior College (now Oakwood University) in Huntsville, Alabama. He was the school's first full-time Black faculty member.4 In 1927 he became assistant Missionary Volunteer and Education Department secretary for the Southern Union Conference, responsible for the Black membership.5
While at Oakwood, Peterson married Bessie Jean Elston (1894-1973) of Anniston, Alabama, on May 3, 1922. Mrs. Peterson taught in a number of the church schools in areas where her husband served. They parented five children, Frank, Jr., Marjorie, Katherine, Calvin and Clara. Both of their younger daughters became the wives of Seventh-day Adventist ministers. Katherine was wed to Luther (Bobby) Palmer, and Clara became the wife of Calvin B. Rock.6
Negro Department Leader and Oakwood President (1930-1954)
Peterson accepted a call from the Southern New England Conference to serve as pastor of the Berea church in Boston, Massachusetts, beginning in January 1930. His ordination to the gospel ministry was bestowed on December 28, 1929 just before he left the Southern Union. His pastoral ministry in Boston was cut short after seven months when the General Conference appointed him secretary (director) of the Negro Department. In this position, which he held for 11 years, he was responsible for overseeing and promoting the interests of the Black Adventist work throughout the United States and Canada. Peterson returned to the pastorate in 1941 at the large Wadsworth (now University) church in Los Angeles, California. He also served as the first Colored Department secretary of the Pacific Union Conference (1942-1945).7
Peterson was summoned back to the educational arena in 1945 to serve as president of Oakwood Junior College. He led the school in building up its infrastructure and reaching the academic standards necessary for full accreditation as a four-year college granted by the Southern Association soon after his departure in 1954.8
General Conference Administrator (1954-1966)
After nine years as president at Oakwood, Peterson entered the final phase of his service to the church – 12 years of administrative responsibilities at the General Conference. From 1954 until 1962 he simultaneously held the position of associate secretary of the General Conference and resumed his former role as director of the Regional Department (the new name given in 1954 to the former Negro Department, then, since 1942, Colored Department).9 In 1962, at the 49th General Conference session, held in San Francisco, Peterson was elected as a vice president of the General Conference. He was the first African American to serve in this office and he remained in that post until he retired in 1966 at the church's next General Conference session in Detroit, Michigan.10
In addition to his general duties, his election to the office of vice president of the world church ushered him into the role of advisor for American church leaders during the turbulent Civil Rights era (1954-1968). Similarly, his presence proved valuable in African countries and nations of color elsewhere, where he was the first General Conference church administrator of African descent to address their needs and assist in ameliorating various administrative, theological, and social issues. Peterson's preaching prowess, dignified bearing and wise counsel in conference sessions and committees contributed positively to international church harmony and understanding in numerous other countries around the world.
In addition to his musical, speaking and administrative gifts, Peterson was an avid writer. Among his more memorable contributions to church life in this regard are two books, The Hope of the Race (Southern Publishing Association, 1934) and Climbing High Mountains (Review and Herald Publishing Association, 1962).
Final Years (1966-1969)
The Petersons remained in Washington, D.C., for about a year following Elder Peterson's retirement, but then moved to Los Angeles, California, in 1967. They were attracted there in part by their love for southern California, where they had labored for a number of happy years, and the fact that several of their children and grandchildren lived in the area. Not long after their arrival, one of their young grandchildren, Frank III, died. The day after attending his funeral service, held on August 29, 1967 in Los Angeles, Peterson was hospitalized at the White Memorial Medical Center. Then, just after his release two weeks later, his wife, Bessie, was admitted to the same facility. There is no record of his ever returning back to denominational headquarters where he had spent more than two decades in national and international service. On December 12, 1967, he notified the General Conference that he and his wife had changed residence to California.11
Peterson died at age 76 on October 23, 1969, at White Memorial Medical Center in Los Angeles after becoming ill from a kidney infection.12 Bessie Elston Peterson, his wife for 47 years, died on August 21, 1973, also in Los Angeles.13
Legacy
Frank L. Peterson was a major figure in twentieth-century Adventism. For almost two decades he led the Black Adventist work in North America as head of the Negro (later Regional) Department. He rendered service to the world church as a whole as a general vice president of the General Conference. In this capacity, Peterson had the distinction of serving as chairman of the board of trustees at Oakwood where he had been both a professor and president and where a men's dormitory, Peterson Hall, bears his name.
Sources
Bland, F. L. "Life Sketch of Frank Loris Peterson." ARH, December 4, 1969.
"Elder F. L. Peterson Passes Away in Los Angeles." Pacific Union Recorder, November 20, 1969.
Hetzell, M. Carol. "Frank Loris Peterson obituary." Southwestern Union Record, November 22, 1969.
Peterson, Frank Loris. Sustentation file. RG 33. Box 9762. General Conference of Seventh-day Adventist Archives, Silver Spring, MD (GCA).
Warren, Mervyn A. Oakwood! A Vision Splendid Continues, 1896-2010. Huntsville, AL: Oakwood University, 2010.
Notes