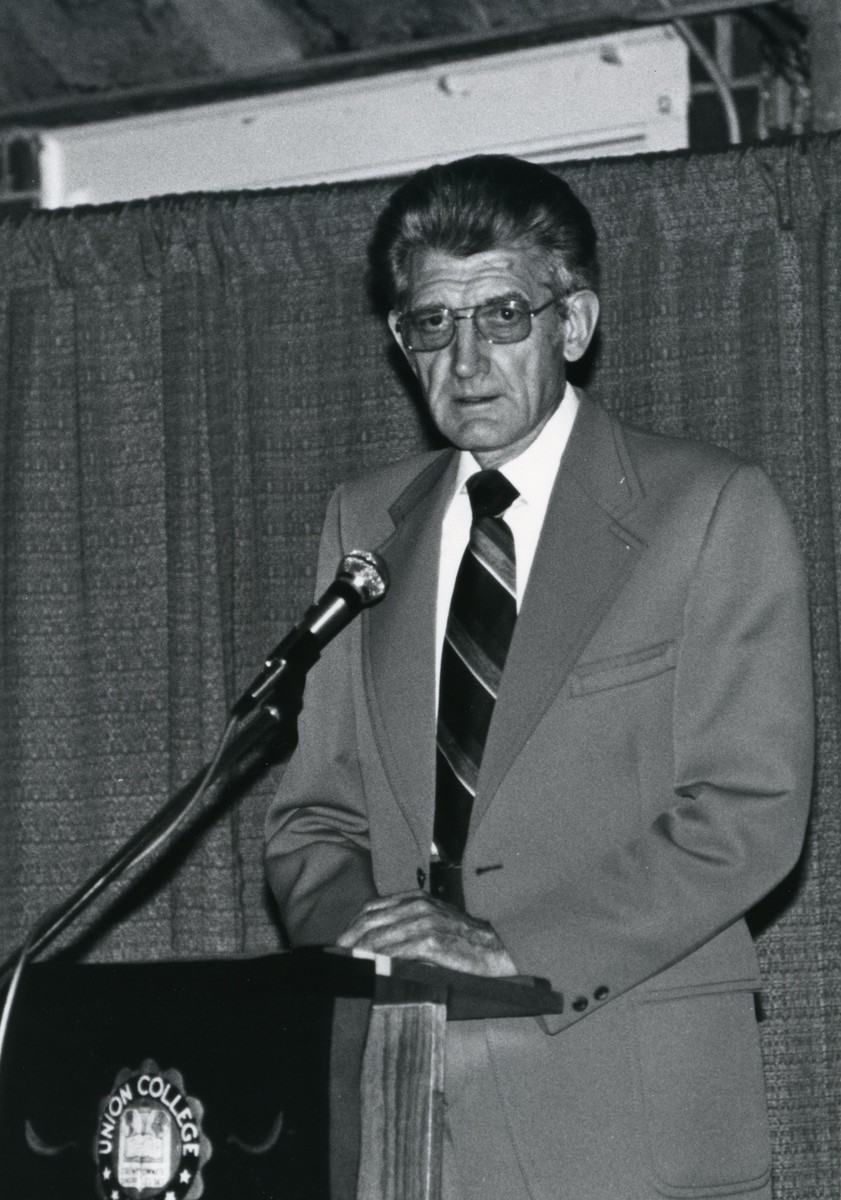 Manley, Myrl Otis (1913–1988) and Gertrude Elizabeth (Sherman) (1912–2015)
×
Sabrina Riley was born in Auburn, New York and raised in Dowagiac, Michigan. She received a B.A. in history from Andrews University and an M.A. in information and libraries studies from the University of Michigan. Riley was a member of Andrews University's library staff from 1998 to 2003, library director and college archivist at Union College from 2003 to 2016, and is presently a freelance researcher, author, and information professional.
First Published: January 29, 2020
Myrl Manley was an Adventist educator in the North American Division and the Southern Asia Division, and he founded the World Mission Institute.
Myrl Otis Manley was born on July 11, 1913, the younger son of Otis Albert (1866–1943) and Kathryn "Katie" Carrie (Nadig; 1869–1923) Manley. Their elder son was Albert Austin (1901–1989). The Manleys farmed near Stockton, Illinois, United States of America (U.S.A.).1 When Katie became ill and died in 1923, her mother, Barbara Elizabeth (Shultz) Nadig (1848–1939), stepped in to raise Myrl Manley. The Nadigs and Shultzes were German immigrants, and Barbara's brother, Henry Schultz (1843–1926), was a well-known Adventist minister.2
Education
Manley attended Fox River Academy in Sheridan Illinois, where he met his future wife, Gertrude Elizabeth "Beth" Sherman (1912–2015). Both attended Emmanuel Missionary College in Berrien Springs, Michigan, U.S.A. Myrl Manley completed a master of arts degree at Pacific Union College in 1948,3 an education specialist degree in 19564 at Stanford University, and a Ph.D. in educational administration, also at Stanford University, in January 1966.5 He was ordained as a minister of the gospel on March 8, 1941, in Delhi, India.6
Marriage and Family
In 1934, Manley married Beth Sherman. Trained as a Bible instructor, she accompanied her husband wherever he was called and worked where she was needed. In India, Beth Manley taught home economics and penmanship, among other subjects. After the Manleys moved to Spicer College in Bangalore Heights, Mysore State, India, she took secretarial training and worked as a secretary for much of her career thereafter. The Manleys were the parents of two sons, James Otis (1940–1988) and Robert Elliott (1943–2015). James followed his parents' example of mission service, working in East Africa. Robert became an orthopedic surgeon.7
Career
Following college graduation in 1935, the young couple moved to Cedar Lake, Michigan, where Manley served as boys' dean, managed the print shop, and taught at Cedar Lake Academy for five years.8
In 1940, the Manleys were called to India. Arriving on November 9, 1940, they stayed in Ranchi, where they studied the Hindi language before commencing their educational mission.9 Manley taught Bible at Vincent Hill School in Mussoorie, India, starting in 1941 and later served as boys' dean. In 1944, he became principal and business manager of Spicer College.
At the end of World War II, Manley was called to Burma with instructions to rehabilitate denominational facilities damaged or confiscated by war.10 In April 1946, Manley toured Upper Burma, inspecting war-damaged mission stations, schools, and medical facilities.11 He was president of the Burma Union from 1946 to 1952, during which time the Rangoon Hospital reopened due to his efforts.12 In 1952, Manley returned to India and Vincent Hill, where he took up principalship of Vincent Hill School.13
After 22 years in India and Burma, the Manleys permanently returned to the United States of America in 1962. Following the completion of his doctorate in 1966, Manley moved to Andrews University (formerly Emmanuel Missionary College), where he founded the World Mission Institute14 and later became dean of students. Between 1973 and 1980, Manley served Union College as president in Lincoln, Nebraska, U.S.A. During his tenure, Manley was credited with increasing Union College's enrollment by 20 percent and completing construction of the Dick Administration Building.15
Retirement
Manley retired in 1980.16 He remained active, fundraising for Union College and serving a three-year term as interim president of Caribbean Union College in Trinidad. He also returned to Union College as interim president for a short time in 1985/86. Manley died on August 15, 1988, at his home in Loma Linda, California, U.S.A.17 Beth Manley died on March 13, 2015, at the age of 102.
Legacy
Myrl Manley loved working with young people.18 The esteem in which his many students and colleagues held him was evident through their loving tributes. He was often characterized as a kind, supportive, and able administrator, and influential mentor.19 In recognition of their love and respect for Manley, at Union College the student center and at Spicer Memorial College the boys club were named in his honor.20
The legacy of Manley's commitment to education influenced his son, James, along with his family, to spend nine years in East Africa. James Manley was the first business manager of the University of Eastern Africa in Baraton, Kenya. Myrl Manley's grandson, Brian Manley, continued the family tradition, working with Adventist students serving in closed countries and, later, teaching at Middle East University, Beirut, Lebanon.21
Myrl Manley also served the broader community in many ways, including as vice-president of the Nebraska Independent College Foundation in 1976.22 Upon his retirement, he was awarded a key to the city by the mayor of Lincoln, Nebraska. The Nebraska State Legislature passed Senate Resolution LR211, recognizing Manley's many achievements as president of Union College.23
Sources
"Death of Elder Henry Shultz." ARH, February 18, 1926.
Dick, Everett, George Gibson, and Union College Staff. Union College: Light Upon the Hill. Lincoln, NE: Union College, Alumni Association, 2004.
"Division Notes." Eastern Tidings, November 11, 1940.
"Dr. Manley Honored at Banquet." Northern Union Outlook, May 12, 1980.
Fowler, John M. "Myrl Manley obituary." Southern Asia Tidings, November 1988.
"Gleanings." Eastern Tidings, November 1945.
"Katie C. Manley." Find a Grave. Accessed March 24, 2019. https://www.findagrave.com/memorial/80343940.
Loasby, F. H. "Biennial Report of the Northeast India Union—1939 and 1940." Eastern Tidings, March 1941.
Louis, S. J. "Spicer Missionary College News." Eastern Tidings, September 15, 1947.
"Manley Dies." ARH, September 8, 1988.
Manley, Myrl Otis. "A Brief History of the Origin, Growth, and Organization of Seventh-day Adventist Schools in the Northeast India Union." M.A. thesis, Pacific Union College, 1948.
———. "Factors Affecting Faculty Mobility in Eight Seventh-day Adventist Liberal Arts Colleges Within the United States." Ph.D. diss., Stanford University, 1966.
———. "The Formulation and Implementation of a Guidance Program for Vincent Hill School, Mussoorie, U.P., India." Ed.S. thesis, Stanford University, 1956.
———. "Visiting Upper Burma." Eastern Tidings, August 1, 1946.
———. "World Mission Institute Held at Andrews." ARH, September 8, 1966.
"Manley Named President of Independent College Foundation." Clocktower, April 23, 1976.
Mattison, O. O. "News from the Northwest." Eastern Tidings, April 1941.
Michigan Death Records. "Myrl Otis Manley." Michigan Department of Community Health, Division for Vital Records and Health Statistics, Lansing, Michigan. Accessed March 24, 2019. http://www.ancestry.com.
"Myrl O. Manley obituary." ARH, November 10, 1988.
"Myrl O. Manley obituary." Inter-American News Flashes, October 1988.
Seacrest, Gary. "Manley President of Union College: With 'Firm' Since 1935." Lincoln Journal Star. July 21, 1973.
"UC's First Ladies Interviewed." Clocktower, April 11, 1980.
Notes