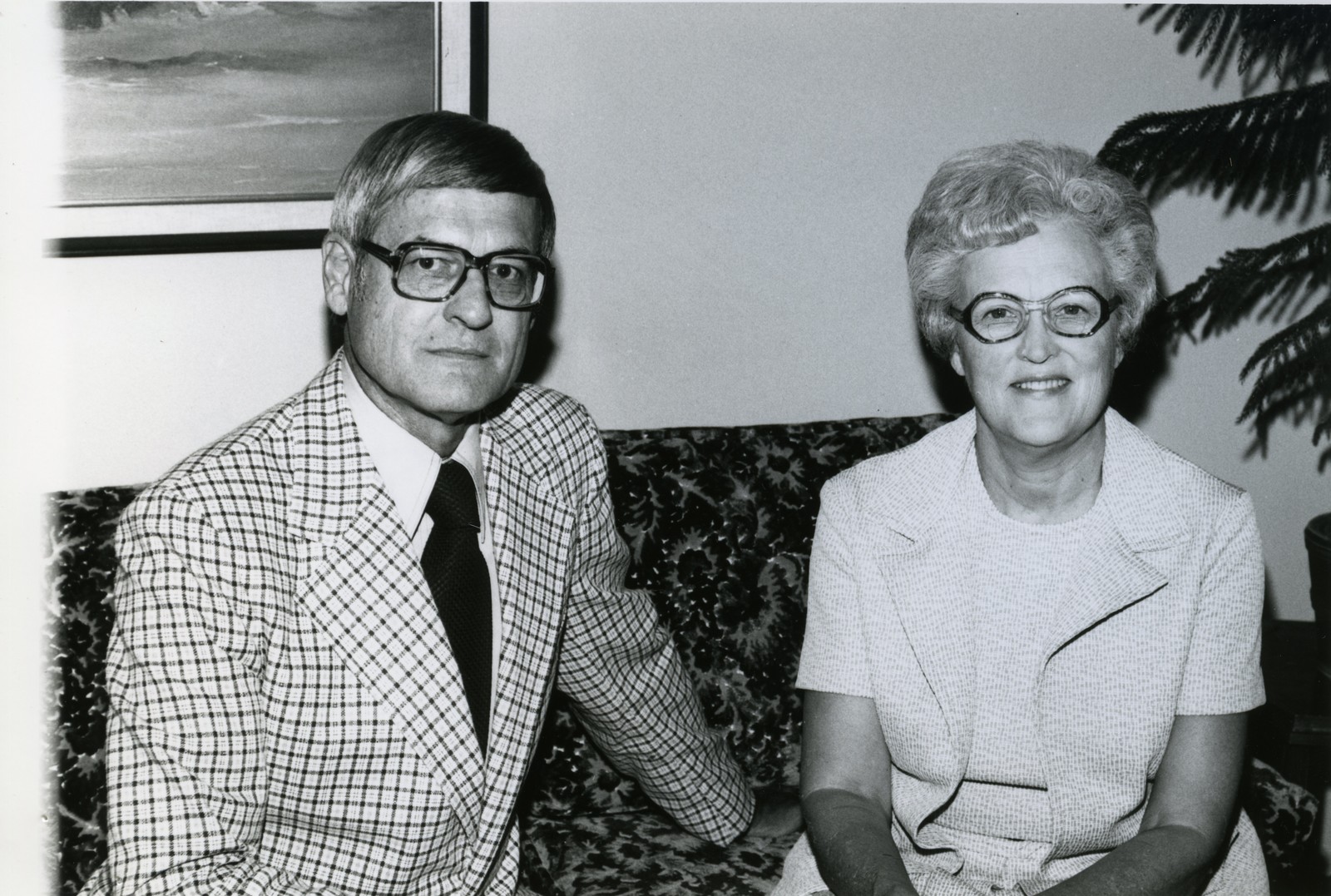 Rowland, Neil Wilson (1919–2010)
×
Sabrina Riley was born in Auburn, New York and raised in Dowagiac, Michigan. She received a B.A. in history from Andrews University and an M.A. in information and libraries studies from the University of Michigan. Riley was a member of Andrews University's library staff from 1998 to 2003, library director and college archivist at Union College from 2003 to 2016, and is presently a freelance researcher, author, and information professional.
First Published: January 29, 2020
Neil Wilson Rowland, an Adventist educator and administrator, was born in Singapore on July 5, 1919 to James Wilson and Gertrude Solomon Shaffer Rowland (1886–1968; 1886–1981).
Early Life
James Rowland was mission director in Singapore and later the British North Borneo Mission. A third-generation Adventist, Neil Rowland was the only son among four children. His sisters were Gretta Jean (married Marion Mohr), Jula Joan (married Charles Richard Lickey), and Lola Jane (married James L. Pogue). Many members of the family were service-oriented. Both Gretta Jean's and Jula Joan's husbands were ministers. Lola and her husband served in Southeast Asia and Guam.1 First cousins Norma Rhoads Youngberg and Belle Rhoads Minchin also served in Adventist mission fields with their husbands. Their youngest sister, Mildred Rhoads Bennett, created the Willa Cather Pioneer Memorial and Educational Foundation, and James Berton Rhoads, Rowland's first cousin once removed, was archivist of the United States from 1968 until 1979.2
Education and Marriage
Rowland was 14 when his family returned to the United States and settled at Auburn Academy in Washington State. While attending Auburn Academy, he worked in the student industry on campus, a furniture factory, and developed a skill he later brought to Union College, where furniture he built for his sister, Lola Rowland Pogue, inspired the college administration to start a furniture factory in order to provide more opportunity for students to work their way through college.
At the end of 1943 Rowland's college studies were interrupted when he was inducted into the United States Army on December 26. His Army experience included training at Camp Carson in Colorado, and service as a medical laboratory technician in a field hospital in India. After his discharge on January 3, 1946, Rowland returned to college, graduating in 1947 with a bachelor's degree in business administration and a minor in chemistry.3 Rowland taught at Enterprise Academy for three years, then attended the University of Nebraska, where he completed a master's degree in plant ecology, followed by a PhD in plant physiology in 1961.4
In 1943 Rowland married Marie Elizabeth Sanders, a 1942 graduate of Union College. When the Rowlands returned to Lincoln in 1952, Marie accepted a position at Helen Hyatt Elementary School, where she taught until 1977. The Rowlands had three children–Janice Gail, a teacher who married Eddie Lee Seltmann; Dale, a physician who married Colleen Suzanne Dunphy; and Bonnie Jean, a physical therapist who married Kurt Frederick Schindler.5
Career
Rowland's 25-year tenure at Union College began in 1952, when he became chair of the Biology Department. From 1967 to 1976 Rowland served as academic dean, during which time Union College achieved National Council for Accreditation of Teacher Education (NCATE) accreditation. He was a member of Sigma Xi (the scientific research honor society), the American Society of Plant Physiologists, and the Nebraska Academy of Sciences.6
Desiring less-demanding work, the Rowlands accepted a call to Mountain View College in the Philippines in 1977, where Rowland served as chair of the Science Department until 1983, when they retired and returned to Lincoln, Nebraska.7
Later Years and Contribution
In retirement Rowland remained active in the Lincoln, Nebraska, community, serving on many church committees and volunteering at Union College and College View Academy. For many years he assisted the Union College Nursing Department with accreditation studies. At College View Academy he taught science classes for a brief time.8 Rowland was well respected for his long years of faithful service to Adventist education.
Following his wife's death in 2009, Rowland moved to Apopka, Florida, where he died on December 20, 2010.9 
Sources
Nieuwsma, Alex. "Remembering James Berton 'Bert' Rhoads, Fifth Archivist of the United States (1968–1979)." United States National Archives. Pieces of History (blog), April 13, 2015. https://prologue.blogs.archives.gov/2015/04/13/remembering-james-berton-bert-rhoads-fifth-archivist-of-the-united-states-1968-1979/.
Rowland, Neil Wilson. "Effect of Excessive Mulch on the Environment and Growth of Prairie Vegetation." M.A. thesis, University of Nebraska, 1952.
———. "Effects of Maleic Hydrazide on Transpiration of Red Kidney Bean." Ph.D. diss., University of Nebraska, 1961.
"Rowlands Accept Call to Philippines." Central Union Reaper, August 25, 1977.
Seventh-day Adventist Yearbook. Washington, D.C.: Review and Herald Publishing Association, 1955 and 1960.
Notes