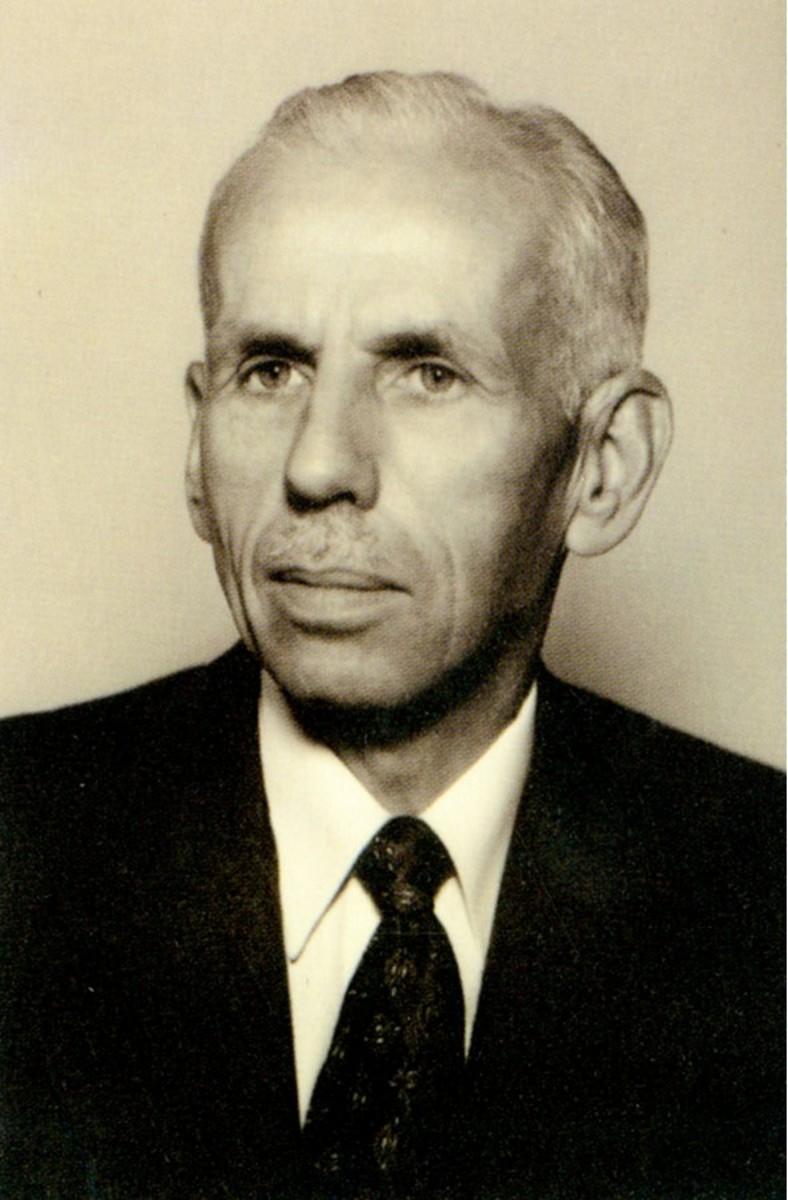 Rue, George Henry (1899–1993)
×
Milton Hook, Ed.D. (Andrews University, Berrien Springs, Michigan, the United States). Hook retired in 1997 as a minister in the Greater Sydney Conference, Australia. An Australian by birth Hook has served the Church as a teacher at the elementary, academy and college levels, a missionary in Papua New Guinea, and as a local church pastor. In retirement he is a conjoint senior lecturer at Avondale College of Higher Education. He has authored Flames Over Battle Creek, Avondale: Experiment on the Dora, Desmond Ford: Reformist Theologian, Gospel Revivalist, the Seventh-day Adventist Heritage Series, and many magazine articles. He is married to Noeleen and has two sons and three grandchildren.
First Published: October 6, 2020
George H. Rue, MD, missionary physician, led in developing widely respected Adventist medical institutions in Korea despite repeated setbacks and forbidding circumstances during the years of World War II and the Korean War.1
Early Life and Education
George Henry Rue was born in Alameda, California, on June 27, 1899, to Henry Peter Rue and his wife, Fanny Elizabeth (Knight) Rue. His father was a printer in the Pacific Press Publishing Association, nearby in Oakland. His only sibling was Alice Jeanette (b. 1907).2 He attended Laurelwood Academy, 1913-1914, and Mountain View Junior Academy, 1914-1916, followed by Pacific Union College, 1916-1920. In 1920 he advanced to the College of Medical Evangelists in Loma Linda (now the Loma Linda University School of Medicine).3
After completing his first year of medical school, George married Mae Belle Ames on June 19, 1921. Two children were born into their family: Betty Jane (b. 1923) and George Henry II (b. 1925).4
In 1924 George graduated with his medical degree and practiced in California and Washington state. He received a medical missionary appointment in 1929, assigning him and his family to work in Korea.5
Seoul Sanitarium and Hospital
On arrival in Korea the new missionary family traveled north to Soonan (now Sunan) near Pyongyang to join Dr. Riley Russell at his clinic, established in 1908. Dr. Rue worked there for two years and learned some of the language and customs of the local people.6 At the 1931 biennial session of the Korean Mission, church officials set in motion plans for a central medical facility in Seoul, and the following year Rue moved south to get it established.7 He rented an eight-bed hospital as a temporary measure and in 1934 began the building of what became known as the Seoul Sanitarium and Hospital.8 Funds for the project were donated by the Korean government and a Thirteenth Sabbath Offering (an offering for mission projects given at Adventist sabbath schools worldwide four times each year). Dr. Rue had continued to minister to patients under primitive conditions during the building program. It was officially dedicated on February 15, 1936.9 Mae Rue toiled hard as matron of the institution from its infancy.10
The opening of the sanitarium was a triumph for both George and Mae, but tragedy struck later in the same year when Mae became ill and died on December 16, 1936. She was laid to rest in the Yanghwajin Foreign Missionary Cemetery, Seoul.11 Six months later George Rue and his two children boarded the Kongo Maru and sailed back to California.12
Having arranged for the care of his children, Dr. Rue hurried back to Korea, working long hours to care for rich and poor patients alike, including personnel of the American Embassy. In 1941, with World War II underway, Americans were forced to leave Korea and Japanese forces took control of the hospital. Rue returned to his children for the remainder of the war years and practiced in Montebello, suburban Los Angeles.13
Medical Ministry Amidst the Korean War
While in the homeland George met and married Grace Zilda Lea in Grand Junction, Colorado, October 31, 1946.14 She was a trained nurse. Soon after the wedding the couple sailed for Seoul to resume work at the Sanitarium. Rue found the institution had been stripped of all its equipment. He had to start again. In a short time he had it functioning as a 138-bed facility treating maternity cases, tuberculosis, intestinal parasites, malnutrition and other ailments. At this time his patients included American diplomatic staff and Syngman Rhee, who became president of the South Korean republic in 1948.15
In June 1950, Dr. Rue flew back to America on a business trip, planning to return to Korea in two weeks' time. However, four days after his departure, North Korean troops invaded Seoul. Grace and other Americans fled to Japan and eventually their homeland.
American and South Korean troops then pushed the invaders back to a line north of Seoul. Hostilities continued as the Americans arranged for Dr. Rue to return and meet a desperate need for medical help. He arrived in October 1950 with the American ambassador to find his hospital ransacked and every window smashed. However, the structure itself was left intact on the orders of a North Korean officer who knew Dr. Rue and had previously been a patient.
Rue had barely restarted the hospital when Seoul was captured once more by enemy forces. Thousands of homeless people fled south to Pusan (Busan) and Cheju Island. President Rhee assigned a school building on Cheju Island for Dr. Rue to use as a make-shift hospital in addition to a warehouse in Pusan for the same purposes. By June 1951 Seoul was liberated and Dr. Rue returned to another shambles. A special offering in America raised $100,000 to refurbish the Seoul hospital.16
During the worst of the Korean War years George and Grace Rue, with the aid of nurse Irene Robson, shuttled between Seoul, Pusan, and Cheju Island to keep the three medical facilities functioning.17 They were assisted by a few nationals who had trained at Seoul Sanitarium. Conditions were primitive. In Pusan, Dr. Rue's office chair was an upturned crate, his desk nailed together from broken-down containers and his examining table assembled from assorted boxes. An orphanage was also opened in Seoul for approximately seventy children.18 Dorcas societies in America dispatched generous quantities of warm winter clothing.19
Recognitions
George and Grace took their first furlough in 1954. At a banquet in Los Angeles, Dr. Rue was named the College of Medical Evangelists School of Medicine Alumnus of the Year.20 Prior to his furlough President Rhee awarded him the Republic of Korea Medal and the mayor of Seoul honored him for his work among the orphans. Later, in 1963, the Chung-ang University in Seoul awarded Dr. Rue an Honorary Doctor of Laws degree for his work in Seoul and Pusan.
George and Grace Rue continued their medical ministry in Korea until 1967 when they finally retired.21 At that time the Seoul Sanitarium and Hospital was listed as a 110-bed facility.22
George enjoyed good health. He and Grace retired to the quiet community of Nordland on Marrowstone Island in the state of Washington.23 He passed away peacefully at the age of ninety-four on October 18, 1993, and was laid to rest in Sound View Cemetery, Nordland.24 Grace passed away on July 13, 2009, aged ninety-eight, and was interred in the same cemetery. Their headstones carry both English and Korean inscriptions.25
Sources
Brown, Henry F. "Clothing for Korea." ARH, October 9, 1952.
"George Henry Rue." FamilySearch. Accessed March 11, 2021, https://www.familysearch.org/tree/pedigree/landscape/LZK8-NV5.
"George Henry Rue." Find A Grave. Memorial ID no. 77999723. Accessed March 12, 2021, https://www.findagrave.com/memorial/77999723/george-henry-rue.
"Grace Zilda (Lea) Rue." Find A Grave. Memorial ID no. 77999560. Accessed March 12, 2021, https://www.findagrave.com/memorial/77999560/grace-zilda-rue.
Griggs, Frederick, "A New Sanitarium in Korea." ARH, August 13, 1936.
Lee, C. W. "Unsung Heroes of Korea." ARH, November 29, 1951.
"Mae Belle (Ames) Rue." Find A Grave. Memorial ID no. 79469451. Accessed March 12, 2021, https://www.findagrave.com/memorial/79469451/mae-belle-rue.
Neff, Merlin Jr. "George H. Rue Honored at C.M.E. Banquet." ARH, December 2, 1954.
Oberg, H.A. "May Belle (Ames) Rue." Far Eastern Division Outlook, March 1937.
Oswald, T. L. "A Visit to Korea." ARH, January 10, 1952.
"Pioneer Physician to Korea Dies at Age 94." North Pacific Union Conference Gleaner, May 16, 1994.
Secretariat Missionary Files, RG 21, Record 114941, General Conference Office of Archives, Statistics, and Research, Silver Spring, Maryland (GCA).
Roth, D. A. and C. A. Oliphant. "In the Steps of the Master Physician." ARH, November 9, 1967.
Seventh-day Adventist Yearbook. Washington, D.C.: Review and Herald Publishing Association, 1931-1967.
Notes