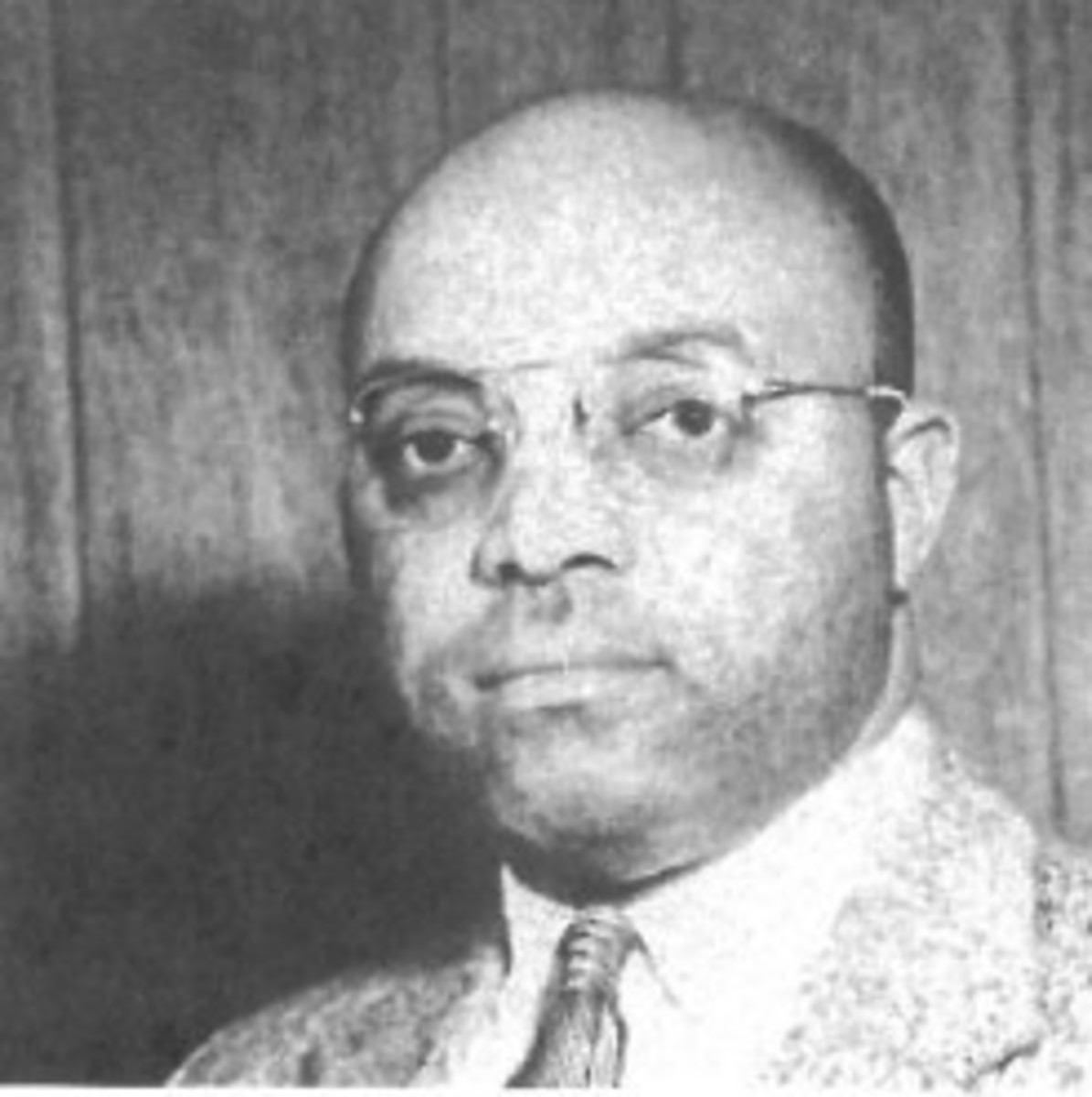 Galley, Charles Eugene (1916–1975)
×
Cherryl A. Galley, Ph.D., is the daughter of Charles Eugene Galley. She is the former dean of the School of Arts and Sciences and previous chair of the Department of Psychological Sciences at Oakwood University, Huntsville, Alabama.
First Published: January 29, 2020
Charles Eugene Galley made his major contributions at Oakwood College (now a university) as a professor of business education and as a business administrator.
Charles was born on January 20, 1916, in Washington, D.C., to Charles E. Galley, Sr., and Luberta Robinson (1892–1968).1 He was the older of their two children, having a sister, Wilhelmina. Although his father died when he was quite young, his mother introduced him and his sister to a kind and loving God. Charles's spiritual life was nurtured by his Sabbath School teacher, Mrs. Myrtle G. Murphy.2 As a result, he committed himself to God early in life and was baptized into the Ephesus Seventh-day Adventist Church in Washington, D.C.3 His mother, who had remarried, was a member of the Ephesus church, where she was affectionally known as "Mother George." She was an active member of the Dorcas Society and always kept clothing and a warm meal ready in her home for those in need.4
Galley's academic path involved a variety of educational settings. In Washington, D.C., he attended the Douglass-Simmons Elementary School and Shaw Junior High.5 He graduated from Armstrong High School in 1934, after which he received a scholarship to Howard University.6 Even amid the hardships of the Great Depression, he did not accept the scholarship.7 Instead he fulfilled his tremendous desire to attend Oakwood Junior College. During his matriculation at Oakwood he served as an associate editor and advertising manager of the publication named The Acorn.8 From Oakwood he went to Pacific Union College (PUC) in Angwin, California, where he was able to work, fund his education, and thereby lighten the financial load from his mother.9 He thoroughly enjoyed his work in the printshop while he studied at PUC. It was a perfect setting for him in that it matched and extended the experience he obtained while working in the school printing departments during his junior high, senior high, and college educational pursuits.10 In 1939 he graduated from PUC with a bachelor's degree in business administration and a minor in religion.11 A lover of learning, he furthered his education by completing his Master of Education degree in 1949 at the University of Pittsburgh.12 Subsequently, during Oakwood's summer breaks he continued his graduate studies at Pitt and reached doctoral candidacy in the process.13
In addition to his academic pursuits, Charles Galley was a family man. On April 10, 1941, he married Anne Ebron of Johnstown, Pennsylvania. Their wedding was held in Washington, Pennsylvania. God blessed their union with three children: Charles, Cherryl, and Carleton. The couple's love for God, teaching, education, music, and ministry was shared generously with each other, the church, the school, and with many friends.14
Galley began his 37-year teaching and administrative career in Pittsburgh, Pennsylvania, where he served as principal of the school at the Ethnan Temple Seventh-day Adventist Church from 1940 to 1942.15 It was there that he met Anne Ebron, who assumed her first teaching appointment at the school.16 After their marriage and several years of work in these capacities, the Galleys moved to Huntsville, Alabama, to join the Oakwood faculty in 1942.17 Professor Galley served as the chair of the Department of Business Education until 1959.18 He also taught classes at the J. T. Stafford Academy in Huntsville, Alabama.19 Ardent in his quest to keep his students fully abreast of cutting-edge initiatives in the business world, he developed and maintained close relationships with businesses and businessmen in local and nearby cities. He regularly took his classes to various establishments to introduce them to the latest business machines and technical equipment. Galley did not restrict his institutional activities to the Business Department alone. In addition, his services extended to the printshop (using the old stencil duplicating machines to produce the institution's documents such as "The Spreading Oak"), to the management of the college store and the college dairy, summer dean of men, and assistant business manager.20 His work and ministry were combined with that of his dear wife who taught first and second grades at the Anna Knight Elementary School, taught part-time in Oakwood's Music Department, and was the faithful pianist for the college choir and the campus church.21
Professor Galley's connection with God inspired him to build on his early spiritual love for Sabbath School by enthusiastically becoming a Sabbath School superintendent for Oakwood's church, which was then held in the Moran Hall Auditorium. The programs he prepared were creative and improvisational, involving the faculty, staff, and students of the college.22
After his retirement from Oakwood College, Professor Galley continued to reside with his family in Huntsville, Alabama. He passed away on November 14, 1975.23
Charles Galley was notably the first face of Oakwood College for incoming students for many years. He would be present to pick them up from the Huntsville train station, bring them to the campus, introduce them to the school's facilities, and assist them in adjusting to their new environment. His family kindly embraced students with regular Sabbath dinners in their campus home. Through these fellowship gatherings, lifelong extended-family relationships developed and were maintained over the years. He was instrumental in building the careers of students who later became pastors, denominational and public administrators, accountants, educators, medical professionals, and administrative assistants with instruction in subjects such as bookkeeping, accounting, and typing. Mr. Galley was loyal and fervent in his commitment to God and his call to service at Oakwood.24
Sources
"Charles Eugene Galley obituary." Oakwood College church, November 18, 1975. Oakwood University Archives.
"Oakwood College." Seventh-day Adventist Yearbook. Washington, D.C.: Review and Herald Publishing Association, 1944–1959.
"Oakwood Junior College." Seventh-day Adventist Yearbook. Washington, D.C.: Review and Herald Publishing Association, 1942, 1943.
Notes