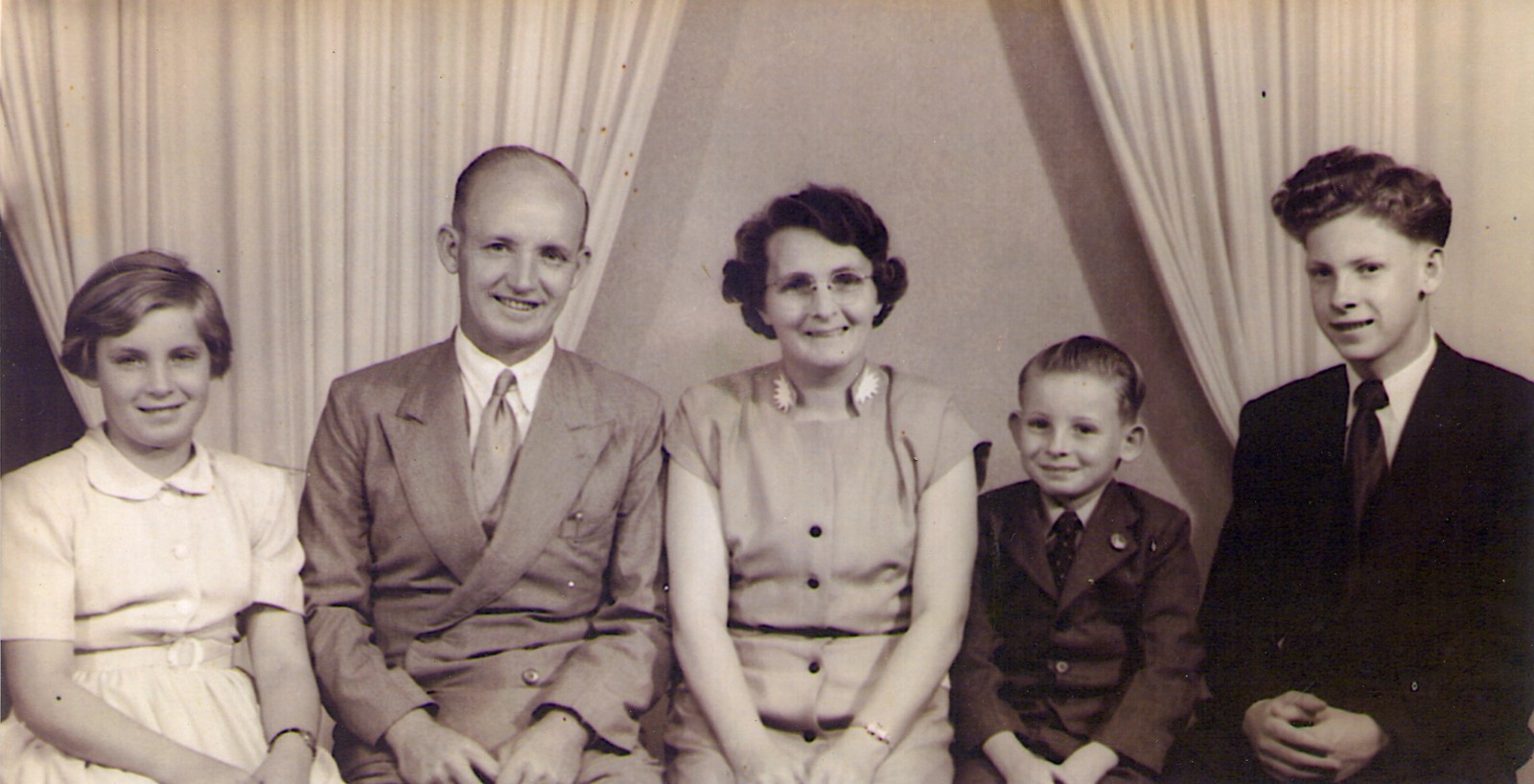 Gallagher, Algenon (1915–1988) and Edna May (Roberts) (1913–1999)
×
Originally trained as a secondary history teacher, a career long Adventist educator, Lester Devine, Ed.D., has taught at elementary, secondary and higher education levels and spent more than three decades in elected educational leadership positions in two divisions of the world Church, NAD (1969-1982) and SPD (1982-2005). He completed his forty years of denominational service with a term as director of the Ellen G. White/Adventist Research Centre at Avondale University College in Australia where his life-long hobby of learning and presenting on Adventist heritage issues became his vocation. 
Algenon and Edna Gallagher spent 38 years in pastoral ministry for the Seventh-day Adventist Church. Of those years, fifteen were spent in mission service in the islands of the South Pacific.
Algenon Gallagher, also known as Algie, was born in Hobart, Tasmania, on June 7, 1915.1 Gallagher became an Adventist due to the "personal labors of Pastor W. D. Smith" and was baptized in 1932.2 After spending a year in literature evangelism, Gallagher attended Avondale College between 1935 and 1937. At the end of 1937, he was appointed the sawmill manager at Put Put on the island of New Britain, New Guinea.3 Before taking up his appointment, he married Edna May Roberts (born September 16, 1913 in Tasmania)4 on February 16, 1938, in the Moonah, Tasmania Seventh-day Adventist Church.5 Roberts was also been born in Hobart, on October 16, 1913.6
Algie and Edna Gallagher sailed for New Guinea on March 12, 1938. They were among a group of 31 missionaries who left Sydney for appointments during that week. At the time, it was a record number of Adventist missionaries to depart for new appointments in the same week.7 During their short stay at Put Put, the Gallagher's first son, Harold Bruce, was born in Rabaul.8
The family transferred to Batuna in the Solomon Islands at the beginning of 1939 where Gallagher was again assigned to work in the sawmill.9 During their time at Batuna, he began to work in pastoral and evangelistic endeavors, visiting the various mission stations.10
After a furlough taken in 1941, Algie and Edna Gallagher were moved from the Solomon Islands to the New Hebrides. Algie Gallagher became the director of the Aoba District in the New Hebrides Mission.11 They had only been there a few months when it became necessary to evacuate expatriates because of the impending hostilities of World War II. On the way back to Sydney their daughter, Alvine Joy, was born at sea.12 The family, together with a number of others arrived back in Sydney in early April.13 They were assigned work in Tasmania.14
However, the Gallagher's did not long remain in Tasmania. By December 1942, Gallagher and J. B. Keith returned to the New Hebrides, initially staying in Aore.15 Their wives and children remained in Australia.16 By May 1943, Gallagher had returned to his mission station at Aoba,17 where Edna Gallagher and the two children joined him in November 1943.18 Just before the end of the war, their second son, Lyn Arthur, was born.19 A second daughter, Noelene (Naughton) was born some years later in Kingaroy, Queensland.20
Following the war, the Gallagher family continued their service in the New Hebrides until 1953.21 Upon returning to Australia at the end of 1953, Gallagher was a church pastor in Queensland until the family moved to the Greater Sydney Conference April 1961. When they left at the end of 1967, the conference president, Claude Judd, wrote that "Pr. A Gallagher was a dedicated, loyal and fruitful worker in the Greater Sydney Conference. He was an excellent church pastor and a good counsellor. We regret losing him."22
Between January 1968 and February 1973, Gallagher ministered in Tasmania. While in Launceston, the Gallaghers donated 5 acres of land for the development of Riverside Retirement Village.23 In 1973, they moved to the North New South Wales Conference where they cared for the Murwillumbah and then the Gosford churches until their retirement at the end of 1975.24
In retirement, Algie and Edna Gallagher returned to Vanuatu for the 70th anniversary celebrations of the establishment of the Church in that country, and celebrated their 50th wedding anniversary.25 On August 9, 1988, Algie Gallagher died at the age of 73.26 Edna Gallagher died in Elizabeth Lodge Retirement Hostel, Normanhurst, NSW, on March 26, 1999.27
Sources
"A number of the missionaries..." Australasian Record, May 4, 1942.
Algie Gallagher Biographical Records. South Pacific Division of the General Conference Archives.
Algie Gallagher Service Records. South Pacific Division of the General Conference Archives.
"Brother A. Gallagher..." Australasian Record, January 16, 1939.
"Brother A. Gallagher..." Adventist Record, September 22, 1941.
Cormack, J. "The Half-Year's Work." Australasian Record, September 2, 1940.
Grosser, B. C. "Life Sketch: Pastor Algie Gallagher." Australasian Record, October 22, 1988.
Grosser, Bert and A. D. Pietz. "Edna May Gallagher obituary." Record [South Pacific Division], May 8, 1999.
Moulds, H. G. "Gallagher-Roberts." Australasian Record, March 21, 1938.
"News from the New Hebrides." Australasian Record, May 31, 1943.
"Our readers will be pleased..." Australasian Record, November 29, 1943.
"Recent Appointments." Australasian Record, January 17, 1938.
Roberts, V. Noel. "Pr. and Mrs. Algie Gallagher." Australasian Record, July 2, 1988.
"There was a great relief..." Australasian Record, April 27, 1942.
"Thirty-one Sail for the Islands in One Week." Australasian Record, March 28, 1938.
Tucker, C. "What the Missionaries Found." Australasian Record, October 18, 1943.
"We are happy to announce..." Australasian Record, December 14, 1942.
"Word from the New Hebrides." Australasian Record, January 18, 1943.
Notes