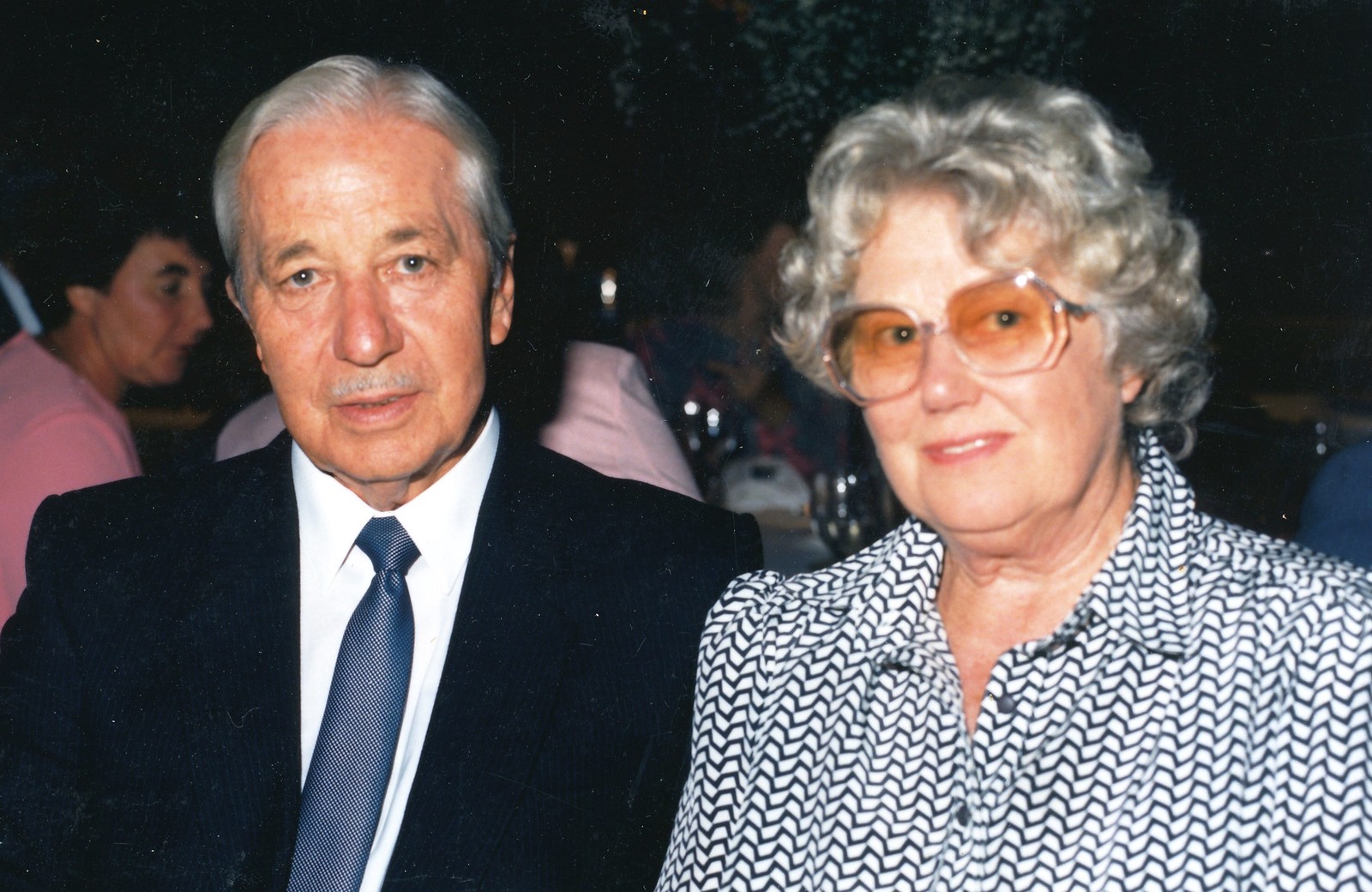 McCutcheon, Oliver David Freeman (1915–1998) and Dulcie Mavis (Roberts) (1917–2020)
×
Alexander Shand Currie, Ed.D. (Andrews University, Berrien Springs, Michigan, USA) retired in 2001 as assistant to the president of the South Pacific Division of Seventh-day Adventists, Sydney, Australia. A New Zealander by birth, Currie has served the Church as a pastor, evangelist, college teacher, director of Theological Education, departmental director at conference and union levels, hospital chaplain, and administrator. In retirement he oversees International Children's Care Children's operations in Cambodia, Thailand and the Philippines and Solomon Island Educational Support. He has authored significant publications and magazine articles. He is married to Beverley with four adult sons, twelve grandchildren and three great grandchildren.
Oliver David Freeman McCutcheon was an Adventist pastor and administrator in the Australasian Division. He and his wife, Dulcie, spent thirty of their forty-five years of service for the Church as missionaries in the island nations of the South Pacific.
Early Life and Education.
Oliver David Freeman McCutcheon (known as Freeman or Free) was the third child born to the McCutcheon family, on March 18, 1915, in Taradale, Napier, New Zealand. His parents, David Oliver McCutcheon and Agnes Elizabeth Freeman McCutcheon were prosperous local dairy farmers producing much of Napier's milk supply.1 David McCutcheon was not a baptized Seventh-day Adventist until later in life, but he was always very supportive of his wife's and children's Sabbath-keeping.
McCutcheon's mother was born on Christmas Day in 1887, in Timaru, South Island, New Zealand, but soon after her birth her parents moved to Taradale (North Island) where they became founding members of the newly established Adventist church in Napier, after A. G. Daniells's evangelistic meetings and pastoral work of 1888 and 1889. Although unaware of the Seventh-day Adventist denomination before Daniells's arrival, Agnes Freeman's mother kept the Sabbath and shared her faith with her children. On the McCutcheon side of the family, Alexander McCutcheon and his wife Maggie, charter members of Napier Tract Society (founded on March 31, 1889) and members of the Napier Church (opened in 1890) were a brother and sister-in-law of David Oliver McCutcheon's father.2
Freeman McCutcheon had seven siblings, Hylton James (1909-1989), Margaret (1912-1972), Linda Elizabeth (Lois) (1917-2010; adopted); Valerie Agnes (1920-1993), Godfrey Colin (1924-2011), Alan Lionel Samuel (1927-2002), and Gwendoline Mary (1931-2011).3
Freeman McCutcheon was educated at Napier Technical College and at 15 years of age enrolled in the New Zealand Missionary College (NZMC), an Adventist boarding school established at Longburn, a few kilometers south of Palmerston North. As a student, he was awarded a New Zealand Proficiency Certificate after studying at the college for three years, 1930-1932. This was McCutcheon's only educational preparation for a lifetime of denominational service which was largely in the South Pacific Islands. On completion of his studies at NZMC, there was no work available in the denomination as the country was recovering from the Great Depression. However, McCutcheon took the initiative and found work on farms, in market gardens, and as an enterprising salesman.4
Marriage and Denominational Service
On March 2, 1936, Freeman McCutcheon commenced a lifetime of denominational service by first working for the Sanitarium Health Food Company as a travelling salesman in the North Island of New Zealand. While working in Auckland, McCutcheon was introduced to Dulcie Mavis Roberts, who was born in Stratford, New Zealand, on November 26, 1917, and who also worked for the Sanitarium Health Food Company. Dulcie Robert's parents moved to Hamilton, where her father, Charlie, established a cement manufacturing business. Freeman and Dulcie McCutcheon were married on the April 18, 1938, in the Hamilton Seventh-day Adventist church, New Zealand, by N. C. Burns with whom they had worked. Nelson Burns wrote in their wedding announcement: "Their united consecrated service will be a continued blessing to the cause they love and an inspiration to their fellow workers."5
Dulcie Robert's parents, Charles James Hammill Roberts and Ivy Grace (Chisnell) Roberts, were well known in Hamilton as the owners of Roberts Concrete Products, which made concrete posts and water troughs, and possibly manufactured the first prestressed beams in New Zealand.6 Dulcie's four siblings were Isabel Jane Grace Roberts, (1914-2011); Gordon Charles Roberts (1915-1993); Malcolm James Roberts (1920-2014); and Ila Roberts (1922-2019)7
Charlie Roberts, (affectionately known as "Pop Roberts" in the Hamilton church) was a keen amateur astronomer who for many years is said to have owned as a private person, one of New Zealand's largest telescopes. As a businessman in Hamilton, New Zealand, he was very successful and, as an elder in Hamilton church, encouraged many young people with his avid interests in the natural world, which included geology, astronomy, and exploring nature's wonderland. David Currie wrote of Roberts, that he
occasionally transported a small group of Hamilton youth to the Coromandel peninsular to study nature. He was extremely knowledgeable about many aspects of nature. For example, he demonstrated the difference between copper pyrites and gold; pointed out and named different bird species and fauna in the area. Another hobby he shared was astronomy. He would invite youth to view the heavens through his 12-inch telescope, often focusing on Orion and the Pleiades. Athal Tolhurst, Dorothy Longley and I were among the recipients of his interest in youth. I also was given work in his concrete factory.8
Freeman McCutcheon worked for the Sanitarium Health Food Company until the end of 1939, when he was invited to assist evangelists during the Second World War years. He assisted, first, W. J. Richards in Auckland from 1940 to 1941, and then worked with evangelists in Wellington, Lower Hutt, Dannevirke, and Timaru between 1941 and 1945.9  
Early in 1946, Freeman and Dulcie McCutcheon responded to an invitation to become missionaries in the Fiji Islands where Freeman McCutcheon was appointed district superintendent of the Fiji Mission (1946-1950).10 The young McCutcheon couple were excited about going to Fiji, but David McCutcheon was not happy. He thought they would lose their lives in what seemed distant islands. He was, however, immensely proud of them.11 On November 27, 1946, Freeman McCutcheon's mother and two of his sisters travelled to Fiji to witness his ordination as a minister of the Seventh-day Adventist Church in Suva, Fiji.12
Towards the end of 1949, the McCutcheons were invited to serve in the Tonga Mission where Freeman McCutcheon was appointed president (1950-1952). From 1952 until 1958, McCutcheon was president of the New Hebrides Mission (today called Vanuatu Mission).13 Early in 1956, new missionaries Margaret and Horace Watts were appointed to serve on a remote mission station called Redcliffe on the island Aoba, New Hebrides. Margaret wrote:
For Horrie it spelled adventure, for me, a new mum, a degree of fear. On arrival in Santo we were welcomed by the President of the New Hebridean Mission, Pastor McCutcheon and taken to headquarters at Aore. As we had preceded our goods, we were to await their arrival by staying with the McCutcheons. Being young, inexperienced and rather timid, with a baby in arms it was rather daunting for me. But these fears were soon put to rest when welcomed and embraced by Dulcie, the President's wife. She became my mentor and inspired in me a desire to replicate by being bright, welcoming and hospitable. Horrie also appreciated having the opportunity to be "schooled" by Freeman in leadership and diplomacy that helped him prepare for his future roles.14
From 1959 and until the end of 1962, McCutcheon was president of the Central Pacific Union Mission (CPUM), based in Suva, Fiji.15 During his presidency, he visited all missions including isolated Pitcairn Island, which Rex Cobbin pastored. Cobbin wrote, "we had a short visit from the President of the Central Pacific Union Mission (CPUM), Pastor McCutcheon, and while he was with us, he helped arrange for a parcel of land where we could build a new mission house. He also encouraged us to continue in mission service when our two-year term was completed."16 McCutcheon was an able negotiator.
Between 1963 and 1971, McCutcheon was president of the Coral Sea Union Mission, which oversaw mission activities on the mainland of Papua New Guinea.17 In 1972, the mission territories in the South Pacific were changed and McCutcheon was appointed president of the Papua New Guinea Union Mission, which included not only the mainland but all the islands administered by the PNG government.18
From 1976 until September 5, 1980, when he retired, McCutcheon was the government liaison officer for the Australasian Division of Seventh-day Adventists while living in Wahroonga.19
Accomplishments
McCutcheon served the Church in the South Pacific Division for forty-five years. He accepted appointments to the Sanitarium Health Food Company in New Zealand, assisted evangelists in both the North and South islands of New Zealand, spent nine years as mission president in Fiji, Tonga, and New Hebrides; seventeen years as union president in the CPUM and PNGUM; and five years in the South Pacific Division office. For years, McCutcheon suffered with backpain, eventually having a spinal fusion in 1964, but served his church in spite of physical discomfort.20
Although he lacked a solid theological education, McCutcheon was a wise administrator, possessing emotional intelligence, compassion, and consideration for others. He listened carefully and possessed an understanding of indigenous culture. On April 23, 1973, when medical missionary Matthew Singoi, two of his children, and the pilot, Pastor Lawrence Shields, were killed in a mission aircraft accident, McCutcheon oversaw insurance, compensation and settlement so both families received entitlements.21 He was remembered for his open heart, human touch, compassion, and great sense of humor. McCutcheon was also remembered as a gentleman who took pride in his appearance, always having clothes neat and tidy, and shoes polished.22
McCutcheon was noted for his acceptance and use of modern technology. He was among the first Adventist missionaries in the South Pacific Islands to utilize ham radio. Rex Cobbin wrote, "As our term on Pitcairn was coming to an end, we received a message via ham radio from Pastor McCutcheon to say that I had been appointed to be President of the East Fiji Mission at Buca Bay, Vanua Levu."23 This was the fastest way to send urgent messages. The motion pictures he shot in the 1950s were among the first taken by an Adventist missionary in the South Seas. His publications kept people abreast of news24 and stories from the South Pacific, including a fine obituary of Pastor L. C. Naden, former Australasian Division president.25 One occasion, he cabled urgent information, such as when the Big Nambus people of Malekula, Vanuatu, threatened coastal villages with destruction and Aventists were evacuated in 1955.26
Dulcie McCutcheon was a homemaker who was loved by fellow missionaries, particularly missionary women, for her openness of heart, home, and hospitality. As a single woman, she worked for the Sanitarium Health Food Company; then, when the McCutcheons returned to Australia in 1976, she worked in the physiotherapy department of Sydney Adventist Hospital.27 She served with her husband for almost thirty years in the South Pacific islands.
Freeman McCutcheon passed away in Sydney Adventist Hospital on December 4, 1998, aged 83 and is buried in Avondale Cemetery, Cooranbong, New South Wales, Australia.28 After his death on December 4, 1998, Dulcie McCutcheon relocated to the Adventist retirement village at Cooranbong. She celebrated her 102nd birthday in November 2019. Dulcie McCutcheon died on April 3, 2020. 
Sources
Burns, N. C. "McCutcheon–Roberts marriage." Australasian Record, May 16, 1938.
"Big Nambus Threaten Destruction." Australasian Record, August 22, 1955.
Cobbin, Rex. "Fiji: The Transitional Years." Journal of Pacific Adventist History 11, no.1 (September 2017): 34-37.
Dulcie McCutcheon Biographical Records. South Pacific Division of the General Conference Archives.
McCutcheon, O. D. F. "A Tragedy–The After-Care." Australasian Record, February 11, 1974.
McCutcheon, Oliver David Freeman. "In Wake of the Blackbirders." Australasian Record, March 5, 1956.
McCutcheon, Oliver David Freeman. "Life-Sketch of Pastor L. C. Naden." Australasian Record. November 5, 1979.
"Oliver David Freeman McCutcheon." Ancestry.com." Accessed December 3, 2019. https://ancestors.familysearch.org/en/LR5Z-W7T/oliver-david-freeman-mccutcheon-1915-1998.
Oliver David Freeman McCutcheon Biographical Records. South Pacific Division of the General Conference Archives.
Thompson, C. R. "A Better Way of Life at Kabiufa Adventist High School." Australasian Record, July 16, 1973.
Piez, E. R. "Mission Plane Crashes–Four Dead in Air Tragedy." Australasian Record, May 21, 1973.
Silver, John, Les Parkinson, Eric Greenwell, and Adrian Flemming. "Oliver David Freeman McCutcheon obituary." Australasian Record, February 20, 1999.
"People and Events." Australasian Record, October 12, 1964.
Notes