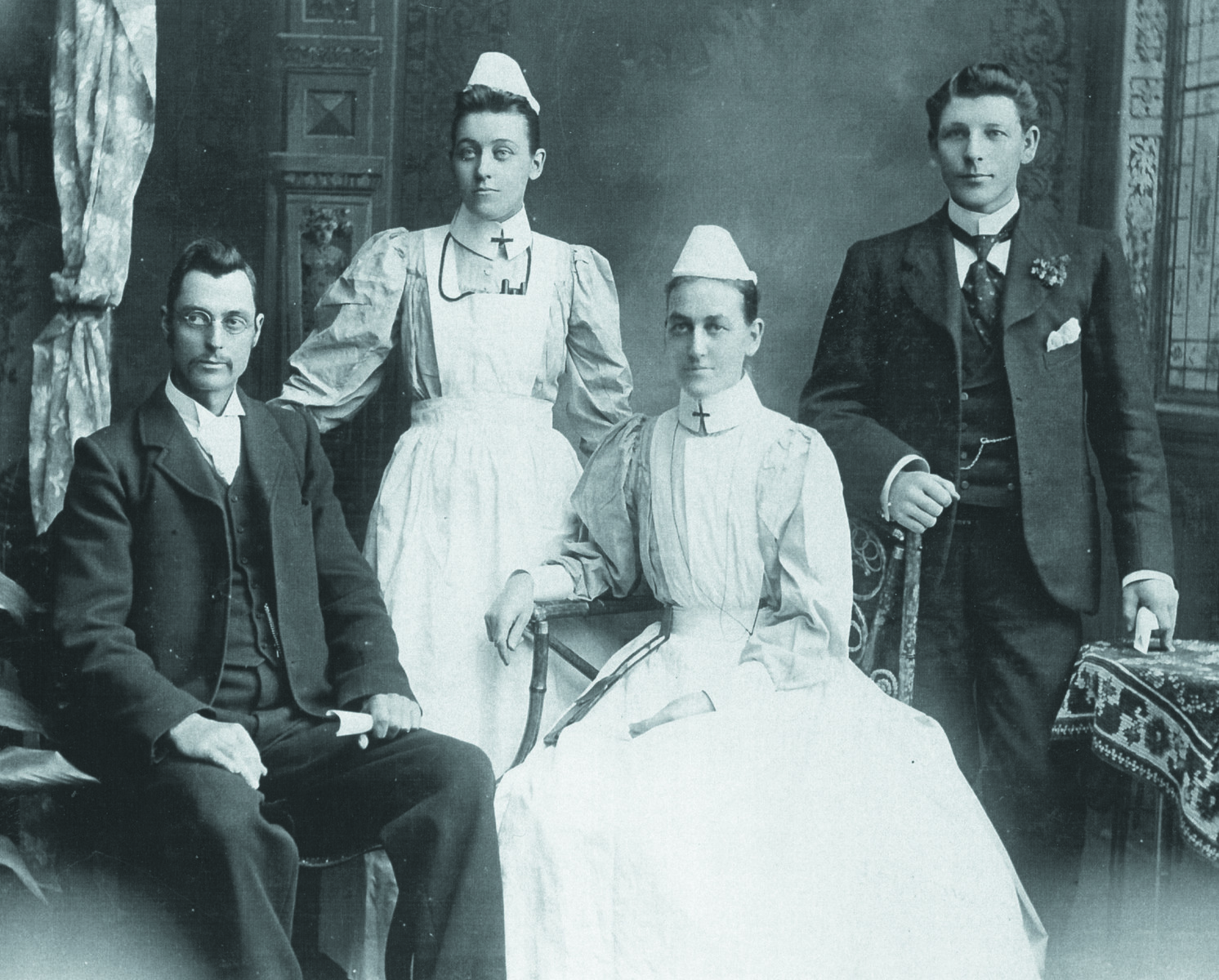 Semmens, Alfred William (1867–1940)
×
Milton Hook, Ed.D. (Andrews University, Berrien Springs, Michigan, the United States). Hook retired in 1997 as a minister in the Greater Sydney Conference, Australia. An Australian by birth Hook has served the Church as a teacher at the elementary, academy and college levels, a missionary in Papua New Guinea, and as a local church pastor. In retirement he is a conjoint senior lecturer at Avondale College of Higher Education. He has authored Flames Over Battle Creek, Avondale: Experiment on the Dora, Desmond Ford: Reformist Theologian, Gospel Revivalist, the Seventh-day Adventist Heritage Series, and many magazine articles. He is married to Noeleen and has two sons and three grandchildren.
First Published: January 29, 2020
Alfred Semmens trained at the Battle Creek Sanitarium, where he met Martha Pallant. They married and returned to Australia, where Alfred gave leadership in a number of fledgling medical endeavors, including the Sydney Sanitarium.
Early Life
Alfred Semmens was born to Stephen and Catherine Semmens (Hatten) in Kadina, SA, on February 6, 1867. He was the eldest of four sons.1 His father, born in Cornwall, was one of many from Cornish mining families who emigrated to the copper finds at Wallaroo, Moonta, and Kadina on the Yorke Peninsula of South Australia.2 When a rich deposit of silver and lead was discovered at Broken Hill, NSW, in 1883, a township sprang up about 1885, with miners and support personnel quickly moving into the area. The Semmens family was apparently among those early settlers. Joseph Steed, a colporteur, came to Broken Hill about 1889, selling The Great Controversy. Someone in the Semmens family purchased a copy. The book was instrumental in Alfred's conversion to the Seventh-day Adventist (SDA) Church.3
Missionary Training
It was likely that Semmens himself did some book selling during the short interim before sailing for America. He is undoubtedly the Mr. A. W. Simmonds (sic) mentioned in The Bible Echo as a "fellow-Christian labourer" and visitor to the Echo Publishing Company, September 1890.4 Semmens was next reported to have accompanied Elder Stephen Haskell to America, early 1891.5 Haskell rued the fact that young people had no SDA training institution to attend in Australia at the time.6
Semmens enrolled in the missionary nurse's class at Battle Creek Sanitarium in 1891. Emma Martha Pallant left Sydney on January 25, 1892, also bound for similar training at the sanitarium.7 Shortly after her arrival she and Semmens married on March 8, 1892. Uriah Smith officiated at the service in the Sisley family home.8 Prior to leaving America, Semmens had some experience working in John Harvey Kellogg's Chicago Mission.9
Back in Australia
Alfred and Martha returned to Australia in early 1894. They were enlisted to promote Christian help work in Melbourne, VIC.10 This was the type of evangelism they had witnessed in Chicago where medical and hydrotherapy treatments were used to introduce individuals to Adventism. In September Semmens spoke in the Melbourne churches and at a convention held at the St. Kilda Bible School.11 He repeated the promotion at the Ashfield camp meeting in Sydney, October 1894.12 He remained in Sydney, continuing to advocate his method of evangelism in the churches.
Australia was suffering a financial recession in the mid-1890s. It was difficult to float any new enterprises, but eventually church officials sponsored a small hydrotherapy establishment in a cottage at Ashfield, suburban Sydney, for Alfred and Emma to test their methods (see Summer Hill Sanitarium).13 Clientele increased beyond the capacity of the cottage, prompting a move to larger premises at Summer Hill.14 Alfred and Emma, together with assistants, continued at this institution until they transferred to Adelaide, SA, to pioneer a similar enterprise in March 1899 (see Adelaide Electro-Hydropathic Institute and Sanitarium).15 Sadly, they had lost an infant daughter, Muriel, the previous year.16
During his time in South Australia, Semmens became increasingly involved in ministerial duties in addition to the management of the Adelaide Sanitarium. In 1900 he conducted the Week of Prayer meetings at his birthplace, Kadina. He was also elected vice president of the fledgling South Australian Conference. The latter role took him to the 1900 Australasian Union Conference (AUC) session in Sydney.17 This was repeated in 1901. In 1902 he was elected acting president of the South Australian Conference when the incumbent was transferred.18 This situation remained for 12 months, and then he reverted to the role of vice president for another four years.
Semmens first held ministerial credentials in 1904.19 In August 1907, at the AUC Council in Adelaide, Alfred and Emma were appointed to transfer from their work in South Australia and join the faculty of Sydney Sanitarium, Wahroonga.20 Dr. Daniel Kress was stepping down and returning to America. Alfred assumed control as manager in January 1908. This new responsibility included the role of medical secretary for the AUC. It included the oversight of all SDA medical work in Australasia, the Pacific Islands, and Southeast Asia.21 At the 1909 General Conference session he represented the medical work in the AUC.22 Alfred and Emma continued in their roles at Wahroonga until the close of 1910.
Back to America
In January 1911 the Semmens family sailed for San Francisco, Alfred having the resolve to enter the College of Medical Evangelists (CME), Loma Linda, California.23 Their family included sons Lindsay (age 15), Douglas (age 13), and Keith (age 8). While Alfred studied, Emma worked in the Nursing Department. Alfred graduated on June 8, 1915, with a Doctor of Medicine degree and remained working at CME for 18 months.24
In the Pacific Region
Leaving their two eldest sons in America to pursue their studies, Alfred and Emma, together with their youngest son, arrived in Auckland, New Zealand, about January 1917 to take over Dr. Martin Keller's private medical practice.25 This proved to be a short-term stay. By early 1919 Alfred was working as a government doctor at Vava'u, Tonga.26 This position, also, lasted little more than two years before he found himself back in Canada.
Canada and the United States
Alfred and Emma found employment at Bethel Sanitarium, Calgary,27 but their marital relations soured. Alfred is next on record in Wayne, Michigan, filing for divorce on October 28, 1925, on the grounds of Emma's desertion. Proceedings were finalized on April 16, 1926.28
After a serious illness lasting two years, Alfred passed away on August 10, 1940, in Sacramento, California.29 Emma died in Modesto, California, on January 16, 1961.30
Retrospect
A number of Australasian young people traveled to America in the 1890s to do specialized training in order to serve in church evangelism. After returning to Australia, Alfred was arguably one of the most successful in his chosen field of hydrotherapy. His vision for the establishment of small sanitariums in capital cities saw fulfillment in Sydney and Adelaide, only to be eclipsed by the larger and more enduring Sydney Sanitarium, where he served for three years.
There is an element of tragedy in the later years of Alfred and Emma, but it should not detract from their valued efforts as a team in their earlier years.
Sources
"A. W. Semmens and wife . . ." Union Conference Record, April 26, 1899.
"Alfred William Semmens." Ancestry.com. Retrieved from http://person.ancestry.com.au/tree/8908918/person/25578567646/facts.
"Alfred William Semmens obituary." ARH, October 31, 1940.
Battle Creek. Marriage Certificates. Michigan Vital Records Office, Lansing, Michigan.
"Brother A. Semmens and wife. . ." The Bible Echo, April 2, 1894.
"Brother A. W. Semmens, who has been manager . . ." Australasian Record, January 16, 1911.
"Brother C. D. Baron and family . . ." Union Conference Record, December 2, 1907.
"Conference Notes." The Bible Echo, August 5, 1901.
Daniells, A[rthur] G. "The Australian Tract Society." The Bible Echo, November 19, 1894.
———. "Australasian Medical Missionary and Benevolent Association." Union Conference Record, August 15, 1898.
"Delegates to the Thirty-seventh Session of the Seventh-day Adventist General Conference, Convened in Washington, D.C." ARH, May 13, 1909.
"Delegates to Union Conference, 1906." Union Conference Record, October 1, 1906.
"Doctor Semmens, who has been in government . . ." Australasian Record, December 11, 1922.
"Dr. A. W. Semmens and wife and youngest son . . ." Australasian Record, January 8, 1917.
"Emma Martha (Pallant) Semmens obituary." Pacific Union Recorder, February 27, 1961.
Evans, Newton. "The Loma Linda Graduates—Where Are They?" ARH, August 24, 1916.
"It is with much pleasure . . ." The Bible Echo and Signs of the Times, September 15, 1890.
"Kernewek Lowender: In the Beginning," Copper Coast Cornish Festival 2018. Accessed February 15, 2019. https://www.kerewek.org.
"Letters have been received . . ." The Bible Echo and Signs of the Times, June 15, 1891.
"On Sabbath afternoon, May 12 . . ." The Bible Echo, May 28, 1894.
"On Sunday morning Elder G. T. Wilson . . ." The Bible Echo, August 20, 1894.
"Pastor J. H. Woods and A. W. Semmens . . ." The Bible Echo, September 10, 1900.
Semmens, A[lfred] W. "Adelaide, S.A., Camp Meeting." Union Conference Record, November 15, 1902.
———. "Health Home." The Bible Echo, January 4, 1897.
———. "Health Home." The Bible Echo, January 11, 1897.
———. "Medical Report." Union Conference Record, October 24, 1910.
———. "Report of Hydropathic Institute, Adelaide." Union Conference Record, September 22, 1903.
———. "South Australian Conference." Union Conference Record, September 11, 1903.
———. "The Sydney Sanitarium." Union Conference Record, October 24, 1910.
———. "Wahroonga Sanitarium." Union Conference Record, September 7, 1908.
Seventh-day Adventist Yearbook. Washington D.C.: Review and Herald Publishing Association, 1904–1910, 1925–1926.
"Sister A. W. Semmens left Sydney . . ." Australasian Record, March 3, 1919.
"The Melbourne Convention." The Bible Echo, September 10, 1894.
"The R.M. steamer 'Mariposa' . . ." The Bible Echo and Signs of the Times, February 1, 1892.
"The want of denominational . . ." The Bible Echo and Signs of the Times, May 1, 1891.
Wayne County Divorce Records, 1925–1928. State File 8211073. Docket 127751. Detroit, Michigan: Wayne County Clerk Records Division.
"We have received the announcement . . ." ARH, June 10, 1915.
Woods, J[ohn] H. "South Australian Conference." Union Conference Record, October 1, 1901.
———. "The Week of Prayer in the Colonies: South Australia." Union Conference Record, August 1, 1900.
Notes