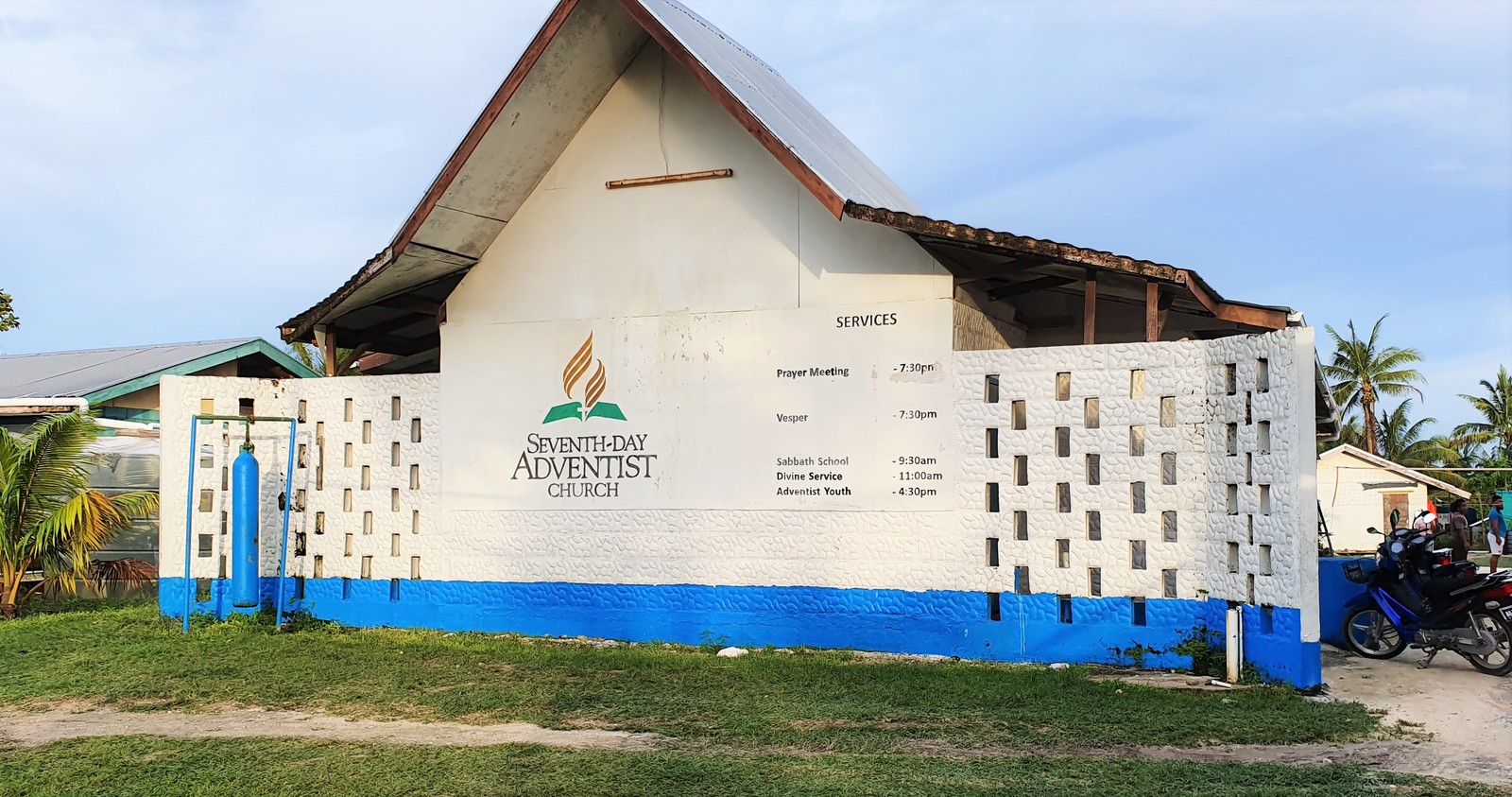 Tuvalu
×
Milton Hook, Ed.D. (Andrews University, Berrien Springs, Michigan, the United States). Hook retired in 1997 as a minister in the Greater Sydney Conference, Australia. An Australian by birth Hook has served the Church as a teacher at the elementary, academy and college levels, a missionary in Papua New Guinea, and as a local church pastor. In retirement he is a conjoint senior lecturer at Avondale College of Higher Education. He has authored Flames Over Battle Creek, Avondale: Experiment on the Dora, Desmond Ford: Reformist Theologian, Gospel Revivalist, the Seventh-day Adventist Heritage Series, and many magazine articles. He is married to Noeleen and has two sons and three grandchildren.
First Published: January 29, 2020
Tuvalu is an attached district of the Trans-Pacific Union Mission of the South Pacific Division. Its headquarters are on Funafuti Island, Tuvalu. It was previously a part of the Gilbert and Ellice Islands Mission.
Early Mission Attempts
Prior to 1978, Tuvalu was known as the Ellice Islands and the inhabitants closely resembled the Samoans. Some young men from the Ellice group attended the Vailoa Training School in Samoa and converted to Seventh-day Adventism. For that reason, the Australasian Union Conference expected the Samoan Mission to supply young missionaries to pioneer their homeland.1 The first to return was a lad named Samuelu Vailopa. When the Second World War abated, he settled on Nui Atoll and attempted to establish an elementary school, but was frustrated by the local council officers. By the end of 1945, he had gravitated to government employment.2 Later, he used his position to successfully lobby for the annulment of the Closed District Ordinance that gave exclusive evangelism rights to the London Missionary Society.3
A second attempt to enter the Ellice group was made soon after Samuelu pulled out. The deacon of the church in Apia, Niu, owned land on three different atolls in the Ellice group. His step-son, Tavita Niu, was working as a missionary in Samoa. It was arranged for the entire family to return to Funafuti Atoll, transfer some of the land into Tavita's name, and have them pioneer in the area.4 They arrived in August 1946. At the end of the year it was reported that they were conducting a Sabbath School of five adults and seven children.5
The Fetu-Ao
Following World War II, a new mission boat was built in Sydney harbor, earmarked for use in the Gilbert and Ellice Islands. Christened Fetu-Ao (Samoan for morning star), it was captained by John Howse and made its first voyage in April 1947. Reaching the Ellice group, rain and clouds made it difficult to get accurate compass bearings. Each atoll sat low in the ocean, unseen until almost upon them. Howse zigzagged and back-tracked, missed his aim for Nukulaelae Atoll, and ended up at Funafuti Atoll. He was forbidden to go ashore because of the Closed District Ordinance, so he anchored in the lagoon, spoke to Niu across the water, and was assured there were fifteen individuals meeting regularly for worship.6
Niu met with sustained opposition, at times encountering threats of violence, but he persisted and a baptism of seven was reported in 1947.7 Regular visits of the mission boat, stationed to the north at Abemama Island in the Gilbert Islands, subsequently provided the only means of nurture. Tavita, who had settled on Nukulaelae Atoll with his wife Fetu,8 later moved to the Gilbert Islands where he opened a school. Niu returned with Howse to Fiji on the first trip of the Fetu Ao, and then found his own way back to Samoa.9
The Door of Opportunity Opens
When the Closed District Ordinance was repealed in 1954, it opened the way for an official representative of the Adventist Church to be stationed in the Ellice Islands.10 Ordained Samoan minister Nu'uali'i Neru and his family settled on Funafuti Atoll in 1955. He established a small school and later studied the Scriptures with interested people on nearby Vaitupu Atoll. Neru's wife, Kesila, unfortunately contracted a serious eye infection leading to blindness.11 Medical treatment was sought in Auckland, New Zealand, but it eventually caused her death in February 1959.12 Neru did not return to the Ellice Islands.
The atolls were poor in natural resources. Church budgets for the operation of the mission boat were likewise extremely limited. Missionaries were isolated for months at a time. Afa'ese Manoa replaced Neru but he, too, experienced eye trouble and, by early 1962, had sought treatment in Fiji. Another teacher, Vilitati, came to Funafuti as a replacement. Fereti Puni arrived at the same time to be district director of the group.13
Puni eventually transferred north to Vaitupu Atoll. By 1967, Hanui Vea, a Tongan teacher, had replaced Vilitati on Funafuti and Fijian Meli Vakomaua had opened a school on Niutao Island.14 Primitive schools were easily established because the government offered little in education. A young Samoan girl, Saipai Fitu, succeeded Hanui Vea at Funafuti. She had trained as a teacher at Fulton College and offered to work for no wages, but an Australian benefactor came forward with a donation that enabled her to have an assistant. Maripa, an Ellice Island girl, helped Saipai Fitu and enrollment flourished with over seventy pupils. The building was of native materials with mats on an earthen floor, no walls, and no desks. The locals derisively called it a fale moa or fowl house.15
A New Beginning
Hurricane Bebe passed directly over Funafuti on Saturday, October 21, 1972. Most buildings and coconut palms were flattened. The terrifying wind and rain continued on into early Sunday morning, the only light coming from the incessant lightning flashes. Six lost their lives.16 The most terrifying experience was when the mountainous tidal wave swept across the atoll, adults holding their children above their heads as the surging ocean suddenly rose to their chests. It was unprecedented. Church members had sheltered in the mission home with Tautua Lavea, the Adventist pastor, and his family. The roof was lost and the heavy rain poured in but the concrete walls gave some protection from the howling wind. Aid in the form of clothing and flour came quickly from Church headquarters at Tarawa in the Gilbert Islands, breaking down prejudice.17
Funafuti Atoll was evacuated during reconstruction, and for at least three years the Adventist church had no resident leader.18 Afa'ese Manoa returned to be district director. When independence from Britain was negotiated in 1978, Manoa composed their national anthem and was chosen to go to London to sign the agreement.19 From that time the Ellice Islands were known as Tuvalu, meaning a group of eight islands. On November 25, 1979, the Tuvalu District headquarters church on Funafuti was dedicated. Its concrete and iron materials were designed to withstand severe weather conditions.20
In 1981, Manoa was succeeded by Kusi Salonoa, a Tuvaluan who surrendered his job in New Zealand to serve as district director.21 When he arrived there were approximately fifteen members attending the church. He had remarkable success. In 1985, it was reported that eighty gathered regularly for worship and sixteen more were awaiting baptism.22 However, the school was still in rough quarters, teacher Fau'oa Mani enduring its primitive nature. Further north, on Nukufetau Atoll, there were ten church members. Evoli Saumanaia, a Sonoma Training School graduate from Papua New Guinea, was stationed on Vaitupu Atoll with a new school at his disposal but the government would not allow him to open it until it could be furnished with desks and chairs. On Nui Atoll there were only two resident church members. A Fulton College graduate and Tuvaluan by birth, Valo Kalone cared for a church of forty members on Niutao Island and Saufisi operated a little school with poor facilities.23 By this time, the national leadership was well established and productive.
Reorganization
In 1986, Tuvalu was transferred from the Western Pacific Union Mission to the Central Pacific Union Mission in recognition of the fact that it was a Polynesian nation. Kusi Salonoa remained district director at the time.24 There followed five changes of leadership in the next seventeen years: Valo Kalone (1989-1992),25 Puleia Onesemo (1993-1995),26 Petaia Matautia (1996-1997),27 Aseri Sukanabulisau (1998-1999)28 and Setania Turava (2000-2003).29
A further reorganization took place in 2002 with what was then called the Tuvalu Field being designated a part of the Trans-Pacific Union Mission.30 It was renamed the Tuvalu Attached Mission in 2003,31 the Tuvalu Attached District in 2004, the Tuvalu Attached Region in 2017,32 and the Tuvalu Region in 2017.33 Four changes of leadership have taken place to date: Ateliago Leo (2004-2005),34 Fred Taito (2006-2007),35 Senitiki Vuniyaro (2008-2015)36 and Anasa Tabua (2016-).37 Since reorganization annual membership figures have fluctuated between 92 and 543, a conservative estimate of three hundred being presently realistic for this very scattered field.38 Emigration is common as Tuvaluans seek places where employment, food supplies, education, and housing are easier to find.
Sources
Branster, G[ordon]. "Central Pacific Union." Australasian Record, April 11, 1949.
Ferris, W[alter] G. "Salute to the Brave." Australasian Record and Advent World Survey, February 19, 1962.
Howse, E[ric] W. "A Significant Sailing for the Gilbert and Ellice Islands." Australasian Record and Advent World Survey, June 20, 1955.
Howse, J[ohn] T. "Onward into New Fields." Australasian Record, August 18, 1947.
Howse, J[ohn] T. "Onward into New Fields." Australasian Record, August 25, 1947.
Lee, Gordon A. "An Island Safari." Australasian Record and Advent World Survey, December 8, 1975.
Lee, Gordon A. "Burning for Christ." Australasian Record and Advent World Survey, May 12, 1969.
Moe, R[ex] V. "Around the Atolls–Part 1." Australasian Record and Advent World Survey, April 20, 1985.
Moe, R[ex] V. "Around the Atolls–Part 2." Australasian Record and Advent World Survey, April 27, 1985.
Resture, Jane. "Tuvulu and the Hurricanes 2." Jane's Oceania Home Page., October 5, 2009. Accessed May 28, 2019. www.janeresture.com/hurribebe/hurricanebebe2.htm.
Reye, Raimund to W[illia]m Schaeffler. September 16, 1941. South Pacific Division of the General Conference Archives, Wahroonga, NSW. Box: 3418. Folder: "Kiribati and Tuvulu."
Reye, Raimund to [Sydney V.] Stratford. August 20, 1945. South Pacific Division of the General Conference Archives, Wahroonga, NSW. Box: 3418. Folder: "Kiribati and Tuvulu."
Seventh-day Adventist Yearbooks. Washington, D.C.: Review and Herald Publishing Association; Nampa, ID: Pacific Press. Years 1986-2019.
South Pacific Division Administration Directory. [Warburton, Victoria: Signs Publishing Company], 2016.
Sutcliffe, Robert and Rosemary. "School Work on the Gilberts." Australasian Record and Advent World Survey, February 20, 1967.
"Tavita Niu, with his wife..." Australasian Record, December 9, 1946.
Thomson, A[lec] C. "A Modern Apostle Paul in the Pacific." Australasian Record and Advent World Survey, February 2, 1959.
Webster, L[eslie] A. J. "A Man Who Loves His People …. A Teacher Whose School is Unroofed in Gale-Force Winds, and …" Australasian Record and Advent World Survey, November 16, 1981.
Webster, L[eslie] A. J. "Churches are Lighthouses." Australasian Record and Advent World Survey, July 28, 1980.
Webster, L[eslie] A. J. "God's Leading and Guidance." Australasian Record and Advent World Survey, February 12, 1979.
White, Alan W. "Hurricane Bebe in the Ellice Islands." Australasian Record and Advent World Survey, May 7, 1973.
Whittaker, D[onald] A. "Kesila Neru." Australasian Record and Advent World Survey, March 23, 1959.
Notes