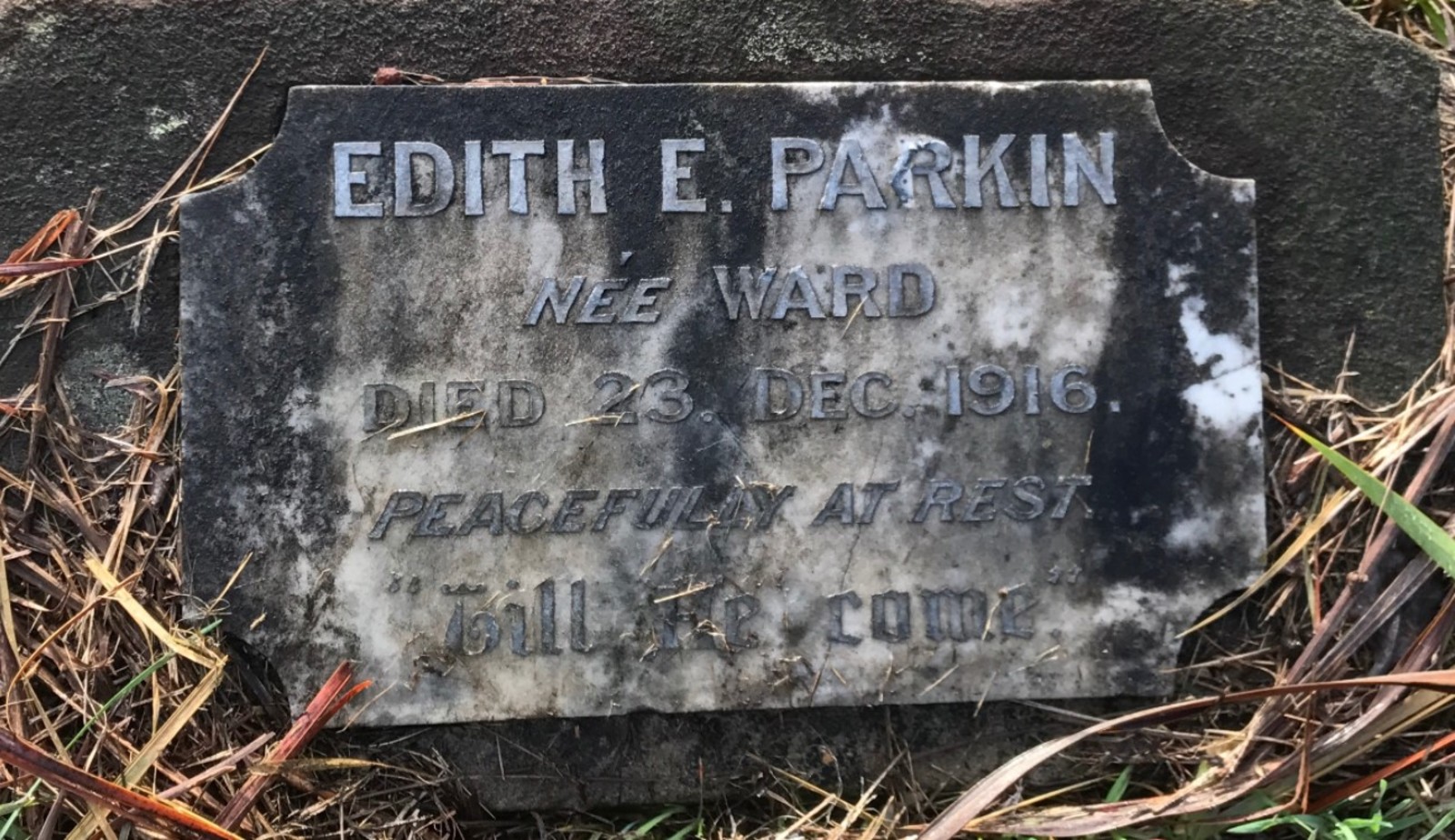 Parkin, Edith Ellen (Ward) (1881–1916)
×
Lindsay Morton, Ph.D. (Victoria University of Wellington, New Zealand), works in academic administration at Pacific Union College. Her research interests include the intersection of ethics and epistemology in narrative non-fiction, and the roles of the imagination, experientially, and affect in literary journalism. Lindsay is an active member of her scholarly community, and has held professional roles such as the Research Chair and on the Board of Advisors for the International Association for Literary Journalism Studies. She is also currently Vice Chair of the SDA Partnership of Faculty Developers. 
First Published: January 29, 2020
Edith (Ward) Parkin was a pioneer of Adventist Education in Australasia. As one of the earliest graduates of Avondale School's teachers' training course, Ward made a significant contribution to church school work through the establishment of primary schools in New Zealand and briefly in her work on Nulla Nulla Mission in New South Wales, Australia.
Birth and Early Life
Edith Ellen Ward was born at Petersham, New South Wales, in 1881 to William and Elizabeth Ward.1 Originally from Wellington, New Zealand, her father was primarily responsible for his children's upbringing after her mother died in 1883 when Edith Ward was only two years old.2 From the age of twelve, Ward lived with Ellen G. White, first, in Sydney, and then, in her Sunnyside home in Cooranbong, New South Wales.3 Ellen White wrote warmly of Ward: "She washes the floors, cleans the vegetables, washes the dishes etc. She is active, willing, and very helpful. We like her very much."4 White's granddaughter, Ella M. Robinson recalled that after moving into the unfinished house with her grandmother on Christmas Day in 1895, she was joined by three others: her sister Mabel, Nettie Hamilton and Ward. They enjoyed "glorious times together"5 and worked alongside Ellen White to establish the Sunnyside home and gardens. Ward was a sincere and dedicated worker from earliest accounts, a pattern which was repeated throughout her training and service in later life. An 1896, diary entry of Ellen White's reads: "I arose at half past four A.M. At five I was at work spading up ground and preparing to set out my flowers. I worked one hour alone, then Edith Ward and Ella May White united with me, and we planted our flowers. Then we set out twenty-eight tomato plants, when the bell rang for morning prayers and breakfast."6 In 1897, Ward's half-brother Walter Ernest (known as Ernest) also moved to Sunnyside. Ellen White wrote that the children's tuition was paid by their father, and that "they appreciate what is done for them."7 Edith Ward lived with Ellen White for four years before moving to the Avondale school.
Education and Teaching Career
In 1899, Ward joined Ella Hughes (preceptress), Louise Tuxen, Evelyn Gooding, and Lizzie White training future teachers in the primary department of the Avondale School for Christian Workers.8 During this time she was classified as a resident student as well as an assistant teacher.9 Two years later the department was led by Hattie Andre, and enrollment in the primary department rose to 43 by the beginning of the school year.10 Ward worked closely with Lizzie White, teaching about the phases of early training for children and emphasizing the importance of teaching children from a young age.11
While she is often credited with starting the first Seventh-day Adventist church school in New Zealand,12 Ward more accurately began the first church school on the North Island. The first Adventist church school was opened in Christchurch by W. J. Smith early in 1901, but was forced to close late that year due to low numbers.13 The first school in Auckland was initiated by the Ponsonby Church when the board deciding to start a school in the rear of the church. Edith Ward was called to be its first teacher, and records show that school opened on January 27, 1902.14 By this time, not only had Ward formally graduated from Avondale, but her experience teaching in the primary department prepared her to serve in New Zealand. Schools at this time were funded primarily by students' school fees. Adventist church historian Milton Hooks notes that "while local church members were responsible for the operation of schools the perpetual problem of fees and teachers' wages remained in the system. Generally, it was single women only who attempted to live on the meagre income."15 Indeed, fees charged for the Ponsonby school proved insufficient to cover wages, and the decision was made to close the school on June 20, 1902, just six months after it opened.16 Ward remained in Auckland until September, canvassing the tract "The Coming King,"17 until her return to Cooranbong later that year.
At 22 years of age, Edith Ward was again called to teach in New Zealand after graduating from Avondale's teachers' course in October 1903. Six days later she sailed on the S. S. Mokoia having been engaged to teach in Wellington.18 The school opened with three students on February 1, 1904.19 Later that year the school was rocked by an earthquake, but no significant damage was done. Ward wrote about the experience in the Union Conference Record: "Those six minutes caused us to realise our own utter helplessness, and the weakness of all things earthly, as nothing else had ever done. One of the little ones, when asked if she felt afraid, answered, 'I wasn't afraid, because God takes care of us.' Falling snow, hail storms, and a thunder-storm have afforded similar opportunities of impressing principles of truth and of leading the children to see God at work in nature."20 Enrollment grew to eleven in 1905, with most students from Adventist families,21 and by the time she left in 1905, the school had 25 students in regular attendance.22
During her time in Wellington, Ward also was instrumental in founding a Young People's Society. The group met regularly and participated in Bible studies, hospital visitations, and distributing religious literature to ships docked in Wellington. As secretary, Ward wrote of the society: "We hope that other young people will not long continue to miss the blessing there is in united study and work. Had such not been needed at this time, then the God-given instruction which comes to us would have been withheld."23 The society was also dedicated to raising money to support foreign mission and local Bible workers. Weekly donations were made by society members and the monies gathered each quarter to be sent to "some worthy enterprise."24 Ward's tireless efforts at this time were consistent with habits developed in earlier life, and reflected her belief that "when God speaks, there is life and blessing in obeying."25
On January 6, 1905, Ward left the Wellington students under the leadership of Lily Brown and moved to New Plymouth to establish a new school.26 As with many of the earliest attempts to establish schools in New Zealand, the Wellington school closed in 1906 due to low numbers, insufficient funding, and lack of planning.27 But undaunted by the challenges in both Auckland and Wellington, Ward began teaching in New Plymouth with just six students; however, the school closed a few months later.28 She then moved to Napier to revive a church school started by W. J. Smith in 1903, but this too lasted less than a year. Milton Hook notes that such failure "was no reflection on the teachers. Church schools with a short life-span were a recurring feature of the early days."29 During her time in Napier, however, Ward made a significant contribution not only to the school community, but also to the wider community. During the school holidays, she visited Maori districts and distributed translated copies of Christ Our Saviour so people could read them in their own language.30 Students were also active in mission work. Donations to a missionary box enabled the school to fund a horse for the Maori Mission, and the children distributed a large number of Signs of the Times and tracts.31 Rather than following a more conservative curriculum as was the practice in some schools at that time, Ward incorporated a range of books in her teaching rather than the Bible alone.32 Notwithstanding her success in Napier, the school later closed and Ward left New Zealand for the final time, returning to Australia only briefly before entering the next stage of her life and service.
Marriage and Family
After returning from New Zealand, Edith Ward spent only a short time in Australia before sailing to Singapore in February 1908. Soon after her arrival, Ward married Frederick Joseph Parkin in a ceremony at the Seventh-day Adventist Training Home in Mount Pleasant, Singapore. Although there is no record of their meeting, Parkin had been a student at Avondale for several years before sailing on the S. S. Airlie on February 1, 1906,33 so it is likely that the two were well acquainted and had planned their marriage before Ward arrived in Singapore. The couple were only married for a few days before Parkin and fellow colporteur, Lewis Mobbs, left for Hong Kong and China to sell books.34 Ward spent these first six months of married life working and studying. Having attained a missionary license, she spent from March to September of 1908 selling copies of Christ our Saviour in Singapore.35 Accompanied for three months by Miss T. S. Chan, Ward was very successful.36 Notwithstanding the success of both husband and wife, Parkin's ill-health forced an early return; they left Hong Kong on the S. S. Manila and arrived back in Australia on June 13, 1909.37 Fred Parkin recovered quickly, so having gained weight and improved in health, the couple returned to Victoria to see Parkin's mother before continuing their work.38 Their first child, Frieda Gheenio, was born on July 7, 1910 at Prospect, South Australia. Two more children followed, Edwin Joseph Walter Parkin, born in Adelaide in 1912,39 and Ernest Albert Walter Parkin, born at Prahran in Victoria, on November 27, 1914.
Australian Work and Death
With three small children aged between one and five years old, Fred and Edith Parkin moved to the Nulla Nulla indigenous community in New South Wales in 1915.40 The settlement was located approximately fifty kilometers from Kempsey, and had been founded by Arthur Jones, an elder of the Kempsey Church.41 Phillip Rudge had evangelized in the area, having been appointed by the Australasian Union Conference to build on the work Jones has started.42 The Parkins visited in September 1915 to support the work, and then made a permanent move at the end of 1915. They spent their time travelling to different farms to meet with their indigenous contacts.43 In mid-November 1916, Edith Ward suffered a heart attack from which she did not recover. She died and was buried on Christmas Day 1916 in Gore Hill Cemetery, North Sydney. She was only 35 years of age. Her obituary noted: "It was fitting that two of the young men who carried her to the grave were her ex-pupils."44 Ward had been faithful in her teaching and colporteur ministries; she was also greatly beloved by her students, family, and friends. Her pioneering spirit and dedication to her work exemplified her belief in God's calling on her life, and her example endures as a testament to wholehearted commitment and faithfulness.
Sources
Ballis, Peter H., In and Out of the World: Seventh-day Adventists in New Zealand. Palmerston North, NZ: Dunmore Press, 1985.
Chaney, Bertha S. "Educational." Union Conference Record, October 15, 1903.
Clark, E. "Church School, Wellington, New Zealand." Union Conference Record, May 15, 1904.
Edith Ward Personal Service Record. South Pacific Division of the General Conference Archives. 
"Edwin Joseph Walter Parkin." Genealogy SA. Accessed July 2017 https://www.genealogysa.org.au/
Flanigan, Veronica. "Letters to the Editor." Australasian Record and Advent World Survey, January 29, 1968.
Fletcher, W. W. "The Malay States." Union Conference Record, December 30, 1907.
Fletcher, W. W. "Our Book Work in Malaysia." Union Conference Record, September 21, 1908.
Hook, Milton R. An Oriental Foster Child: Adventism in South-east Asia before 1912. Wahroonga, New South Wales: South Pacific Division Department of Education, 1988.
Hook, Milton R. Descendants of the Dreamtime: The Adventist Mission to the Australian Aborigines. Wahroonga, New South Wales: South Pacific Division Department of Education, 1988.
Hook, Milton R. Little Schools for Little People: Early Adventist Primary Schools in Australasia. Wahroonga, New South Wales: South Pacific Division Department of Education, 1988.
Hughes, C. B. "Educational." Union Conference Record, March 1, 1901.
"Notes." Union Conference Record, June 28, 1909.
"Notes and Personals." Union Conference Record, January 15, 1905.
"Notes and Personals." Union Conference Record, February 15, 1905.
"Notes and Personals." Union Conference Record, February 1, 1906.
"Notes and Personals." Union Conference Record, 19 August 1907.
"Personal." Union Conference Record, March 1, 1902.
Robinson, Ella M. "Later Recollections of My Grandmother." The Youth's Instructor, March 23, 1948.
"Sister Edith Ward…" Union Conference Record, August 15, 1904.
Smith, W. J. "Edith Ellen Ward obituary." Australasian Record, January 15, 1917.
Ward, Edith. "A Young People's Society in Wellington." Union Conference Record, May 15, 1904.
Ward, Edith. "From the Wellington Church School." Union Conference Record, November 1, 1904.
Ward, Edith. "Napier Church School." Union Conference Record, September 17, 1906.
White, Ellen G. "The Responsibilities of Helpers in Ellen White's Australian Home." July 9, 1896. Manuscript 1130, 1896. Ellen G. White Estate.
White, Ellen G. Ellen. G. White to Sister Ings. May 7, 1896. Letter 52b, 1896. Ellen G. White Estate.
White, Ellen G. "Personal Recreation of Ellen G. White." February 10, 1896. Manuscript 62, 1896. Ellen G. White Estate.
White, Ellen G. Ellen G. White to Edson White and Emma White. July 19, 1897. Letter 176, 1897. Ellen G. White Estate.
Notes