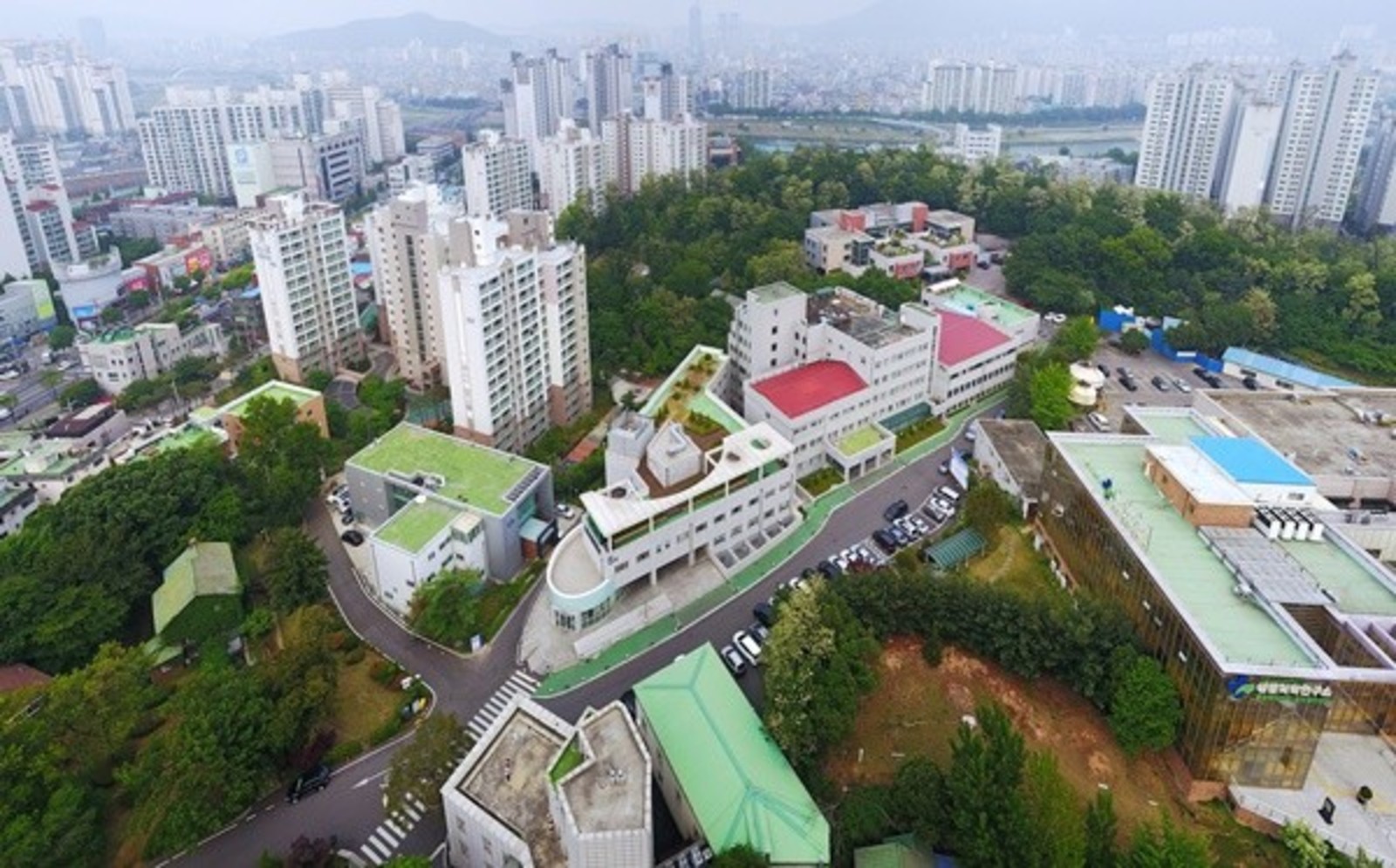 Sahmyook Health University
×
Kim Jong Choon, B.A. in Theology (Sahmyook University), M.A. TESOL (Dankuk University), Ph.D. TESOL (Hankuk University of Foreign Studies), joined the faculty of Sahmyook Health University in 2010 where he currently serves as deputy dean of planning and executive director of international affairs. His main areas of work include planning, budget, and external and international business and exchange.
First Published: August 9, 2020
Sahmyook Health University (Sahmyook Bogeon Daehakgyo) has been highly recognized as one of the leading technical colleges in Korea. Its location is 82, Mangu-ro, Dongdaemun-gu, Seoul, Republic of Korea, since its inception; it has been located on the grounds of Seoul Adventist Hospital. This institution currently has 1,371 students, 36 professors, and 33 staff members. It has been serving the core role of Adventist higher education along with Sahmyook University since 1936.
Educational Philosophy
The institution's education philosophy states that it cultivates talented people equipped with noble Christian faith and practical expertise for balanced development between body, intellect, and spirituality according to education ideals of the Seventh-day Adventist Church to get the graduates to be happy in this world; contribute to the peaceful life of their neighbors; the world and nature with the spirit of truth, love, and service; and further to rejoice at their eternal life in heaven.1
Founding
Dr. George Rue, one of the two veteran medical missionaries of the Far Eastern Division, started his mission in 1929 and unlike the other longtime missionary physician, Dr. Harry Miller of Hong Kong, his entire professional life has been devoted in Korea till his retirement on July 1, 1967. In 1932, after transferring from Soonan to Seoul in 1931, Dr. Rue started his medical service by renting an eight bed dispensary and completed the construction of a new hospital building by the end of 1935.2
Established by Dr. George Rue in 1936 as a subsidiary School of Nursing to Kyungsung Nursing Home,3 which was renamed Kyungsung Nursing Hospital later in 1946, its purpose was to train nurses dedicated to the Christian medical service in the Korean Peninsula. With the opening of Kyungsung Nursing Home, a school of nursing was established with eight students (five female, three male) in the first class.4 Ernestine Gill, who had served as director of Portland Adventist Hospital, Oregon, was newly appointed as director of nursing at Kyungsung Nursing Home in April 1936, and at the same time served as the first principal of the Nursing School from 1936 to 19405 when she had to return home due to her illness.6
History
It is remarkable that 14 nurses were sent to Shanghai Adventist Nursing School for further learning and training. Later those nurses taught students at the nursing school from its start.7 In March 1939 the first seven students graduated.8 The total number of graduates was 36 till 1943, and the school was temporarily shut down by the persecution of Japan. After the school was reopened in 1947, it was accredited as a Nursing High School by the Ministry of Health in the next year. Even after its accreditation, however, due to the Korean War, only 17 students could graduate in 1952.9
It was in 1958 when the school was accredited as Nursing Technical High School by the Ministry of Culture and Education, and the Ministry of Government by the Law of College Operation gave permission to the school as Nursing School in 1962.10 And the accumulated number of graduates was 224 by then, and 81 students enrolled in the same year.11
In 1965 and 1967 respectively, Ms. Bo Shin No and Ms. Gwi Bun Ahn received the Florence Nightingale Medal.12 In 1958 two nurses, Ms. Hae Ja Oh and Ms. Jung Ja Cho, were sent to Egypt and Libya as the first missionaries that highlighted the Christian spirit of love and service. From 1958 till 1966, health nurses were dispatched to local cities such as Daejeon, Wonju, Gwangju, etc. in order to teach National Health Hygiene, give preventive injections, and performed significant health activities.13 And two nurses whose names are Ms. Young Ja Lee and Won Hwan Choi were invited to serve in Japan by the Japan Union Conference from 1975 to 1976.14
In 1968 21 students participated in the 17th graduation ceremony, and the total number of graduates reached 1,333 by the 50th graduation ceremony. In the meanwhile, the division decided that the Seoul Adventist Hospital could offer clinical practicum to nursing students from 1984 (Minute 75-24).15
Throughout its history–even under Japanese colonial rule over the nation that led Dr. Rue to delegate his mission to Dr. Sa Young Chung, who became in charge of the hospital and during the Korean War that forcefully made them flee and restarted medical service in Busan and Jeju island–the institution has always been closely linked to the hospital in terms of its identity, location, education, and operation.16
In 1977 the school was promoted to Sahmyook Nursing Junior School (Silup 1040-907) and upgraded to Sahmyook Nursing College (Science 1040-1130) by the Ministry of Education. The new building for lectures was completed on the grounds of the hospital at 29-1 Hwigyeong 2 dong, Dongdaemungu, Seoul, Korea, in 1990. In the next year, students moved back from Sahmyook University to the current school location. The school changed its name again to Sahmyook Nursing and Health College in 1998 and to Sahmyook Health College in 2007, which was later changed into Sahmyook Health University College in 2012 on the grounds that the four-year nursing program (bachelor's degree) was about to be approved in 2013. And finally the current school name 'Sahmyook Health University' (SHU) was approved in 2016. The school finished the new school facility project and renovated the H building of the school as of September 2014. Currently there are mainly three buildings: S building, H building, U building at the campus, and another annex building is under renovation, and soon it will be used as a school facility.17
Current Situation
The institution is structured into six departments with seven majors:
▪ Department of Nursing (4-year)
▪ Department of Dental Hygiene (3-year)
▪ Department of Beauty Convergence: Medical Skin Care (2-year) and Beauty Hair (2-year)
▪ Department of Elderly Social Welfare (2-year)
▪ Department of Childhood Care and Education (2-year)
▪ Department of Medical Information (2-year)18
It offers a four-year degree program in the Department of Nursing, a three-year professional program in the Department of Dental Hygiene, and a two-year associate degree in the other departments (Medical Skin Care, Beauty Hair, Elderly Social Welfare, Childhood Care and Education, and Medical Information). In addition, the departments of Nursing, Dental Hygiene, and Childhood Care offer a special program, "Major Intensive Course," in which learners holding an associate degree can earn a degree that is equivalent to a bachelor's degree.19
Historical Role
The institution is actively carrying out plenty of on-campus evangelical programs for students based on the Spiritual Master Plan such as mandatory Bible courses, Mission Week, Global Leadership Program, Youth Church, Friday night vespers, outreach activities, etc. As a result of these mission-focused activities, on average over one hundred students get baptized each year, and students volunteer for 1000 missionary movement.
Challenges and Prospects
Much stronger collaboration and partnership between industry and SHU are imperative to address current challenges confronted in Korea as the government's criteria for evaluation places great emphasis on the combined platform of both parties. It's a great challenge to build cooperative relationship with non-Adventist industries and earn measurably tangible outcomes. As the institution is operated with firm identity as an Adventist church school, all the current data related with mission and faith turn out reasonably satisfactory, but the fast changing trend of the young generation is driving the mission oriented school administration into deep water. This though motivates all the administrators and faculty to invest more efforts for the evangelism and mission projects.
SHU is the only health specialized institution that offers two- and three-year courses (associate B.A. degrees) and four- year courses (B.A. degrees) among nine junior colleges. Conveniently located in the downtown and sharing the campus with Seoul Adventist Hospital which closely work with and for each other, SHU gains and maintains the highest level of competitiveness in every aspect, which leads the institution to be top class in every government evaluation. Currently its global business projects and exchange programs have also received spotlights from both domestic and international perspectives, taking advantage of SIGN (Sahmyook Interactive Global Network) in carrying out the projects and programs. The institution will devote itself more to missionary work and serve as the center of influence to young people.
List of Presidents
Kyung Sung Health Care Hospital's Affiliated Nursing Institution (1936-1948):
Ernestine Gill (1936-1940); Sa-Young Chung (1941-1943); Irene Roboson (1947, 1948).
Seoul Hygiene (Wisaeng) Hospital's Affiliated Nursing High School (1948-1962):
Irene Roboson (1948-1955); Grace L. Rue (1955, 1956); Jane Rittenen (1956-1960); Gwi Bun Ahn (1960, 1961).
Seoul Hygiene (Wisaeng) Hospital's Nursing School (1962-1973):
Gwi Bun Ahn (1960-1964); Harriet Dinsmore (1964-1968); Rose Wilson (1968-1972); Sang Mun Cho (1972, 1973).
Hygiene and Nursing Specialized School (1973-1977):
Sang Mun Cho (1973-1977).
Sahmyook Specialized Nursing School (1977, 1978):
Chan Yeon Go (1977-1978)
Sahmyook Nursing College (1978-1998):
Jun Pal Kim (1978, 1979); Mi Bae Kim (1979-1992); Jae Shin Kim (1992-1995); Byung Il Cho (1995-1998).
Sahmyook Nursing and Health College (1998-2007):
Byung Il Cho (1998, 1999); Dae Yeon Cho (1999-2007).
Sahmyook Health College (2007-2012):
Tack Chul Jung (2007-2011); Gwang Gyu Kim (2011, 2012).
Sahmyook Health University College (2012-2016):
Gwang Gyu Kim (2012-2014); Doo Han Park (2015, 2016).
Sahmyook Health University (2016- ):
Doo Han Park (2015, 2016).
Sources
University Bulletin, 2019. Seoul: Korean Publishing House, 2019.
Roth, Don A. and Bill Oliphant. "Dr. George Rue, Veteran Medical Missionary in Korea, Retires From Active Service." Far Eastern Division Outlook, July 1967.
Oh, Man-Kyu. History of One Hundred Years of Korean SDA. Vol 1. Seoul: Korean Publishing House, 2010.
Lee, Young-Ja. A Collection of Memoirs. US Sahmyook Nursing Alumni Association, 2008.
Lee, Geun-Hwa. A Memoir of Medical Mission in Korean Adventist Church. Los Angeles, CA: American Sijosa, 2003.
Notes