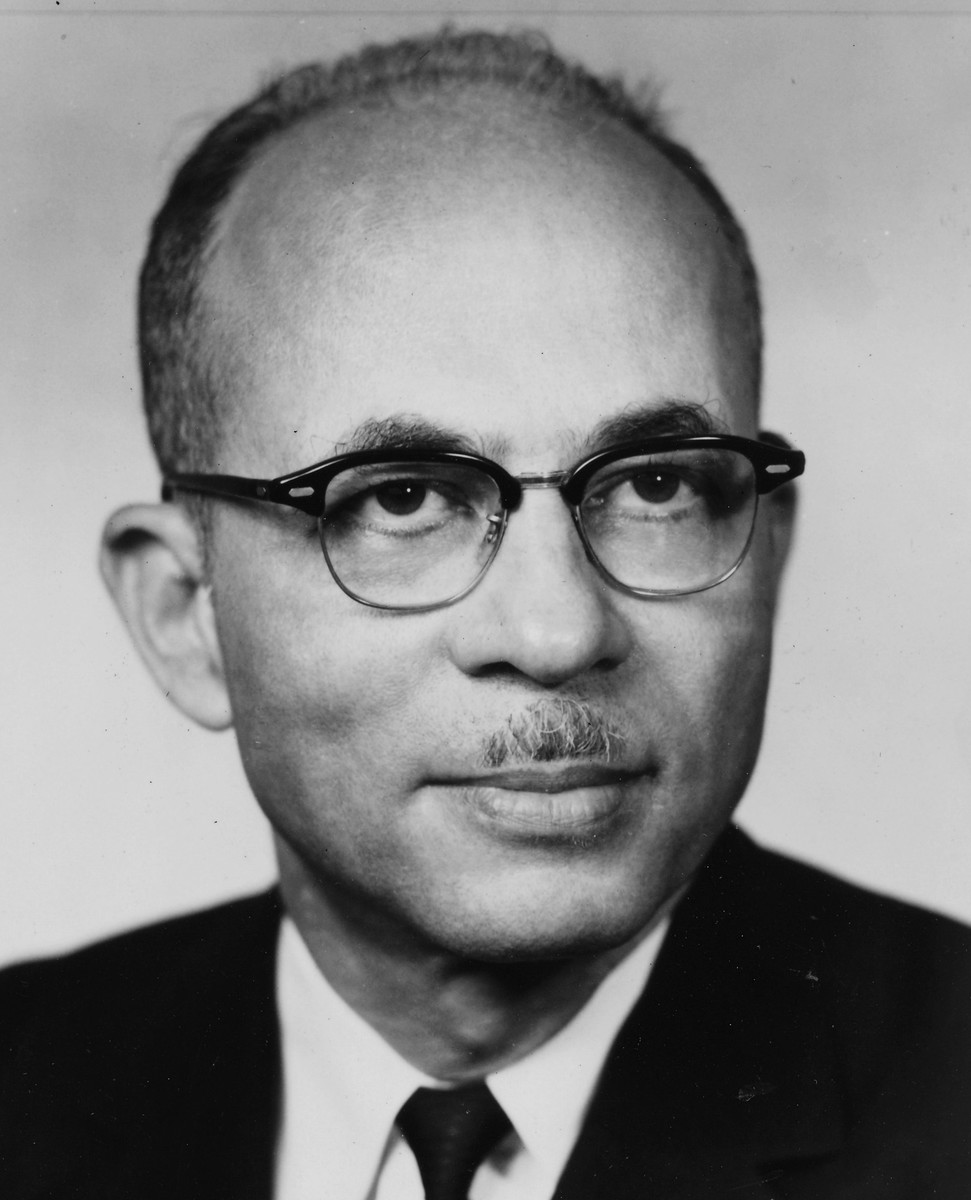 Singleton, Harold Douglas, Sr. (1908–2010)
×
Samuel London, Ph.D., is a professor and chair of the Department of History and Political Science at Oakwood University, Huntsville, Alabama. He is the director of the Oakwood Office for the Encyclopedia of Seventh-day Adventists. London wrote the book Seventh-day Adventists and the Civil Rights Movement (University Press of Mississippi, 2010). Samuel and his wife Laura reside in Priceville, Alabama.
Alfonzo Greene, Jr., Ph.D., is an associate professor in the Department of History and Political Science at Oakwood University, Huntsville, Alabama.
DeWitt S. Williams, Ed.D. (Indiana University) lives in Maryland after 46 years of denominational service. He pastored in Oklahoma, served as a missionary in the Congo (Departmental and Field President), and Burundi/Rwanda (President, Central African Union). He served 12 years in the General Conference as Associate Director in both the Communications and Health and Temperance Departments. His last service was Director of NAD Health Ministries (1990-2010). He authored nine books and numerous articles.
First Published: January 29, 2020
Harold Douglas Singleton, Sr., served as a Seventh-day Adventist minister, editor, church administrator, and regional conference pioneer.
Harold was born in Brunswick, Georgia, on December 10, 1908, to Joseph Pinkney Singleton (1874–1962) and Anna Mae King (1886–1924).1 Shortly after his birth his parents moved to Jacksonville, Florida, where he lived for the next 15 years. His father was Baptist and his mother Episcopalian. Harold was christened in St. Luke's Episcopal Church and attended the Episcopal school until the second grade. Both parents believed in meticulous organization. His father, a carpenter, placed each tool in the tool shed in its appropriate place. After something was used, it was immediately replaced. The menu was planned on a weekly basis, and each day had its designated chores. Such systemization had a profound influence on the soon-to-be administrator.
Harold's mother managed the family's money and stretched the meager funds that her husband brought home. Everything was purchased with cash, nothing on credit. This system of financial management certainly influenced Singletons' future penchant for building churches debt-free.2 When Harold was about seven years old, the Seventh-day Adventists purchased property directly across from the Singletons' home and began to build a church. Matthew C. Strachan, the pastor, made a favorable impression on the family, and Harold's parents were baptized into the church.3 Following the death of his mother in August of 1924, Singleton enrolled in the high school division of Oakwood Junior College.4
The Jacksonville church, led by Isaac Palmer, organized a "Harold Singleton to Oakwood" club, and the members pledged a penny a day to help keep him in school. Singleton was grateful for the financial assistance of his church, but he knew it would not be enough to cover all his expenses. Therefore, he asked Oakwood's president, Joseph A. Tucker, for a campus job and was assigned to the carpenters' shop for the duration of his schooling.5
In 1925 Singleton was baptized in Indian Creek near the Oakwood campus. He graduated from Oakwood Junior College in the spring of 1928 with an interest in history.6 After much prayer and persuasion from President Tucker, he reentered Oakwood for one year, studying for the ministry.7 Singleton and Harvey Kibble were the first two African Americans accepted into the General Conference internship program for ministers. Singleton began his career in the old Cumberland Conference as a pastoral intern from 1929 to 1931 at the Eighth Street Seventh-day Adventist Church in Chattanooga, Tennessee.8
With financial assistance from Anna Knight, Singleton attended Union College in Lincoln, Nebraska, where he completed his undergraduate education in 1932.9 Later he attended and accumulated graduate credits at the Seventh-day Adventist Theological Seminary.10 In 1932 he accepted a call to the Florida Conference of Seventh-day Adventists, where he labored until 1939, raising up congregations and building debt-free churches in Ocala, Daytona, New Smyrna, Belle Glade, and Fort Lauderdale.11 Singleton was ordained into the gospel ministry at the Florida camp meeting in the summer of 1935 by Frank L Peterson.12 While pastoring in Miami, Florida, Singleton met Mary Louise Miller (1915–2010), a church school teacher from Atlanta, Georgia. They were married June 6, 1938, in Orlando, Florida, by Matthew C. Strachan.13 The couple had six children: Mercedes (1939– ), Harold, Jr. (1941– ), Alvin (1944– ), Kenneth (1950– ), Marilyn (1953– ) and Dwight (1958– ).14
From 1939 to 1942 Singleton worked for the Carolina Conference of Seventh-day Adventists, pastoring churches in Rocky Mount, Goldsboro, High Point, and Raleigh.15 Next, he accepted an invitation to serve as the secretary of the Southern Regional Department, also known as the Negro Department, of the Southern Union Conference of Seventh-day Adventists. He held this position from 1942 to 1945.16
In 1944 the denomination's leaders decided to reorganize the black work through the creation of regional conferences. The South Atlantic Conference of Seventh-day Adventists, organized in 1945, selected Singleton to serve as its first president, a position he held from 1946 to 1954.17 This new conference was comprised of North and South Carolina, Georgia, and Florida. During his administration the conference obtained the campgrounds at Hawthorne, Florida, now operated by the Southeastern Conference of Seventh-day Adventists.
In 1954 Singleton succeeded Lewis H. Bland as president of the Northeastern Conference of Seventh-day Adventists. He continued in this office until 1962. That year, at the General Conference session held in San Francisco, California, Singleton was elected to serve as the General Conference Regional Department secretary, succeeding Frank L. Peterson.18 During this time he became the editor of the North American Informant.19 At the General Conference session held in Detroit, Michigan, in 1966, Singleton was elected as an associate secretary of the General Conference. He served faithfully here and was reelected to that post several times until his retirement in 1975.20 After his retirement he continued providing ministerial services to several Washington, D.C., area churches in the Allegheny East Conference of Seventh-day Adventists.21
Singleton died on February 6, 2010, in Maryland at the age of 101. He is buried in Oakwood Memorial Gardens in Huntsville, Alabama.
Singleton is remembered for devoting more than 46 years of his life to serving the denomination as a pastor, evangelist, church administrator, and editor. He mentored such black Seventh-day Adventist leaders as Edward Earl Cleveland, Warren St. Clair Banfield, Maurice T. Battle, Harold L. Cleveland, Donald L. Crowder, Lucious Daniels, George R. Earle, Franklin S. Hill, Fitzgerald H. Jenkins, Calvin B. Rock, Eric C. Ward, Stennett Brooks, James A. Edgecombe, Alvin Goulbourne, Samuel A. Hutchins, and George Timpson. Their collective work over the years contributed to the success of the denomination and solidified his legacy as a pioneer of black Adventism.
Sources
"About the Contributors." Message. Oakwood University Archives.
Florida. Duval County. 1920 United States Census. Ancestry.com. Accessed February 24, 2019. http://ancestry.com.
"Harold D. Singleton." Service Record. General Conference of Seventh-day Adventists Bureau of Public Relations, 1972. Oakwood University Archives.
"Harold D. Singleton obituary." First Seventh-day Adventist Church, Washington, D.C., March 10, 2010. Oakwood University Archives.
Medley, Carlos. "Harold D. Singleton: Reflections From a 'State Man.' " Regional Voice 26. Oakwood University Archives.
Oliver, Ansel. "Harold D. Singleton (1908–2010)." blacksdahistory.org. Accessed February 24, 2019. blacksdahistory.org/harold-d-singleton.html.
Orlando, Florida, Marriage Certificates. State of Florida, Orange County Central Bureau of Vital Statistics.
"Our History." South Atlantic Conference of Seventh-day Adventists. Accessed February 26, 2019. http://sacsda.org/pages/about-us-2/.
Peterson, Frank L. "Life's Surprises." North American Informant 16, no. 85 (November-December 1962).
Singleton, Harold D. "Farewell From the Singletons." North American Informant, 1975.
United States Social Security Applications and Claims Index, 1936–2007. "Singleton, Joseph P.," Ancestry.com. Accessed February 24, 2019. http://ancestry.com.
Notes