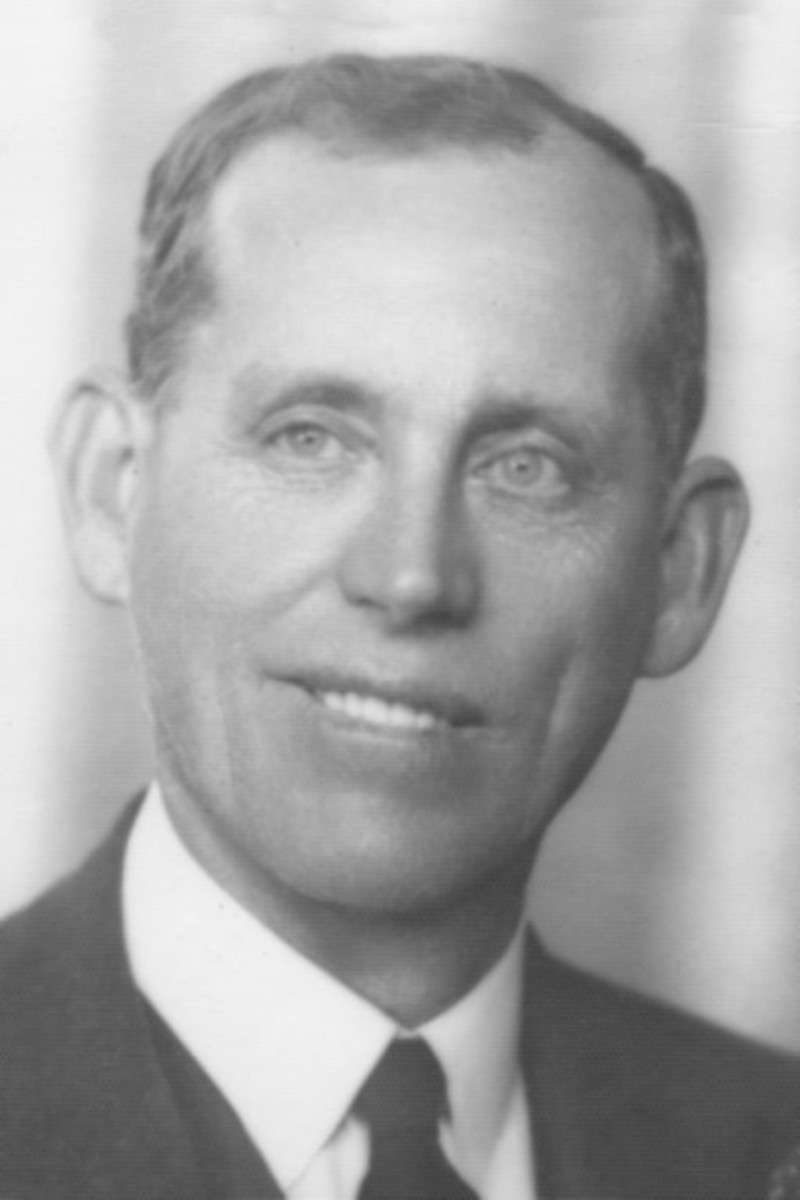 Rosendahl, Edward (1886–1960)
×
Ross Goldstone, M.A. (Avondale College, Cooranbong, New South Wales, Australia) retired in 1998 as Senior Pastor, Avondale Memorial Church, Cooranbong, NSW, Australia. New Zealand born, Goldstone has served the Church as a pastor, Conference Youth Director, teacher, and Sessional Lecturer at Avondale College. He has authored nine books relating to Adventist history, including The Angel Said Australia. He is also co-author of four other books on Adventist history in Australasia. In retirement Ross Goldstone continues to research and write Adventist Church history.
First Published: January 29, 2020
Edward Rosendahl served as principal of three senior educational institutions: New Zealand Missionary College, West Australia Missionary College, and Australasian Missionary College (Avondale). In each of these appointments, his abilities and gentle personality responded positively to difficult circumstances.
Early Life
Edward Rosendahl was born on January 21, 1886, at Cordelia in the sugar-cane district of Halifax, North Queensland.1 His parents were Niels Christian and Ane (Mortensen) Rosendahl who had been married on November 30, 1867, in Egtved, Denmark. The Rosendahls with their two oldest children, Ane and Jessine, migrated to Australia on the Shakespeare, departing Hamburg, Germany, on March 21, 1871 and arrived in Maryborough, Queensland, on August 3, 1871. They travelled to Cardwell, Queensland, and then to Halifax where they made their home at "Gumbi Gumbi," a sugar cane plantation in Cordelia.2
Edward Rosendahl was the youngest surviving member of the family. His siblings were Ane (Christensen), born January 5, 1868; Jessine, born January 20, 1870; Christian, born June 11, 1872; Jason, born June 24, 1874; Jessie (Irvin), December 2, 1876; Catherine (Fury), January 16, 1879; and Margarita (Lister), April 16, 1882. Subsequent to Rosendahl's birth, unnamed twins were still born.3
As a young boy, Rosendahl was lent a copy of Ellen White's book, "The Great Controversy." Subsequently, he became the first member of the Rosendahl family to keep the Sabbath.4 Some years later in Charters Towers, Queensland, he was given a series of Bible studies by A. M. Chelberg following which he was baptized in 1908 at the age of twenty-two.5
In 1909, Rosendahl enrolled as a student at the Australasian Missionary College and graduated from the biblical academic course in 1912.6 It was while a student at the college that he met Amelia (Millie) Bree. Amelia Bree had been born in Whangarata, Auckland, New Zealand, on September 5, 1889, the daughter of Helier and Elizabeth Bree.7 She was one of fourteen children born to the Brees between 1871 and 1895.8 She attended Australasian Missionary College in 1909 and 1910,9 graduating from the business course in 1910.10 Subsequently, she completed the nursing course at Sydney Sanitarium and Hospital, commencing in 1911 and graduating in 1913.11 After Edward Rosendahl's graduation in 1912, he joined the faculty of the college.12 Edward and Amelia Rosendahl were married on December 5, 1913.13
Years of Service
In 1914, the newly-married young couple were both members of the faculty of the Australasian Missionary College. Edward Rosendahl was the preceptor and a teacher in the business course.14 Amelia Rosendahl, who as a student had been secretary to the principal, was also given teaching responsibilities.15
At the New Zealand Conference session of January 1915, held in Napier, it was voted to divide the conference into two. The new organizations were the North New Zealand Conference with headquarters in Wellington and the South New Zealand Conference with headquarters in Christchurch. Edward Rosendahl was appointed secretary and treasurer of the newly formed North New Zealand Conference and so took up residence in Wellington.16 He served in this position until appointed principal of the recently established Oroua Missionary School (now Longburn Adventist College) in 1920.17
In 1921, the Darling Range School (now Carmel Adventist College) located in Bickley, West Australia, was in dire financial straits. Church leaders were seriously considering closing the institution, particularly as Australia became involved in the world-wide Great Depression. To meet the situation, Rosendahl was transferred from the New Zealand School to the West Australian school at the beginning of the 1922 academic year.18 The main source of income, apart from student fees, was the college orchard. However, prices for citrus fruit were depressed, so it was decided to export three hundred and fifty cases of oranges to England. Sadly, due to shipping problems, much of the fruit was rotten before it arrived in the markets and the venture resulted in financial loss.19 With the majority of students dependent on work to pay their fees, employment had to be provided, particularly for the female students. Many were involved with work in the orchard, but with depressed financial returns and limited cash flow from fees, the financial crisis was exacerbated.20 The financial crisis was not limited to the Darling Range School; rather, it was experienced in every aspect of the denomination's work in Australasia.21
On September 26, 1926, the last Sabbath afternoon of an Australasian Union Conference session, Edward Rosendahl, along with E. E. Cossentine, W. N. Lock, N. H. Faulkner, and W. D. Smith was ordained.22
In 1928, the Rosendahl family returned to New Zealand where Edward Rosendahl became principal of the New Zealand Missionary School, 23 a position he held until the end of 1933.24 In the late 1920s, a basketry industry was established, which provided employment for the students and proved to be popular and profitable. The college dairy farm also provided a major source of income. Boarding facilities were added as was a new music studio.
From 1934 until 1938, Rosendahl once again served on the faculty of the Australasian Missionary College. Among other subjects, he taught history.25 Between 1939 and 1944, he was engaged in pastoral work in the Victorian Conference.26 He pastored churches in the city of Melbourne for a short period and in June 1939 relocated to Mildura where he remained for three years until he was appointed as pastor of the Warburton church in 1942.27 He proved to be an industrious and beloved pastor of the Warburton church, caring for the employees of three denominational institutions as well as conducting Bible studies with a number of other interested families.28
At the end of 1944, it was decided to replace the principal at the Australasian Missionary College and knowing mild-mannered Edward Rosendahl had experience as a principal, it was decided to appoint him pro tem until such a time as a more permanent leader could be secured. With his gentle disposition, he was able to restore a degree of unity between College Administration and faculty. He remained at his post of duty for two years until he was replaced by Dr. Murdoch.29
At the beginning of 1947, Rosendahl was invited to become the principal of the Advent Correspondence School. Initially known as "The Fireside Correspondence School," it had for some years provided educational opportunities for students from around the South Pacific. Under Rosendahl's leadership, the Advent Correspondence School was moved to Cooranbong and upgraded in academic intent and scope.30
Edward Rosendahl's later years were spent in Cooranbong where he pastored churches in the district. His death came after months of serious illness on November 27, 1960, and he was buried in the Avondale Adventist Cemetery.31 On June 20, 1962, his widow, Amelia, married Pastor W. N. Lock.32 She died in the Charles Harrison Home, Cooranbong, on June 10, 1989, thus outliving her first husband by almost twenty-nine years.33
Sources
Australasian Missionary College 1913: Seventeenth Annual Announcement. Cooranbong, New South Wales: Avondale Press, 1913.
Bree-Rosendahl, Amelia. "Grandma's Story." Unpublished manuscript, 1985. South Pacific Division Heritage Centre, Avondale College of Higher Education, Cooranbong, New South Wales. Box 1806.
"Brevities." Australasian Record, July 13, 1942.
"Brother E. Rosendahl with his family..." Australasian Record, January 9, 1922.
"Brother E. Rosendahl, the newly appointed principal..." Australasian Record, January 9, 1928.
Butler, F. J. "Victorian News Notes." Australasian Record, June 16, 1939.
"Closing Exercises." Australasian Record, November 4, 1912.
"Closing Scenes at Avondale." Australasian Record, October 19, 1908.
Cole, J. M. and Mrs. F. G. Rampton. "The New Zealand Conference." Australasian Record, March 1, 1915.
Cordelia, Queensland, Australia. Birth Certificates. Registrar of Births Deaths and Marriages, Queensland, Australia.
Darling Range School Minutes. November 30, 1922. Carmel College Archives.
"Decisions of the Union Conference Council Held April 21-May 8, 1920." Australasian Record, May 31, 1920.
"Distribution of Labour." Australasian Record, September 30, 1907.
Dowling, W. G. "Lock- Rosendahl," Australasian Record, March 19, 1962.
Edward Rosendahl Biographical Information. South Pacific Division of the General Conference Archives.
Faculties of Our Training Schools." Australasian Record, September 16, 1935.
Goldstone, S. Ross and Nerolie Hiscox, Glimpses of Carmel Adventist College, Warburton, Victoria: Signs Publishing Co., 2007.
"Graduation Exercises, Sanitarium Wahroonga." Australasian Record, December 15, 1913.
Hammond, T. W. T. W. Hammond to E. Rosendahl. March 5, 1924. Letter held in the files of the Carmel Adventist College Library, Carmel, Western Australia.
Hook, Milton. Avondale: Experiment on the Dora, Cooranbong, Avondale, New South Wales: Academic Press, 1998.
"Monthly Summary of Australasian Canvassing Work." Australasian Record, March 2, 1908.
"Neils Christian Rosendahl / Ane Mortensen." Unpublished document. Personal collection of Julie Oliver, great granddaughter of Neils and Ane Rosendahl.
"Ordination Service." Australasian Record, October 18, 1926.
Pascoe, A. L. "Life-Sketch: Mrs. Amelia Lock (formerly Rosendahl)." Record [South Pacific Division], August 12, 1989.
Piper, H. E. "Notes from Victoria." Australasian Record, September 13, 1943.
Rosendahl, E. "The Advent Correspondence School: An Historical Sketch." Australasian Record, April 12, 1948.
"The 1927 Council." Australasian Record, September 5, 1927.
"There was quite an exodus..." Australasian Record, November 4, 1912.
Turner, W. G. "Edward Rosendahl obituary." Australasian Record, January 9, 1961.
"Union Conference News," Australasian Record, February 27, 1939, 8.
Watson, C. H. "The Rosendahls in the Advent Movement." Australasian Record. August 8, 1962.
Notes