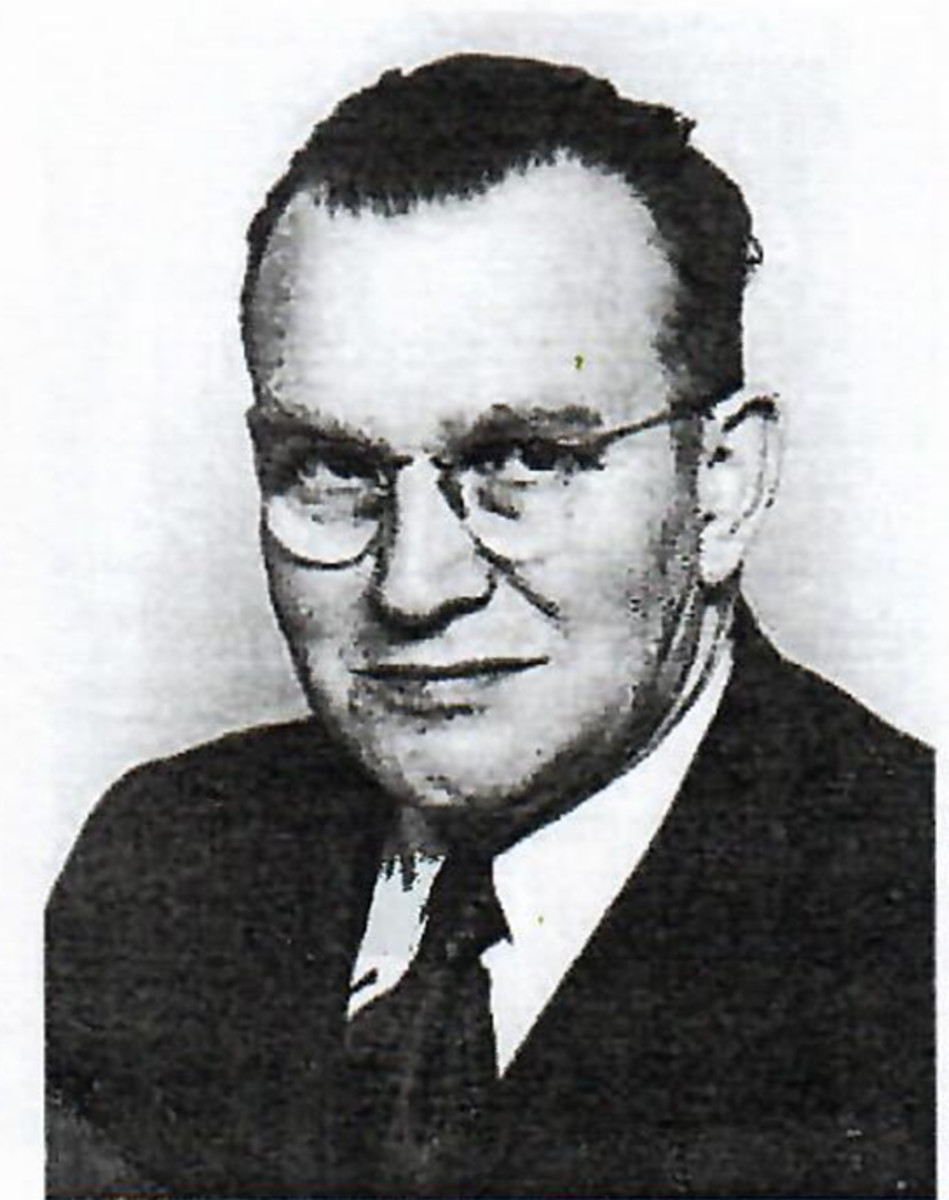 Varmer, Axel (1894–1976)
×
Sven Hagen Jensen, M.Div. (Andrews University, Berrien Springs, Michigan, USA) has worked for the church for over 50 years as a pastor, editor, departmental director, and church administrator in Denmark, Nigeria and the Middle East. Jensen enjoys reading, writing, nature and gardening. He is married to Ingelis and has two adult children and four grandchildren.
First Published: April 22, 2021
As an evangelist, Bible teacher, administrator, and editor, Axel Varmer played a key role in leading people to Christ, training young people, and building up the church in Denmark. His book, I Skyggen af Store Begivenheder (In the Shadow of Great Events), was widely sold during the World War II years and was instrumental in preparing the way for evangelism in many communities. In his later years he served the church at division level and as a missionary in Africa.
Early Life
Axel Rikard Varmer was born on June 10, 1894, in Saxogade, Copenhagen. In his autobiography Fra Saxogade til Ebenezer (From Saxo Street to Ebenezer)1, he graphically describes his background and childhood, where he mentions Saxogade as a slum with a doubtful reputation, and not far away from Ebenezer, the very first Adventist Church building in Denmark.2 About ten thousand people lived on that street alone. "Most of them lived in small two-room apartments from ground level to sixth floor with four families on each floor. One front yard and a couple of narrow backyards served as playground and breathing space for the many children who lived with their parents in the crammed apartments in the front house, the side houses, and the house in the back." He was grateful that the Lord's eyes looked into his backyard and found him "before he was engulfed by the moral depravity that prevailed in this part of town and that some of his peers were drawn into."3
One of his father's work mates had listened to Pastor J. C. Raft's Bible lectures in the nearby Ebenezer Church and persuaded Axel Varmer's parents to attend. When they got excited about what they heard, his mother said to him, "You are old enough to understand and appreciate these Bible lectures." Axel then followed his parents while his two younger brothers stayed at home. These meetings became a decisive turning point in his life. He had a conversion experience and wanted to follow Jesus and serve him. Going to the cinema, smoking, swearing, and being insubordinate at home and at school came to an end, fights in the school and on the street stopped, as well. Instead, he started to talk to his friends about his newfound faith and read to them from the Bible.4
He was in seventh grade at the time, and one day all the students were to be enrolled for confirmation preparation with the Lutheran vicar. The other students willingly signed up, and at last he was the only one that hadn't, and the teacher asked him, "Axel, are you not going to sign up?" He shook his head, and the young teacher called him to his desk and asked, "Are you not going to be confirmed?" Axel had already been christened as an infant. "No," Axel said quietly, "I am going to be baptized." The teacher placed his arm around him and said, "You are right. This is the right thing to do." Axel was baptized at the age of 14 and became a member of Ebenezer Church.5
Work and Preparation for Ministry
He had wanted to become a bricklayer. But being a Sabbath keeper now made it difficult for him to find an apprenticeship. Instead, he found a place at the Adventist Food Factory in Baldersgade, Copenhagen. One of the men there started his own bakery, and after a year Axel left the food factory and joined him. The church leaders, however, encouraged him to attend the newly formed mission school at Skodsborg. They told him the church would help him pay the school fees for the first year. He decided to further his education there and be trained for the ministry. Little did he know that later he would become first a Bible teacher and then principal at the same mission school. He studied from 1909 to 1914 and earned his fees by canvassing in the summertime.6
Early Ministry and Marriage
From 1914 to 1917, during World War I, he partly canvassed and partly worked as Bible worker and assistant to other evangelists. In 1917 at the age of 23 he received a call to begin his own ministry as a preacher. In 1919 he married physiotherapist Olga Kvamme (1891--1927) of whom he said, "I got a good help in the work for the salvation of souls. We had attended school together. Her proficiency in singing, music, and English was a great benefit, and it was of great importance to have a home to which you could invite interested people."7 The 10 years they were married they moved 13 times, which was not uncommon for an Adventist minister in those days. From 1917--1927 he served as pastor and evangelist in seven different churches and led many to Christ and organized new churches.
He tells about one experience in 1920 from his evangelistic meetings in Graasten, Sønderjylland,8 where the headquarters for the Danish Military Command was placed. He didn't expect many to come to his Bible lectures in that small town, and therefore only a few chairs were put in place in the hall. But as people started coming, they had to get more and more chairs until the hall was completely full except for a few seats on the first two rows. "Just as I had entered the pulpit," Pastor Varmer tells, "the door was opened, and to my great surprise a group of high-ranking officers came in through the door with Count Moltke, the commander-in-chief, leading the way. They all took their seats just in front of the pulpit. It is understandable that I got a little shock; but several of them continued to come to hear the words of prophecy." A few years later one colporteur visited Mrs. Moltke with the book Et blik på vor tid (A Look at Our Time). The lady immediately ordered the book as she said, "This book I want to have, because it reminds me about some meetings a young man held in Graasten, that I have never forgotten."9
In 1922 Axel was ordained at a camp meeting in Copenhagen.10 In the town of Silkeborg Varmer met with great opposition. A spiritualist medium told him that the spirits had warned them against him. It led to an exchange of views with the spiritualist in one of the leading newspapers and an opportunity to explain the Bible truth of life after death. Some of the State Church pastors also publicly warned about his preaching and the "terrible" rebaptizer that had come to town. At the time, a number of people had already decided for baptism, and Varmer felt encouraged to invite the pastors in Silkeborg to discuss the topic of infant baptism vs. biblical baptism. Several pastors from other denominations, as well as many other people, came to listen to Pastor Varmer's review of the Bible's teaching on faith, conversion, and baptism. As a result, 30 people were baptized, and a new church was organized.11
Teacher and Administrator
In 1928 he received a call to be Bible teacher at the mission school, which was at that time in Nærum. With his experience in evangelism, he was well equipped to teach the young people preparing for gospel ministry. While here he and his four young boys were hit by a great sorrow, when Olga, his wife and their mother, died, after some years of sickness.
In 1930 the mission school moved to Daugaard at Vejlefjord. It was also in 1930 that he married his second wife, teacher Marie Sofie Jensen (1892-1967). In 1931 the West Denmark Conference was organized, and he was elected as its first president (1931-1937). In 1937 he returned to Vejlefjord Højskole again as a Bible teacher, but the following year he was elected as president of the East Denmark Conference.12
World War II
While president of the East Denmark Conference 1938--1946) and still conducting evangelistic meetings, he also wrote the book, I Skyggen af Store Begivenheder (published 1942), which became a bestseller for literature evangelists during World War II and the years that followed. The book was a product of his many public evangelistic meetings. As the book shows, Axel Varmer was a man who had read widely. Wherever he went he would take a book with him and use every spare moment to read. His book shows his deep insight in the world situation and the truths of the Bible. The reader would find that the tone was evangelistic with many invitations to receive Christ as a personal Savior. One of the key quotations is on page 209: "Let us not forget, that Jesus loves all. He still stands at the door and knocks, and he wishes to draw all people to himself, whether they are Protestants, Catholics, Jews, Moslems or Pagans." 13
During the war people were especially eager to listen to prophecies on current events and the Bible. Axel Varmer preached to hundreds of people in his home city of Copenhagen during these years and filled the largest halls. This was in addition to his administrative responsibilities. In 1942 he was holding his meetings in one of the big halls of the city and was about to present the topic of "Antichrist, Sabbath, and Sunday." That year the Catholic Church had appointed their first Danish bishop since the Reformation. It so happened that the new bishop sent out invitations to a public meeting in the same hall on the topic: "The Catholic Church, the only true and saving church." The newspapers wrote about it, and Varmer attended and listened carefully. None from the Lutheran state church would meet the challenge and speak up. But Varmer prayed about it and decided to answer the bishop. Nine hundred people turned up to hear him, although only 700 were allowed according to the rules of the fire department. Everything went quietly without any interruptions. The large audience seemed gripped by the word of God. A Catholic lady came afterwards to Varmer and said, "Pastor Varmer, you are a dangerous man, you never say anything bad about the Catholics; but you just disclose their teachings." Five hundred copies of the lecture had been printed, and these were quickly snapped up, so 500 more copies had to be made. A Christian bookshop asked for extra copies to sell.14
Post War
After the war the church organization in Europe was reorganized. Axel Varmer was called to serve at the Northern European Division with headquarters first in Stockholm, Sweden, and later in London, England. Before taking up the appointment, he was granted half a year's study leave at Columbia Theological Seminary in Washington, D.C. in the United States (1947 to1948).15 In the division, where he worked for five years (1947-1952) as the director of the Home Missionary Department (some of the time also of ministerial and radio), he had the opportunity to visit nine different countries and helped encourage and train workers and members.16 He was impressed by the dedication and steadfastness of the many people that turned up for the meetings, especially in the country of Poland. On occasions there would be meetings all day–six meetings in a row without interruption, not even for food–until 6 p.m. Many would stand all day, eager to hear God's Word, and be together after the dark years of war. He also remembered in one local church, where they came straight from work for his evening meeting at 6 p.m. When he finished after an hour or so, they wanted another meeting and a third! When he thought they had had enough, they wanted another session for questions and conversation before going home for the evening meal and taking their rest.17
Return to School and Then the Mission Field
In 1952 he received a call to return to Denmark as principal of Vejlefjord Højskole. It was now a mission school for Denmark and Norway, and one of the many challenges was to make room for the many students and new staff. It was not ideal with three to four students in each room in bunk beds, and the classrooms were too small. A new dormitory for the girls was built, the gymnasium was extended, and other extensions and improvements were made. One Friday afternoon the telephone rang. The division committee was gathered for meetings, and they asked him if he would accept a call to go to Ethiopia and lead the work there. At the time he was 63 and his wife was also over 60. They passed the health examinations at Skodsborg but were allowed to stay at the school until the school year was finished.18
Then came five rewarding years in Ethiopia (1957-1962)19 with its four Adventist hospitals, several private clinics, schools, and many churches. During Varmer's time in Ethiopia the membership grew from 1,400 to 4,70020 because of dedicated local evangelists that "were animated by the love of Christ for their fellow countrymen," as he expressed it. The emperor had granted religious liberty to all in the country, but not all local authorities respected the central government, and the Coptic priests persecuted the Adventist churches and had the police arrest members and close churches. During his first two years, Pastor Varmer would spend time with the government and local authorities to have his members released from prisons. But the work could not be stopped. February 4, 1961, stands as a milepost of Varmer's service in Ethiopia. This was the day when a new church with a seating capacity of 500 was dedicated in the capital Addis Ababa. Emperor Haile Selassie, the crown prince and two princesses, were seated on the podium. The throne of the emperor had been brought to the church from the palace. After the dedication service, the emperor and his family expressed their appreciation for having been invited and learning more of the Adventist Church. Before Axel Varmer and his wife left Ethiopia, more members were added, and he would travel to Western Ethiopia to help organize four to five new churches.21
Winding Down
After Ethiopia Axel Varmer shortly pastored the Roskilde Church, west of Copenhagen, and participated in a major evangelistic effort in Copenhagen.22 His last employment with the Adventist Church was as editor at the Danish Publishing House (1963-1966). In 1970 he married his third wife, Grethe Christensen (1905-1979).23 More than anything else, Axel Varmer will be remembered as an outstanding evangelist that was blessed with bringing many to a saving relationship with Christ.
Sources
"Ved Livets Middagslinje" (In the Middle of Life), Skodsborgersamfundet, 1944.
Bayer, Birthe. "Fra Saxogade til Ebenezer." Prepared from original document kept in the Historic Archives of Seventh-day Adventists in Denmark (HASDA). Adventnyt, June 2018.
Pedersen, Kaj. "The Evangelist Axel Varmer." Adventnyt, April 1993.
Schantz, Hans Jørgen. I troens bakspejl (In the Rear-View Mirror of Faith). Nærum: Dansk Bogforlag, 1998.
Seventh-day Adventist Yearbook. Washington, D.C.: Review and Herald Publishing Association, 1947-1952 and 1958-1962.
Varmer, Axel. Fra Saxogade til Ebenezer (From Saxo Street to Ebenezer). A typewritten autobiography of 37 pages, dated June 14, 1976, and kept in HASDA (Historic Archives of Seventh-day Adventists in Denmark).
Notes