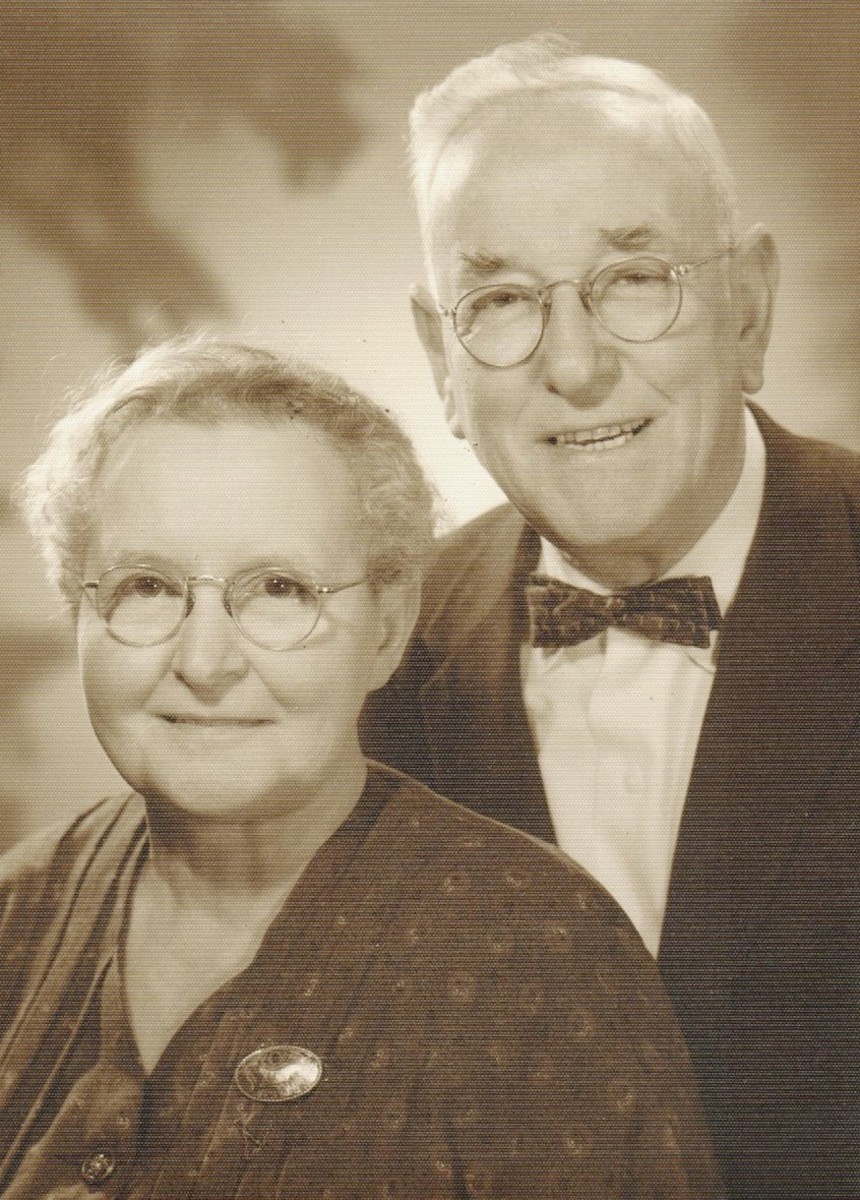 Litster, William Reginald (1892–1964) and Jessie Emma Marion Litster (Reekie) (1894–1972)
×
W. Glynn Litster, Ph.D. (The University of Newcastle, Newcastle, New South Wales, Australia), retired in 1994. Litster was born in Melbourne, Australia, and served as an educator and missionary in the South Pacific Division of Seventh-day Adventists. His roles included teacher, principal, school supervisor, and education director. Late in his career he researched the history of Sanitarium. During retirement he produced Pacific Islands hymnbooks in 7 languages. He is married to Elva, has two adult children, 6 grandchildren, and 3 great grandchildren.
First Published: January 29, 2020
William and Jessie Litster served the Seventh-day Adventist church in various capacities in Samoa, Fiji, and Australia.
Early Years
William Reginald Litster was born on April 15, 1892 at Burnley, an inner suburb of Melbourne, Australia1 to John and Elizabeth Litster.2 William was the youngest of five children having two older sisters and twin brothers. His father had been a bricklayer in the colonial Royal Victorian Engineers, but because of accidents, he was admitted to the Kew mental asylum. His mother raised the family on her own. At the first camp meeting at Brighton, Victoria in 1894, his mother heard Ellen White preach and, as a result, she and the family became Seventh-day Adventists. William attended the Burnley public school and was baptised on November 16, 1908.3 After leaving school, he worked as a shoe clicker cutting out leather for making shoes.4
In December 1910, William found employment as a stenographer and acting tract society secretary at the Victorian Conference Office at 430 Little Collins Street, Melbourne. His primary task was to despatch books and tracts to various churches around Victoria.5 From there, he spent some time in literature ministry in Western Sydney before moving back to take up a position at the Signs Publishing Company, Warburton, Victoria, in 1913.6 It was while there that he met Jessie Emma Marion Reekie. She was the receptionist and manager's secretary at the Signs Publishing Company, Warburton, Victoria.7
Jessie was born on February 27, 1894, in Perth Western Australia.8 She was the elder of two daughters born to Frederick William and Marion Reekie.9 Frederick, a literature evangelist at the time of Jessie's birth, was pioneering the work of the Seventh-day Adventist Church in the in the colony of Western Australia. In fact Jessie held the distinction of being the first Seventh-day Adventist child born in Western Australia.10
Life Service
William and Jessie's courtship continued for several years until they were married at Jessie's home in Cooranbong, New South Wales, on October 31, 1917.11 Together they set up home in Hobart, Tasmania where William had been working as the third church employee in the local conference office. He cared for Youth, Home Missions and Colporteur departments.12 After time in New South Wales as the Tract Society Secretary from 1918 until the beginning of 1920, he was appointed to Samoa; the appointment to Samoa had been made at the Australasian Union Annual Council in 1919.13 William and Jessie transferred to Samoa in April 1920.14 This was just after the end of World War I when the New Zealand Government had occupied what was previously known as German Samoa. There he worked closely with the local people distributing Tali Moni, the Samoan language evangelistic paper and conducting Bible studies. Unfortunately, after just two years in Samoa Jessie developed filariasis and William himself was continually unwell. They were compelled to return to Sydney where they were both hospitalised. They had only been in hospital a short time when Jessie was asked how long she was planning to occupy the Sanitarium hospital bed. She replied she would go immediately to her father who was in charge of colporteurs in Newcastle. William was also expected to vacate his bed. He returned to his widowed mother in Melbourne. Some time later, Jessie joined him. This experience disconnected the couple from church employment.15 William found work with a printing firm for the next five years, during which time a daughter, Jessie Purves, was born on March 28, 1923 in Melbourne, Victoria.16
In 1926 William was invited to become the Secretary-Treasurer of the Fiji Mission, working under superintendent, Pastor Edmund Rudge.17 Before embarking for Fiji, a son, Wilfred Glynn was born on December 25, 1926 in Melbourne.18 Another child, John Graham, was born in Suva on March 23, 1928.19 Caring for the financial operations of the mission was a challenge: There were always many more projects than available funds to complete or even commence them.
In 1930, the family returned to Sydney where William worked in the South New South Wales Conference Tract Society.20 Then, in 1932, when the depression was at its worst, William was invited to return to Fiji, again as the Secretary-Treasurer. They sailed on December 17 on the Monterey.21 Once again illness was to cut short their stay in Fiji. In 1935, a local doctor ordered William to travel to Sydney to seek treatment for a serious kidney problem. Having been treated William returned to Fiji, coincidentally on the same ship as the delegates travelling to attend the 1936 General Conference session in San Francisco. But shortly after arriving back in Fiji, William contracted typhoid fever. The local physician again stepped in and directed that the family take a furlough a year early.22 They did not return to Fiji.23 Just as the furlough was about to end, the West Australian Conference invited William to be the conference Secretary-Treasurer.
For the next seven years (1936–1943), William carried out the duties of the Secretary-Treasurer of the Western Australia Conference.24 During that time he privately studied to obtain Accountancy and Secretarial qualifications. He obtained a Diploma in Accountancy from the Hemingway Robertson Institute and was made an Associate of the Federal Institute of Accountants (AFIA). It was important to him that he had adequate qualifications for the work he was doing. In 1944 William was invited to return to the Signs Publishing Company in Warburton, Victoria, where he was to be the accountant.25 He was there for just one year before he was appointed as the Secretary-Treasurer of the Victorian Conference.26 After some eight years as the Secretary-Treasurer in Victoria, William felt he needed to spend more time caring for Jessie who was suffering from arthritis. He had observed that local church treasurers needed their record books audited. He asked the executive committee if he could be given lighter duties and work with the local treasurers. They acceded to his request.27
Later Years
William retired from denominational employment in 1952. Together they were able to reflect on a career which had taken them to Samoa and Fiji as well as three states of Australia. They were able to see the Church strongly established in each of the areas they had worked. For a time after his retirement from denominational employment, William took up part time work outside the employ of the church. In early 1964 William and Jessie moved to the retirement village at Cooranbong, New South Wales; he died just a few months later at the Sydney Sanitarium, on September 22, 1964, age 72.28 Jessie died on July 14, 1972, age 78.29
Sources
"Brother and Sister W. R. Litster…" Australasian Record, October 19, 1936.
"Brother and Sister W. R. Litster and their three children, sailed…" Australasian Record, January 2, 1933.
"Brother and Sister W. R. Litster, who are under appointment…" Australasian Record, February 7, 1927.
"Brother W. R. Litster, who for several years…" Australasian Record, March 29, 1937.
"Decisions of the Union Conference Council, Held September 24 to October 8, 1919 at Wahroonga, New South Wales." Australasian Record, October 27, 1919.
"Distribution of Labour." Australasian Record, October 4, 1926.
Hare, R. E. and Hopkins, Walter H. "South N. S. W. Conference and Camp – Meeting." Australasian Record, December15, 1930.
Palmer, C. S. "William Reginald Litster obituary." Australasian Record, October 19, 1964.
Seventh-day Adventist Yearbook. Washington D.C.: Review and Herald Publishing Association, 1914.
"The home of Brother and Sister F. W. Reekie . . ." Australasian Record, November 19, 1917.
White, A. H. and Minchin, A. G. "Tasmanian Conference." Australasian Record, January 14, 1918.
William Reginald Litster and Jessie Emma Marion Litster. Avondale Adventist Cemetery Grave # 153. Central Road, Cooranbong, New South Wales, Australia.
William Reginald Litster Biographical Information Blank. South Pacific Division of the General Conference Archives. Folder: "William Reginald Litster." Document: "Biographical Information Blank."
Notes