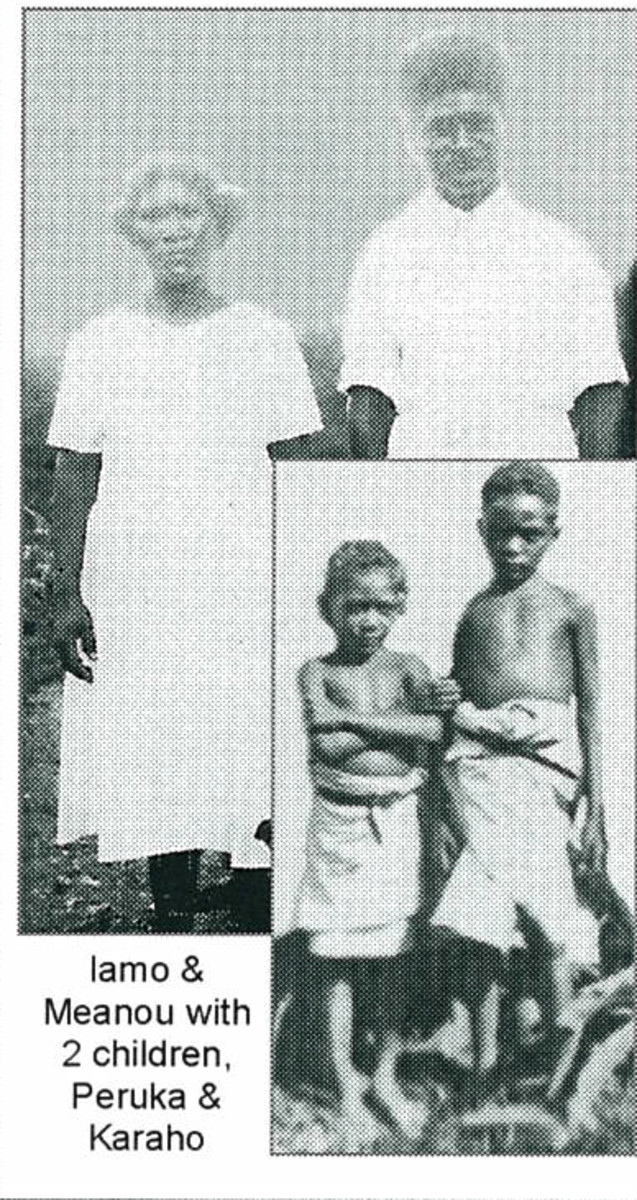 Peruka, Meanou (died 1935)
×
Thomas B. Davai, M.A. in leadership/administration (Avondale College, Corongbong, New South Wales, Australia) and B.A. in theology (Pacific Adventist University, Papua New Guinea). He is a Papua New Guinean by birth. He is also the former president of the Papua New Guinea Union Mission (2003-2010) and served as local church pastor, Mission and Union Mission departmental director, and local Mission administrator. Currently he is the director of Student Services, at Pacific Adventist University, Papua New Guinea. He was also awarded, by the Queen, a CMG (Order of Saint Michaels and St. George) presented by the Governor General in 2008 for outstanding service to the seventh day Adventist church and the community.
First Published: January 29, 2020
In the early 1920s Meanou, from Tubusereia village, some 30 kilometers (19 miles) southeast of Port Moresby, Papua New Guinea, decided to become a missionary for the London Missionary Society (LMS), and went from his village looking for a training school. His plan was to go to the LMS Manumanu Training School, some 200 kilometers (125 miles) northwest of Port Moresby and then become a missionary to the Papuan Gulf. However, he was discouraged by Iamo, his wife, because he had such a bad temper and she did not think he would make a good missionary with those character traits.1
While having conflict with his plans, he met a man by the name of Kiki, originally from Gulf province, who worked at Tahira, a village near Tubusereia. Kiki told Meanou about the Seventh-day Adventist (SDA) training school at Bisiatabu on the Sogeri Plateau in the mountains inland from Tubusereia. In 1908 and1909 Kiki had been working at Bisiatabu with a Mr. Bartman doing construction work. He did not become an SDA. However, he shared with many people the story of the church that he saw at Bisiatabu. He described the church as white in color, with a Picture Roll hanging on the wall. He insisted that the people always met together on a Saturday rather than a Sunday. Meanou was so intrigued with Kiki's encouragement that he decided that he would go to Bisiatabu.
It took some time for his wish to be fulfilled. In 1924 government officials were searching for workers to go to Koitaki Plantation near Bisiatabu to be porters, carrying loads on their backs and heads. Meanou saw this as an opportunity to go and see for himself the church that Kiki told him about. When Mea went to Koitaki, he went across to Bisiatabu and talked to Mr. Bartman and David from Fiji. He made an appointment to see them the following week.
After meeting with Bartman and David, Meanou went back home and shared what he found with his family, and they were very impressed. They packed their belongings and said goodbye to the extended family. Meanou, his wife, and two children—Peruka, the older boy, and Karoho, or John Mea, the younger son—walked for two days to arrive at Bisiatabu. Meanou was the first Papuan missionary to leave his home village and travel to other villages and districts. Initially he worked with William Lock at Bisiatabu. In 1927 he was assisting Lock and Mr. Engelbrecht with translation work.2 By 1928 George Engelbrecht described him along with two others as carrying "much of the burden of the mission, and constantly and conscientiously" attending to their work."3 Meanou was, by now, translating English SDA hymns into the Motu language.4 While they were at Bisiatabu their third child, Paul Mea, was born.
In 1929, when George and Christina Engelbrecht went to open a mission station on the Vailala River in the Papuan Gulf, Kairi Kekeao, and a young Peruka Mea accompanied them to help them carry their medicines. Shortly thereafter, Meanou was invited to join the Engelbrechts at Vailala.5 While there, the family suffered badly with malaria.6 However, in 1930 Meanou built a church at Hiroi village in Vailala. At the end of 1930 Meanou came back to Bisiatabu, and Peruka came back with the family. About this time Iamo died, and Meanou married again.7
In 1931 a new challenge was given to Meanou and his young family, to commence work on the Aroma Coast, 100 kilometers (62 miles) to the southeast of Port Moresby. So in March 1931, before the arrival of Ross and Mabel James, Meanou and his family were sent to Pelagai village in Aroma to begin the work of the SDA Church in that district.8 They traveled on a mission boat called Matamana meaning "beginning." Meanou and his family arrived with no food and no housing. Life was very difficult at the beginning, but they settled in slowly. Shortly after arriving, they were joined by Alma Wiles, widow of Norman Wiles, who had died of blackwater fever on Malekula Island, New Hebrides.9
It was difficult to gather any sort of momentum on the Aroma Coast. The LMS was the dominant church in the area. Meanou and his wife and children commenced running a branch Sabbath school. Mrs. Meanou taught her children, particularly Paul Mea to memorize scriptural passages and recite them during branch Sabbath school. Paul would stand in front of the children and share scriptures from memory. Peruka and Paul would sing Scripture songs. The people readily learned the songs.
In 1933 Peruka Mea was included in the first intakes of trainees at Mirigeda Training Shool, which was being established a short distance from Tubusereia. Peruka graduated in 1936 along with Hibo, the father of Yori Hibo, the first Papua New Guinean union president; Paiva, father of Jonathan Paiva; and Maneva Golova, from Wanigela. Hibo and Maneva Golova immediately went into ministerial work at Efogi village, high in the mountains behind Mirigeda. Peruka and Paiva stayed back at Mirigeda.
In January 1935 the news was received the Meanou had died. It was said of him that he "was an outstanding character in ability, consecration, enthusiasm, and faithfulness. He was one of our most experienced Papuan native workers."10
Peruka Mea became prominent in singing ministry in Papua and translated many of the English SDA hymns and songs into the Motu Language of Papua. Many of those translated hymns continue to be used in Papuan SDA churches. Like his father, Peruka was never ordained, but with his father and brothers did much of the work to establish the Mirigeda training center, where many SDA pastors did their training. The SDA church in Tubusereia village is a testimony to Meanou and his family.11
Sources
"A radiogram from Papua . . ." Australasian Record, January 28, 1935.
Davai, Thomas. "Central Papuan Mission." Australasian Record, June 7, 1982.
Engelbrecht, G. H. "Bisiatabu." Australasian Record, August 29, 1927.
———. "Bisiatabu Mission Papua." Australasian Record, April 9, 1928.
———. "Vailala Mission, Papua." Australasian Record, October 28, 1929.
Lock, W. N. "After Many Days." Australasian Record, March 28, 1966.
———. "Itinerating in Papua—No. 2: From Bisiatabu to Aroma." Australasian Record, June 1, 1931.
———. "Progress in Papua." Australasian Record, April 1, 1929.
"Sister Alma Wiles . . ." Australasian Record, May 25, 1931.
Notes