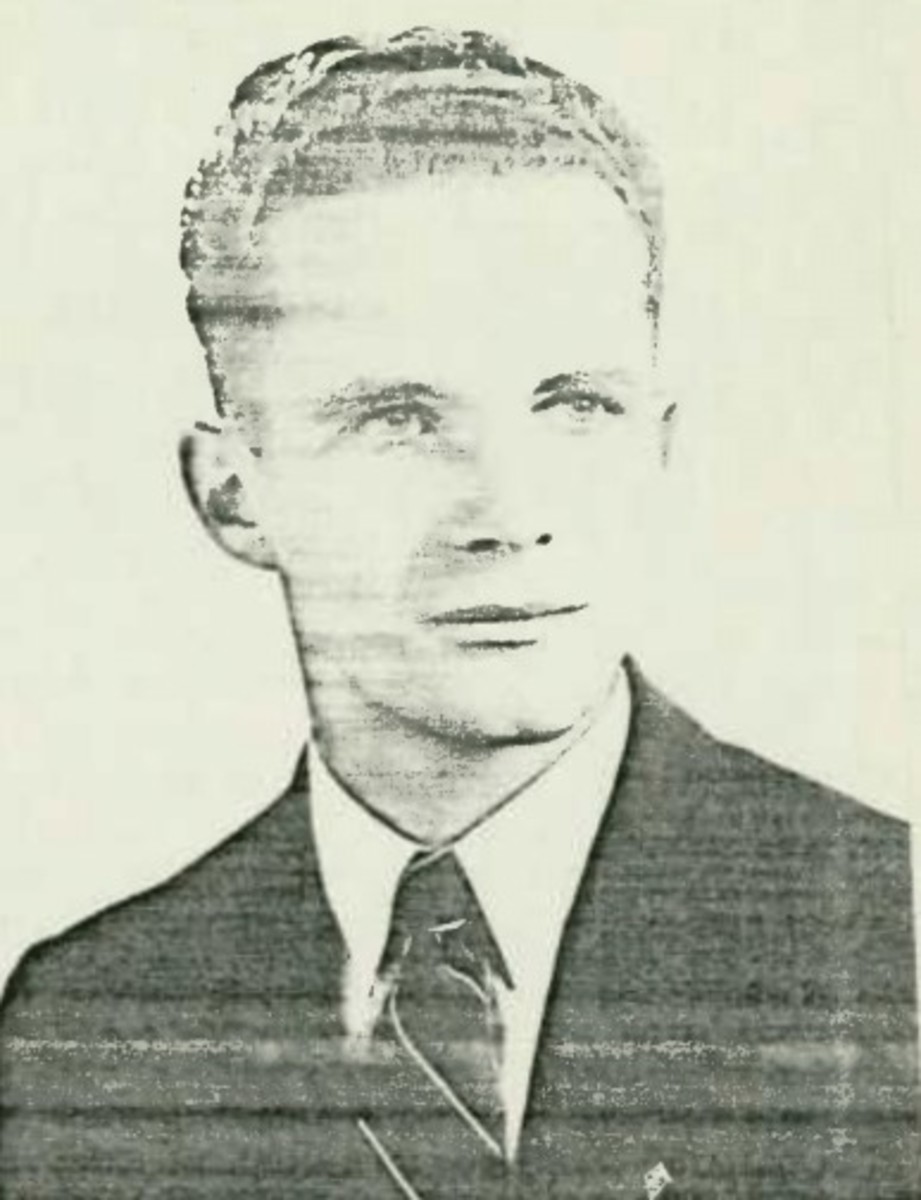 Aaen, Bernhard Albert (1918–1996)
×
Judson Chhakchhuak is from Mizoram, Northeast India. He holds a Master of Arts degree in Religion degree with an emphasis in the New Testament from the Adventist International Institute of Advanced Studies, the Philippines. He received his Bachelor of Arts degree in Theology degree from the Adventist University of the Philippines.
Margaret Louise Aaen Wilson (RN, BS, Loma Linda University) worked in the Intensive Care Unit at the Loma Linda University for one year. With her husband, Dr. Donald Wilson, she served with the Loma Linda Overseas Heart Surgery Team in Athens, Greece, in 1970-1971. With her family, she lived in Wahroonga, New South Wales, Australia and more recently in Angwin, California. She is a mother of five children and a proud daughter of Bernhard and Margaret Aaen.
First Published: April 25, 2021
Bernhard Albert Aaen was an ordained minister, missionary to Indonesia, educator, and administrator from North Dakota, U.S.A.
Early Life, Education and Marriage
Bernhard Albert Aaen was born August 6, 1918, to Bernhard Adolph Aaen and Lois Field in Alexander, North Dakota, U.S.A.1 Bernhard's father died of tetanus when Bernhard was barely two. The family then moved to Oregon to be near relatives.2 Bernhard attended Livingston Church School in Salem, Oregon, for his first and second grades. From grades three to eight he attended Laurelwood Elementary School. He was baptized into the Seventh-day Adventist church while attending this school in 1931.3
Bernhard then continued on at Laurelwood, attending the academy for his high school and graduated from there in 1936.4 He went to Walla Walla College to pursue a bachelor's degree in English. He graduated in 1942 with English as his major, and Bible, journalism, and chemistry as minors.5 Bernhard Aaen then did graduate studies for two years at the University of Washington.6
Aaen married Margaret Penhallurick, a fellow graduate from Walla Walla College and a student at the army radio school, on February 14, 1943, in Livingston, New Jersey.7 He and Margaret had three children: Bernie Allen, Victor Joe, and Margaret Louise.8
Ministry
Bernhard Aaen's training as an X-ray technician for three months in the Army School of Roentgenology in Memphis, Tennessee, equipped him to work in the U.S. Army as an X-ray technician. He worked in that capacity, having the rank of corporal, from October 1942 to March 1946. In the fall of 1949, Aaen started working at Laurelwood Academy. He taught English and Old Testament history, and served as librarian at the academy until 1951.9
Bernhard and Margaret Aaen loved working as educators in the United States, but they always dreamed of becoming overseas missionaries. The coveted mission call finally came in the Spring of 1951.10 The couple was called to serve in the Far Eastern Division, specifically in Indonesia.11 Before leaving for the mission field, Aaen built a house for his mother so she would have a place to live while he was overseas. Because of the delays with the travel visas, the General Conference decided to fly the Aaens to Indonesia. The Aaens thus became the first Adventist missionary couple to travel to their assignment by air rather than on ship.12 The Aaens left Portland, Oregon, on November 7, 1951,13 and arrived at Jakarta on November 14.14 Bernhard taught science and English from 1951 to 1953 in the Indonesian Union Seminary (now Universitas Adventist Indonesia)15 located at Gadobangkong, Bandung, West Java. He served as the president of this institution from 1953 to 1955.16 During his presidency, the school campus was moved from Gadobangkong to Cisarua.17 The new property was 12 miles from Bandung, up in the mountain. It was situated on the side of an active volcano, with fertile land but few buildings. The classes were held in three 100 meters long horse barns for a year, while the new college buildings were built. An incident from that period gives an indication of Aaen's character. A sewer got clogged and needed to be manually cleaned. Although he was the college president with a hectic schedule, Aaen decided to do the job himself. When he was asked why he had not assigned someone else to do the unpleasant work, he responded, "I would never ask someone to do a job I am unwilling to do myself."18 Aaen incorporated manual training as part of the seminary curriculum.19
There were other, greater challenges. Cisura, a nearby village, was burned twice by bandits. The fact that the college was never attacked was considered God's miracle.20
Aaen was ordained to the gospel ministry on January 3, 1954. W. P. Bradley, V. T. Armstrong, F. A. Pratt, and N. C. Wilson, Sr. were the officiating pastors.21
An annual meeting of February 9, 1955, voted to transfer Bernhard Aaen to the North Celebes Training School, located at Kawangkaon, Manado, Indonesia, which was suddenly left with no principal.22 After serving in the Celebes for a year, Aaen returned to the Indonesian Union Seminary. He served as acting president and then was appointed president on March 24, 1958.23 In 1962, per the Far Eastern Division Committee's action and by his own request to attend to his three teenage children's educational needs, the General Conference Committee voted Bernhard Aaen to return permanently to the United States.24
Upon his return to the United States, Aaen did graduate studies, part-time, at the University of the Pacific, Stockton, California, in 1964 while at the same time teaching some courses.25 Later in 1964, he joined Pacific Union College as the English department chair, serving in this position till 1969.26 From 1969 to 1971, Bernhard did doctoral studies at the University of Nebraska. He earned a doctoral degree, specializing in college administration and counseling, and graduated in the summer of 1971.27
Subsequently, the General Conference invited him to return to the Far Eastern Division and serve as the academic dean of Southeast Asia Union College in Singapore28 (now Asia-Pacific International University).29 Bernhard arrived in Singapore on September 27, 1971 and took up the academic dean's position at Southeast Asia Union College.30 He served the college in that capacity for five years until his retirement on June 1, 1976.31 After formally retiring, Bernhard and Margaret Aaen returned to the Far East where they taught English in Beijing, China, from 1982 to 1983. He published a book No Appointment Needed – Case Histories from a Counselor's File with the Review and Herald Publishing Association in 1982.
After retirement, Bernhard Aaen returned to the United States. He died on January 20, 1996, in Angwin, California.32 He had almost 33 years of denominational service.33
Contribution
Bernhard Aaen made a significant contribution to the Adventist educational work in the Far Eastern Division, particularly at the Indonesian Union Seminary. He led the Indonesian Union Seminary during difficult years when the country faced economic and political challenges.34 He is remembered for relocating the school from Gadobangkong to Cisarua.35 His emphasis on the values of manual labor, which he believed was a unique Seventh-day Adventist educational program in the country,36 was his valuable contribution to the educational work in Indonesia. In addition to being an educator, Aaen was a pilot and had a long life interest in aviation.
Sources
"Asia-Pacific International University." Accessed March 20, 2020. https://en.wikipedia.org/wiki/AsiaPacific_International_University#Southeast_Asia_Union_College.
Bernhard A. Aaen's Obituary. ARH, August 8, 1996.
Bradley, W. P. "Recent Missionary Departures." ARH, November 29, 1951.
Campbell, M.V. and F. E. Roenfelt. "Proceedings of the General Conference: Forty-ninth Session, July 26- August 4, 1962." ARH, August 5, 1962.
Garner, O. T. "Oregon News." North Pacific Union Gleaner, November 12, 1951.
Holst, A. E. "Wedding." Columbia Union Visitor, March 11, 1943.
"Indonesian Adventist University." Accessed March 20, 2020. https://en.wikipedia.org/wiki/Indonesian_Adventist_University.
Johnson, H. D. "Items of Interest." Far Eastern Division Outlook, January 1952.
Nainggolan, Rajoaman. "Indonesia Union College: A Historical Study of a Seventh-day Adventist Institution." Ed.D. dissertation, Andrews University, Berrien Springs, Michigan, U.S.A., 1984.
"New Academic Dean Arrived at SAUC." The Messenger, November-December 1971.
Personal Information Form and Biographical Material of Bernhard Albert Aaen. Record series APPT-XPIF, Record ID 114873, creation date 12/31/1950. General Conference Secretariat, Silver Spring, Maryland, U.S.A.
"SAUC News Notes." The Messenger, July-August 1976.
Notes