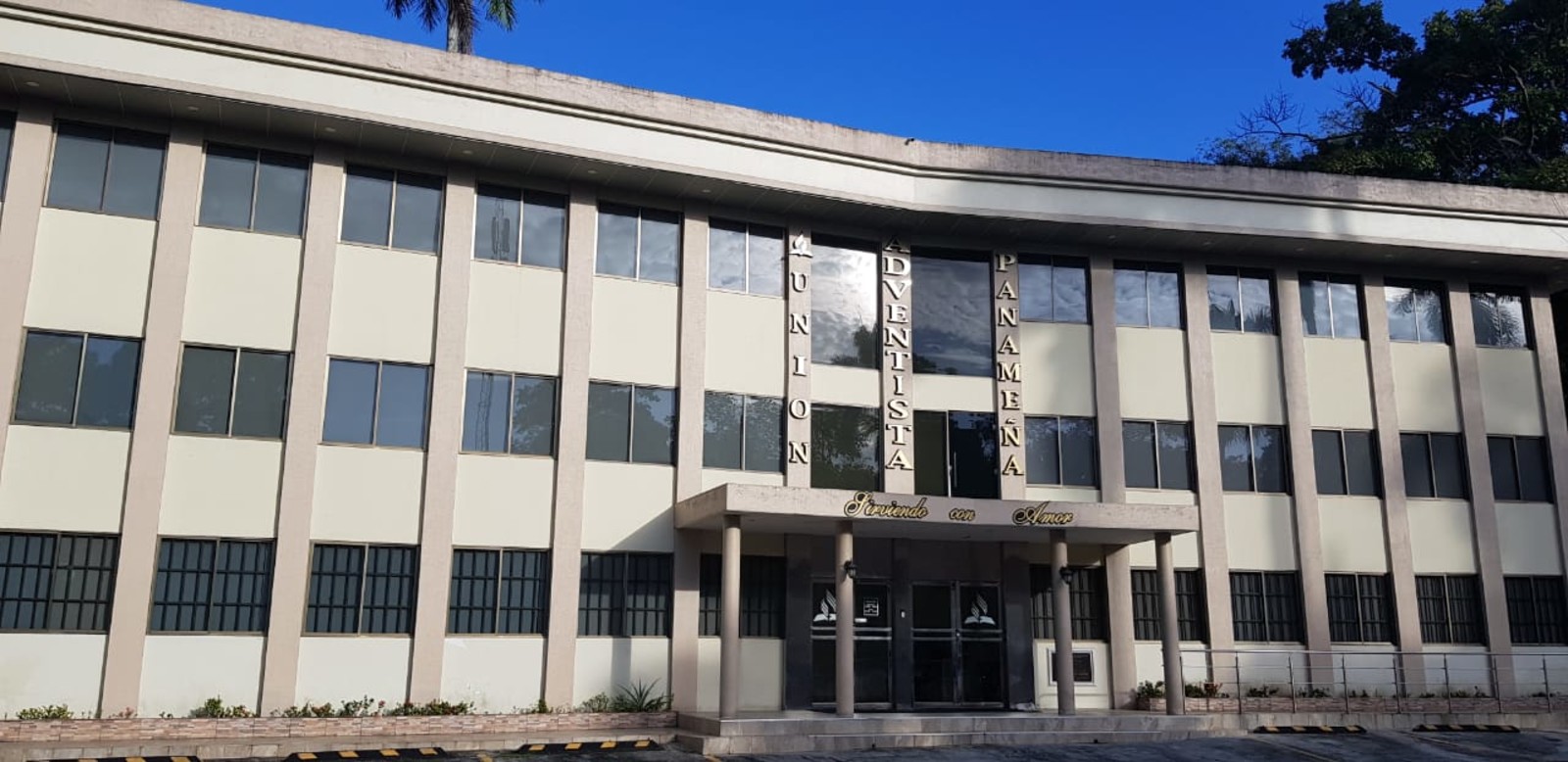 Panama Union Mission
×
Carlos Alberto Saldaña Álvarez is the secretary of Panama Union Mission. He was a district pastor in East Panama Conference, the secretary of West Panama Conference, and the president of Central Panama Mission.
First Published: May 13, 2021
Panama Union Mission is one of 24 unions of the Inter-American Division (IAD) and serves the entire country of Panama with a population of more than four million people.
Territory and Statistics
As of 2020, Panama Union Mission has the Atlantic Panama, Central Panama, Metropolitan Panama, and West Panama Conferences as well as the Bocas del Toro and Southeast Panama Missions in its territory.1 The union also oversees the Central Pacific, Andes Metro, and Ngäbe-Buglé experimental fields. The union has 603 churches and groups, 91,374 members, 61 ordained ministers, 49 licensed ministers, 27 schools, ten high schools, 443 educators, two technical occupational institutes, one health food factory, three bookstores, and eight youth campgrounds under it as of 2019.2 Its offices are located at 0844 Calle Ramón Levy, Balboa, Ancón, Panama City.
Organizational History
For 67 years, Panama Conference oversaw all the members and the expansion of the church in Panama.
In 1990, due to the growth of members and educational institutions in the province of Chiriquí, and in order to better serve the church, West Panama Mission was created with headquarters in David, Chiriquí. It was responsible for the expansion of the church in the provinces of Chiriquí, Bocas del Toro, and Veraguas. Once the national territory was reorganized and restructured, East Panama Conference and West Panama Mission were created. At East Panama Conference's 1998 year-end meeting, Pastor José De Gracia was named president with Marlon Moodie as secretary-treasurer.3
From 1999 to 2003, emphasis was placed on the growth of membership and the improvement of finances, which were both in worrisome percentages. Four years later, over 8,000 new members had been added, and the financial indexes of capital and liquidity were above 100%.
In 2004, President De Gracia of East Panama Conference, which was now financially stable, set his vision high to grow integrally. In meetings with pastors and members, he talked about forming new fields and restructuring East Panama Conference's territory, which comprised over 50% of the nation's territory at that time.
On September 23, 2006, an ambitious project was established. It was called Un Nuevo Amanecer en la Ruta del Crecimiento and consisted of a complete and total mobilization of members and pastors to conquer new territories and form three new fields: Central Panama Mission, which would serve West Panama and the provinces of Los Santos, Herrera, and Coclé; Atlantic Panama Mission, which would serve the Colón province and the Guna Yala comarca; and Southeast Panama Mission, which would serve East Panama and the Darién province.
The efforts, work, and funds invested by East Panama Conference were rewarded. In 2007, Central Panama Mission was officially established, followed by Atlantic Panama Mission in 2013 and Southeast Panama Mission in 2014.
President José De Gracia with Secretary Rolando Torres and Treasurer Ismael Estribí directed all efforts to institutional growth. Educational facilities were improved, and the number of students increased considerably. Ten new schools and high schools were formed, new offices were built for East Panama Conference, and over 150 plots of land were acquired to build churches.
In 2011, the church in Panama under President De Gracia's leadership grew, and its members reflected its maturity. The numerical, financial, institutional, redemptive, and retentive growth were recognized. In an email conversation, De Gracia wrote to IAD President Israel Leito, indicating that "I pray that Panama be included in the list of possible unions to be formed in the next quinquennium." Through IAD Secretary Elie Henry, a set of documents was sent to be filled out in order to form a feasibility study for the possible creation of a Panama Union. President Israel Leito presented the Panama Union petition to President Ted Wilson of the General Conference of Seventh-day Adventists (GC). This good news soon arrived, and, on May 16, 2013, South Central American Union Conference requested the IAD to reorganize its territory of Costa Rica, Nicaragua, and Panama.4
In June 2014, at the six-month administrative meeting of the GC and the IAD, an evaluation committee was appointed. The committee had three members from the GC: Vice President Armando Miranda as committee president, Associate Secretary Agustín Galicia as committee secretary, and Associate Treasurer Roy Ryan. The rest of the committee members were the president, secretary, and treasurer of several world divisions, including those of the IAD. The committee traveled to Panama and Costa Rica to carry out the final evaluation for the territory's reorganization.
The committee visited Panama on August 25, 2014, and Costa Rica the following day to carry out the requested evaluation. The committee unanimously decided to take the recommendation to the GC Autumn Council. On October 15, 2014, the dissolution of South Central American Union Conference was voted along with the organization of South Central American Union Mission with six fields and Panama Union Mission with five fields.
At the IAD's year-end board meeting of October 29, 2014, held in Willemstad, Curaçao, Pastor José Abdías De Gracia González was appointed president of Panama Union Mission with Pastor Carlos Alberto Saldaña Álvarez as secretary and José Gilberto Smith Romero as treasurer.
Official Organization of Panama Union Mission
On December 15, 2014, South Central American Union Conference held an extraordinary congress at the Adventist University of Central America. The opening program began at 9:00 AM led by IAD's administrators: President Israel Leito, Secretary Elie Henry, and Treasurer Filiberto Verduzco. The issue to be discussed was the dissolution of South Central American Union Conference.5 Leito presented the morning worship and made an official statement for the creation of two unions, Panama Union Mission and South Central America Union Mission comprising of Costa Rica and Nicaragua. President José De Gracia of Panama Union Mission met with Panama's delegates at the Adventist University of Central America and held their first meeting as a union. On January 1, 2015, Panama Union Mission officially began to serve the Seventh-day Adventist Church and its members in Panama.
Mission, Vision, and Values of Panama Union Mission
Mission - Under the influence of the Holy Spirit, each member transformed into a disciple
Vision - Each member winning a soul; Each church planting another church; Every neighborhood, town, and city with an Adventist presence
Values - Unity, Respect, Integrity, Excellence, Spirituality, Fellowship, Serving with love
Panama Union Mission's departments and directors are: revival and reformation, personal ministry, and sabbath school led by Pastor José De Gracia, who is also the legal representative; the health and temperance and the youth ministry departments led by Pastor Carlos Saldaña, who is also the ministerial secretary; SIEMA, women's ministry, and children's ministry led by Ms. Rosalinda De Gracia; and education, communication, and family life led by Mr. Javier Castrellón. The union's auditing, trusts, spirit of prophecy, and stewardship association are led by José Smith Romero.
Panama Union Mission Installation Ceremony
On March 17, 2015, Pastor Ted Wilson, GC president, his wife, Nancy, and Pastor Israel Leito, IAD president, performed the installation ceremony of Panama Union Mission and recognized its administration. This ceremony took place at the Centro de Convenciones Vasco Núñez de Balboa of Hotel El Panamá with the union's five fields' administrators, honorable personalities of the national government, and a large group of brethren present, all filling the locale with more than 3,000 people.
Development of Panama Union Mission
Panama Union Mission established the following fields.
Bocas del Toro Mission
In 2016, Bocas del Toro Mission was organized with 2,959 members to serve the Bocas del Toro province. The headquarters is located in the Changuinola district.
Three Experimental Fields
The Central Pacific experimental field serves the Santiago, Coclé, Herrera, and Los Santos provinces and has its own headquarters and the 95.1 FM radio station.6
The Andes Metro experimental field serves the Alcalde Díaz, Arnulfo Arias, Belisario Frías, Omar Torrijos, Las Cumbres, and Ernesto Córdoba Campos communities and has its own headquarters north of Panama City.7
The Ngäbe-Buglé experimental field was launched on the banks of Quebrada Guabo River with about 5,000 church members from that community, IAD President Israel Leito, and the Panama Union Mission administrators and staff present. This field serves the indigenous region of Ngäbe-Buglé.8
Evangelistic and Missionary Programs
Church members have been called to involve themselves with the mission. Small groups, youth, educators, women, children, laity, and others have organized activities to impact 1,200 places where there is no Adventist presence. Through a continuing education certification offered by Andrews University to pastors and church leaders, over 2,500 students have specialized in "church planting." As a result, 205 churches have been planted in new places.
Development of Institutions
Soypac Panama
In 2017, Panama Union Mission bought 49 percent of the food factory shares that had belonged to South Central American Union Conference. Panama Union Mission became partners with the IAD, which manages 51 percent of the shares.
Panama Adventist Institute
In 2017, the national government granted Panama Union Mission permission to offer tertiary education. Panama Adventist Institute began to offer the following academic specialties: pedagogy, English, environmental resources management, and computer technician. The first graduation ceremony took place in 2018, where 107 students received their diplomas.
Panama Union Mission's Plans for the Future
Construct a building for radio and TV

Obtain authorization to start an Adventist university

Operate a hospital clinic

Establish ten conferences with the potential to create another union

Conduct a strong communication system through radio and television stations
Challenges Faced by the Union
To evangelize Panama City and have a small group in each street, an Adventist in each home, and a church in each neighborhood

To establish a self-sustaining food factory to supply supermarkets with self-manufactured products

To preach to and share the gospel with inhabitants of all communities

To involve everyone in the mission of retaining 100 percent church members

To strengthen all missions and conferences for church growth
List of Administrators
President: José Abdías De Gracia González (2015- ).
Secretary: Carlos Alberto Saldaña Álvarez (2015- ).
Treasurer: José Gilberto Smith Romero (2015- ).
Sources
44th Triennial Session minutes. December 9-10, 1998. RG 078. East Panama Conference archives. Balboa, Panama.
Executive Committee minutes. June 22, 2015. Folder Juntas, GR 098. Panama Union Mission archives. Panama, Panama.
Executive Committee minutes. May 16, 2013. Box Juntas 2013, RG 197. South Central American Union Mission archives. Alajuela, Costa Rica.
Executive Committee minutes. November 18, 2018. Folder Juntas, GR 191. Panama Union Mission archives. Panama, Panama.
"Panama Union Mission." Seventh-day Adventist Online Yearbook. Accessed 2020. https://www.adventistyearbook.org/entity?EntityID=52942.
Special Congress minutes. December 15, 2014. Box Congress, RG 188. South Central American Union Conference archives. Alajuela, Costa Rica.
Notes