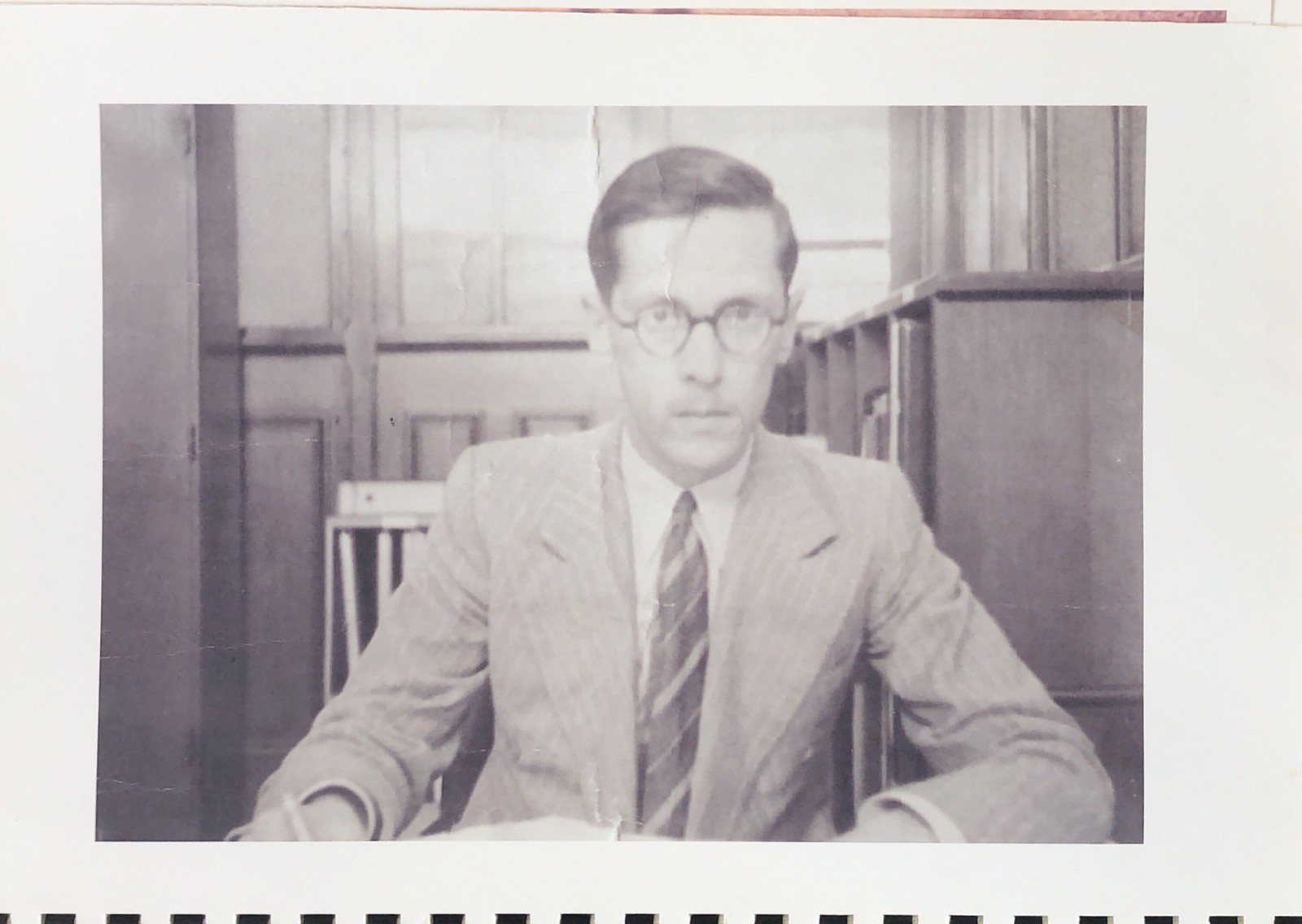 Williams, Alfred Henry (1889–1974) and Mabel (Donaldson) (1887–1933); later Iris (White)
×
Cheryl Christo Howson earned a graduate diploma in computer aided interior designing at the Dr. Bhanuben Nanavati College of Architecture for Women in Pune, India. She co-founded an interior design company in Sri Lanka and worked as a copywriter. She contributed to the morning devotional published by Women's Ministries at the General Conference of Seventh-day Adventists, the Shepherdess International Journal magazine, and the Adventist Review. She has written several plays. Currently (2020), she lives in Hosur, India while preparing for a piano exam.
First Published: January 29, 2020
A. H. Williams was a pioneer missionary, church administrator, and medical director who served the Seventh-day Adventist Church with Mabel, his first wife, a teacher and midwife, in the Southern Asia Division, and with Iris, his second wife, a midwife, in Watford, England.
Early Life
Alfred Henry Williams was the fourth child of five boys and three girls. He was born to John Henry and Charlotte Enever Williams on July 24, 1889, in Kent, England. They were not Seventh-day Adventists, so they attended the All Saints Church in Woolwich. In later years, Alfred's mother and one of his sisters were also baptized into the Seventh-day Adventist faith.1
At the age of 12, Williams worked as a shop boy. Most of his earnings went to his mother; the rest he saved for daily commute and clothes.2 While he was a pupil at the Bloomfield Road School in Woolwich, he obtained two scholarships. The first was at Junior College, East London Technical College (Queen Mary's College, University of London), which he attended for one year. He then accepted the other scholarship to University College School, from which he matriculated with First Class Honors in July 1906.3
First Marriage and Conversion
Alfred left England and landed in Rangoon, Burma (now Yangon, Myanmar), on September 11, 1906. During his early years in Burma, he met Mabel Blanch Harcourt Donaldson, who had been born on April 20, 1887, in Urli, near Poona (Pune), India, and had been baptized in the Methodist Episcopal Church there. Mabel was the second daughter of William C. and Ellen (Chatten) Donaldson, Christian missionaries who had moved to Rangoon while Mabel was still young.4 Her education in Burma included teacher's training at the Government Normal School. After that, she taught at the A.B.M. Karen School in Ahlone, a suburb of Rangoon.5
As their friendship grew, Mabel encouraged Alfred to attend some public religious meetings held by Pastor H. H. Votaw, a member of the then small group of Seventh-day Adventists. Alfred, a keen Anglican, was not interested in changing his beliefs. However, he eventually accepted the truth and became a Sabbath-keeper the first Sabbath after July 24, 1910, when he turned 21. In his own words, "It was not the size of the organization that influenced me in 1910, but the size of the message."6
In the midst of heavy monsoon rains, Alfred and Mabel were married at the Donaldson home in Rangoon on June 2, 1910, by Pastor H. H. Votaw, the same pastor who had baptized both of them into the Seventh-day Adventist Church.7 Pastor Votaw had also baptized Mabel's mother and older sister in 1908. Her father was baptized sometime later.8
The couple's first daughter, Nina, was born in Rangoon around 1911/12. Their first son, John Charles, was born in Rangoon in early July 1914. Naomi Elsie was born in Lucknow, India, on April 2, 1916; Hugh Oliver was born in Taunggyi, Burma, in 1918; Lorna Eleanor was born in Woolwich, London, England, in 1920; Leslie A. was born in Poona (Pune), India, in 1922; and finally, Ronald Henry was born in Poona, India, on April 19, 1925.9
Education and Early Career in Burma
After matriculating, Alfred worked as a commercial assistant with S. Oppenheimer in Rangoon, Burma, on a six-year contract. During this time, he also studied accountancy and mercantile law. Within two years of landing in 1906, he earned a prize of 300 rupees for learning Burmese up to interpreter standard.10
After their marriage and conversion in 1910, the young couple was inspired to become missionaries. After Mr. Williams's contract with the business firm expired, they entered mission service on August 1, 1912.11 In preparation for service as missionaries, the family returned to England. There, in 1913, Mr. Williams received basic medical training at the Livingston College based at the Poplar Hospital, East London. He also worked at the Watford Sanitarium in Herts as a male nurse.12
The young family then returned to Burma in 1913 as missionaries. They were appointed to work among the Karen people in a poor village, initially on a self-support system. In 1914, Mr. Williams was running the Adventist Technical School at Meiktila. He was also requested to assist Pastor George A. Hamilton to locate a place to establish a Karen mission station. They selected Kamamaung on the Salween River.13
Career and Ministry in India (1915–1922)
In 1915 Mr. and Mrs. Williams accepted a call to the India Union Mission of the Southern Asia Division, where Alfred was appointed the treasurer. After packing up their belongings, the Williams family moved from Burma to the headquarters, which were in Lucknow, India. That remained their home until 1922.14
A couple of years later, during the 1917 committee meeting in Lucknow, a service was held on Sabbath, November 17, in which A. H. Williams and M. M. Mattison were ordained to the gospel ministry by the laying on of the hands of the six ordained ministers who were present.15
Among his various duties as treasurer, Alfred was responsible for land purchases. During his tenure, the mission was growing quickly, and many churches, schools, and other institutions were established. One of these properties was procured in Lahore on August 21, 1917.16 Another property was procured at Hapur in September 1917 when it was decided to build a bungalow for M. M. Mattison to live in and for guest missionaries passing by on their way to the hills. The property in Hapur would also house a girl's school.17
In 1919, Pastor A. H. Williams, in addition to being the treasurer, also served as the secretary.18 At the end of that year, the India Union Mission was organized into the Southern Asia Division at the Biennial Conference held at Ranchi from December 25, 1919 to January 4, 1920. Pastor A. H. Williams was appointed as the first treasurer of the new division.19
That same year, Pastor Williams acquired 18–10 hectares (45–50 acres) of land in the hill station of Mussoorie to accommodate the Vincent Hill School.20 Already at Mussoorie was Annfield School, which was mainly for missionaries' children, and Mabel temporarily served as matron for one school year in 1919.21 Two small cottages from Annfield School were proposed to be removed to the new site.22
Along with the division headquarters, the printing press was also located in Lucknow at the time. After W. S. Mead went on furlough in mid-1919, Alfred took on the responsibility of publishing the India Union Tidings.23
As the work spread to different parts of Southern Asia, the officers looked for a more central location for the headquarters. Pastor A. H. Williams negotiated the crucial purchase of land at Poona (Pune), which was named after H. R. Salisbury. Alfred oversaw the construction of the houses and the office building until its completion, and then the headquarters were transferred from Lucknow to Poona in 1922.24 After dropping off his family in London for their furlough, Alfred continued on to the 1920 General Conference Session in San Francisco, California, United States of America, as one of the delegates.25
1922–1927
The Williams family lived and worked in Salisbury Park, Poona, the new headquarters of the Southern Asia Division, from 1922 to 1926. Since the houses were still incomplete when they moved, Mrs. Williams and the six children lived in a large tent and slept on camp cots. They endured various hardships, including flooding due to winter rains and the threat of jackals, which roamed the area frequently. Pastor Williams was away for most of this time, but Mr. Mackett arranged to move the family into a disinfected, white-washed cowshed, where Mrs. Williams stayed without complaint until their bungalow was ready.26
Mabel's parents continued to live in Burma, and in 1924, she took two of the children to visit her family in Taunggyi, on furlough. They returned to India on May 12.27
For a few months in 1925, Pastor Williams traveled to Calcutta, where he was temporarily the superintendent until he returned to Salisbury Park in September of the same year.28
Several more pieces of land were obtained for the denomination in 1926 while Alfred was treasurer. In February, Pastor Williams and C. C. Kellar were in Aramdanga, where they purchased a small piece of land next to existing property for a school building separate from the worker's house.29 Alfred also traveled to Ranchi, where he selected an elevated position in hilly jungle country for the new church building. The land, which belonged to one of the faithful converts, was voluntarily donated with joy, and work on the site commenced that same year.30
The residents of Salisbury Park bid a fond farewell to the Williamses in March 1926.31 Pastor Williams traveled to the U.S.A. for the General Conference Session, and Mrs. Williams took on the duties of dining-room matron at Vincent Hill School, Mussoorie, where the children were studying. For one school year from March to December, she supervised kitchens and dining so that somebody else could take their furlough.32
When Pastor Williams returned to India in the autumn, he was appointed the superintendent of the Northeast India Union Mission. In December 1926, the rest of the Williams family joined Alfred in Calcutta.33
While Alfred was traveling in February 1927 with C. K. Meyers and A. W. Cormack, the Williamses' youngest son, Ronald, contracted diphtheria but was wrongly diagnosed. Pastor Williams returned from his trip just before the little one passed away early on the morning of February 10. His son was only one year, nine months, and 21 days old.34
1927–1934
In March 1927, it was voted at the Division Council to transfer Alfred from the Northeast Union Mission to the Northwest Union Mission as superintendent. And so, after the family tragedy, the Williams family moved back to Lucknow, where Pastor Williams served as superintendent from 1927 to 1934.35
Although no longer the treasurer of the division, Pastor Williams began to raise funds for more schools. One of these was the Bombay Union Training School in Lasalgaon.36
Sanction was granted Alfred to procure land for the "Retreat" Roorkee (the Seventh-day Adventist Inter College, Roorkee) on May 8, 1927. The original purchase included a dilapidated old house standing in less than 1 hectare (2 acres) of orchard. Pastor Williams's fund-raising added several more acres on which the school building and the staff quarters were built. By 1934 Roorkee had 8 hectares (20 acres) and eventually acquired another 40 hectares (100 acres) for farmland.37
In the midst of recovering from her sorrow, Mrs. Williams began a school in Lucknow for underprivileged girls, often orphans. After the Press had moved to Poona, she used the building for a dormitory, classes, and a kitchen. She collected secondhand clothing, even from her own children's cupboards! Very soon the school was full to overflowing with many girls of various backgrounds and religions who were unwelcome anywhere else.38 Mabel was the principal of the United Provinces Girls' School in Lucknow for the years 1927–1929.39
A new school was built in Punjab, and the plan was to relocate all the girls from Mrs. Williams's school in Lucknow. Pastor Williams also raised funds to open a small hospital on the same campus, Chichoki Mallian.40 The first stage of the building work at Chichoki Mallian Hospital was completed by October 1932.41
Meanwhile, Pastor Williams continued acquiring funds and opening new schools: one school at Chuharkana, in Punjab (now part of Pakistan), which was meant for boys, and another school in Chelusain, built especially for the Pahari children in the foothills of the Himalayas.42
Among the many people baptized by Pastor A. H. Williams was Swami Gyananand on Sabbath, January 7, 1928, in Lucknow. This influential, high-caste Brahman had been studying for three months with C. C. Belgrave.43
Having a desire to be of greater service to the women of India, Mabel decided to train as a midwife in England at the age of 42 while the family was on furlough in 1929.44 She worked in the Jewish Maternity Hospital, Whitechapel, London, England, where she was not allowed to wear her wedding ring and was referred to as Miss Williams. Meanwhile, Pastor Williams attended the General Conference Session in the spring of 1930 and returned to India in July. Alfred's mother looked after the children in England after their father returned to work because their mother was in training until 1931.45 Alfred resumed his responsibilities as superintendent of the Northwest Union Mission, living alone for a few months while his family remained in England.46
When Mrs. Williams returned to Lucknow in 1931, she started a maternity hospital.47 There were rooms for those who could barely afford any fees as well as those who could pay for the services of a London-trained midwife. Several wives of English and Anglo-Indians had their children delivered here.48
While carrying on this work, she fell at her chosen post of duty. She was sick only a short time but suffered severely with pains in the head and with a high fever.49 With the limited medical knowledge of those days, it was diagnosed as septicemia, although now it is thought that Mabel had developed an infection.50 She passed away shortly before six o'clock, Tuesday morning, January 31, 1933. The funeral was held that evening at five o'clock in the church at 17 Abbott Road. She was laid to rest in her nurse's uniform, as she had appeared to so many who were gathered there.51
Elder Williams continued in his post as president in Lucknow after his wife's death. The children would be sent to school at Vincent Hill in March, and they were distributed around to friends until then.52
A year after his wife passed away, Alfred decided to take his family to England for the sake of the education of his children and to take a medical course. Until the time for them to depart to England, he accepted an invitation to the pastorate of the Rangoon church in Burma.53
Elder Williams dropped off his daughter Naomi at Vincent Hill in March 1934. A few months later, on August 11, he and the rest of the family sailed from Bombay (now Mumbai) to Burma, where Alfred worked and spent time with his in-laws and old friends.54
Medical Career and Ministry in England
The Williams family landed in England on Friday, August 31, 1934, to beautiful weather. Initially, they stayed with Alfred's single sister; in 1935, they moved into their new house, with Mrs. Williams, Elder Williams's mother, to keep house.55 Alfred spent the next six years studying medicine, becoming a qualified doctor in 1940.56
In the meantime, Alfred had developed a friendship with Iris A. White, who had studied midwifery with Mabel in England. When Mabel had returned to India, she and Iris had become pen friends. After his wife's death, Alfred had written to inform Iris of the sad news, and they continued to correspond throughout the remainder of Elder Williams's time in India. Upon his arrival in England, they decided to meet,57 and not long after, they were married in early 1935. Also a Seventh-day Adventist, Iris had been baptized at the South England Conference. Iris had studied for a B.A. (Hons), S.R.N., S.C.M., and teacher's diploma in midwifery and worked with local doctors in Harrow and at the Stanboroughs Hydro. By 1936, Mrs. Iris Williams had taken up the post of matron at Stanborough Park, so the family moved close by.58 They had one son, Stephen Williams, born on October 31, 1938.59
Elder Williams's mother, who had been keeping house and looking after the children, passed away on April 25, 1940. She had been an Adventist for 25 years.60
On January 26, 1940, Elder Williams was on the United Kingdom's medical register. He joined a general practice in the Evesham/Broadway area, Worcestershire, for four weeks, and then worked in King's Lynn, Norfolk. He was appointed a junior registrar for I-Block during the war and worked full-time at Shrodell's Infirmary, an Emergency Medical Service Unit run by the government. After November 1941, he worked only in the evenings.61
In spring, the year he became a qualified doctor, Dr. Williams was approached by Pastor Lowe for help with various medical matters concerning missionaries in the British Union Conference, for which he gladly agreed.62
Dr. Williams built a successful practice of his own on December 1, 1941, in Watford, close to the Stanborough Park church gates. He was head of this practice for 20 years until his retirement in 1961. In that time, it moved twice to accommodate more patients and grew to four doctors: Dr. A. H. Williams, Hugh O. Williams, S. Guest, and T. J. Gallivan.63
Meanwhile, Miss Valrie Rudge replaced Mrs. Williams as the matron at the Stanboroughs Hospital and Nursing Home in 1946, but Iris continued to assist in the maternity section.64
After discussions with Mr. Lowe, Dr. A. H. Williams accepted posts as both medical director and business administrator of the sanitarium in 1946. He did not take any wages until the institution had been running profitably for a few years.65 In 1950, his son, Dr. Hugh Williams, also assisted him, and he eventually took over as medical director.66 After years of hard work and dedication, in 1958 the Stanboroughs was operating at a gain as reported by the manager, G. L. Anniss. In 1959 a new maternity wing was added by the construction of two floors in the west wing.67
During the 1950s Dr. A. H. Williams began to serve the Stanborough Park church as an elder, and he continued to do so for many years even after retirement. During this period, he initiated the building of the extensions to the Stanborough Park church. This work is signally recognized by the fact that the larger of the church halls is called the Williams Hall.68 He supervised the work from its inception until there were two new side galleries dedicated at Christmas 1962, an enlarged north porch, ground floor hall, first-floor hall with a mothers' room, and an upper hall by 1963, and a central heating system in 1964.69
Retirement
By the end of 1961, Dr. A. H. Williams had retired from his medical profession, both private and denominational, although he still provided medical advice to the British Union Conference.70
Mrs. Williams cared for seven or eight boarders in their home in Sheepcot Lane and eventually moved into the school building as the first matron when the Stanborough Park School started taking on boarders in the former British Union Conference building.71 At times, while waiting for the Voice of Prophecy School and union departments to move out of the building to make more space for boarders, Iris even gave up her bedroom when children under her care became ill.72
Alfred's health began deteriorating, and by 1968 he was reduced to a wheelchair.73 Dr. A. H. Williams passed away peacefully on March 22, 1974, at the age of 84 at his residence in Sheepcot Lane.74 He was buried in the North Watford Cemetery beside his mother. Pastor J. A. MacMillan conducted the funeral service at Stanborough Park church and at the graveside.75
Contribution and Legacy
Alfred and Mabel were missionaries for 3 years in Burma under harsh conditions. They also served as pioneers for 19 years in India, unselfishly ministering to the lowly during a period of foundation laying in one of the most difficult fields in the world at the time.76 Due to Pastor Williams's foresight, extensive property was acquired in well-chosen locations that would become the locations of important institutions and schools for the Southern Asia Division. And finally, Elder Williams and his second wife, Iris, used their medical expertise, as well as Alfred's knowledge of construction, to serve in Stanborough Park, England.
Sources
"Another Farewell." Eastern Tidings, August 15, 1934.
Belgrave, C. C. "N.W. India Union: Swami Gyananand." Eastern Tidings, February 15, 1928.
Charles, Edwin. "From Poona to Hosur." Eastern Tidings, August 1, 1987.
Cormack, A. W. "Obituary." Eastern Tidings, March 1, 1927.
———. "Some Recent Visits." Eastern Tidings, August 15, 1925.
———. "The Division Council." Eastern Tidings, March 15, 1927.
"Division Notes." Eastern Tidings, March 15, 1926.
Fletcher, W. W. "Ordination Service." India Union Tidings, December 1, 1917.
Futcher, W. G. A. "Park School Expansion." British Advent Messenger, September 30, 1966.
Johnson, D. S. "Prayer, Power, Progress." Southern Asia Tidings, April 15, 1956.
Lowe, H. W. "At Rest: Williams, Charlotte." British Advent Messenger, May 10, 1940.
Mattison, M. M. "Hapur Mission Station." India Union Tidings, May 15, 1919.
McMillan, J. A. "Achievement and Opportunity." British Advent Messenger, February 5, 1960.
———. "Dr. Alfred H. Williams." British Advent Messenger, May 3, 1974.
———. "Institutional Expansion." British Advent Messenger, April 17, 1959.
———. "Union Notes: Changes." British Advent Messenger, January 20, 1961.
Michael, T. J. "Division News Notes." Eastern Tidings, November 1, 1930.
Mookerjee, L. G. "A Comprehensive Survey of the Early Work," Eastern Tidings, May 8, 1941.
"Mrs. A. H. Williams." Eastern Tidings, March 1, 1933.
Murdoch, M. C. "Substantial Progress at Stanborough Park." British Advent Messenger, July 31, 1964.
"Notes." India Union Tidings, August 15, 1919.
"Poona Notes." Eastern Tidings, June 1, 1924.
"Sanitarium Appointment." British Advent Messenger, January 17, 1947.
Seventh-day Adventist Yearbook. Washington, D.C.: Review and Herald Publishing Association, 1920, 1926.
"Southern Asia Tidings Diamond Jubilee: A. H. Williams." Southern Asia Tidings, June 1, 1965.
Spicer, W. A. "Some Facts About Early Work in India." Eastern Tidings, May 8, 1941.
Tarr, A. F. "A Personal Message." Eastern Tidings, October 15, 1950.
"The Church in the Wildwood." Eastern Tidings, September 15, 1926.
"The Division Committee Meeting." Eastern Tidings, February 1, 1934.
"Vincent Hill School: News Notes." Eastern Tidings, July 1, 1926.
Williams, A. H. "Addition to the Stanboroughs." British Advent Messenger, April 17, 1959.
———. "News Notes." Eastern Tidings, March 15, 1926.
———. "Northwest Union: News Items." Eastern Tidings, October 15, 1932.
———. "Notes from the Mail Bag: A. H. Williams." India Union Tidings, November 15, 1919.
———. "Self-Supporting Students in Self-Supporting Schools." Eastern Tidings, May 15, 1932.
Williams, Leslie A. "The Life and Times of Dr. Alfred H. Williams." February 2010.
Notes
Leslie A. Williams, "The Life and Times of Dr. Alfred H. Williams," February 2010, 1; H. W. Lowe, "At Rest: Williams, Charlotte," British Advent Messenger, May 10, 1940, 8.↩

Leslie A. Williams, "Life and Times," 1.↩

Ibid.↩

Ibid., 2; "Mrs. A. H. Williams," Eastern Tidings, March 1, 1933, 1; "Southern Asia Tidings Diamond Jubilee: A. H. Williams," Southern Asia Tidings, June 1, 1965, 6–7.↩

"Mrs. A. H. Williams," 1.↩

Leslie A. Williams, "Life and Times," 2; L. G. Mookerjee, "A Comprehensive Survey of the Early Work," Eastern Tidings, May 8, 1941, 9.↩

Leslie A. Williams, weather reported by the author's father, A. H. Williams, Life and Times," 2; "Mrs. A. H. Williams," 1.

"Southern Asia Tidings Diamond Jubilee: A. H. Williams," 6–7.↩

"Mrs. A. H. Williams," 1.↩

Leslie A. Williams, "Life and Times," 2–6.↩

Ibid., 2, 3 (prize-winning based on information from Mr. Wilfred Donaldson, the author's uncle, and Mrs. Iris).↩

"Another Farewell," Eastern Tidings, August 15, 1934, 8; "Southern Asia Tidings Diamond Jubilee: A. H. Williams," 6.↩

Leslie A. Williams, "Life and Times," 2.↩

Ibid., 2–3; Mookerjee, "Comprehensive Survey of the Early Work," 9.↩

Leslie A. Williams, "Life and Times," 3; "Another Farewell," 8.↩

W. W. Fletcher, "Ordination Service," India Union Tidings, December 1, 1917, 2; "Southern Asia Tidings Diamond Jubilee: A. H. Williams," 7.↩

Leslie A. Williams, "Life and Times," 3.↩

M. M. Mattison, "Hapur Mission Station," India Union Tidings, May 15, 1919, 1.↩

Leslie A. Williams, "Life and Times," 3–4.↩

D. S. Johnson, "Prayer, Power, Progress," Southern Asia Tidings, April 15, 1956, 7.↩

Leslie A. Williams, "Life and Times," 3, 6; A. H. Williams, "Notes from the Mail Bag: A. H. Williams," India Union Tidings, November 15, 1919, 5.↩

L. A. Williams, "Life and Times," 3; "Notes," India Union Tidings, August 15, 1919, 8; "Mrs. A. H. Williams," 1.↩

A. H. Williams, "Notes from the Mail Bag," 5.↩

Comparison of the mastheads in the India Union Tidings, May 15, 1919, 4, and June 15, 1919, 4; "Southern Asia Divisional Section of the General Conference: Workers on Furlough," Year Book of the Seventh-day Adventist Denomination (Washington, D.C.: Review and Herald Publishing Association, 1920), 272.↩

Edwin Charles, "From Poona to Hosur," Eastern Tidings, August 1, 1987, 6; Mookerjee, "Comprehensive Survey of the Early Work," 9.↩

Leslie A. Williams, "Life and Times," 4.↩

Ibid., 4–5 (family hardships based on information provided by the author's sister, Naomi).↩

"Poona Notes," Eastern Tidings, June 1, 1924, 5.↩

A. W. Cormack, "Some Recent Visits," Eastern Tidings, August 15, 1925, 3.↩

A. H. Williams, "News Notes," Eastern Tidings, March 15, 1926, 5.↩

"The Church in the Wildwood," Eastern Tidings, September 15, 1926, 5.↩

"Division Notes," Eastern Tidings, March 15, 1926, 8.↩

Leslie A. Williams, "Life and Times," 6; "Mrs. A. H. Williams," 1; "Vincent Hill School: News Notes," Eastern Tidings, July 1, 1926, 4.↩

Leslie A. Williams, "Life and Times," 7–8; "Northeast India Union Mission," Year Book of the Seventh-day Adventist Denomination (Washington, D.C.: Review and Herald Publishing Association, 1926), 182.↩

Leslie A. Williams, "Life and Times," 7–8; A. W. Cormack, "Obituary," Eastern Tidings, March 1, 1927, 8.↩

A. W. Cormack, "The Division Council," Eastern Tidings, March 15, 1927, 2; J. A. McMillan, "Dr. Alfred H. Williams," British Advent Messenger, May 3, 1974, 7 (states that Williams was president of the Northwest India Union in 1926); Leslie A. Williams, "Life and Times," 8 (states that Williams was president in 1927).↩

Leslie A. Williams, "Life and Times," 8.↩

A. H. Williams, "Self-Supporting Students in Self-Supporting Schools," Eastern Tidings, May 15, 1932, 1; Leslie A. Williams, "Life and Times," 8.↩

Leslie A. Williams, "Life and Times," 9–10.↩

"Mrs. A. H. Williams", 1.↩

Leslie A. Williams, "Life and Times," 10.↩

A. H. Williams, "Northwest Union: News Items," Eastern Tidings, October 15, 1932, 3.↩

Leslie A. Williams, "Life and Times," 10.↩

C. C. Belgrave, "N.W. India Union: Swami Gyananand," Eastern Tidings, February 15, 1928, 7.↩

"Mrs. A. H. Williams," 1; "Another Farewell," 8.↩

Leslie A. Williams, "Life and Times," 10–11.↩

T. J. Michael, "Division News Notes," Eastern Tidings, November 1, 1930, 8.↩

"Another Farewell," 8.↩

Leslie A. Williams, "Life and Times," 11–12.↩

"Mrs. A. H. Williams," 1.↩

Leslie A. Williams, "Life and Times," 13–14.↩

"Mrs. A. H. Williams," 1.↩

Leslie A. Williams, "Life and Times," 14.↩

"The Division Committee Meeting," Eastern Tidings, February 1, 1934, 2; "Another Farewell," 8.↩

Leslie A. Williams, "Life and Times," 15, 16; "Another Farewell," 8.↩

Leslie A. Williams, "Life and Times," 16, 17, 18.↩

McMillan, "Dr. Alfred H. Williams," 7.↩

Diana Balmer, email, September 11, 2019.↩

Leslie A. Williams, "Life and Times," 17, 18.↩

Diana Balmer, email, September 11, 2019↩

Lowe, 8.↩

Leslie A. Williams, "Life and Times," 18.↩

Ibid., 18.↩

McMillan, "Dr. Alfred H. Williams," 7; Leslie A. Williams, "Life and Times," 19.↩

"Sanitarium Appointment," British Advent Messenger, January 17, 1947, 4.↩

Leslie A. Williams, "Life and Times," 19 (income information based on a report provided by Pastor Harold Lowe in 1965); McMillan, "Dr. Alfred H. Williams," 7.↩

A. F. Tarr, "A Personal Message," Eastern Tidings, October 15, 1950, 2; Leslie A. Williams, "Life and Times," 22.↩

J. A. McMillan, "Institutional Expansion." British Advent Messenger, April 17, 1959, 1; A. H. Williams, "Addition to the Stanboroughs," British Advent Messenger, April 17, 1959, 2.↩

McMillan, "Dr. Alfred H. Williams," 7.↩

M. C. Murdoch, "Substantial Progress at Stanborough Park," British Advent Messenger, July 31, 1964, 6.↩

J. A. McMillan, "Union Notes: Changes," British Advent Messenger, January 20, 1961, 2.↩

W. G. A. Futcher, "Park School Expansion," British Advent Messenger, September 30, 1966, 11.↩

J. A. McMillan, "Achievement and Opportunity," British Advent Messenger, February 5, 1960, 5.↩

Leslie A. Williams, "Life and Times," 22.↩

McMillan, "Dr. Alfred H. Williams," 7; Leslie A. Williams, "Life and Times," 25.↩

Leslie A. Williams, "Life and Times," 25.↩

"Another Farewell," 8.↩