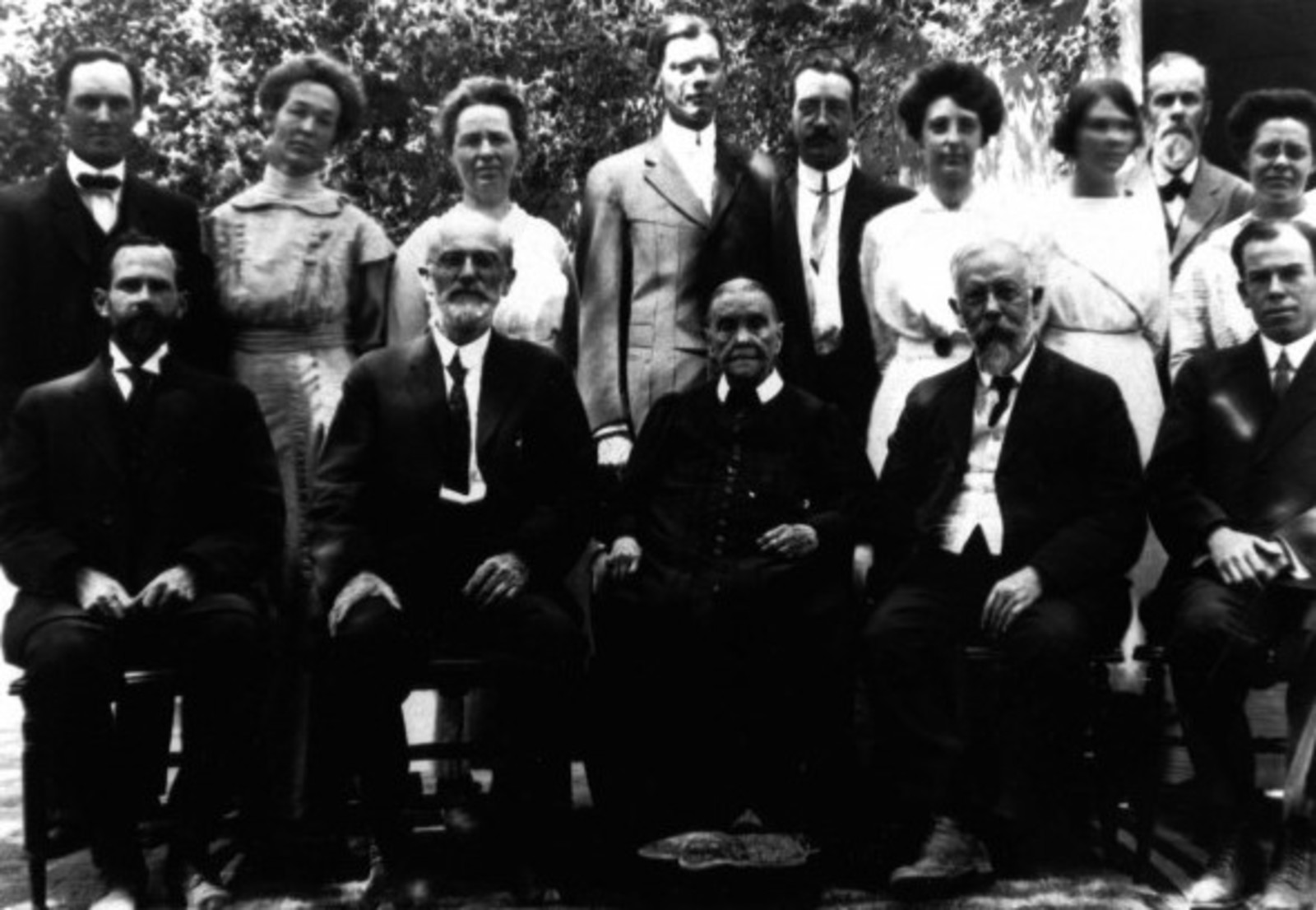 Munson, Ralph Waldo (1860–1934)
×
Jonathan Oey Kuntaraf was born into a Buddhist family. He joined the SDA Church at the age of 17. During his 44 years of denominational service, Kuntaraf has served as a pastor, teacher, and administrator. Before his retirement, Kuntaraf served as the director of Sabbath School and Personal Ministries department of the General Conference of Seventh-day Adventist, Silver Spring, Maryland, USA. His wife Kathleen Kiem Hoa Oey Kuntaraf, a physician, served the denomination for 36 years, with her last responsibility as the General Conference associate director of Health Ministries department. The Kuntarafs are partners in preaching, teaching, presenting seminars, and writing books and articles. They have two children.
First Published: January 29, 2020
Ralph Waldo Munson was a Seventh-day Adventist missionary pioneer in Indonesia and Singapore.
Early Life
Ralph Waldo Munson was born on July 6, 1860, to Shubal Munson and Electa F. Fuller in Richfield Center, Fulton County, Ohio, United States of America.1 He was one of four children. His siblings were Corydon W., Theresa A., Melvin A., Leonora C., and Emma L.2
Education and Marriage
Munson attended Oberlin College, Ohio, in the preparatory course from 1877 to 1880 and from 1881 to 1884.3 He married Carrie Louise Gasser on September 30, 1886, in Toledo, Ohio, and was blessed by the Lord with five children: Miriam (Munson) Brown, Melvin Munson, Albert Munson, Paul Minde Munson, and Emma Lilian Munson.4 Miriam was born in Burma, while Melvin, Albert, and Paul were born in Singapore.5
Ministry
In 1886, Munson went to British India and Burma as a Methodist missionary. A year later, he joined the staff of the Anglo-Chinese Mission School in Singapore and became proficient in the Malay language, which was also spoken in the coastal areas of Indonesia.6 The Munson family experienced ten years of exposure to malaria, tropical parasites, and other tropical diseases, which took a toll on the family members. They needed medical care urgently and were advised to go to the United States for treatment. The Munson family then settled in Toledo, Ohio, where the Methodist Church had sent him to continue his ministry. While searching for doctors to find out what to do with his sick family, Ralph walked into a health-food store, where he met young man, George Stevens, who had been to Battle Creek, Michigan, and had been treated there. George urged Ralph to go there. Munson then brought his family to Battle Creek and was impressed with the kindness of the people. He noticed that the workers were not shy in sharing their beliefs. In fact, Christ's second coming was prominent on everyone's mind.7
During the time the family was receiving medical treatment, the Munsons were able to study the Bible with Mrs. S. M. I. Henry, and they accepted the Seventh-day Adventist teaching. Then Dr. John Harvey Kellogg offered Munson the position of chaplain in Battle Creek Sanitarium and Hospital. In 1899, on the first Sabbath of Michigan Conference camp meeting, Ralph Waldo Munson was baptized by immersion. Then the following Sunday, at the close of the meeting, he was ordained and set apart for missionary work.8
On November 11, 1899, Munson and his wife and their five children set sail from New York and arrived in Emma Haven (now Teluk bayur), Padang, Sumatra, on January 1, 1900.9 The contribution of the Michigan Conference of Seventh-day Adventists included providing funds "for the Munson family to travel to Indonesia and purchase a home and property for a school and church. Since there was no budget for supporting a missionary family in Sumatra, Ralph and Carrie had agreed to serve as self-supporting missionaries. He learned in Singapore that English language schools and education were popular among the Chinese people. Also, private English classes for business were desirable, so this became their support base."10
Therefore, he opened the Seventh-day Adventist work on the island of Sumatra by starting an English language school and a small clinic in his home. Some Moslems were attracted to their "clean lives" and had gathered together for Bible study. Several years later, Ralph wrote the following report in the Missionary Readings regarding a Moslem who hated Christians:
But on the occasion of my recent visit, when this woman heard that true Christians must be pure and holy in their lives, pure in heart and spirit, she straightway came and began to examine the truth. When I had fully explained to her the way of salvation, there was a change in both heart and countenance. Every day and night, a large room of her house, which would seat several hundred, was filled with people. Christians mingled with the Mohamadans with one purpose of learning the truth.11
He was able to reach some of the people and attracted a few converts, including Moslems, mainly Batak people of North Sumatra. His first native convert was Immanuel Siregar, a son of the first Batak convert to Christianity by the Rheinische Mission Gesselschaft (one of the mission churches that the German society had established among the Bataks). Siregar came to Padang to establish a newspaper and there studied the Bible with Munson.12 After his conversion, Siregar returned to Batak Land to preach the message, and he became the first Indonesian Seventh-day Adventist pastor.
The work was progressing, and Ralph could see that the mission needed a nurse to help run the clinic, so he wrote urgent letters to Australia. Finally, a leader from the Australasian Union came to visit and determine the need for a nurse. Marcella Walker arrived from America in 1903. She was so busy attending to the sick that she hardly had time to study the language.13 When Pastor Ralph Munson held evangelistic meetings, Miss Walker would present a health talk. This became the opening wedge of the gospel.14
In 1904, after about four years in Padang, Munson moved to North Sumatra and opened the work in Medan. He started a clinic and an English school and also used literature to reach out to the people. They were able to reach out to the Chinese and Batak people. In 1905, after working about six months in Medan, it was reported that because of his wife's and son's illness and his children's education, he and his family had to move to Australia, 15 In Australia, Ralph did translation work for the work in Malaysia and Indonesia and wrote articles in Malay for the Signs of the Times magazine published in that language. Meanwhile, Carrie gave piano lessons.16
The Australasian Union Committee was interested in setting up a publishing house somewhere in Indonesia or Singapore, and they asked Ralph and Carrie Munson to carry out this program. In 1909 he went to West Java,17 where he started a printing press at Sukabumi. He was helped by several people, including Immanuel Siregar, his first convert from Batak land.18 The press put out material for the colporteur work as well as a quarterly paper, Utusan Kebenaran Malayu (Messenger of Truth). Ralph also continued to translate material for publication, including a translation of Saksi Kebenaran, a series of Bible studies by Elder G. B. Star.19 Ralph also established churches both in Sukabumi and Batavia (now called Jakarta). In April 1911, the press was moved to Batavia.
Later Life
The Munsons had to leave Indonesia again because of Carrie's ill health in 1911, going first to Australia and eventually returning to the United States, this time to California. Ralph continued to do translation work, including translating some of the Spirit of Prophecy into Asian languages. He also lectured at Pacific Union College.20 Even after retiring, Ralph continued to serve the church, including ten years as a chaplain at the St. Helena and Glendale sanitariums and then as a pastor.21
Ralph Munson died on March 8, 1934, in Verdugo City, California.
Contribution/Legacy
Ralph Waldo Munson was a Seventh-day Adventist missionary pioneer who came to Indonesia when there were no Adventists. He already was master in the Malay language, having been a missionary in Singapore. He started the language school, medical clinic, evangelistic activities, and printing press in Padang, Medan, Sukabumi, Batavia, and Bandung. His dedication inspired his children, grandchildren, and multiple generations of the Munson family, who dedicated their lives to taking the gospel to the people of Southeast Asia.
Sources
Breed, A. J. "The Michigan Camp-Meeting," ARH, September 12, 1899.
Cleveland, Clyde C. Indonesian Adventure for Christ. Washington, D.C.: Review and Herald Publishing Association, 1965.
Fernandez, Gil G. Light Dawns over Asia. Cavite, Silang: Adventist International Institute of Advanced Studies Publications, 1990.
Munson, George. More Than Conquerors. Brushton, N.Y.: Teach Services, 2007.
"Ralph Waldo E Munson (1860–1934)." WikiTree. Accessed January 9, 2020. https://www.wikitree.com/wiki/Munson-1290.
Seventh-day Adventist Encyclopedia. 2nd rev. ed. Hagerstown, Md.: Review and Herald Publishing Association, 1996. S.v. "Munson, Ralph Waldo."
Spicer, William A. Our Story of Mission. Mountain View, Calif.: Pacific Press Publishing Association, 1921.
Spalding, Arthur Whitefield. Christ's Last Legion. Washington, D.C.: Review and Herald Publishing Association, 1949.
Tambunan, Emilkan H. Gereja Masehi Advent Hari Ketujuh di Indonesia (The Seventh-day Adventist Church in Indonesia). Bandung, Indonesia: Indonesia Publishing House, 1999.
Tambunan, Emil H. Seabad Gereja Masehi Hari Ketujuh di Kota Medan (One hundred years of SDA work in Medan). Jakarta, Indonesia: Pustaka Kita, 2016.
Walker, Marcella A. "Sumatra." ARH, June 2, 1903.
Notes