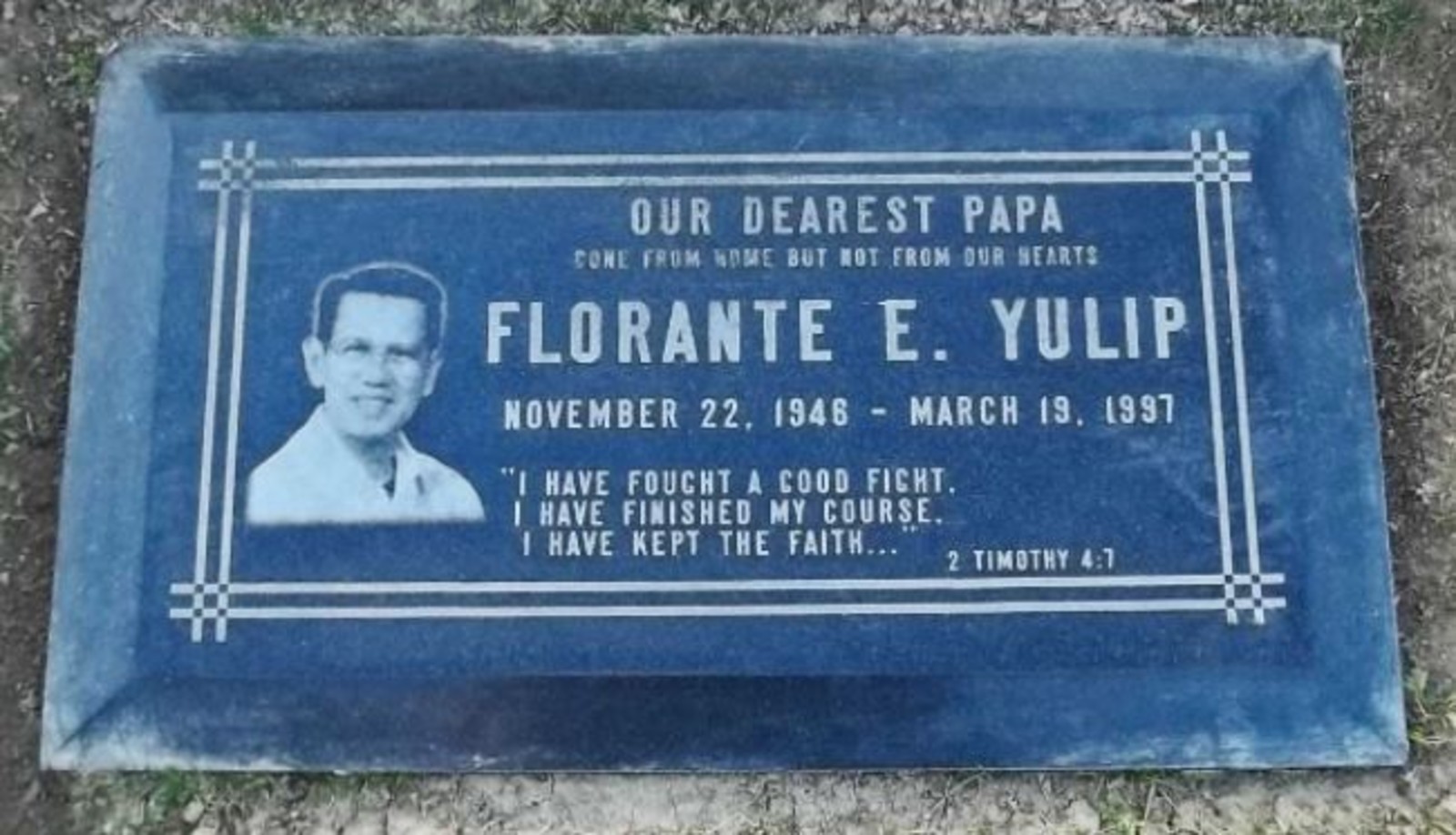 Yulip, Florante E. (1946–1997)
×
Mary Grace Ladion-De Guzman taught at Lipa Adventist Academy for eleven years, the first established academy within the territory of South Central Luzon Conference. She is a licensed science teacher and holds a master's degree in Science Education. She is particularly interested in science, technology, engineering, and mathematics (STEM) education and staff development. Her husband, Marlon De Guzman, is a senior auditor for the South Central Luzon Conference. They have two children. Guzman is currently pursuing a Ph.D. in Education with a specialization in Curriculum and Instruction from the Adventist International Institute of Advanced Studies.
First Published: February 9, 2021
Florante Estrada Yulip was a teacher, minister/evangelist, church planter, and administrator from the Philippines.
Early Life
Florante Estrada Yulip was born on November 22, 1946, in Atimonan, Quezon, Philippines, to Adventist parents Marcos Yulip and Elisa Estrada. He was a third-generation Seventh-day Adventist.1 He had three siblings: Delia, Amelba. And Evelyn. From a very young age, Yulip was actively involved in his home church serving in what capacity he could contribute. On April 25, 1957, at the age of 10, he was baptized and was welcomed as a member of the Seventh-day Adventist Church.2
Education and Marriage
Yulip spent his elementary years at the Philippine Union College (PUC) Elementary School, Manila, and Atimonan Elementary School, Quezon. His high school education was from Atimonan Academy and Quezon Memorial School. Then he entered Far Eastern University (Manila) and took a Bachelor of Science in Criminology and earned this degree in 1968 from the Philippine College of Criminology (Manila).3 For some time he worked in a law firm where he witnessed how truth was twisted to wrongs and how wrongs were bent to the truth. Also, his father's long-time dream for him was to become a lawyer.4
However, a twist of events brought him to Philippine Union College (now Adventist University of the Philippines). In one providential time, he volunteered to help an evangelistic meeting and was impressed by the ministry. So, he went home and asked his father's permission to be a pastor instead of becoming a lawyer.5 With his father's consent, he took a Bachelor of Arts in Philosophy and History of Religion at PUC and finished this second degree in 1970. Three years later, from 1973 to 1975, he studied in the Far East Seventh-day Adventist Seminary on the PUC campus (now Adventist International Institute of Advanced Studies, AIIAS) for his Master of Arts in Religion.6 Years later he also obtained a degree in Education from San Pablo College, Laguna.7 Aside from his formal education, his training also includes literature, evangelism, ministerial, and Bible work.8
Yulip met Emilia Inandan earlier at a youth camp in Lucban, Quezon. After 10 years he married her on April 26, 1972, while serving as a ministerial intern at South-Central Luzon Mission (now South-Central Luzon Conference), Laguna. The couple was blessed with three children: Annie Liza, Peter Mark, and Laura Lynne.9 Their children grew as partakers of the gospel through health ministry and are currently serving at Loma Linda Hospital in California.10
Career and Ministry
His career in the denominational service started in April 1970 when he became a district pastor under the South-Central Luzon Mission (SCLM). In 1974 he was assigned in San Jose, Oriental Mindoro, an island within the territory of SCLM. He stayed in San Jose for only a year because he was called to serve as a church pastor in the mainland area. He was ordained as a full-pledge minister of the Seventh-day Adventist Church on April 25, 1975, with three other pastors, Pastor and Mrs. Abner Rogue, Pastor and Mrs. Hami Tiano, and Pastor and Mrs. William Martinez of North Philippine Union Mission.11, 12 In 1976 he responded to the call to serve as a Bible teacher at Lipa Adventist Academy (LAA), Lipa City, Batangas, when it opened its doors to young people in June 1975.13
In 1978 he was called to serve as the youth director in SCLM14 until 1985. For seven years he directed various youth activities in the mission territory. He strengthened the Pathfinder Club in schools and local churches. Pathfinder camping became an instrument to win young people to the church.15 Through his leadership this program was done annually within the territory of SCLM. After finishing his term as a youth director, he was called to be a Bible teacher once again in LAA.
Yulip encountered a major blow to his health when in November 1982, at almost age 36, he had a massive heart attack with pulmonary edema. In his sickbed he whispered to his wife, "If God would only give me fifteen more years, I would be happier."16 After recuperating, he went back to LAA as a Bible teacher and principal from 1986 to 1987.17 In 1988 he was appointed as SCLM president.18
In one tachycardia episode, he was brought to Makati Medical Center, Manila. Learning that he is a Seventh-day Adventist, the medical team recommended Loma Linda University Medical Center (LLUMC) for a heart transplant. The documents were prepared for the US consulate, but the request was denied. Providentially, a family petition for U.S. migration filed for him a long time ago was approved. Thus, in August 1989, the whole family migrated to California, U.S.A. Loma Linda International Heart Institute of LLUMC recommended that he go through strict medication instead of a heart transplant.19
In May 1993 the Loma Linda Filipino SDA Church (LLFC) envisioned expanding a congregational territory in the south of Loma Linda. Yulip accepted the task to coordinate the organization of this congregation20 that later became Moreno Hills Seventh-day Adventist Church (MHSDAC), a Filipino International SDA church in Moreno Valley, Southern California.21 This church was considered as the daughter of LLFC.22
Yulip took the challenge and was very excited about the special ministry called Filipino Outreach Ministry (FOM).23 He coordinated evangelistic programs for LLFC. His target was not only to establish the church but to minister to the non-Adventist Filipino workers in the area. Challenging were the days ahead but his wife Emilia, fondly called Mrs. Yulip, was always behind to assist him with his young children. Mrs. Yulip made their home a hospitable haven. Visitors always came to visit, and she readily entertained them with her dishes.24
The pioneering years of Moreno Hills SDA Church were challenging. Yulip pastored the company of about thirty individuals.25 Initially, worship services were held at the members' homes. For years the church members rented other denominational churches as another option to conduct the worship services26 until it was officially recognized as a "company" on July 6, 1996, by the Southeastern California Conference27 and a church on January 6, 2001.28
On March 15, 1997, Yulip spent his last Sabbath with the group. The day before that, he had a fever and was coughing a lot in the church during the Sabbath. He had to be rushed to LLUMC for an immediate health checkup. He was diagnosed with bronchitis and was admitted to the intensive care unit. Although he was discharged on Monday night, he had to be transported back to the hospital on Wednesday, March 19, because of intense difficulty in breathing. Peter Mark, trying to comfort his father, heard him say, "I wish I had asked the Lord before to give me 30 years, not 15 years." He passed away on the same day.29 Abel Cordero, also an SCLM minister, assumed the responsibility for what Yulip had pioneered in 1997.30
Contribution
Yulip's labors, together with the pioneering church members, were not laid waste. His contagious courage bore witness to many that caused them to stand firm in their faith and believed that with God things are possible. He cannot be forgotten in his various ministries as a church planter, youth leader, teacher, and evangelist. He also led some philanthropic projects that enhanced the various ministries of the church and school. He rested on March 19, 1997, from all his labors.
Sources
Dingoasen, E. L. "Ministers are Ordained." ARH, September 4, 1975.
Etcobanez, R. "In His Own Time," January 1 entry. The Golden Crumbs: Thought for Today. Xlibris US, 2017.
"Florante Estrada Yulip, Service Record." Southern-Asia Pacific Division Archives, Silang, Cavite, Philippines.
Macalintal, E. M. "Lipa Adventist Academy: A Monument of God's Providence." LAA Student Handbook, Revised 2018.
"Moreno Hills Seventh-Day Adventist Church." The official webpage of Moreno Hills Seventh-Day Adventist Church. Accessed March 22, 2021, https://morenohillssda.org/about.php.
"North Philippines Ordinations." Far Eastern Division Outlook, October 1975.
Seventh-day Adventist Yearbook, 1988, 1989. https://www.adventistyearbook.org/.
Sorensen, C. P. "Another Youth Camp in the Philippines." Far Eastern Division Outlook, July 1950.
Wilson, J. W. "Power for a Finished Work." Canadian Union Messenger, November 4, 1982.
Notes