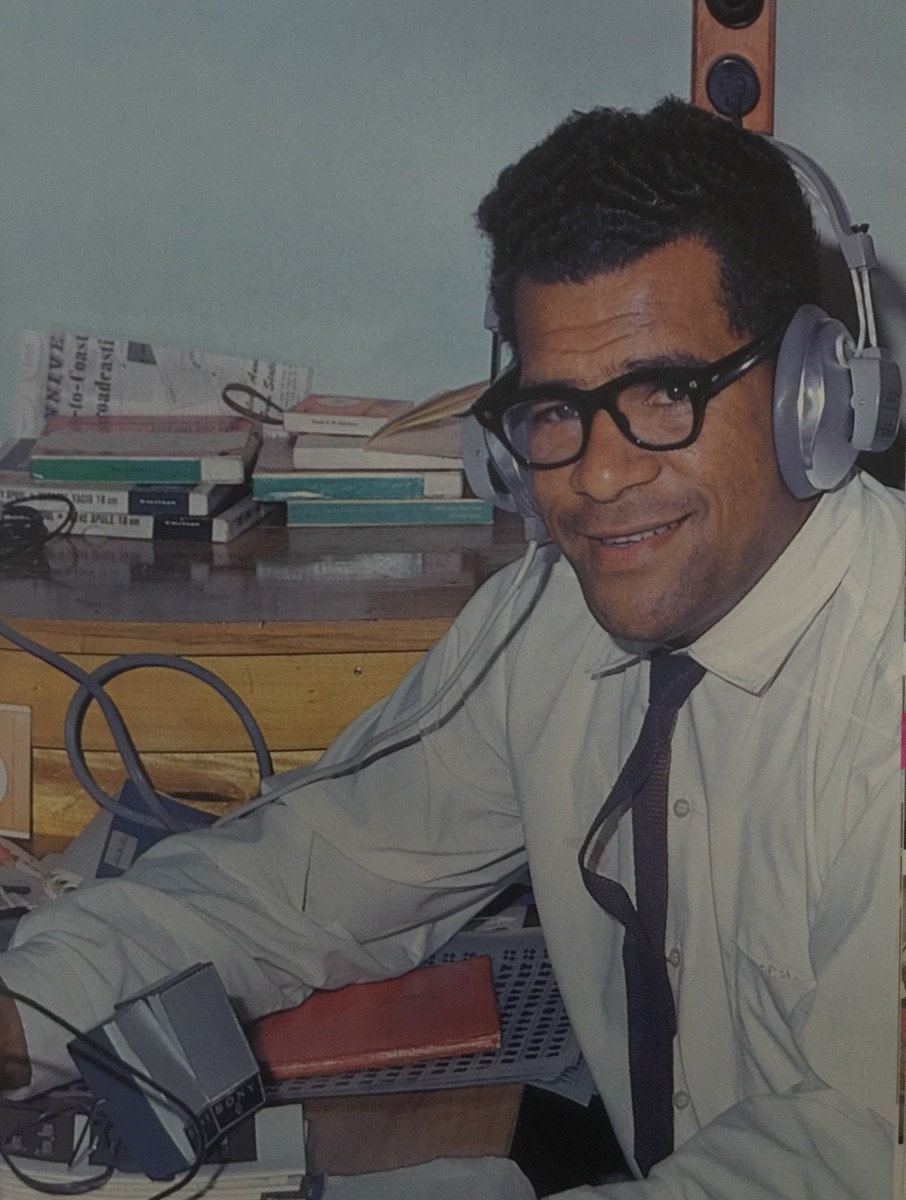 Kabukeinadave, Aisake Laisenia (1933-2003)
×
Fulori Sususewa Bola, M.A. in education administration & leadership (La Sierra University, Riverside, California, the United States) and M.A. in teaching (Avondale College, Cooranbong, New South Wales; Australia) retired in 2016 as senior lecturer in Education at Pacific Adventist University, Papua New Guinea. A Fijian by birth, Fulori has served the Adventist Church as a teacher and administrator in primary and secondary schools and as a senior lecturer at Fulton College and Pacific Adventist University. She has authored some twenty devotionals for the General Conference Women's Devotional book. She married Fereti Bola with three adult children and two grand children.
First Published: January 29, 2020
Aisake Laisenia Kabukeinadave was a pioneering Fijian pastor, evangelist, administrator, and radio speaker between 1953 and 1994. He was especially well known for his service both for the Seventh day Adventist Church and the Fiji government through his leadership and pastoral ministry. His evangelistic efforts took him throughout the Pacific islands, Australia, New Zealand, and other parts of the world. He served as president of the Fiji Mission from 1984 to 1986, then secretary for the Central Pacific Union Mission from 1987 to 1989 and president of the Central Pacific Union Mission from 1990 to 1994. He was the first Pacific Island person to be president of the Central Pacific Union Mission
Early Life (1933–1940)
Aisake was born on July 29, 1933, in Mualevu village, Lau, to Laisenia Nawa and Laisa Lutu of Tubou, Lakeba.1 Aisake was the seventh of ten children. His siblings were Joeli Sereki, Sofaia Drodro, Laisenia Sovea, Kolinio Koto, Sekope Tiko, Ema Punu, Laisa Lutu, Laisenia Vakaloloma, and Saimone Mate. At his birth Aisake's parents named him after the Mualevu schoolteacher Aisake Rawaitale from Nayavu in Wainibuka. They gave the name Kabukeinadave to Aisake to remind them that they are originally from the clan Nadave in Nayavu, Wainibuka.
Laisenia Nawa was the Methodist Church Elder on Mualevu. His children were all brought up in that faith and his desire was for his son Aisake Kabukeinadave to become a Methodist Church Minister.2
Education (1941–1949)
Aisake's primary education was at Mualevu Village School and Levuka Public School on the island of Ovalau. He progressed to Delana Methodist School on Levuka in Ovalau for his upper primary education. His father's desire was to send Aisake to the Methodist Bible School at Davuilevu in Suva for ministerial training after completing upper primary at Delana Methodist School. In 1949 Aisake traveled to Suva by boat to fulfill this desire. On the boat he met several cousins who were on their way to study at Fulton Missionary College. They shared with him the interesting activities and life at Fulton. Aisake Kabu's interest was kindled, but he knew that his destination was Davuilevu.
At the Suva wharf he was greeted by his aunt Salote, who took him to Suvavou the Seventh-day Adventist Church headquarters. Salote's daughter Seruwaia was married to the Fiji Seventh-day Adventist (SDA) mission secretary Ratu Semi Vuloaloa. The plan was for Aisake to spend some weeks at Ratu Semi's home before going to Davuilevu. During his stay with Ratu Semi Vuloaloa and his wife, Seruwaia, at Suvavou, Aisake had many questions about the SDA faith and the Sabbath. Ratu Semi answered his questions from the Bible. Aisake asked about Fulton Missionary College and the possibility of studying there. Subsequently he went to Fulton Missionary College instead of Davuilevu and started his pastoral training.
Life at Fulton Missionary College (1949–1950)
Life at Fulton Missionary College for Aisake was challenging. His parents no longer supported him and his education. He worked over the holidays at the Fulton dairy to earn his way through school. He also worked as houseboy for the Ramswarup family. His cousin Seruwaia and her husband, Ratu Semi Vuloaloa, also gave financial and spiritual support. He also received support from another cousin, Ulamila Rarawa, who lived on the Fiji SDA Mission compound with her husband, Taniela Tiko, who was the Rarama printing press operator and printer. He spent most of his school holidays with this family and sometimes assisted Taniela at the press.3 In 1950 Aisake went to Viwa Island in Yasawa to work as a colporteur. During his work at Viwa he met Serai Ravutu Nanewa, who at the time was teaching at the Viwa District School.
Marriage (1951)
On February 5, 1951, Aisake and Serai were married at Suvavou SDA Mission, officiated by Pastor Adams. Aisake returned to Fulton Missionary College to complete his ministerial training. Serai was given a teaching post at Waidalice District School, only a kilometer down the road from Fulton College. In 1952 Aisake graduated from Fulton with a diploma in theology, and they returned to Viwa in Yasawa to serve in pastoral ministry. Salote their first child was born on Viwa.4
Spouse and Children
Serai Ravutu Nanewa was the third child in a family of seven. She was born on June 7, 1931.5 Her parents Isikeli Veve and Raijeli Nuku of Yavusania in Nadi are landowners and sugar-cane farmers. She grew up in Yavusania. For her education Serai attended Nadi District School and Davuilevu Primary School. She went to the Methodist Girls High School at Ballantine Memorial School in Suva. Serai attended Nasinu Teachers College and graduated with a diploma in teaching in 1949. She began her teaching career in Nadi District School then to Viwa District School in 1950 where she met Aisake.
Six children were born into the family:
Salote Sasagawale. Salote has retired from government service as administrative secretary to many government ministries. She married Pauliasi Matawalu, a schoolteacher, and they have five adult children: Talei, Isikeli, Sofaia, Aisake, and Alisi.

Vasemaca Ratu. She married Tom Osborne, a pastor, and they have six adult children: William, Tui, Georgina, Charlie, Tommu, and Danny. Vasemaca and Tom Osborne have been missionaries to Papua New Guinea and Australia. They now live on Taveuni after retirement in January 2019.

Tuinadave Radogo. He married Jackie, and they have three adult children: Serai, Junior Tui, and Joeli. Tuinadave operates the Kabu Back Packers resort on Mana Island.

Alisi Tinaitakala. Alisi is a secondary school teacher graduated from Pacific Adventist College in 1995. She married Taufa Pulu of Tonga, and they live in New Zealand. They have three adult children: Veisinia, Isaac, and Tupou.

Aisake Tikoitoga. He married Julia, and they have one son, Laisenia Kabu. Aisake Tikoitoga Kabu has followed in his father's footsteps and has been a radio broadcaster, evangelist, and mission administrator. In 2019 he is the Fiji Mission associate Ministerial secretary for the western region of Fiji. He operates from Sabeto in Nadi. He is an active evangelist while his wife, Julia, is principal in a special school for those with disabilities.

Salaseini Lutu. She married Alauna Malu of Tonga, and they live in the USA. They have four children: Finau, Serai, Manoa, and Eli.
All the Kabu children (the surname Kabukeinadave was regularly shortened to Kabu) are actively involved in church work and received their education in SDA schools. Some attended Avondale College; Pacific Adventist University; La Sierra University in Riverside, California; and Tuinadave was a student at Andrews University.6
Career and Ministry
After his graduation from Fulton Missionary College Aisake began ministry in Fiji. A summary of his ministerial duties is as follows:
| | |
| --- | --- |
| 1954–1955 | Ministerial duties on Viwa Island in the Yasawa group, Fiji Islands |
| 1955 | Ministerial duties in Lautoka, West Fiji Mission |
| 1956–1960 | Youth director for the West Fiji Mission |
| 1961–1962 | Studied at Avondale College |
| 1963–1964 | Director for evangelism, Indian work, and Bible correspondence course director for Fiji Mission. |
| 1964–1967 | Radio broadcast director and evangelist |
| 1968–1968 | Communication director for Fiji Mission, director of evangelism, and radio broadcast evangelist |
| 1970–1971 | Lautoka district pastor and radio broadcast evangelist and Fiji Mission evangelist |
| 1972–1977 | Departmental director for Fiji Mission (Sabbath school and youth), evangelist and radio broadcast personnel |
| 1978– 1983 | Departmental director for Fiji Mission (Ministerial secretary and personal ministries), evangelist, and radio broadcast personnel. |
| 1984–1986 | President of the Fiji Mission, evangelist and personal ministries director |
| 1987–1989 | Secretary of the Central Pacific Union Mission |
| 1990–1994 | President of the Central Pacific Union Mission |
| 1994– | Retirement7 |
Through Aisake Kabu's work as an evangelist, he became a household name in Fiji. He was the speaker for the Fijian Voice of Prophecy. It was reported that "Pastor Aisake Kabu holds the record for length of service to Adventist broadcasting in the CPUM. Kabu is a successful public evangelist as well as a departmental director for the Fiji Mission."8 His evangelistic crusades were reproduced on DVD and widely distributed. Many joined the Seventh-day Adventist Church though crusades run by the Fiji Mission when Aisake Kabu was the speaker.9 Kabu supported Adventist Christian education. He set an example by sending all his six children to church schools. He was instrumental in the establishment of two Adventist primary schools, and the Suva Adventist College bought from a hotel property and converted into a school. During his time of leadership many young people were sent for further studies to Avondale College or Pacific Adventist College to upgrade their qualifications and level of education.10 His interest in the Indian work in Fiji also saw the establishment of the Lautoka, Rakiraki, Nasinu, and Ba Indian churches in Fiji. He sent his son Aisake Tikoitoga to an Indian school to learn Hindustani in preparation for the Indian work.11
He was called upon to visit a number of countries to conduct evangelistic meetings. He spent one month in Lae, Papua New Guinea; three months in Tonga for evangelistic meetings and radio broadcasting. He was invited to other Pacific islands, such as Cook Island, Tahiti, and all the outer islands of the Fiji group.12 He also visited camp meetings as a speaker in Australia and New Zealand.13
As well as caring for their family, Serai worked closely with her husband in his work. She cohosted many Voice of Prophecy programs with him; she translated the Bible correspondence lessons into the Fijian language and marked the Voice of Prophecy lessons. During every evangelistic meeting, Serai would ensure that Kabu was on a strict program of rest and fresh vegetable diet. Meetings were conducted about 8:00 p.m., so his dinner was served around 4:30 p.m. or 5:00 p.m. to allow for some time of rest before he stood to preach. For breakfast he was served cereal, fruits, and lemon drink. During the meetings she always checked that his sweat was wiped dry and undershirt changed if wet from sweat. She ensured that he took one hour or two hours of rest after meals and before standing up to preach. Whenever Kabu did not adhere to this program, the likelihood of getting an asthma attack was real.
As union president, Aisake Kabu led by example in the evangelistic work of the church. In 1992 it was reported to the South Pacific Division executive committee that "in some areas of his [Kabu's] union, a church has adopted an entire island as its outreach initiative. In the Fiji group there are approximately 96 unentered islands. In Samoa there are two or three; in Tonga, five; and in French Polynesia, some 30 islands without an Adventist presence. According to Kabu, these islands are the target for Global Mission outreach."14
Later Years
After his retirement in 1995, Aisake Kabu opened a motel on Mana Island. Mana is in the Mamanuca group of islands in Fiji and a tourist destination. He assumed some responsibilities with the government as director for the Poverty Alleviation Fund and the Transport Control Board.15
Following some challenges in their lives and marriage, Aisake and Serai were rebaptized in 2000 at the Qauia SDA Church in Suva.16 Then between 2000 and 2003 Aisake Kabu again became active in evangelism. He conducted evangelistic meetings in several places, resulting in Bible studies and baptism. In 2003 he preached for an evangelistic meeting in the town of Ba. His wife, Serai, was not there with him to care for him as she normally did. At the end of the third week of meetings, Aisake suffered an attack of asthma and was rushed to hospital. He did not recover from that attack. He died on Sunday, November 16, 2003.17
Sources
Aisake Kabu Service Records. South Pacific Division of the General Conference Archives. Folder: "Kabu, Aisake." Document: "Personal Service Record."
Dixon, R. D. "The Broadcasters of the C.P.U.M." Australasian Record, April 21, 1975.
Gilmore, Lawrence, "Choirs Feature at Aboriginal Camp." Australasian Record, May 21, 1983.
"Global Mision Report." South Pacific Record, September 19, 1992.
Hay, David. "Life Sketch of Pastor Aisake Kabu." Journal of Pacific Adventist History 4, no. 1 (June 2004).
Townend, M. G. "Communication 73." Australasian Record, April 2, 1973.
Notes