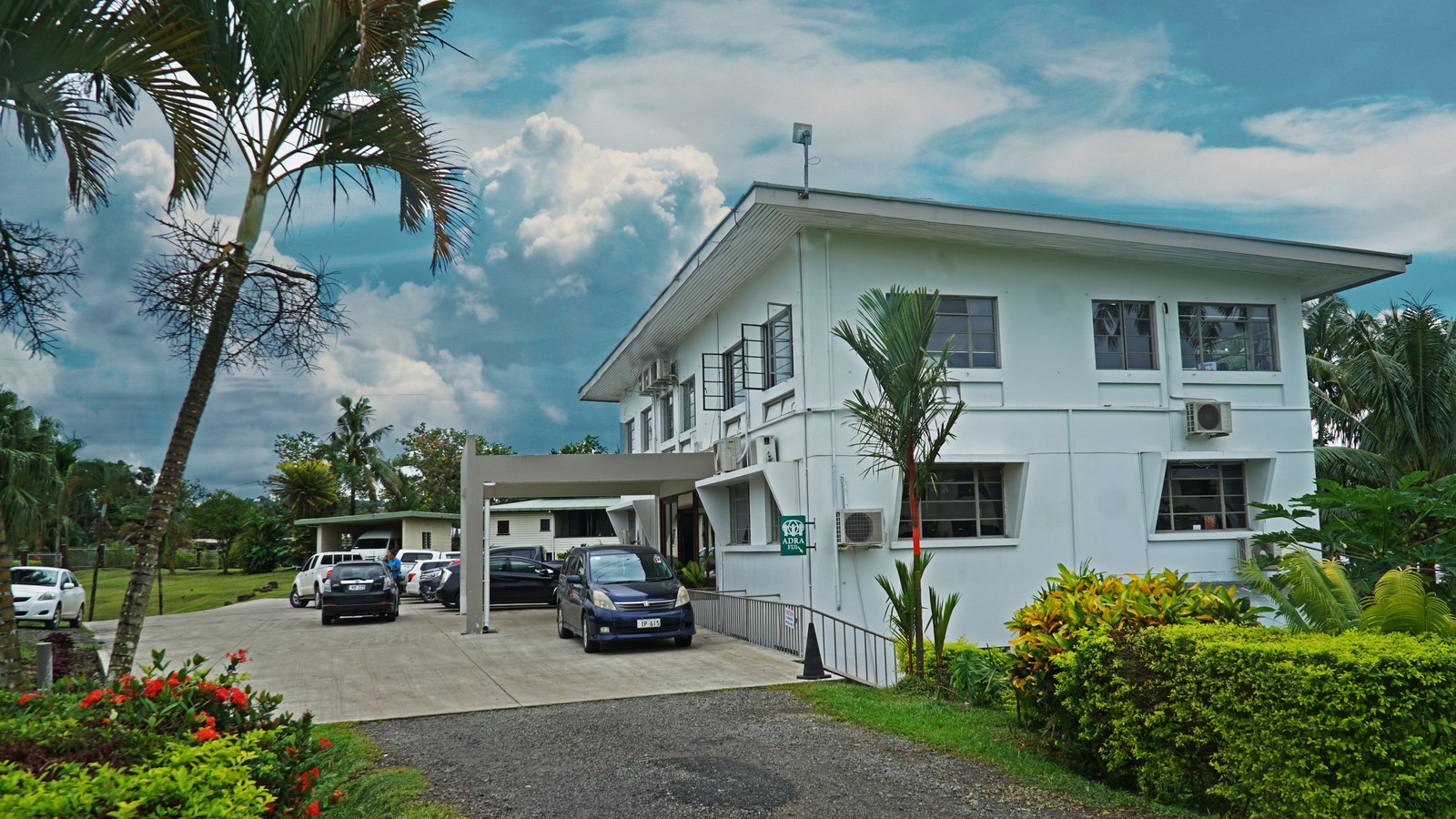 ADRA Fiji
×
Iliapi Tuwai, B.Sc. Honors (University of Wales, UK) has been working as country director for Adventist Development & Relief Agency Fiji since 2014. Tuwai started his working career as a laboratory technician and then as an executive officer at the University of the South Pacific in Suva, Fiji, before he left for the UK for his studies. Upon his return to Fiji, he worked as a civil servant for the Ministries of Fisheries Agriculture for 12 years, and later joined local and international NGO's focusing on coastal rehabilitation with community-based management for 8 years. He is married to Akanisi with three adult daughters.
First Published: January 29, 2020
ADRA Fiji has worked closely with the Central Pacific Union Mission (now Trans Pacific Union Mission) and the Fiji Mission since 1989 to provide humanitarian assistance, repair buildings damaged by cyclones, connect students with donor supporters, respond to natural disaster crises, and initiate development projects.
The Adventist Development and Relief Agency (ADRA) commenced operations in the Central Pacific Union Mission (CPUM) in 1989, based in Suva, Fiji.1 At the time, Samuela Ratulevu was president of the Fiji Mission of Seventh-day Adventists, and Elwyn Ferris was the director of ADRA in the CPUM. From 1990 to 1997, Marika Tuiwawa of ADRA Fiji worked closely with Ferris. ADRA started its work in the CPUM in collaboration with ADRA Australia and ADRA New Zealand.2
Initially, the primary focus was on humanitarian work. ADRA worked closely with the Dorcas Welfare Societies in local Seventh-day Adventist churches. The main activity was the distribution of items such as food packs and clothing in order to provide for the homeless and less fortunate in the community. These donated items, which were sent by overseas church members, were channeled through the South Pacific Division and the CPUM.
During these early years, some work was also done to repair buildings that had been damaged by Cyclone Oscar in 1983. Vatubalavu Community Hall was reconstructed to withstand any future cyclone, and the Isa Lei School (the current Suva Adventist High School) was renovated. The work was completed in 1993, 10 years after the cyclone.3
ADRA Fiji was registered on June 13, 1995, as a charitable nonprofit organization based at 357 Princess Road, Tamavua, the address of the Central Pacific Union Mission (CPUM) office.4 The first trustees were Arthur Elwyn Ferris (director) and Kelvin John Peuser (associate director). Peuser was the chief financial officer of the CPUM at the time.
In 1996, students who were studying at Fulton College, the senior SDA tertiary education institution in the CPUM, were supported with school fees by donors from Australia and New Zealand.5 At the time, this was seen as a function of ADRA's humanitarian work to facilitate the connection between students and their donor supporters.
In 1998, a Fijian, Mosese Waqa, assumed leadership of ADRA in the CPUM office.6 He functioned as an overseer of the work of ADRA in the countries of the CPUM, most of which at that time did not have established country offices. The Solomon Islands was the only other Pacific island nation to have its own ADRA country office. In his report submitted at the ADRA Chiangmai meeting in Thailand (1998), he focused on the localization of ADRA offices in the Pacific region as part of the strategy of the CPUM at the time.
Meanwhile, in 1997, Aporosa Kalawa, who was a departmental director for the Fiji Mission, was assigned as part of his responsibilities to coordinate the work of the Dorcas Welfare Societies and ADRA in the Fiji Mission. In this capacity, he worked closely with Waqa, the CPUM director, between 1997 and 2000.
Between 2000 and 2004, little ADRA activity occurred within the Fiji Mission. The mission was operating under severe financial constraints. Then in early 2004, Iliapi Tuwai was employed for three months as a consultant by the Fiji Mission under the leadership of Tom Osborne. Later that year, David Cram was appointed by the CPUM to coordinate the work of ADRA in the Pacific Islands.7 Cram was able to restart the work of ADRA in Fiji, based in the Fiji Mission office at Suvavou. In early 2005, Savenaca Cavalevu was appointed by the Fiji Mission as the country director. He was the first person to officially carry the title of country director of ADRA Fiji.
In 2009, ADRA Fiji was incorporated as a limited liability company, ADRA Fiji Ltd., with the intention of purchasing property. Under this proposition, a new set of trustees was identified: Luke Narabe, Tiko Kabu, Greg Young, and Vic Bonnetti. Cavalevu continued to lead from the Suvavou office until 2013. During this time, Aseri Suka and later Luke Narabe were the mission presidents. ADRA Fiji was operating in an office space in the Fiji Mission office with only two permanent staff members. They were now catering for various relief projects within Fiji, including response and rehabilitation for flood and cyclone crises. Development projects were also becoming prominent, including food security using cash vouchers, provision of fisheries, agriculture kits, and support to create small-business enterprises. The Navosa Livelihood Project started in 2012 was overseen from a temporary office set up at Keiyasi in Navosa. This project was staffed by three project officers using agriculture as a means for subsistence as well as a small-business enterprise and supported by a finance assistant.8 A temporary Suva City office was also established to care for a youth empowerment project. It was also staffed by three officers based at the Suva Flea Market.9
In April 2014, Iliapi Tuwai was appointed as country director for ADRA Fiji under the leadership of Luke Narabe, president of the Fiji Mission. The current ADRA Fiji board is made up of Luke Narabe (Fiji Mission president), Josateki Talemaitoga (Fiji Mission general secretary), Apisalome Seru (Fiji Mission chief financial officer), Gregory W. Young (ADRA South Pacific Division director), Mrs. Mereia Volavola, Charles Ratakele, Semi Dranibaka, and Iliapi Tuwai (secretary). By 2017 the ADRA Fiji staff had expanded to 16 and was relocated in facilities below the current mission office. In 2019 there were 35 staff members and nine projects that include livelihood and food security, health, and advocacy in various communities around Fiji.10
Between 2016 and 2019, ADRA Fiji established temporary offices in Lautoka, Labasa, and Savusavu to cater to projects that are currently operational in the Western and Northern Divisions of the country. Most projects are funded externally from donors such as the European Union, the German government, the United Nations, the Australian government, and ADRA Australia.11
Sources
"1996 Students Fee Assistance at Fulton College." ADRA Trans Pacific Union Mission Archives, Tamavua, Fiji.
2016 ADRA Annual Report—Cyclone Winston Response Projects. ADRA Fiji Archives, Suvavou, Fiji.
"ADRA Fiji Registration Certificate (1995)." ADRA Trans Pacific Union Mission Archives, Tamavua, Fiji.
Na Kaci, June 1993.
Na Kaci, May 1993.
SDF Project Reports—ADRA Fiji MFAT Project 2016. ADRA Fiji Archives, Suvavou, Fiji.
Waqa, Mosese. Capacity Building in the Local Missions of TPUM. Draft report 2-31/12/00. ADRA Trans Pacific Union Mission Archives, Tamavua, Fiji.
Youth Empowerment Project—DFAT (ANCF) ADRA Fiji Report 2015. ADRA Fiji Archives, Suvavou, Fiji.
Notes