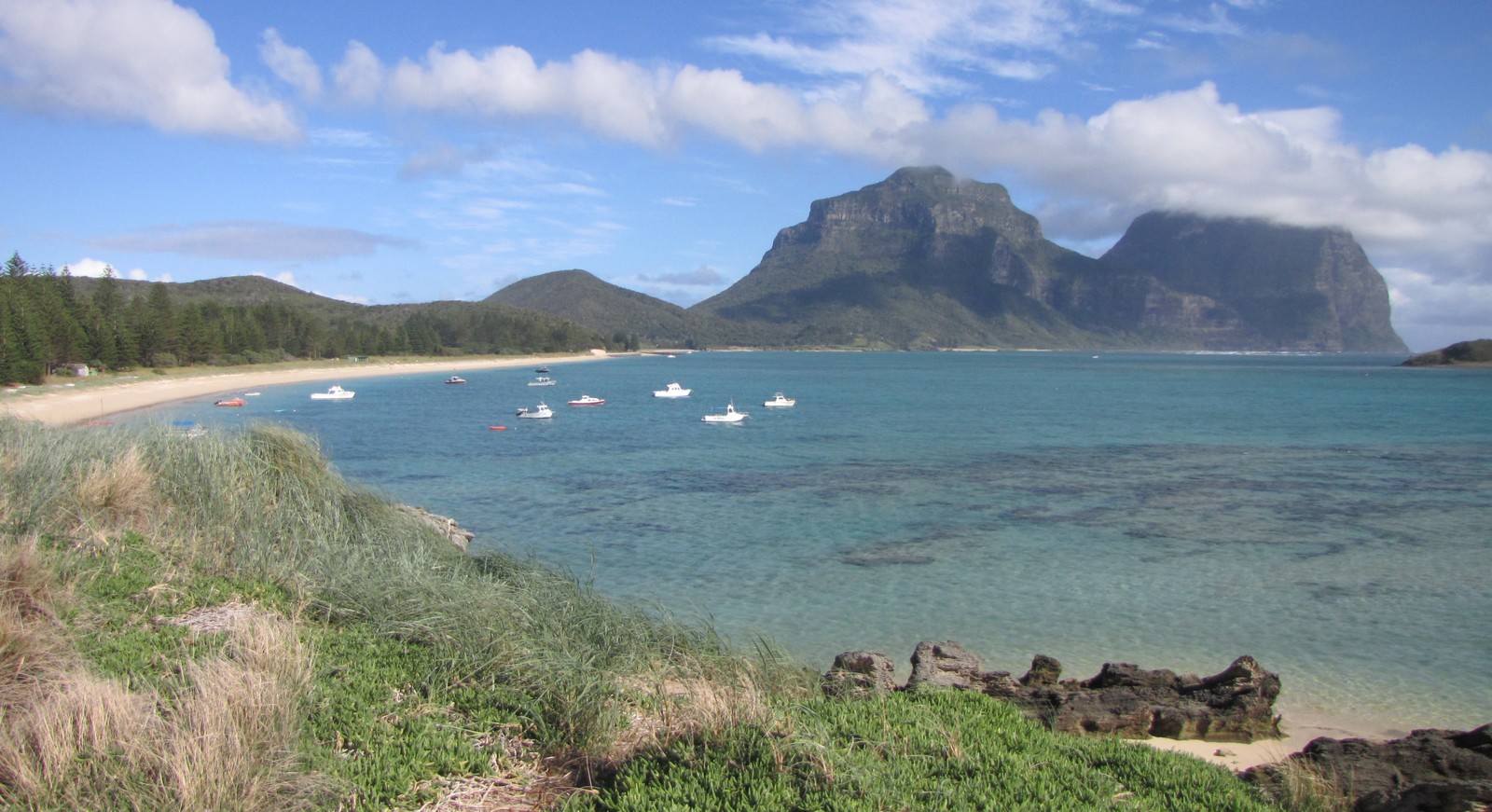 Lord Howe Island
×
Milton Hook, Ed.D. (Andrews University, Berrien Springs, Michigan, the United States). Hook retired in 1997 as a minister in the Greater Sydney Conference, Australia. An Australian by birth Hook has served the Church as a teacher at the elementary, academy and college levels, a missionary in Papua New Guinea, and as a local church pastor. In retirement he is a conjoint senior lecturer at Avondale College of Higher Education. He has authored Flames Over Battle Creek, Avondale: Experiment on the Dora, Desmond Ford: Reformist Theologian, Gospel Revivalist, the Seventh-day Adventist Heritage Series, and many magazine articles. He is married to Noeleen and has two sons and three grandchildren.
First Published: January 29, 2020
Lord Howe Island is situated in the Tasman Sea between Australia and New Zealand, 600 kilometres (370 miles) directly east of mainland Port Macquarie, New South Wales and 780 kilometres (480 miles) northeast of Sydney. It has an area of 14.55 square kilometres (5.62 square miles).
Settlement
The island was first discovered by Lieutenant Henry Lidgbird Ball, commander of the ship, Supply, in 1788, while travelling between Sydney and the penal settlement of Norfolk Island. Ball named the uninhabited island after British Admiral Richard Howe.
The island was first settled in 1834 when three couples arrived from New Zealand. In the ensuing years, Lord Howe acted as a provisioning station for ships travelling between Sydney and Norfolk Island, and for whaling ships. By the 1870s, whaling was waning and the islanders turned to the collection and export of Kentia Palm seeds to the European indoor plant market to support the local economy.1
An Anomalous Start for the Seventh-day Adventist Church on the Island
When Elder John Cole, resident missionary on Norfolk Island, visited Sydney in October 1894 to attend the Australian Conference Session at the Ashfield camp meeting2 he apparently requested more hands to assist him in the Pacific Islands. The Australian Conference, however, had no authority to appoint missionaries for the Pacific. That control still rested with the Foreign Missions Board at General Conference headquarters. No official action therefore was published in the session proceedings but tacit approval must have been granted to him because he went to Melbourne and selected three couples who would sail as missionaries with him, two couples for Norfolk Island3 and one couple to pioneer Lord Howe Island. Not having proper authority from the General Conference, the Australian officials designated the group as self-supporting missionaries, and a gentleman's agreement was made to pay a stipend. The couple selected for Lord Howe Island, Charles and Beatrice Baron, were promised ten shillings per week.4
The Barons, with their infant son Harold, sailed from Sydney on December 10, 1894. Arriving two days later at Lord Howe Island the steamer anchored outside the reef and they were rowed ashore in longboats. They noticed that there was no schooling offered to the children on the island because the school house had burned down. Charles was given permission to rebuild it. He and Beatrice conducted elementary lessons for sixteen children every morning Monday to Friday. On Sunday afternoons they offered religious education. Their stay was interrupted by four months on Norfolk Island rebuilding a derelict structure as a church. Baron's work on Lord Howe Island was highly regarded. However, he was transferred in mid 1897 to help build the church on the school campus at Cooranbong.5
A Second Attempt
Arthur Ferris, resident missionary on Norfolk Island years later, found a Lord Howe islander there who invited him to give Bible studies on Lord Howe Island. He sailed there in December 1911,6 conducted a series of studies during a few weeks and returned in 1912 to complete them. To consolidate the interest Cecil and Ethel Meyers were sent from Australia on a six-month assignment.7 The Anglican (Episcopalian) Church, who regarded Lord Howe Island as part of their territory, became aware of the work Ferris had done and dispatched a minister to counter his results. Meyers reported he was met with Dudley Canright's anti-Sabbatarian arguments.8 He transferred to New Zealand on October 16, 1912.9
Settled Results
During 1913 Elder Edwin Butz used the island steamer to make periodic visits, staying for short periods to give further instruction to a group of baptismal candidates. A baptism of four women was held on February 27 and another of five individuals on May 11. On their request they were organized into a church,10 meeting regularly in the school house that Baron had restored. Their Sabbath School group numbered approximately twenty-five.11
In order to nurture the group John and Harriet Robinson agreed to go as self-supporting missionaries. John was ordained as the elder of the Lord Howe Island church prior to leaving Sydney on August 1.12 An Anglican clergyman was on the same boat, dedicated to preserving his interests on the island. He proved to be a believer in religious liberty and instructed his adherents to allow Seventh-day Adventists to worship on Saturdays. The immediate result was that the Adventists were permitted to unchain the organ in the school and use it for their services.13
The Robinsons visited everyone on the island, leaving literature and good-will. In February 1914 the kindly clergyman was replaced with a belligerent one who stirred up a divisive spirit in the community. The Robinsons busied themselves by organising a Dorcas Society to sew garments for the fledgling New Hebrides Mission.14 When they returned to their homeland it was left to Ferris to make an occasional visit and remain for a few weeks, baptising candidates, celebrating the Lord's Supper and searching out new interests. In 1915 the baptised membership totalled fifteen.15
Ferris spent another three months on Lord Howe Island in early 1917. On his return to Norfolk Island Sidney Nobbs was ordained as the elder of the Lord Howe Island church.16 Nobbs and his wife, Celia, transferred with the view that he would prove helpful in building permanent church facilities for the Adventist members. He began to pit-saw timber in readiness for the structure.17 Ferris himself was appointed to make Lord Howe Island his sole mission field in 1920. He and wife Jessie went ashore on February 1. The following day he secured a property from the island authorities and foundations were laid for an SDA church. Timbers accumulated by Nobbs were added to an Oregon log and a cedar log found among driftwood. One member donated jarrah flooring boards. In under three months the building was completed and dedicated free of debt on April 21, 1920.18
Nobbs remained as a resident member but Ferris was the designated leader whose ministry on the island extended to 1934.19 In 1924 Ferris reported a church membership of twenty. Sabbath School attendance averaged thirty-three. He spoke of his witnessing to the many tourists, plans for the building of his own mission home, and the fact that his island mission was operating on a self-supporting basis.20 In the closing years of his tenure, 1932 and 1933, Ferris introduced the novelty of a camp meeting for the members. In the solitude of the southern end of the island a few tents were pitched and Ferris used the time as a spiritual revival opportunity. Children and adults alike enjoyed the experience.21
Ferris was replaced by Griffiths and Marion Jones (1935-1938),22 followed by Ralph and Ruby Farrar. The Farrars were nursing graduates of the Sydney Sanitarium and the only individuals on the island who had any experience in treating the sick. Ralph was also adept at simple dental procedures. His versatility extended to building a new mission home and introducing a successful apiary that guaranteed pollination for the island's flower and vegetable industry and a plentiful honey supply. Sabbath services were attended, on average, by thirty-six members, approximately one-third of the island population.23
When the Greater Sydney Conference was formed in 1949 the Lord Howe Island Mission was incorporated into the territory of the conference and the church membership has remained part of their constituency.24 In 2018 the Seventh-day Adventist Church on Lord Howe Island had 31 members out of a population of 350.25
Sources
"About Lord Howe Island." Accessed January 11, 2019. https://www.lordhowe.com.au/lord-howe-island/about-lord-howe-island/
Austic, Edward. "Lord Howe Island." Australasian Record, April 7, 1913.
Baron, Charles D. "Early Workers to Norfolk Island and Lord Howe." Australasian Record, August 19, 1935.
"Brother A.H. Ferris has just returned…" Australasian Record, April 12, 1915.
"Brother and Sister C.K. Meyers sailed…" Australasian Record, November 4, 1912.
"Brother and Sister J. Robinson sailed..." Australasian Record, August 11, 1913.
Butz, E[dwin] S. "Lord Howe Island." Australasian Record, July 21, 1913.
Ferris, A[rthur] H. "Lord Howe and Norfolk." Australasian Record, July 30, 1917.
Ferris, A[rthur] H. "Lord Howe Island." Australasian Record, November 29, 1915.
Ferris, A[rthur] H. "Lord Howe Island." Australasian Record, September 29, 1924.
Ferris, A[rthur] H. "Norfolk Island." Australasian Record, March 11, 1912.
Ferris, Jessie. "A Unique Camp Meeting." Australasian Record, May 16, 1932.
Ferris, [Jessie]. "Lord Howe Island." Australasian Record, June 28, 1920.
"For some time our church . . ." Australasian Record, September 23, 1918.
Fulton, J[ohn] E. "Good News from Lord Howe and Norfolk Islands." Australasian Record, April 8, 1912.
Hare, R[obert]. "Camp Meeting on Lord Howe Island." Australasian Record, June 12, 1933.
"History of LHI." Accessed August 14, 2018. http://www.lordhoweisland.info/sustainability/history-of-lhi/
"Lord Howe Island." Australasian Record, July 12, 1943.
Meyers, Cecil K. "Lord Howe Island." Australasian Record, September 9, 1912.
"Pastor J.M. Cole arrived in Sydney . . ." The Bible Echo, October 22, 1894.
Robinson, H[arriet]. "Lord Howe Island." Australasian Record, September 28, 1914.
Robinson, [John and Harriet]. "Lord Howe Island." Australasian Record, September 15, 1913.
Seventh-day Adventist Yearbooks. Washington, D.C.: Review and Herald Publishing Association, 1918-1949.
"S.T. Belden and C.J. Anderson . . ." The Bible Echo, December 3, 1894.
Notes