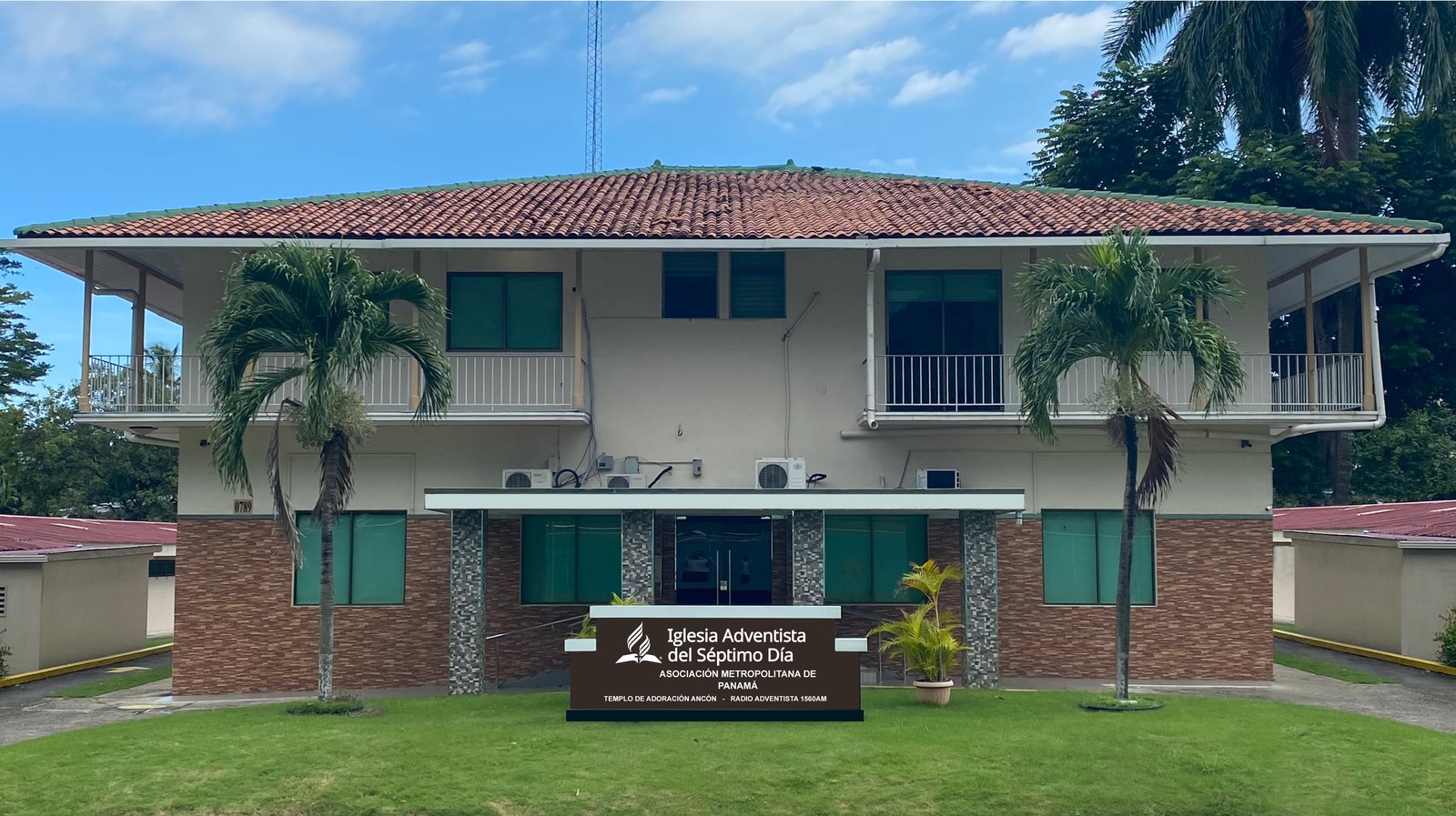 Metropolitan Panama Conference
×
Wladimiro De Los Santos, M.A. in Pastoral Theology, serves as the Sabbath School and Personal Ministries director of Panama Metropolitan Conference.
First Published: May 12, 2021
Metropolitan Panama Conference is an administrative unit of the Seventh-day Adventist Church in Panama. It is a part of Panama Union Mission in the Inter-American Division of Seventh-day Adventists.
Territory and Statistics
Metropolitan Panama Conference is located in the province of Panama and includes the entire province plus the Pearl Islands. Its offices are located on Avenida Julio Linares La Boca in Ancón, Panama Province. Metropolitan Panama Conference had a population of 1,711,226 as of 2019.1 As of 2018, it had 34 churches, three groups, 27,800 members, two schools, two academies, nine ordained ministers, and two licensed ministers.2
Origins of Adventist Work in Territory
On November 10, 1891, Frank J. Hutchins, a young American, was ordained as a pastor. A few days later, Frank and his wife, Cora Ella, received a letter from the General Conference requesting their services as missionaries in the territory from Honduras to the Colombian islands. The young couple met that morning in prayer, and Frank prayed, "Not yet, Lord… Can't I finish medicine? Please… Not yet!" A short time prior, he had rejected a call from California Conference to pastor a church in Oregon because of his studies in medicine at the University of Michigan. His prayer ended with powerful words, revealing his strong conviction: "Lord, but thy will be done. Amen."
Soon after, he left the university. He and Cora entered the boat that would take them to their field of work. They established themselves in the Bay Islands, Honduras, and traveled from there throughout the territory in a boat named "The Herald."3 In 1901, the General Conference asked him to move to the province of Bocas del Toro, Panama, establish his residence, and continue his evangelistic work.
Once established in Bocas del Toro, he sold the Herald and, with that money, bought a smaller boat, "The Messenger," and a house where the first administrative offices of the Adventist Church in Panama were later established. Dr. John Eccles and his wife, Martha, arrived to assist the evangelization efforts in Panama. Both families dedicated their lives to working in the Lord's vineyard. They conducted medical-evangelistic ministry, which was rewarded with the baptism of new members.
In those years, tropical diseases claimed many lives. At age 52, Dr. Eccles fell ill and, on February 2, 1902, died. The funeral was performed by his friend, Frank Hutchins. His remains were buried in Macca Hill Cemetery in Bocas del Toro. On August 4, 1902, Pastor Hutchins also died at age 33. Pastor E. C. Nottman of the Baptist Church presided the funeral. He was also buried in Macca Hill Cemetery.4
In 1903, the General Conference sent Pastor I. G. Knight and his wife, Carrie, to Bocas del Toro, and Panama Mission was organized with three churches, four companies, and 129 members.5 The national government gave the Seventh-day Adventist Church outstanding recognition in its commemorative activities in the country's centennial celebration as a free and independent republic, and both entities began their commitment to serve the country. The Adventist Church is therefore recognized as one of the oldest churches in the country.
In September 1906, West Caribbean Conference was organized with six churches, 250 members, and I. G. Knight as the newly-elected president.6 Thus, he was the first worker in the Greater Caribbean to be a conference officer.
The conference's territory included Panama, Costa Rica, Nicaragua, the Corn Islands, and the Colombian islands of San Andrés and Providencia. Until then, church work in Panama had been conducted in the English language. On October 6, 1907, Hubert Fletcher baptized a married couple as the first two Spanish-speaking Adventist converts. Fletcher wrote that "We trust this will be the beginning of a large harvest of souls among [the Spanish-speaking] people."7
In 1907, the conference's headquarters was moved to Cristóbal, Colón. In May 1907, H. C. Goodrich arrived to continue the work that Carrie and I. G. Knight had started. At that time, the conference had eight churches and 375 members.8 From 1915 to 1922, Colombia was part of the conference's territory. In 1927, Costa Rica and Nicaragua were organized as a mission. On September 12, 1928, the territory of Panama, Costa Rica's Talamanca Valley, and the Colombian islands, San Andrés and Providencia, were organized as Panama Conference. On January 1, 1952, San Andrés and Providencia were transferred to Colombia-Venezuela Union Mission. On November 23, 1956, Talamanca Valley was transferred to Costa Rica Mission.9
The Pacific Press Publishing Association's administrative offices were located in Panama from 1917 to 1955, and so were the Inter-American Division's headquarters from 1923 to 1942. Over those years, the Adventist message developed and spread throughout the territory.
In 1959, West Caribbean Conference changed its legal name in Panama to "Corporation of the Panama Conference of Seventh-day Adventists."
Events Leading to Organization of Metropolitan Panama Conference
Under President Aristides González, in 1972-1975, Panama Conference decided to organize the churches' offerings to the conference and use them to reach more people and invest in more projects. President González devised the "60-20-20" plan, in which 60% would remain in the local church, 20% would support mission fields around the world, and 20% would go to its higher organization.
In 1986, due to the growth in churches and members, Pastor Israel Williams saw a possibility to pay more attention to Panama's west area and the need to form a new field. In 1990, West Panama Mission was formed with the provinces of Chiriquí, Bocas del Toro, and Veraguas as its territory.10 East Panama Conference had the rest of the country as its territory. This represented a breakthrough for the Adventist church in Panama. In December 1998, during East Panama Conference's quadrennial congress, Pastor José De Gracia was voted as its president.
In 2006, De Gracia presented a strategic plan that would lead to the creation of new fields in the country. From then on, members, leaders, pastors, and administrators involved themselves in fulfilling the strategic plan. In 2007, the territory was reorganized, and Central Panama Mission was created. Its territory included the provinces of Coclé, Herrera, and Los Santos.11
In December 2013, the field was again reorganized, creating Atlantic Panama Mission with the territory of the Guna Yala Indigenous Region and the province of Colón. In August 2014, the field once again was reorganized, creating Southeast Panama Mission with the territory of the province of Darién and the eastern part of the province of Panama.
In 2014, East Panama Conference was renamed Metropolitan Panama Conference.12 Metropolitan Panama Conference's territory is Panama City. It has the largest number of inhabitants because its territory is formed by the metropolis of Panama. The conference is committed to the evangelization of this city and is inspired by the Spirit that led the pioneers to proclaim Christ's Second Coming.
Future Plans
Planting churches in the Archipelago of Las Perlas

Acquiring five medical-mission boats for the inhabitants of the Pacific islands

Doubling the number of churches in the territory

Creating a new mission for the districts of Alcalde Díaz, Las Cumbres, and San Miguelito
The vision of the pioneers and the administrators who laid the foundation for growth are the object of admiration and gratitude.
List of Presidents
E. M. Trummer (1922); W. R. Pohle (1923-1927); L. L. Hutchinson (1927-1930): E. J. Lornt (1930-1933); N. W. Dunn (1933-1934); G. C. Nickle (1935-1941); C. E. Westphal (1942-1945); W. E. Baxter (1946-1947); L. D. Miner (1947-1949); C. D. Christensen (1950-1956); F. H. McNeil (1956); R. R. Drachenberg (1956-1962); E. Maxson (1963-1965); E. H. Schneider (1965); M. Robinson (1966-1969); J. Chavanz (1969-1970); A. A. Ward (1970-1971); A. González (1972-1975); L. A. Alaña (1975-1979); H. Moreno (1980-1986); I. Williams (1986-1990); F. E. Villarreal (1991-1998); J. De Gracia (1998-2014); E. E. Castrellón (2014- ).
Sources
Fletcher, Hubert. "Isthmus of Panama." ARH, November 14, 1907.
Mejía, Marcos Eliseo, and Lorenzo Rodríguez. "Historia de la Iglesia: Panamá – Inicio de la Obra Adventista en Panamá." White Centro de Investigación: Universidad Adventista de Centro América. May 13, 2019. Accessed December 2019. https://unadeca.net/cwhite/2014/09/19/panama/.
Metropolitan Panama Conference Secretary's Statistics Report. 2018. Accessed 2019. Secretariat archives, Ancón, Panama, Panama.
Seventh-day Adventist Encyclopedia. 2nd rev. ed. Hagerstown, MD: Review and Herald Publishing Association, 1996. S.v. "Panama."
Seventh-day Adventist Yearbook. Accessed 2020. https://www.adventistyearbook.org/.
Parrilla, Jewell. El Rey de la Tormenta. Miami, Florida: Inter-American Division Publishing Association, 1998.
Strickland, J. A. "A New Conference in Central America." ARH, November 29, 1906.
Notes