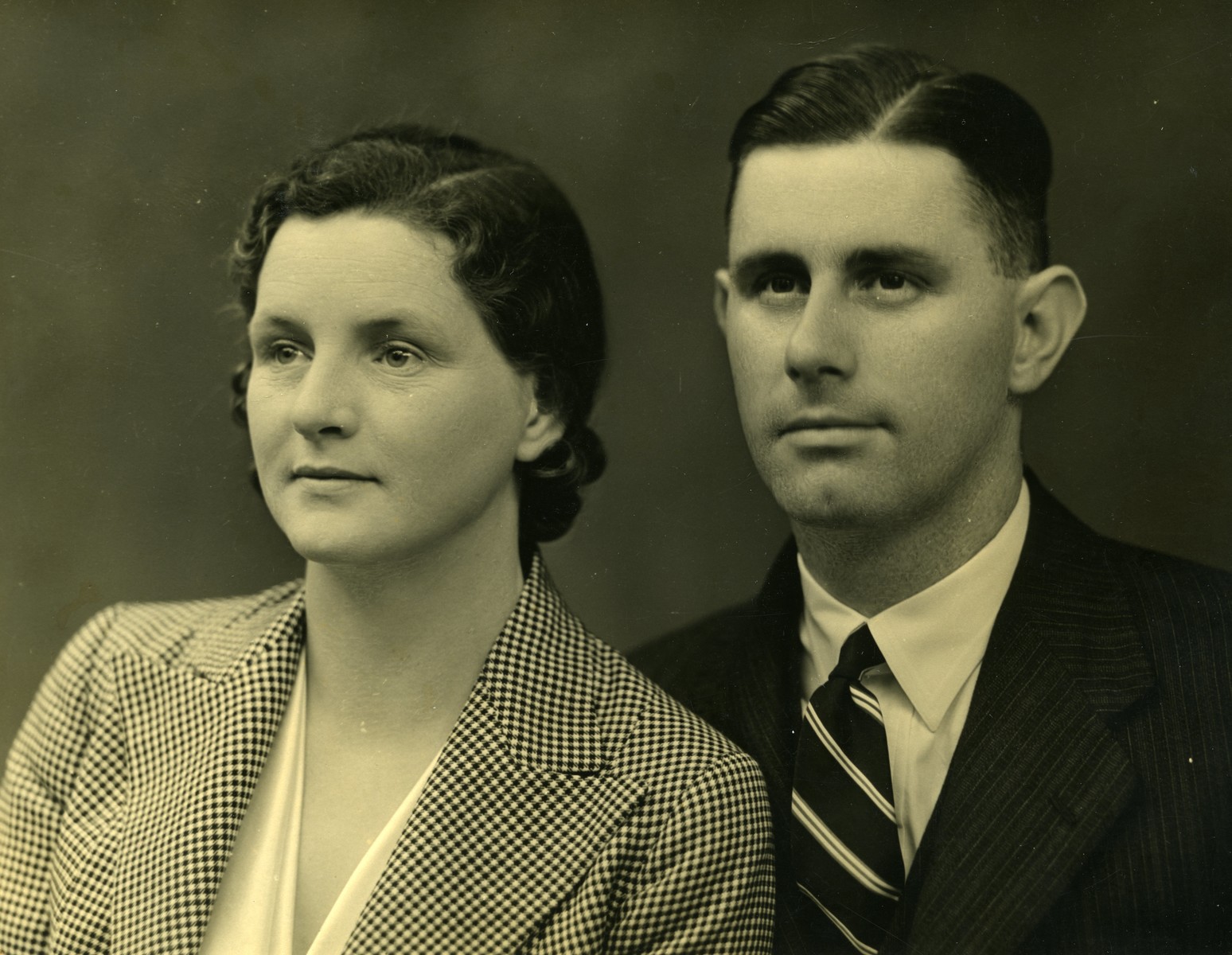 Abbott, Malcolm Edwin (1909–1942) and Una Frances (Sprengel) (1906–1993)
×
Originally trained as a secondary history teacher, a career long Adventist educator, Lester Devine, Ed.D., has taught at elementary, secondary and higher education levels and spent more than three decades in elected educational leadership positions in two divisions of the world Church, NAD (1969-1982) and SPD (1982-2005). He completed his forty years of denominational service with a term as director of the Ellen G. White/Adventist Research Centre at Avondale University College in Australia where his life-long hobby of learning and presenting on Adventist heritage issues became his vocation. 
First Published: January 29, 2020
Malcolm Edwin Abbott was the superintendent of the Seventh-day Adventist Mission in New Guinea when he was taken as a civilian internee during World War II in Rabaul, New Guinea, and subsequently lost his life at the age of 33. His wife, Una Frances "Fran" Sprengel, served at the Sydney Adventist Hospital from 1944 until 1971.
Early Life
Malcolm Abbott was born in Waverly, a suburb of Sydney, New South Wales, Australia, on January 12, 1909.1 He was born into a Seventh-day Adventist home.2 Una Frances ("Frances" or "Fran"), the daughter of John Albert and Sarah Sprengel,3 was born in Boonah, Queensland, on November 1, 1906.4 Her family had moved to Avondale so that the children could attend the Australasian Missionary College and had purchased the property and home previously owned by W. C. White opposite "Sunnyside," the home of Ellen G. White.5
Education and Marriage
Abbot graduated from the three-year business course at the Australasian Missionary College and accepted an appointment as clerk in the Sanitarium Health Food Company. He also spent some time in the Australasian Union Conference office and was later appointed to the staff of the New Zealand Missionary College as accountant and preceptor.6 While in New Zealand, he married Una Frances Sprengel on August 6, 1935, in the Edendale, Auckland Church.7 Una Frances had graduated from the nursing course at Sydney Sanitarium.8
Career
Abbott spent three years in educational work at the New Zealand Missionary College followed by some years of clerical work for various church entities before his ordination in September 1939.9 That same month he accepted an appointment as the superintendent of the New Guinea Mission.10
Wartime Tragedy
In December 1941, the Seventh-day Adventist missionary family dependents in Papua New Guinea were evacuated to Australia, and within seven months the Japanese navy had pushed back the Australian army and taken over the town of Rabaul on the island of New Britain and established a base from which the invasion of the Solomon Islands and mainland Papua New Guinea could be launched.
Malcolm Abbott had delayed his vacation to Australia so that the field would not be depleted of expatriate leadership during Pastor and Mrs. Tutty's holidays. Abbott remained in Papua New Guinea at a location where he was in easy reach of the invading Japanese forces, and he was soon captured by the occupying Japanese forces.11
Abbott, along with another 1,052 men, was packed onto the Montevideo Maru for transportation to Hainan Island, leaving Rabaul on June 22, 1942. Aboard this prison ship were some 845 servicemen and 208 civilians.12 The account of the fate of Australian personnel in East New Britain before the Japanese attack on the webpage of the National Archives of Australia reads:
Of the 1396 Australian military personnel at Rabaul before the attack, 160 were killed south of the town at Tol, about 400 eventually escaped to Australia, and the remainder became prisoners of war (POWs). After the invasion, most civilians gathered around Rabaul where the Japanese forces set up a camp for civilian and military prisoners.

In June and July 1942 the Japanese naval authorities made two attempts to transfer these prisoners to Japan. The first group, of about 60 Australian officers and 18 women, including Army nurses, arrived safely. The second, historically thought to include 845 POWs and 208 civilian internees, left on 22 June for Hainan on the Montevideo Maru, a freighter requisitioned by the Japanese navy. It was not marked as a POW carrier. On 1 July it was torpedoed and sunk by the submarine USS Sturgeon off the Philippine island of Luzon, resulting in the deaths of all prisoners and internees on board. The loss of life on the Montevideo Maru is described as the worst maritime disaster, in peace or war, in Australian history.13
For many months the families of these men knew nothing of their fate. After the end of the war, when Japanese records, including the names of the prisoners who had been on board the Montevideo Maru, were translated, the Commonwealth of Australia's Minister for External Affairs was able to let the families know the men had been on board the Montevideo Maru when it was torpedoed.14 The translated list of those who were lost is readily available. The list is divided into service personnel, who were regarded as "prisoners of war," and civilians, who were regarded as "internees."15 Abbott is listed as internee 145.16
The account of the aftermath of the tragedy on the National Archives of Australia webpage reads:
The deaths of the men on the Montevideo Maru were not fully revealed in Australia until after the end of the war when evidence was found in Japan. Small pieces of information had come from wartime sources such as New Guineans who had reached safety and captured Japanese personnel and, after hostilities had ended, Japanese and surviving civilians in Rabaul and the POW officers who had returned from Japan. In September 1945 the Australian authorities sent Australian Army officer Major Harold S Williams, a pre-war resident of Japan, to Tokyo as a liaison officer with No. 1 Australian Prisoners of War Contact and Enquiry Unit to investigate this and other POW matters.17
On July 1, 2012, a memorial was erected in Canberra to those who lost their lives in this tragedy. It was dedicated by the Governor-General of Australia with more than 800 in attendance, representing the families who had experienced this tragic loss.18
Had Abbott taken his vacation as scheduled, he would not have been taken prisoner and died a dreadful death by drowning in a locked-down hold of the Montevideo Maru. He stood by his post faithfully and paid the ultimate price for his sense of duty and commitment. When he died, he was in his thirty-fourth year.19
Una Frances Abbott's Career and Later Life
Una Frances Abbott had trained as a Registered Nurse at Sydney Adventist Hospital, and after her evacuation from Papua New Guinea, leaving behind the husband she never saw again, she worked again at the hospital until her retirement in 1971.20 In her later years, she was the Dean in the Women's dormitory. Because she had no children of her own, the nursing students were her family. She enjoyed visits with the students, often sharing with them her experiences.21 Retiring on June 30, 1971,22 Una Frances died in October 8, 1993.23
Editor's Note
The accounts of how Abbott and the other Seventh-day Adventist prisoners at Rabaul perished vary. While the author has presented evidence to support the account of the prisoners perishing aboard the Montevideo Maru when it was torpedoed by an Allied vessel, the reader should be aware that there is another school of thought that has them being executed prior to the sailing of the Montevideo Maru (see Collett, Trevor David [1913–1942]) Whichever was the case, there is no disputing that Abbott and over 1,000 allied prisoners died tragically.
Sources
"Aftermath." Australian Government National Archives of Australia. Accessed February 24, 2018. http://montevideomaru.naa.gov.au/timeline/.
Australian War Memorial. "Rabaul and Montevideo Maru Memorial." Accessed February 24, 2018. https://www.awm.gov.au/visit/visitor-information/sculpture-garden/rabaul-montevideo-mar-memorial.
———. "Montevideo Maru—Sinking of the Montevideo Maru, 1 July 1942." Accessed February 24, 2018. https://www.awm.gov.au/articles/encyclopedia/montevideo_maru.
Coombe, L. C. "Sister Dorothy Esther Were obituary." Australasian Record, May 26, 1975.
Malcolm Edwin Abbott Biographical Information. South Pacific Division of the General Conference Archives. Folder: "Abbott, Malcolm Edwin." Document: "Abbott, Malcolm Edwin."
"Montevideo Maru—List of Prisoners of War and Civilian Internees on Board." Australia Government National Archives of Australia. Accessed February 24, 2018. http://montevideomaru.naa.gov.au/.
Pascoe, A. L. "John Albert Sprengel obituary." Australasian Record, October 31, 1955.
Piper, H. E. "Abbott-Sprengel." Australasian Record, September 2, 1935.
"Prisoners on Board the Montevideo Maru." National Archives of Australia. Accessed February 24, 2018. http://montevideomaru.naa.gov.au/timeline/.
Salom, Alwyn, and David Judd. "Una Frances (Sprengel) Abbott obituary." Record, November 27, 1993.
Stewart, A. G. "We Will Remember Them." Australasian Record, January 7, 1946.
Turner, W. G. "Sarah Sprengel obituary." Australasian Record, September 14, 1964.
Una Frances Abbott Personal Service Records. South Pacific Division of the General Conference Archives. Folder: "Abbott, Una Frances." Document: "Personal Service Record."
Una Frances Abbott Sustentation Information. South Pacific Division of the General Conference Archives. Folder: "Abbott, Una Frances." Document: "Sustentation Application."
Notes