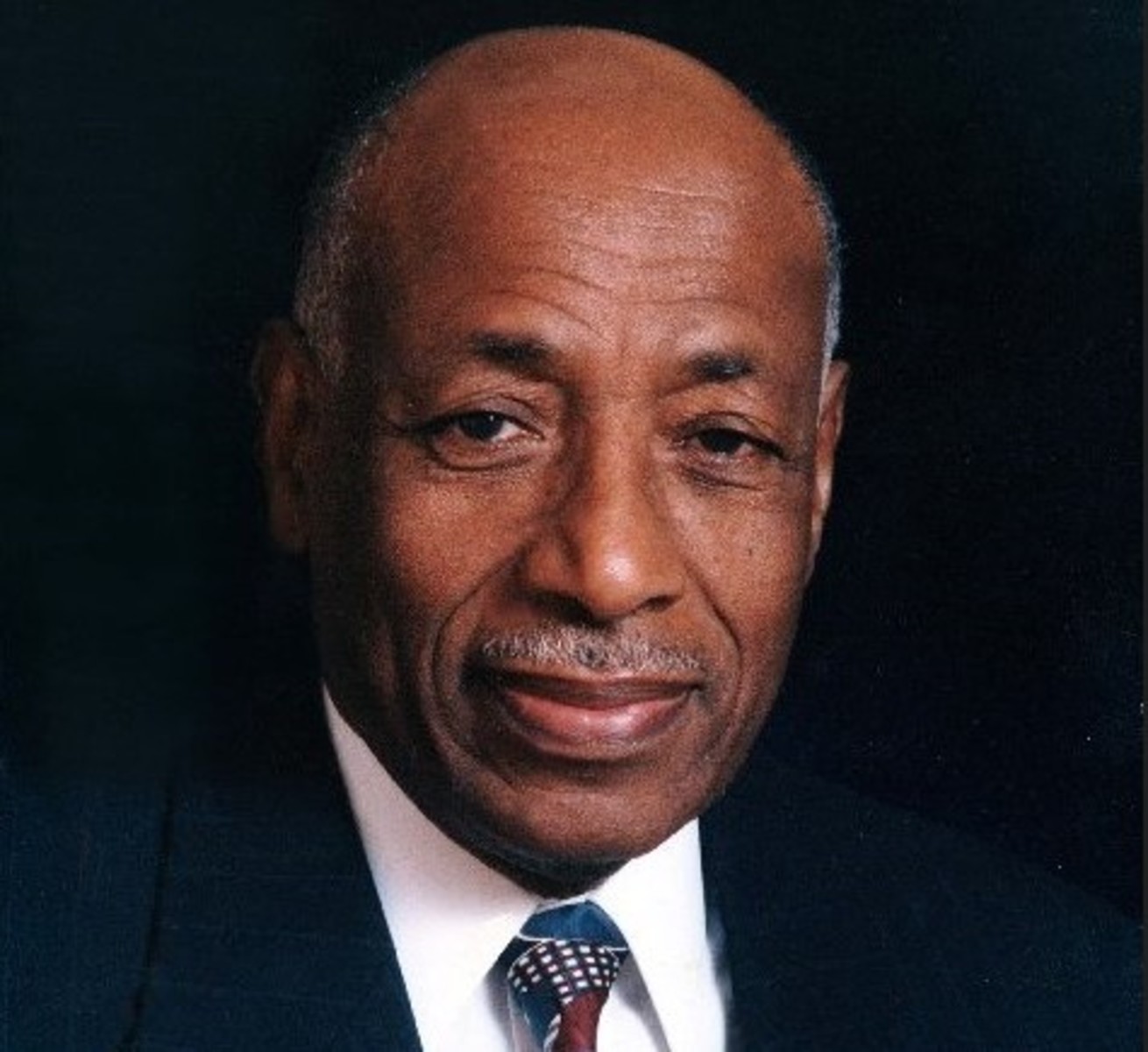 Nebblett, Milton Elmer (1924–2012)
×
Glenn O. Phillips, Ph.D. (Howard University, Washington, D.C.), although retired, is actively writing, researching, lecturing, and publishing. He was a professor at Morgan State University, Howard University, and the University of the Southern Caribbean. He has authored and published numerous articles, book reviews, and books, including "The African Diaspora Experience," "Singing in a Strange Land: The History of the Hanson Place Church," "African American Leaders of Maryland," and "The Caribbean Basin Initiative."
First Published: May 23, 2022
Milton Elmer Nebblett was a dynamic Honduran evangelist, pastor, and administrator who served most notably in the eastern Caribbean and in the state of Maryland in the United States for almost 50 years. He served as pastor of congregations in the Southern California and Allegheny East Conferences. In the early to mid-1970s, he worked for the American government as an advisor to the United States Agency for International Development (USAID) for the coordination and distribution of food in Vietnam during the country's war years.
His experience and success with the USA government's Food for Peace Program supplies within South Vietnam led to his return to denominational work. Nebblett used his expertise to assist with the establishment of the Adventist Church's early efforts to launch its worldwide humanitarian program. He became one of the pioneers of the Seventh-day Adventist World Service (SAWS) and served as deputy director of the Adventist Development and Relief Agency (ADRA) from 1981 to 1985. Following this assignment, Nebblett returned to pastoral duties in Maryland, Pennsylvania, and Washington, D.C., until his retirement.1
Early Years
Milton E. Nebblett was born on January 21, 1924, the fourth child of Edwin Nebblett and Lea Albertha Douglin in La Ceiba, Honduras. He attended the local Adventist primary school and excelled in his studies. His father taught him his craft as a tailor, but after young Milton was baptized into the Adventist faith and got involved in his church's youth work, he desired to be further trained to serve his church. Consequently, he traveled to the Canal Zone, Panama, to earn money that would allow him to achieve his goal. After working and saving enough money, he applied to study at Oakwood Academy in Huntsville, Alabama, where he learned English and completed his secondary studies. He then completed his ministerial studies at Oakwood College (now Oakwood University), graduating in the spring of 1950.2
Marriage and Education
Milton E. Nebblett married Ivy Someillan Tynes, who was from the Bahamas and a fellow graduate of Oakwood College, in New York City on August 20, 1950. They had four children: Edwin, Marina, Jude, and Milton, Jr. In the fall of 1950, Nebblett enrolled at the Adventist Theological Seminary in Washington, D.C. In December 1951, while living in the Washington metropolitan area, they became the first parents of color to have their children delivered at the Washington Adventist Sanitarium and Hospital in Takoma Park, Maryland.3 After his graduation in December 1952, Nebblett received a call to serve in the Caribbean Union Mission headquartered in Port-of-Spain, Trinidad.
Career and Ministry
Beginning in January 1953, he pastored several churches in Trinidad, Barbados, and British Guiana. During these years, he conducted several evangelistic efforts, baptized hundreds, established new congregations, and pastored large church districts with his district in Barbados growing to 12 congregations. However, his most impactful work in the Caribbean was his humanitarian assistance and efforts; when he served as president of the British Guiana Mission, he directed the church's humanitarian activities in the multiracial British colony in northern South America. This was during one of the most racially divided times in that society. He and his wife were instrumental in obtaining international humanitarian assistance from several overseas organizations. This assistance included large quantities of food and clothing in response to the need for such after months of political and economic instability.4
Elder Nebblett returned to the United States in the fall of 1966 and continued his ministerial work serving in the Southern California Conference. In late 1969, he served in Vietnam as refugee advisor for the United States Department of State and developed a very successful humanitarian distribution program for the thousands of people displaced by the effects of the Vietnam War. Consequently, the government of South Vietnam awarded him an honor for his outstanding services to their population. He had interacted directly with and worked alongside the country's Buddhist monks while coordinating the establishment of various refugee camps for millions of Vietnamese.5
In 1974, Elder Nebblett once again returned to the United States and pastored two churches for the Allegheny East Conference in Maryland. The first was the Metropolitan Seventh-day Adventist Church in Hyattsville, and the second was in Pennsylvania.6 However, he kept a strong interest in helping his church respond in tangible ways to the growing numbers of people in need of immediate humanitarian assistance during civil wars and natural disasters such as famines, floods, storms, and hurricanes.
Work at the General Conference
In 1980, he accepted a call to the General Conference headquarters to serve as the deputy director of SAWS (later ADRA) and lead the church's first worldwide humanitarian efforts. He immediately began to work on numerous projects around the world and push the church leaders at the headquarters to expand the programs. He acquired the first grant for USD$10,000,000 from USAID. He secured other American government and humanitarian grants over the five years that he served, collectively estimated to be around USD$100,000,000. He believed that this outreach would save millions of lives and place Adventists in a more positive position to help communities around the world. His colleagues recalled that he worked non-stop on multiple projects. Mario H. Ochoa, formerly of ADRA, observed that "He was a dynamic, vibrant, exuberant guy. He did a lot of mentoring for me and others in the office." However, he would leave this position in the summer of 1985.7
Later Life
Elder Nebblett returned to his old love of pastoring in Washington, D.C., and created his own independent humanitarian organization before retiring to be with his wife, children, and grandchildren. After ailing for some time, he passed to his rest on September 13, 2012, in the company of his dear wife and caring children. His funeral service was held on September 29, 2012, at the Emmanuel-Brinklow Seventh-day Adventist Church in Ashton, Maryland, and his body was laid to rest the following day at the Maryland National Cemetery in Laurel, Maryland.8
Sources
Nebblett, Milton Elmer. Obituary. September 29, 2012. Accessed April 19, 2022. Emmanuel-Brinklow Seventh-day Adventist Church archives. Ashton, Maryland.
Oliver, Ansel, and Ann Oliver. "Remembrance: Nebblett Helped Develop ADRA, Secure Early Grants." Unpublished manuscript. September 20, 2012. Accessed April 19, 2022. General Conference archives. Silver Spring, Maryland.
Phillips, Glenn O. "Reflecting the Past, Envisioning the Future: The Metropolitan Seventh-day Adventist Church of Hyattsville, Maryland, 1973-1998." Metropolitan Seventh-day Adventist Church 25th Anniversary Celebrations. Matthews, North Carolina: PCA International, Inc., 1998.
"Service of Thanksgiving for the Life of Milton Elmer Nebblett." September 29, 2012. Accessed April 19, 2022. Emmanuel-Brinklow Seventh-day Adventist Church archives. Ashton, Maryland.
Singleton, H. D. "Nebblett Family to British Guiana." The North American Informant. Vol. XVII, no. 87. March-April 1963.
Williams, Dewitt E. Precious Memories of Missionaries of Color. Laurel, Maryland: Teach Services Inc. Publishing, 2015.
Notes