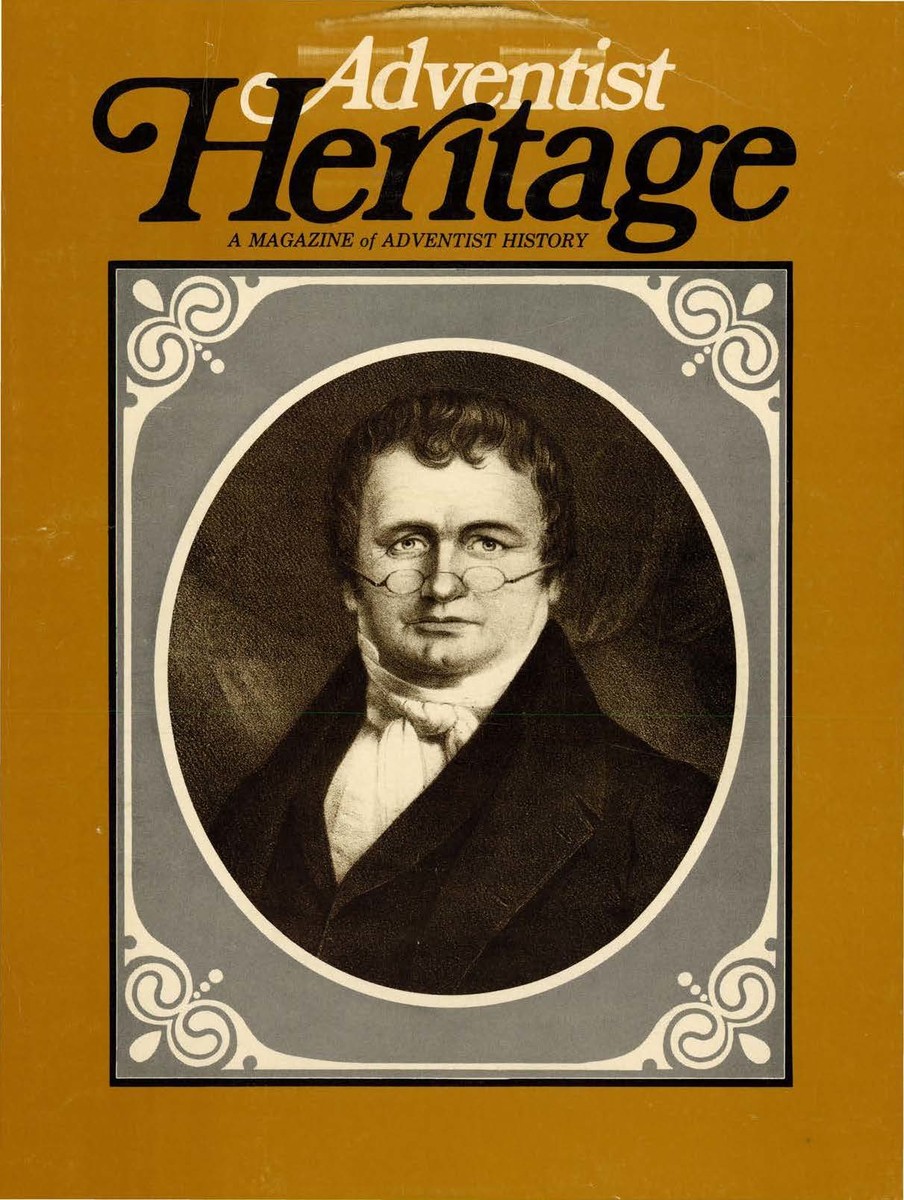 Adventist Heritage (1974–1998)
×
Milton Hook, Ed.D. (Andrews University, Berrien Springs, Michigan, the United States). Hook retired in 1997 as a minister in the Greater Sydney Conference, Australia. An Australian by birth Hook has served the Church as a teacher at the elementary, academy and college levels, a missionary in Papua New Guinea, and as a local church pastor. In retirement he is a conjoint senior lecturer at Avondale College of Higher Education. He has authored Flames Over Battle Creek, Avondale: Experiment on the Dora, Desmond Ford: Reformist Theologian, Gospel Revivalist, the Seventh-day Adventist Heritage Series, and many magazine articles. He is married to Noeleen and has two sons and three grandchildren.
First Published: August 17, 2020
"Adventist Heritage" was a periodical that sought "to nourish an interest in Adventist history." It catered both to scholars and general readers, covering both Seventh-day Adventist history and the broader field of Adventism.1
Introduction
Launched in 1974, this publication was generated by the first cohort of scholars who applied advanced academic training in history to the study of Seventh-day Adventist history.2 Their approach differed from that of pioneer Seventh-day Adventists, such as John Loughborough, who demonstrated a sense of belonging to a significant historical movement and recorded their experiences for the benefit of others. Loughborough's Rise and Progress of Seventh-day Adventists (1892) was characterised by his narrative of miracles and successes, an upbeat account that did not entertain the reality of failures.
Other writers who came along subsequently, such as M. E. Olsen (Origin and Progress of Seventh-day Adventists, 1926) and Arthur W. Spalding (Origin and History of Seventh-day Adventists, 1961-1962) took greater care with accuracy and documentation. Yet they also wrote primarily for fellow believers rather than analyzing evidence and weighing contextual influences in the way that is necessary for historical writing to be credible to people of varying beliefs.
Coming of Age
During 1973 the Loma Linda University church sponsored a series of lectures, mostly by respected historians who were not Adventist, about the social roots of Adventism. The series proved to be popular. Another was planned featuring presentations by Adventist historians on Seventh-day Adventist history.3 The high quality of scholarship involved gave evidence that Seventh-day Adventist historians had come of age, having trained in the discipline of historical narrative at the post-graduate level. They were anxious to share the fruits of their research and for that reason Adventist Heritage was launched in January 1974.
The periodical began as a bi-monthly of approximately 60 pages for $2.50 per issue. It was published in cooperation with the Division of Religion at Loma Linda University. The covers were attractively designed and printed in color and the articles were well illustrated. Some of the photographs had not been published previously. Three lecturing historians were named as the editors. They were Ronald Numbers (Ph.D., University of Wisconsin) at Loma Linda University, Gary Land (Ph.D., University of California-Santa Barbara) at Andrews University and Jonathan Butler (Ph.D., University of Chicago) at Union College. This trio were supported by assistant editors, contributing editors and a managing editor.4
The editors were uninterested in triumphalism and were not a party to church apologetics. They wanted to be as objective as possible. The three editors each published an article of their own in the first issue, setting the benchmark for the type of narrative they planned to publish. Butler wrote a book review he titled, "The Morning Newspaper and the Book of Daniel," highlighting an evangelistic tendency to site current events in a headlong dash to find fulfilments to Biblical prophecy.5 Land published a similar article titled "The Perils of Prophesying: Adventists Interpret World War I."6 Numbers used some of his research to offer "Dr. Jackson's Water Cure and Its Influence on Adventist Health Reform."7 Later articles were fielded from numerous authors who were either first-hand witnesses to the historical events or had engaged in extensive research of their topic. The occasional article was iconoclastic, for example, "Ascension Robes and Other Millerite Fables: The Millerites in American Literature" by James Ehrlich.8 Many book reviews of recently published historical works were a helpful addition to the main articles.
Loma Linda University, with varying entities holding the responsibility, continued as publisher through 1990 (Volume 13). La Sierra University and the Department of Archives and Special Collections of Loma Linda University collaborated for three numbers comprising Volume 14. La Sierra University was sole publisher of the final four volumes (15-18), with issues appearing from 1992 to 1998.
Gary Land remained as a chief editor or associate editor throughout the periodical's production. Other historians, such as Wayne Judd, Eric Anderson, Ron Graybill, Dorothy Minchin-Comm and James Nix appear on the masthead serving extended terms in editorial chairs. The periodical went into recess during 1980, 1981 and 1989. In 1988 it was reduced to 48 pages. In the 1990s signs of production problems increased with editions appearing intermittently. Minneola Dixon came to the rescue by editing the Fall 1996 issue, one dedicated to the history of Oakwood College.9 Arthur Patrick shepherded to fruition the final numbers, the issues of Summer 1996 and Summer 1998. He returned to Australia from La Sierra University soon after this issue.10 No more issues were published.
The pages of Adventist Heritage, spanning 25 years, proved to be a splendid example of scholarship and a rich source for the next generation of church historians.
Sources
Adventist Heritage. Adventist Digital Library, James White Library, Andrews University, Michigan. Accessed October 10, 2021. https://www.andrews.edu/library/merged.html
Land, Gary. "The Editor's Stump." Adventist Heritage 1, No. 1 (January 1974): 4.
McArthur, Benjamin. "Where Are Historians Taking the Church?" Spectrum 10, No. 3 (November 1979): 9-14.
Notes