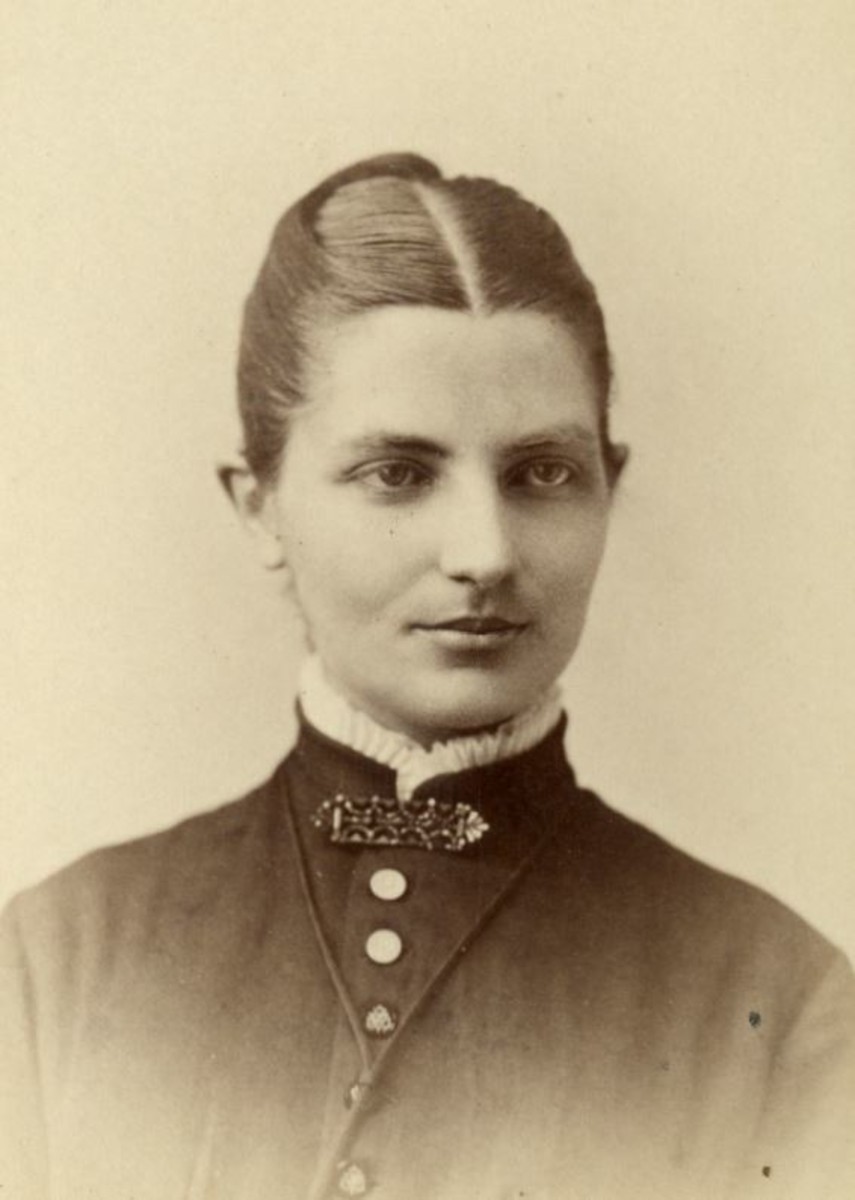 Thayer, Jennie (1853–1940)
×
Ashlee Chism, MSI. (University of Michigan, Ann Arbor, Michigan), currently coordinates the archival collections for the General Conference Archives as the Research Center Manager in the Office of Archives, Statistics, and Research.
Sarah Jane Thayer, better known as Jennie, was part of the first generation of children to be raised as Sabbath-keeping Adventists and the second generation of Adventist pioneers. She held offices in the International Tract and Missionary Society, traveled to England on behalf of the denomination, and was the first editor of the Atlantic Union Gleaner.
Early Life
Jennie Thayer was born on September 20, 1853 in Buckland, Massachusetts to Abijah Pratt Thayer and Rhoda Ballard (Williams) Thayer. She was their thirteenth child.1 Abijah Thayer (1809-1891) was a "noted schoolmaster"2 and he and Rhoda (Williams) Thayer (1815-1890) had both been Millerites and early adherents of the Sabbath, and their large family was deeply involved in the Adventist work locally and internationally.
Jennie's eldest sister, Mary Ann Thayer (1834-1908), married William Henry Graham (1831-1925); Mary and William's daughter, Ella May (1865-1944) married renown Adventist evangelist, Frederick Carnes (Cohen) Gilbert (1867-1946) in 1896.3 Ella accompanied her mother to watch John Nevins Andrews launch for Switzerland as the church's first official overseas missionary in 1874 and was part of the first graduating class at South Lancaster Academy in 1888.
Another sister of Jennie's, Eliza (1845-1921), was born the same year that their parents began keeping the Sabbath. Initially a schoolteacher, Eliza Thayer connected with the New England Tract Society in 1877, serving for twenty-two years as secretary and treasurer.4 In 1882, Eliza married Charles Edward Palmer (1839-1920). In 1899, she resigned from office work and spent the rest of her time with her family and assisting her husband in city mission work.
Like her sisters, Jennie Thayer spent her childhood in Buckland and attended the local schools. On August 22, 1877, she traveled by train from Massachusetts to Michigan, arriving in the late afternoon of August 23, 1877, where she was met at the train station by George Amadon of the Review and Herald publishing office and taken to Sidney Brownsberger, the college president, in order to enroll in the English Course as part of the Collegiate Department at Battle Creek College.5 She also took part in the School of Hygiene, whose object was to "provide a means for those who desire to obtain accurate and scientific information on all subjects pertaining to the preservation of health." This included practical instruction at the Battle Creek Sanitarium.6 For the first semester, Thayer decided to study Physiology, Algebra, and Latin with Penmanship.7 She worked in various departments at the Battle Creek Sanitarium and was taught how to give baths by Dr. Kate Lindsay (1842-1923).8
During that fall, Thayer attended camp meeting, held in Lansing, Michigan, and, in response to the preaching of D.M. Canright and Uriah Smith, she was baptized in the Grand River. "I was one who received the solemn ordinance," she wrote in her diary after recording that 75 people had been baptized by "Eld. Jones and Lamson," then added, "but am afraid I do not half realize what a step I have taken. O Lord grant that I may feel my responsibility."9
Career
After finishing her education at Battle Creek College in 1879, Thayer remained in Battle Creek, working as a bookkeeper while living with Sands and Permelia Lane.10 Soon after graduation, Thayer distinguished herself "as a potential worker" in the growing Adventist Church through "her sterling character and frugal, self-denying life."11 Beginning in 1880, she worked as the secretary (then secretary and treasurer) of the Michigan Health and Temperance Association, and as a corresponding secretary for the American Health and Temperance Association, collaborating with people such as Dr. John Harvey Kellogg and Maria L. Huntley.12 At the same time, she also was the secretary of the Michigan Tract and Missionary Society. On October 3, 1880, the General Tract and Missionary Society appointed Thayer as its first-ever assistant secretary, working with its secretary and treasurer, Maria L. Huntley.13 As part of her duties, Thayer wrote articles encouraging tract and missionary work for the Review. In 1881, she was elected as assistant secretary of the Michigan Conference.14
Thayer held these positions until 1882, when the General Conference Committee voted to send her, still as the assistant secretary of the General Tract and Missionary Society, to assist in the missionary work in England, where John Loughborough had recently pioneered the Advent message.15 She sailed, along with Loughborough, George R. Drew, William and Jane Ings, and Adelbert Allen and Ella John, for England on January 14, 1882.16 She learned to set type at the mission house in Ravenswood, Southampton, England, and worked with Loughborough to create a British supplement to the Signs of the Times and, a year later, with Milton C. Wilcox to create The Present Truth.
In 1883, when the General Tract and Missionary Society reorganized as the International Tract and Missionary Society, Thayer was again elected as an assistant secretary, though now there were three assistant secretaries (the others being Nellie Sisley Starr and Barbara Rice).17 Thayer was the first assistant secretary based somewhere other than Battle Creek, Michigan, though she was soon joined by others located in California, Switzerland, Australia, and Norway.18
While in England, Thayer had charge of the Book Depository, first in Southampton from 1882-1883, then in Great Grimsby from 1883-1887, and then in London from 1887 until her return to the United States in mid-1888. She also read proof, sewed pages, and wrote articles for The Present Truth and had a brief stint as editor of that periodical.19 Her diary shows that over the years she also cleaned, cooked, prepared rooms for guests, made visits, and taught Sabbath School.
After her return to the United States, Thayer spent some time with family she had seen only rarely in a decade. Then, following the tragic death of Maria L. Huntley in 1890, Thayer reconnected with the International Tract and Missionary Society, appointed as one of the Society's corresponding secretaries and given charge of the Chicago office. In addition to that role, she was chosen in late 1890 to edit the Home Missions Department section of The Home Missionary.20
By 1894, Thayer had moved to Battle Creek, Michigan, and taken up the responsibilities of the secretary of the local church's Tract Society21 in addition to her work as corresponding secretary for the International Tract and Missionary Society. In 1896, General Conference president O. A. Olsen appointed her as secretary of a committee dedicated to obtaining fruits and other healthful foods, drying or canning them, and sending them to Adventists in the southern United States who lacked easy access to such food.22
By 1900, Thayer had returned to Massachusetts, first living with her younger sister, Rosa, and her husband, Fayette Forbes, in Brookline23 and later in her own place in South Lancaster. When the Atlantic Union Conference was organized in 1901 with headquarters in South Lancaster, Thayer "brought into being" the new organization's periodical, the Atlantic Union Gleaner. 24 She edited the Gleaner from the publication of its first issue dated January 1, 1902 until 1910.25 In later years she would briefly take up editing responsibilities as she was needed.
In addition to editing the Gleaner, Thayer also served as secretary and treasurer of the Atlantic Union Conference from 1905 to 1908.26 For a short while she was also the Atlantic Union Conference auditor and, for eight years, treasurer of the South Lancaster church, where she had her membership.
Later Life
Thayer retired from public work in 1923 to care for the family of a deceased sister, probably Rosa L. Forbes (1855-1923). Even after her retirement, she still held a missionary license and then an honorary missionary license from the Atlantic Union Conference, and she occasionally submitted prose and poetry to Adventist periodicals.
In late 1936, Jennie Thayer suffered "a slight shock" that led to her becoming "almost helpless." Confined to bed, she probably lived with the Gilberts in Takoma Park, Maryland, as "a group of General Conference girls" stood outside her window at Christmas and sang "Aunt Jennie" carols during the Christmas season of 1937. At the time, she was one of the oldest Adventist pioneers still living.27 During this time, several of her poems were published in the pages of the Review and other church periodicals.
In early 1939, Thayer moved to the New England Sanitarium28 and was a patient there until her death on September 12, 1940, eight days short of her eighty-seventh birthday. While she left no descendants of her own, she was "sadly missed by two generations of nieces and nephews," including Ella and Frederick Gilbert.29 Her funeral was held in South Lancaster, Massachusetts, and she was laid to rest in Buckland, Massachusetts, where her life's journey had begun.
Legacy
"Hers was a character of stern integrity, that never swerved from the line of duty," wrote C. L. Taylor upon Thayer's death, 30 Her sense of the responsibility she had taken on with her decision to be baptized in 1877 led her from Michigan to England to Illinois and to Massachusetts. Connected with the publishing work, Thayer helped lay the groundwork for the growth of the church in the United Kingdom and created a space for the members in the Atlantic Union Conference to share the events happening in their conference, a space which still exists as of this writing.
All her life, Thayer keenly felt and advocated for home missionary work (now termed "personal ministries") and called for every church member to be a missionary, whether that was to the people next door or the people overseas. Indeed, she summed it up best with "All Can Glean," a poem of hers published in The Church Officers' Gazette, a little less than two years before she died:
Not all have skill and training
The sickle keen to wield;
Yet all can now be gleaners
In earth's wide harvest field.

And in secluded corners
For precious souls can look
Whose names will be recorded
Within God's living book.

Oh, let us join the gleaners
Nor weary 'neath the sun,
Till for our faithful labor
We hear the glad "Well done;"

Then enter with the Saviour
The home without alloy,
And share with Him the pleasure
Of His eternal joy.31
Sources
"Atlantic Union Gleaner." Atlantic Union Gleaner, January 1, 1902.
"The Beginning of Our Work." Home Missionary, April 1, 1895.
"Ella Graham Gilbert obituary." ARH, February 17, 1944.
"The English Mission." ARH, January 3, 1882.
"English Mission." Signs of the Times, January 12 and January 19, 1882.
"General T. and M. Society." ARH, October 21, 1880.
"International Tract and Missionary Society." ARH, December 4, 1883.
"International Tract and Missionary Society, Eleventh Annual Session." Seventh-day Adventist Yearbook for 1887. Battle Creek: Review and Herald Publishing House, 1887
Massachusetts. Norfolk County. 1900 United States Census. Digital Images. Ancestry.com, May 7, 2020.
Michigan. Calhoun County. 1880 United States Census. Digital Images. Ancestry.com, May 7, 2020.
"Michigan Conference." ARH, October 11, 1881.
"Names and Addresses of Officers of State Societies." Good Health, December 1880.
Olsen, O.A. "A Double Blessing." ARH, August 25, 1896.
Robinson, A.T. "Eliza Thayer Palmer obituary." Atlantic Union Gleaner, July 6, 1921.
Taylor, C.L. "Jennie Thayer." ARH, October 31, 1940.
Thayer, Jennie. "All Can Glean." Church Officers' Gazette, April 1, 1938.
Thayer, Jennie. Diary, 1877. Thayer Collection, General Conference Archives.
Thayer, Jennie. "The Work of the Battle Creek Church." ARH, March 6, 1894.
"This 'n' That." The Key Note, January 1938.
Notes