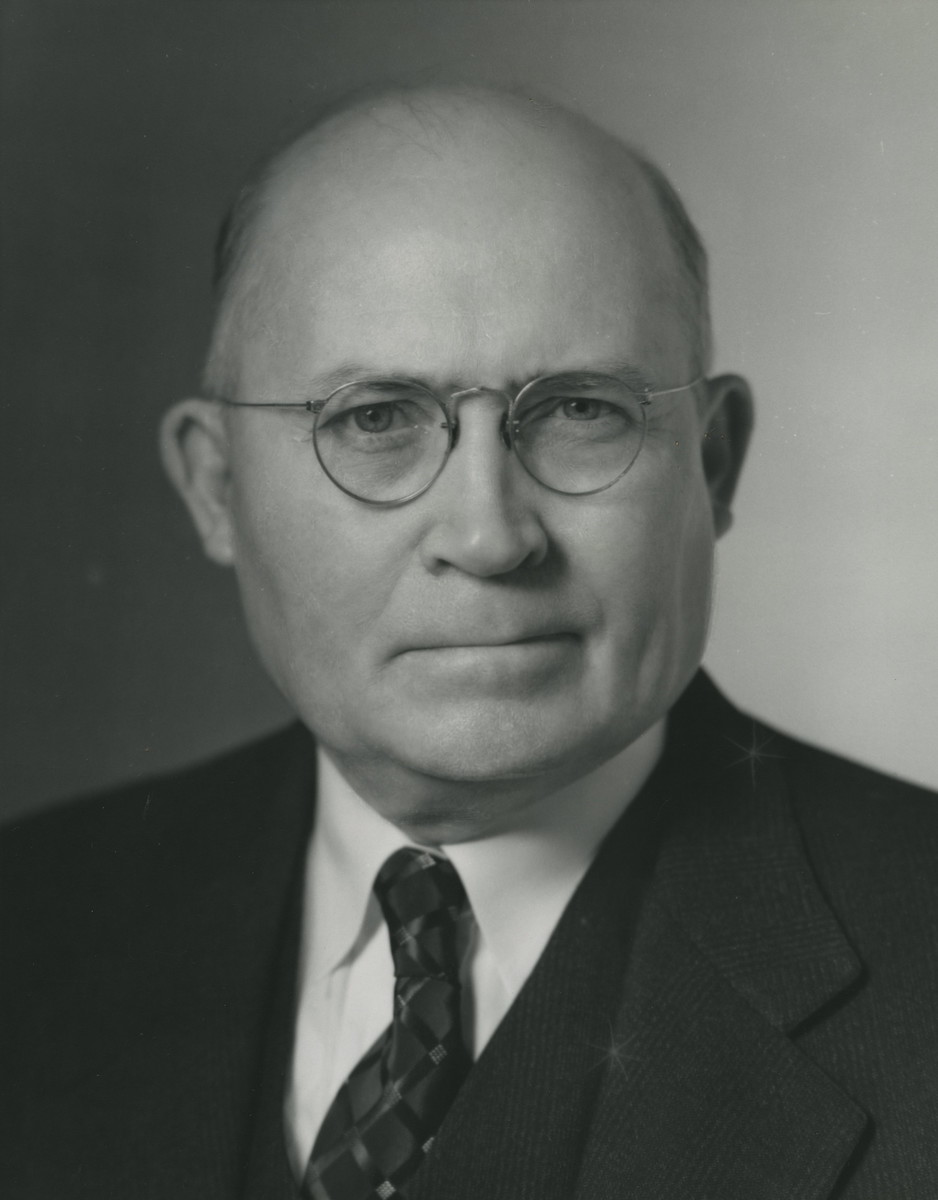 Morrison, Harvey Arch (1879–1963)
×
Sabrina Riley was born in Auburn, New York and raised in Dowagiac, Michigan. She received a B.A. in history from Andrews University and an M.A. in information and libraries studies from the University of Michigan. Riley was a member of Andrews University's library staff from 1998 to 2003, library director and college archivist at Union College from 2003 to 2016, and is presently a freelance researcher, author, and information professional.
First Published: January 29, 2020
Harvey Arch Morrison, an Adventist educator and administrator, was president of Union College and Washington Missionary College, General Conference education secretary, and business manager of the Review and Herald Publishing Association.
Early Life
Harvey Arch Morrison, born on December 2, 1879, in Milo, Iowa, was the son of pioneer Adventists James H. Morrison (1841–1918) and Jennie Mitchell (1847–1931). Of his parents' seven children, he was the only son and one of only two children to reach old age. His sisters included Myrtle A. (1873–1917), married (first) James F. Turnipseed and (second) Edward Spencer; Winnie E. (1874–1878); Stella (1876–1878); Vinnie Maude (1877–1912), taught art and literature at Union College for four years and later married Benjamin G. Wilkinson; Ruby Charlene (1893–1973), married Varner Jay Johns; and Bertha Mabel (1884–1894). J. H. Morrison was a General Conference Executive Committee member, Iowa Conference president, and chair of the committee that chose Lincoln, Nebraska, as the site for Union College.1
Marriage and Family
Morrison married Vera E. Thompson (1882–1975), a teacher at Union College Academy, on June 6, 1906, in Lincoln, Nebraska. Vera Morrison later taught at Washington Missionary College for 33 years.2 They had two children: Alethea M. (1909–2006), who became a physician and married another physician, G. Glen Dollinger; and Cleo Elwin (1912–1991), who served in the United States Army Air Corps, and later Air Force, in World War II and Korea, achieving the rank of lieutenant colonel.3
Education and Career
Morrison graduated from Union College in 1900 with a Bachelor of Science degree. He also received a Master of Arts in 1909 from Union College (thought to be an honorary degree, as Union College did not offer any graduate degrees at the time), and pursued further study at the University of Nebraska.4 Following his baccalaureate graduation, Morrison became a mathematics teacher at Union College, and simultaneously served as a cashier at the Bank of College View, of which his father was one of the directors.5 In 1909 he moved to South Lancaster Academy, where he also taught mathematics. Morrison returned to Lincoln, Nebraska, in 1910 to serve as Union College's treasurer and, once again, professor of mathematics.
In 1914 Morrison was appointed president of Union College. During his tenure he initiated the first steps toward the college seeking regional accreditation. Although he never finished his own graduate education, Morrison unofficially encouraged faculty to seek advanced degrees and instituted a policy that required teachers to have more than a bachelor's degree. He resigned in 1922 when the Central Union Conference failed to support his steps toward accreditation.
Morrison's presidency of Union College was notable for several other events. In 1920 North Hall, one of the college's residence halls that had earlier been sold to the Nebraska Sanitarium, was returned to the college and remodeled as a home for the women of the student body. The ad hoc gymnasium in the basement of the administration building was also replaced by a freestanding gymnasium designed for the purpose. Morrison was ordained in 1917 and apparently became a popular wedding officiant in the College View community.6
In 1922 Morrison accepted the presidency of Washington Missionary College in Takoma Park, Maryland, where he remained for five years. Under Morrison's leadership, student enrollment reached new heights, necessitating the construction of larger residence halls. Other expansions included the Home Economics Department and the college press.7 Among the highlights of Morrison's college presidency was the presence of Warren G. Harding, president of the United States, at WMC's commencement on May 20, 1923. Harding's nephew was among the graduates.8
In 1927 Morrison published a book, The Pathways to Success,9 which was primarily a recruitment piece for Adventist education, particularly the denomination's academies and colleges. According to reviewer J. P. Neff, the book related "many instances" that demonstrated "how young men and women, against great odds, and in spite of [financial] difficulties of every
kind, have found their way through to a well-rounded education, and have attained unto success–more particularly to the higher life and service of humanity and God."10
For eight years Morrison helped develop residential communities in Takoma Park.11 During this time he also became an insurance agent.12 In 1935 he briefly served a second term as president of WMC.
From 1936 to 1946 Morrison was education secretary of the General Conference. These were challenging years, encompassing both the final years of the Great Depression and then World War II. Limited financial resources during the depression, and rationing of physical resources and the conscription of college-age young men during World War II, detrimentally affected the Adventist educational system. Wartime conditions in some parts of the world suspended the operation of many schools. Despite these challenges, Morrison was able to report progress at the end of his administration in 1946.
Morrison conducted many teacher conventions and institutes, particularly in the Inter-American Division, and made at least one visit to South America. During his tenure elementary teachers in the Seventh-day Adventist schools finally reached wage parity, with other of denominational employees holding similar qualifications. Between 1936 and 1946, enrollment in North American Division academies doubled, and the baptism rate for Adventist students old enough to make an independent decision was estimated to be near 100 percent. Three Adventist colleges of formerly junior college status achieved senior college status during this period as well–Washington Missionary College in 1942, Southern Missionary College in 1944, and Atlantic Union College in 1945.13 School facilities and resources were also improved and strengthened under Morrison's leadership. Despite these gains in North America, in locations around the world, the Adventist educational system was hampered by World War II. In places such as Europe, China, and the Far East, schools were largely unable to operate during the war. In other places, such as South America, Inter-America, and Southern Asia, school enrollment was so large that the need for more trained teachers became urgent.14
Later Years and Legacy
From 1946 to 1958 Morrison was a vice president and business manager of the Review and Herald Publishing Association. He simultaneously served on many boards of trustees and organizational committees such as those of the Seventh-day Adventist Theological Seminary, Atlantic Union College, Washington Missionary College, Loma Linda College of Medical Evangelists, Emmanuel Missionary College, the Home Study Institute, the Religious Liberty Department, and the Council on Industrial Relations.15
Morrison was a dedicated and hardworking administrator throughout his career. Everywhere he worked he left a legacy of improved facilities and strong enrollment. Following his retirement in 1958, Morrison continued to reside in Takoma Park, Maryland, where he died July 18, 1963.16
Sources
"Advertisements." Columbia Union Visitor, October 13, 1927.
Anderson, Godfrey T. "Atlantic Union College Receives Accreditation." Atlantic Union Gleaner, December 21, 1945.
Anderson, J. N. "Jennie Mitchell Morrison obituary." ARH, December 15, 1932.
Annual Calendar of Union College. Lincoln, Nebraska: Union College, 1917.
"Bank of College View." Lincoln (Nebraska) Star, September 6, 1906.
"Cupid Chimes." Educational Messenger, September 1, 1921.
Dick, Everett, George Gibson, and Union College staff. Union College: Light Upon the Hill. Lincoln, Nebraska: Union College Alumni Association, 2004.
"J. H. Morrison obituary." ARH, December 5, 1918.
Lewis, C. C. "Bertha Mabel obituary." AHR, February 5, 1895.
Morrison, H. A. "The Department of Education." ARH, June 10, 1946.
Morrison, Harvey A. The Pathways to Success. Boston: Stratford Co., 1927.
———. "Why the Debts?" Columbia Union Visitor, January 1, 1927.
Morrison, J. H. and Jennie. "Winnie E. and Stella Morrison obituary." ARH, November 21, 1878.
National Cemetery Administration. U.S. Veterans' Gravesites, c. 1775-2006 [database online]. Provo, Utah: Ancestry.com Operations, Inc., 2006. Accessed August 31, 2019. https://www.ancestry.com.
Nebraska Marriage Records, 1855–1908. State Library and Archives. Nebraska State Historical Society, Lincoln, Nebraska.
Neff, J. P. "The Pathways to Success." Review in Columbia Union Visitor, September 1, 1927.
Rees, David D., and Everett Dick. Union College: 1891-1941. Lincoln, Nebraska: Union College Press, 1941.
Rittenhouse, F. O. "W. M. C. Accreditation Announced." Columbia Union Visitor, December 24, 1942.
"Ruby Charlene Morrison Johns obituary." ARH, August 23, 1973.
Seventh-day Adventist Yearbook. Washington, D.C.: Review and Herald Publishing Association, 1947–1959.
Southern Missionary College Bulletin 1944–1945. Collegedale, Tennessee: Southern Missionary College, 1944.
Teesdale, W. Homer. "Harvey A. Morrison obituary." Columbia Union Visitor, August 22, 1963.
"The Light of the World." Columbia Union Visitor, December 6, 1923.
Underwood, R. A. "Myrtle A. Morrison-Spencer obituary." ARH, July 26, 1917.
"Vera E. Morrison obituary." AHR, January 22, 1975.
"Vinnie Maude Morrison Wilkinson obituary." ARH, June 20, 1912.
Notes