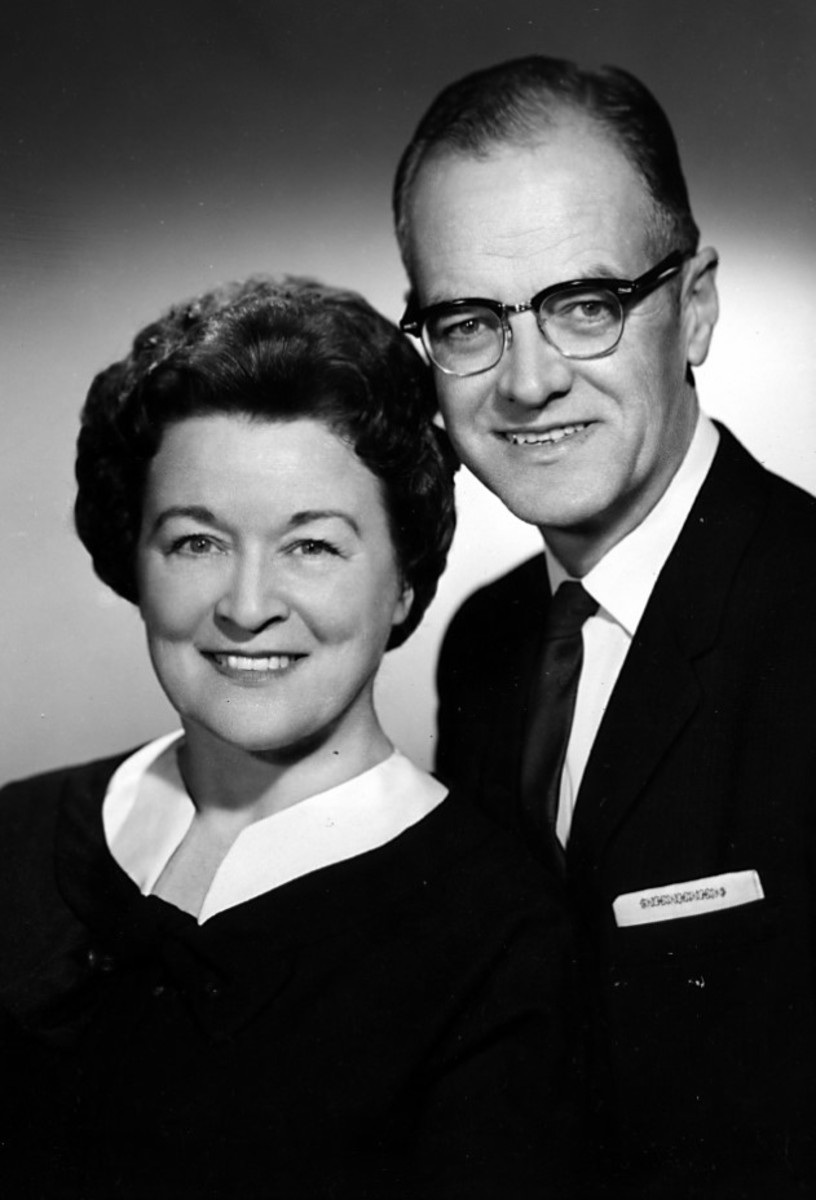 Braley, Bradford Woodhouse (1905–1992) and Olive (Rogers) (1899–1993)
×
Dan Shultz, emeritus professor of music, Walla Walla University, has researched and written extensively about Seventh-day Adventist music history and musicians. His publications include A Great Tradition–a history of music at Walla Walla University, and the Adventist Musicians Biographical Resource–an encyclopedia with biographies of over 1100 Adventist musicians. He founded the International Adventist Musicians Association, serving as its president for ten years and editing its publications and website for over thirty years. Shultz and his wife, Carolyn (nee Stevens), live in College Place, Washington.   
First Published: August 28, 2021
Brad Braley and Olive Rogers Braley, household names to listeners of the Voice of Prophecy (VOP) broadcasts in the middle decades of the 20th century, were known for their duets on organ and piano. Brad was organist and accompanist for the VOP for nearly nineteen years. Olive assisted on piano and gave readings.
Brad Braley: Early Life and Education
Bradford Woodhouse Braley was born on July 19, 1905 in Fairhaven, Massachusetts, the son of Albert Loring and Lucinda Mabel Woodhouse Braley. Both of Brad's grandfathers had been sea captains. His musical abilities became evident at an early age and were encouraged by his father, owner of a music store. Following eight years of concert piano study, he began playing organ music to accompany silent movies in New England Paramount Theaters, an activity that continued for ten years, until he became a Christian and decided to dedicate his talents to church music.1
Braley became organist and choir director at the Boston Temple of Seventh-day Adventists but was paid for his janitorial work rather than his musical contribution. He was also the organist for a Boston-based religious radio broadcast, The Bible Commentator, in the late 1930s. He spent his evenings at the Gardner Organ Company, learning how to install organs. In the early 1930's sound movies had rapidly replaced the silent screen images, and theaters began removing their Wurlitzer pipe organs, selling them to churches for extremely low prices. Gardner Organ Company specialized in reinstalling them in churches.2
Braley, who had installed a Wicks pipe organ at Atlantic Union College in 1940,3 was assigned to do an installation of one of these discarded theater organs in Lynn Auditorium in 1941 at Southern Junior College, now Southern Adventist University. While working there he met and began courting Olive Rogers, a music and speech teacher.4
Olive Rogers: Early Life and Education
Olive Rogers was born on November 20, 1899, in rural Alabama, the daughter of Henry Oliver and Rowena (Rena) Sims Rogers, and grew up in Hattiesburg, Mississippi. She was captain of the women's basketball team and head cheerleader at her high school.
During those years, her gifts in speaking and music became apparent and she completed a B.A. in speech at Atlantic Union College in the 1930s. She then studied music at the University of Tennessee and the Cadek Conservatory of Music in Chattanooga, Tennessee, while teaching both music and speech as an assistant professor at Southern Junior College (SJC), now Southern Adventist University. When the organ installation was completed, Brad invited her to assist in the inaugural concert.
The courtship flourished as he continued installing organs in the South, including one at Oakwood College, now University, in Alabama, and serving as organist and choir director at Calvary Methodist Church in Atlanta, Georgia. She and Brad married in December 1944 in the Lynn Wood Auditorium on the SJC campus and then lived in Atlanta for two years.5
Voice of Prophecy Years
From 1947 to 1949, the Braleys played organ and piano in evangelistic meetings in the St. Louis area as part of the Robert Whitsett and Charles Keymer team. In 1949, they moved to La Grange, Illinois, where they both taught at Broadview Academy until 1955, when they were hired by the VOP. While teaching at Broadview, Brad and Olive both studied at the American Conservatory of Music in Chicago.
In his work as organist and accompanist for the VOP musicians, and hers as an assistant, they traveled extensively throughout the United States, Canada, Central and South America, and Europe. They recorded seven albums for Chapel Records6 and were part of what was known as the VOP "B" group, which included Del Delker and H.M.S. Richards, Jr. They and the "A" group, H.M.S. Richards and the King's Heralds, each traveled over 12,000 miles each summer, performing on behalf of the VOP at camp meetings.7
When at home, the Braleys attended the Eagle Rock Adventist Church in Los Angeles, California, where both played their instruments and she conducted the choir for twelve years. They also operated the Braley Music studio in Glendale, offering private lessons in organ, voice, piano, and speech. They frequently played for weddings and other church functions, including the church's General Conference (GC) sessions. Brad was the official organist for eight GC sessions starting in 1947. He wrote the theme song, Christ, Our Hope Forever, for the 1985 session in New Orleans.8
Final Years
Although he officially retired in 1973, Brad continued to assist occasionally in the VOP program. He and Olive also continued as organist and pianist in their home church and frequently performed for weddings and other events. Both were members of the American Guild of Organists and the International Platform Association.
Olive Braley was active in community life, serving three terms as president of the Community Concert Association, a service for which she was honored. She also served two terms as president of the Seventh-day Adventist Music and Arts Guild and as a judge for its scholarship program. She was a frequent master of ceremonies for banquets and other events, was an adjudicator in music festivals, and presented numerous programs as a humorist and reader. She was listed in the 1973-75 edition of the World Who's Who for Women.9
They were living in Glendale when Brad died on February 18, 1992, at age 86. Olive died the following year on June 18, at age 92.10
Sources
Durand, Eugene F. "80-year-old musician writes theme song." ARH, June 15, 1985.
Durand, Eugene F. "Former Voice of Prophecy Organist Brad Braley Dies." ARH, March 19, 1992.
Hall, Wayne. "Brad Braley and the Atlantic Union." Atlantic Union Gleaner, February 8, 1977.
Karr, Eldyn. "Their Romance Began with a Theater Organ." Voice of Prophecy News, December 1986.
Wade, Ken. Del Delker: Her Story as Told to Ken Wade. Nampa, ID: Pacific Press Publishing Association, 2014.
"Wife of V.O.P. organist in Who's Who of Women." Australasian Record, September 1973.
Yakush, S.A. "Personalities of the West and Midwest Includes Mrs. Braley." Pacific Union Recorder, September 18, 1969.
Notes