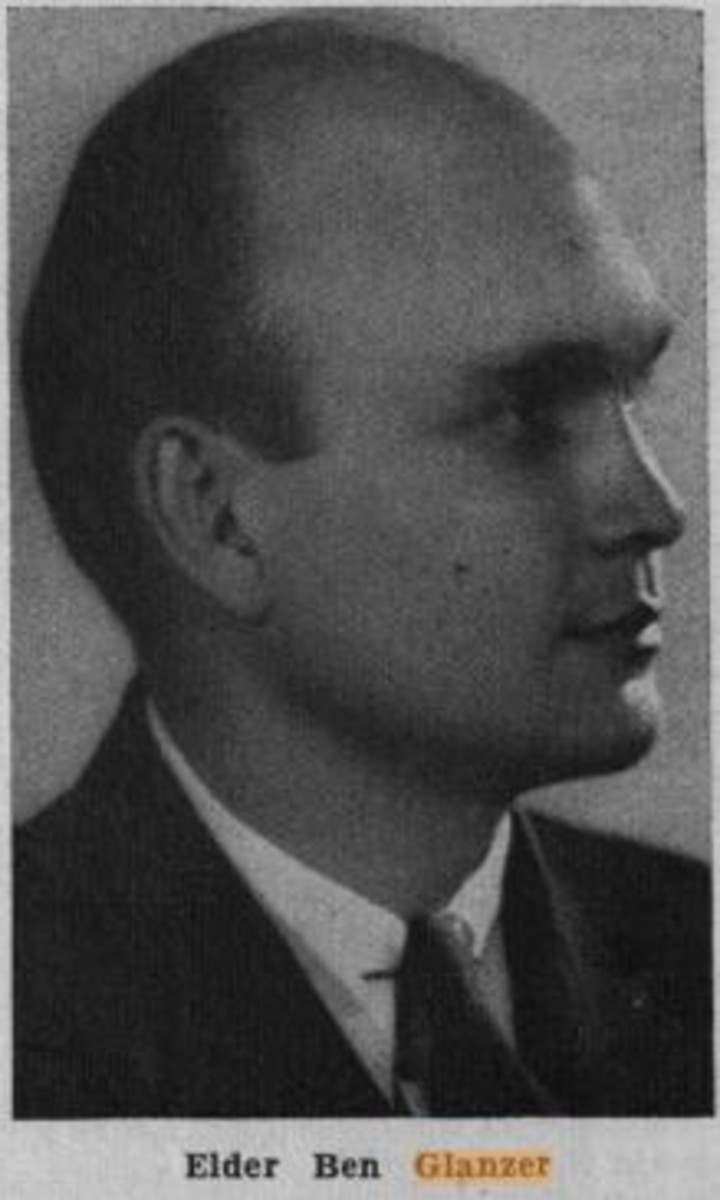 Glanzer, Benjamin Theodore (1910–1997)
×
Dan Shultz, emeritus professor of music, Walla Walla University, has researched and written extensively about Seventh-day Adventist music history and musicians. His publications include A Great Tradition–a history of music at Walla Walla University, and the Adventist Musicians Biographical Resource–an encyclopedia with biographies of over 1100 Adventist musicians. He founded the International Adventist Musicians Association, serving as its president for ten years and editing its publications and website for over thirty years. Shultz and his wife, Carolyn (nee Stevens), live in College Place, Washington.   
First Published: January 29, 2020
Benjamin Glanzer was a pastor and singing evangelist whose service included four years as a member of the King's Heralds Quartet and seven years with the Ministerial Association of the General Conference. He became a favorite soloist, particularly appreciated for his singing of "Keep Looking Up."
Early Life and Education
Benjamin Theodore Glanzer was born in the Black Hills at Pennington, South Dakota, on August 19, 1910, the oldest of six children born to Peter Janzen and Katie Kiehlbauch Glanzer.1 When he was very young, the family moved to Alberta, Canada, where they farmed. They enjoyed singing, often under the direction of their father who would lead them using a pencil as a baton.2
By age 10, Glanzer was plowing fields with a four-horse team. When his mother subsequently became ill, he filled in by cooking and baking, doing the laundry, and sewing. He entered Canadian Junior College (now Burman University) at age fourteen and became a printer, working in that trade for almost twenty years. While at Canadian Junior College, he, along with one other student, Jack Hardy, managed to save the school's new Chickering 9-foot grand when a fire destroyed the administration building in May 1930.3
Two year later, in July 1932, Glanzer, who was now working as the "college printer," married Nettie Suzanne (Susie) Baerg, a registered nurse who served as the school nurse at the college from 1930 until 1935.4 During his years as a printer, Glanzer also pursued music by directing church and camp meeting choirs and singing as a soloist and in quartets.
Career
In 1944, shortly after he started serious voice study, Glanzer was invited to join the Voice of Prophecy (VOP) radio ministry as first tenor for the King's Heralds quartet. The high range of his voice attracted interest and, when asked about it, he would respond that he did not recall ever having had a change of voice as he entered manhood.5
After leaving the quartet in 1948, he remained with the VOP as editor of the Voice of Prophecy News and continued to sing and be involved with evangelism. In the fall of 1950, Glanzer began a new assignment as office editor for the Ministerial Association of the General Conference in Takoma Park, Maryland. At the autumn council that year, the General Conference Committee recommended his ordination to gospel ministry.6
Glanzer's music background proved useful in the following years as he chaired music committees, participated in evangelistic efforts in England and Canada7 as well as in the United States, and continued to sing and organize choirs for special events and meetings. In 1954, he organized and led the 500-member choir at the General Conference session in San Francisco.8
Beginning in 1956, Glanzer pastored the churches in Lancaster and Lebanon, Pennsylvania, while also working as an evangelist and giving sacred benefit concerts to large audiences on the east and west coasts. He continued combining pastoral ministry with evangelism in southern California in the 1960s.
Later Life
The Glanzers were living in Los Angeles when Nettie Glanzer died on April 14, 1970, at age 63.9 Ben Glanzer subsequently married Bertha Sullberg Appleton, who occasionally served as his accompanist.10 They resided in Yucaipa, California, until his death in Loma Linda, California, on February 3, 1997, at age 86.11
Ben Glanzer's varied and widely-appreciated ministry as musician, evangelist, pastor, and editor spanned a period of forty years during which he preached and sang in countless evangelistic campaigns.
Sources
"Ben Glanzer to Sing at Phoenix Central." Pacific Union Recorder, October 13, 1975.
"Ben T. Glanzer obituary." ARH, July 24, 1997.
Coon, C. J. "Sacred-Song Recital." Columbia Union Visitor, May 21, 1953.
Cottrell, Roy F. Forward in Faith. Mountain View: Pacific Press, 1945.
Dunbar, E. W. "Giant Massed Choir at General Conference." ARH, April 1, 1954.
Edwards, Robert E. H. M. S. Richards. Hagerstown, MD: Review and Herald Publishing Association, 1998.
Fitch, Edith and Denise Dick Herr. Changing Lives: The Hilltop Story 1907-2007. Canadian University College, 2007.
General Conference Committee, General Conference Archives. Accessed November 19, 2019, http://documents.adventistarchives.org/Minutes/GCC/GCC1950-08.pdf and http://documents.adventistarchives.org/Minutes/GCC/GCC1950-10.pdf.
Glanzer, Ben. "The S. S. United States." Youth's Instructor, November 18, 1952, 11, 17.
Glanzer, Ben and Nettie. "Music in Old London." Youth's Instructor, June 30, July 7, and July 14, 1953.
"Nettie Glanzer obituary." Pacific Union Recorder, June 18, 1970.
Roth, J. H. "They Twain Shall be One Flesh." Canadian Union Messenger, August 2, 1932.
South Dakota. Department of Health, Index to Births 1843-1914 and Marriages 1950-2016. FamilySearch.org.
Notes