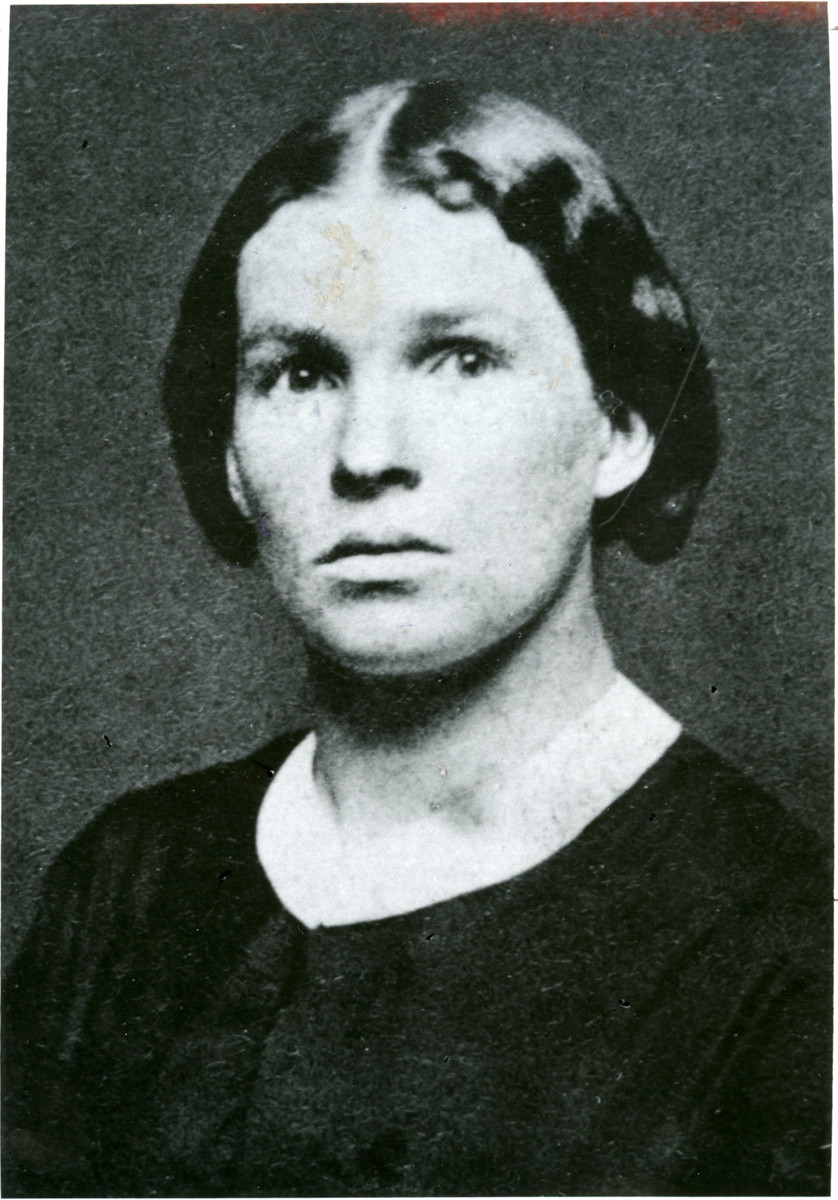 Amadon, Martha Dorner (Byington) (1834–1937)
×
Brian E. Strayer, Ph.D. (University of Iowa). Strayer taught history at Jackson (MI) Junior Academy, the University of Iowa, Southern Adventist University, and Andrews University for 41 years. He has written 10 books, 120 scholarly and professional articles, 40 reviews and critiques in French and Adventist history and directed three Adventist heritage tours of New England.  He writes a weekly column ("The Past Is Always Present") in the Journal Era and shares Adventist history at camp meetings, schools, and churches.
First Published: January 29, 2020
Martha Dorner Byington was the first Adventist home school teacher and a founder of the Dorcas Society (later renamed Community Service Centers).
Early Life
Martha Dorner Byington was born on March 28, 1834, in a log cabin in Bucks Bridge, St. Lawrence County, New York, to John Byington (1798-1887), a commercial farmer and Methodist circuit-riding preacher and Catharine (Newton) Byington (1803-1885), a school teacher. With her parents and brother, John Fletcher Byington, Martha converted to Sabbatarian Adventism in 1852 and was baptized in the nearby Grasse River.1
A firm believer in the prophetic gift, Martha saw Ellen White in vision several times between 1854 and 1864. During this period, Martha established the first known Sabbath keeping Adventist school in the parlor of Aaron Hilliard's house near Bucks Bridge. The school's initial enrollment was seventeen, ranging from two to fourteen years of age. Resourceful, creative, and determined, the nineteen-year-old proved quite capable of teaching such a diverse group as her first pupils.
Education and Marriage
Feeling the need for more education, she enrolled in the normal (teacher training) program at St. Lawrence Academy in Potsdam (1854-56). In the spring of 1856 and again in August 1857 she accompanied her father to Battle Creek, Michigan. During the late 1850s, she boarded with James and Ellen White, tutored their sons, Henry, Edson, and Willie, and traveled with her father throughout Michigan, playing church pump organs and singing duets with him. Her mother joined them in 1858 on the farm they purchased in Ceresco in Newton Township. Unlike her parents and siblings, however, Martha became a vegetarian in 1859.
A good writer, she scribbled pious thoughts in her diaries and sent several short articles to the Advent Review and Sabbath Herald and the Youth's Instructor in the 1850s. Both ascetic and outgoing, she enjoyed fasting and praying, visiting with relatives and friends, leading out in Sabbath school and church gatherings, sewing garments for others, and writing letters. When James White hired her to work at the Review, she began writing to George Amadon, a typesetter at the press. Martha and Amadon were married on November 24, 1860 in Battle Creek, with the marriage solemnized by the bride's father John Byington. The couple had two daughters: Katie, born on March 15, 1866; and Grace, born on February 24, 1872. They adopted a son, Claude, who was born March 15, 1876.
Career
All during the 1860s, Martha remained active in the Battle Creek church, regularly attending Sabbath school, church, prayer, testimony, social, and women's meetings. She sold medical books and Review and Herald almanacs, purchased stock in the SDA Publishing Association, wrote regular articles for the Review and Instructor, planned family picnics to Goguac Lake, and kept the itinerating Whites appraised of local news, events, births, and deaths.
Her closeness to James and Ellen White and her taking care of James after his first stroke in August 1865, however, did not spare her and George from being expelled from the Battle Creek church during the "purge" of 1870 when church trials trimmed the membership to fewer than two dozen believers, dropping those whose lack of support for the Whites or whose dietary and dress habits did not meet the high standard set by church leaders. George resigned from the press and the family moved in with John and Catharine Byington on their farm in Ceresco for seven months.
Four months later in November 1870 after the Amadons were restored to membership, Martha and seven other women formed the Maternal Society in March 1871 to provide food, clothing, and money to needy college students and local members. In 1874 the society was renamed the Dorcas and Benevolent Association and included more than twenty single and married women who met for sewing and food-packing bees and laid plans to help the poor, widows, and orphans in their neighborhoods. Martha served as the organization's first president.2
Later Life
In 1882 as she recuperated from a bout of typhoid, Martha welcomed her aging parents, Catharine and John Byington, into her home on Hill Street in Battle Creek and cared for them until their death in 1885 and 1887 respectively. While continuing to live in Battle Creek, she and George rented rooms to Battle Creek College students. Martha enjoyed riding "Kitty," her favorite horse, to make "missionary visits" (social calls with spiritual benefits) around the city. In February 1884 while she was racing Kitty, the buggy overturned and Martha and her passenger, Mrs. Salisbury, were "considerably bruised."3
In 1911, seeking peace and relaxation away from the demands of big city life, George and Martha moved to St. Joseph, Michigan. Two years later George died, but before that the couple established the first Seventh-day Adventist Church in St. Joseph. Grace continued to care for her mother during Martha's last twenty-four years. With Emmanuel Missionary College (now Andrews University) nearby in Berrien Springs, Martha enjoyed frequent visits from the college students who came to sing and pray with her. In return, she told them stories about the Adventist pioneers whom she had known personally. Martha Amadon died on January 2, 1937. She was 102. Her last words were, "I love Him; I want to see Him."4 She was buried beside her husband George Amadon in Oak Hill Cemetery in Battle Creek.
Contribution
Martha Byington Amadon is remembered primarily for teaching the first home school sponsored by Sabbath-keeping Adventists in 1853 at Bucks Bridge, New York, and for forming in 1871 the Maternal Society, the forerunner of the local church Dorcas societies (later renamed Community Service Centers). In her own quiet way, Martha laid the foundations for Seventh-day Adventist elementary education, and for the welfare work of the Church, which today is carried on locally by Community Service Centers and globally by the Adventist Development and Relief Agency in more than 130 countries.
Sources
"Amadon, Martha D. (Byington)." Seventh-day Adventist Encyclopedia. Second Revised Edition, A-L. Hagerstown, MD: Review and Herald Publishing Association, 1996.
Hook, Milton R. Flames over Battle Creek. Washington, D.C.: Review and Herald Publishing Association, 1977.
Land, Gary, Uriah Smith: Apologist and Biblical Commentator. Hagerstown, MD: Review and Herald Publishing Association, 2014.
"Martha (Byington) Amadon obituary." ARH, February 4, 1937.
Spalding, Arthur W. Origin and History of Seventh-day Adventists, Vol. 2. Washington, D.C.: Review and Herald Publishing Association, 1962.
Strayer, Brian E. "Amadon, George W. and Martha D. (Byington)." In The Ellen G. White Encyclopedia, edited by Denis Fortin and Jerry Moon. Hagerstown, MD: Review and Herald Publishing Association, 2013.
Strayer, Brian E. John Byington: First General Conference President, Circuit-Riding Preacher, and Radical Reformer. Nampa, ID: Pacific Press Publishing Association, 2017.
White, Arthur L. Ellen G. White, Vol.1: The Early Years, 1827-1862. Hagerstown, MD: Review and Herald Publishing Association, 1985.
White, Arthur L. Ellen G. White, Vol. 2: The Progressive Years, 1862-1876. Hagerstown, MD: Review and Herald Publishing Association, 1986.
Notes