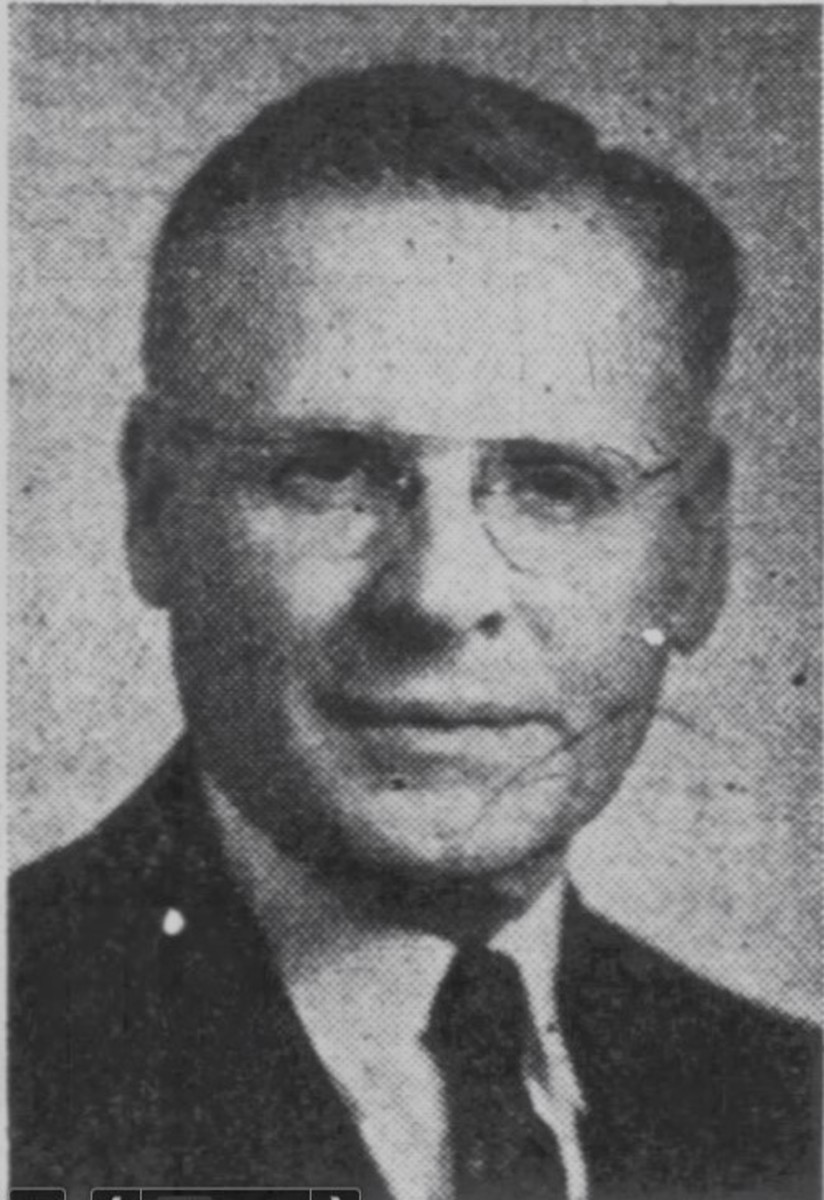 Ochs, Daniel Adam (1890–1991)
×
Gail Broeckel graduated from Washington Adventist University. She has many articles archived in the Adventist Review and Columbia Union Visitor. Broeckel has worked at Potomac Conference, Columbia Union College, Adventist Health Care and ADRA. She served on the alumni board of WAU for over a decade.
Daniel Adam Ochs was a teacher, chaplain, pastor, author, principal, General Conference youth leader and union conference president.
Early Life
Daniel was born in Endicott, Washington in Whitman County on August 5, 1890 to Peter Ochs and Mary Catharina Scheuermann (1849-1932; 1859-1938), both Russian immigrants of German descent.1 They married in Kansas in 1877. It was Peter's second marriage – his first wife Katrina Haas, died in 1876 during childbirth on a ship to America. The young couple, with daughter Katherine (1870-1933), born to Peter's first wife, soon left Kansas for the Northwest, moving first to Portland, Oregon and then, in 1882, to Palouse country in eastern Washington.2
Peter Ochs worked in construction. He was one of two men designated to scout the area of Palouse country since they spoke English. The land on which the Ochs settled had great potential and was developed into a community known as Endicott, Washington in 1882.3
Peter and Mary Catharina's first child together, Peter (1880-1881), died in infancy. Daniel was the seventh of their children who survived to adulthood: John (1880-1915), Philip (1882-1967), Johnanas (1884-1941), Conrad (1884-1964), Peter (1886-1968), David (1888-1979), Daniel (1890-1991), William (1892-1983), Emma (1894-1984), Lidia (1899-1988), and Benjamin (1902-1971).4
In 1895 the Ochs' joined the Seventh-day Adventist church. Some of the children emigrated to Canada. A number entered denominational service including William Benjamin Ochs, who served as General Conference Vice President for the North American Division, 1948-1962.5
Education, Early Ministry, and Marriage
Daniel Ochs began studies at Walla Walla College (now University) in 1909. He delayed graduation to serve, first, as an elementary school teacher in Alberta, Canada, and then as chaplain at Walla Walla Sanitarium. Ochs entered evangelistic ministry in the Upper Columbia Conference in 1917. He completed his B.A. in theology at Walla Walla in 1920 and was ordained for gospel ministry in 1922.6
While Ochs was pastor of the Ellensburg, Oregon church, he married Nellie N. Martin (1895-1936) in her parents' home in Riverside, California on December 30, 1918. Nellie's father, Elder W. F. Martin, performed the ceremony. Nellie was recognized in the Riverside community as a "talented young musician."7
Educator and Y.P.M.V. Leader
Daniel Ochs helped found Upper Columbia Academy in Granger, Washington, and was its first principal when it began operation as a 12-grade school in 1921. Nellie headed the Music Department. The couple moved to southern California in 1922 where Daniel served as principle of Glendale Academy and Nellie as preceptress at Glendale Sanitarium. After five years in Glendale, they were called to Lodi Academy near Stockton, California, where they also served for five years – Daniel as principal and Nellie as music teacher. From 1932-1934 Ochs was principal of Mountain View Academy near San Jose, while completing a master's degree in international relations in 1934 from the University of the Pacific in Stockton.8
Ochs continued work for the church's young people but in a different capacity when he accepted a call in 1934 to become associate secretary of the Young People's Missionary Volunteer Department (predecessor to Youth Ministries) at the General Conference. However, within a few months of the Ochs' move across the country to the Washington, D.C. area, Nellie became seriously ill. Her condition improved for a short period after an operation at the Johns Hopkins University Hospital in Baltimore. After her health again deteriorated, Daniel took her to Portland Sanitarium in Oregon, where she died on May 31, 1936.9
Daniel married Grace Lillian Cox (1906-2005), an educator and author, on November 9, 1938, in Kansas City, Kansas. They had one daughter, Linda (Bietz).10
Conference Administrator
Ochs entered conference administration as the next phase of his ministry, accepting a call in 1942 to the presidency of the Northern New England Conference. After three years there, he served for two years (1945-1947) as president of the East Pennsylvania Conference.
In 1947, Ochs was elected president of the Columbia Union Conference, then headquartered in Takoma Park, Maryland. During his decade in that role, some 175 new churches were added and membership increased from 27,123 in 1947 to 35,036 in 1957. He saw establishment of three new secondary schools during his tenure – Blue Mountain Academy in the East Pennsylvania Conference, Pine Forge Institute (later Academy) in the Allegheny Conference, and Mt. Aetna Academy in the Chesapeake Conference. He was re-elected to a four-year term in 1955, but decided to retire in January 1957 after forty years of denominational service, expressing a desire to turn over the "cloak of responsibility" to a younger man.11
The Ochs moved to St. Helena, California after Dan's retirement. Grace taught at Howell Mountain Elementary School until retiring in 1969.12
Legacy
Ochs had authored Climbing Upward, an inspirational book for youth published by Review and Herald in 1941, and retirement afforded him an opportunity to write more. Life's Realities was published by Southern Publishing Association in 1965. He and Grace together wrote The Past and the Presidents: Biographies of the General Conference Presidents (Southern Publishing Association, 1974).
Daniel A. Ochs died in Napa, California on January 28, 1991, at the age of 100. Walla Walla University created the Daniel A. Ochs Memorial scholarship for theology students, a tangible expression of his "legacy of service to the church and its educational system."13
Sources
"Adventist Leader to Retire Upvalley." Napa Valley Register, January 12, 1957.
Burg, Francis M. "Nellie Martin Ochs obituary." North Pacific Union Gleaner, June 16, 1936.
"Daniel A. Ochs." Ancestry.com.
"Daniel A. Ochs obituary." ARH, September 5, 1991.
"Daniel A. Ochs Memorial Scholarship." Walla Walla University. Accessed August 2, 2019. https://www.wallawalla.edu/about-wwu/general-information/advancement/student-scholarships/endowed-scholarships.
"Home Wedding Unites Couple." Riverside Daily Press, December 31, 1918.
"Mary Schierman Ochs obituary." North Pacific Union Gleaner, August 9, 1938.
Ochs, Grace Lillian. Up From the Volga: The Story of The Ochs Family (Nashville: Southern Publishing Association, 1969).
Roth, D. A. "Elder D. A. Ochs Retires as Union President." Columbia Union Visitor, January 17, 1957.
Roth, D. A. "Union Conference Staff Re-Elected." Columbia Union Visitor, March 31, 1955.
"The Rev. and Mrs. Ochs To Make Home Here." Washington Evening Star, November 21, 1938.
Notes