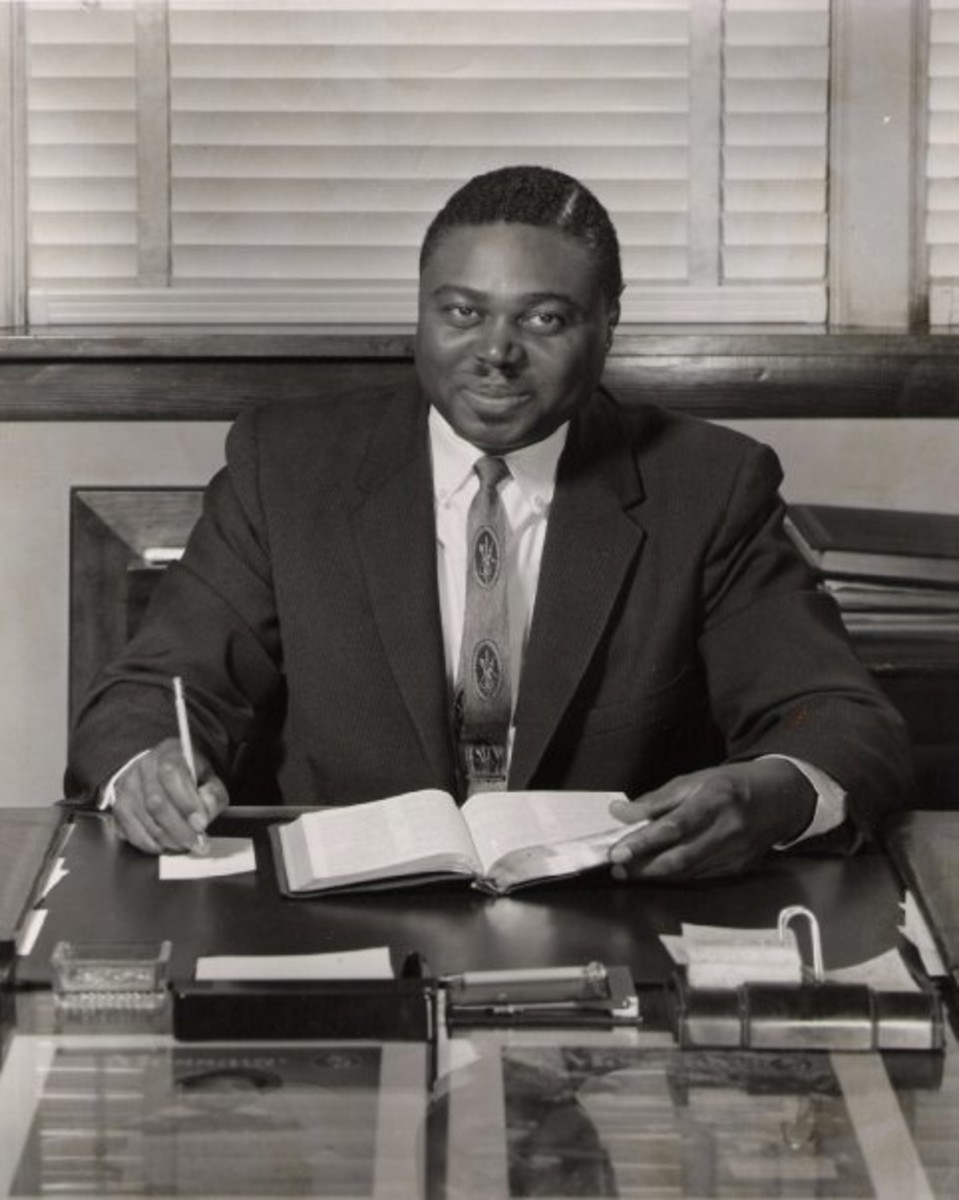 Dykes, James Elmore (1919–1990)
×
Samuel London, Ph.D., is a professor and chair of the Department of History and Political Science at Oakwood University, Huntsville, Alabama. He is the director of the Oakwood Office for the Encyclopedia of Seventh-day Adventists. London wrote the book Seventh-day Adventists and the Civil Rights Movement (University Press of Mississippi, 2010). Samuel and his wife Laura reside in Priceville, Alabama.
First Published: January 29, 2020
Poet, author, and Oakwood College graduate, James Elmore Dykes served the Seventh-day Adventist Church for approximately forty years as a pastor, evangelist, editor-in-chief, general manager, and educator.
James was born on May 20, 1919, in Orangeburg, South Carolina, to James Dykes and Kate Elmore (1896–1986).1 He completed grade school at Dunton Memorial Grammar School in Orangeburg.2 After his father's death, Kate remarried, and in 1931 the family moved to New York City. Dykes attended Jamaica High School in Jamaica, Queens, New York, excelling in writing and poetry. In fact, at age 17 he won a citywide poetry contest, earning the title of Junior Poet Laureate of New York City. His acclaim brought him into contact with such Harlem Renaissance notables as Langston Hughes, Countee Cullen, and Arna Bontemps.3
In 1942 Dykes enrolled in Oakwood College in Huntsville, Alabama. He majored in theology, with a minor in history.4 During his matriculation he served as president of the Colporteur Club and Student Council, as well as editor of the Spreading Oak newspaper and the college's yearbook, the Acorn, supervising its first hardcover edition in 1946.5 In the same year he graduated valedictorian of his class.6 Dykes pursued graduate studies at the University of Pennsylvania, in Philadelphia, Pennsylvania; Wayne State University, in Detroit, Michigan; and Tennessee State University and Fisk University, in Nashville, Tennessee; and became a doctoral candidate in mass communications and higher education administration at the University of Miami, in Coral Gables, Florida.7 On December 22, 1946, he married Ethel Louise Nobles Orr (1921–2016).8 They had five children: Dorothea, James Elmore, Jr., Karen, John Paul (1952–1975), and William.9
In 1946 the Lake Region Conference of Seventh-day Adventists hired Dykes to be the assistant pastor of the Hartford and Detroit East Side (Burns) churches in Michigan. During his tenure with the conference (1946–1956), he served as the pastor of the Flint and Saginaw churches, oversaw the Inkster-Belleville-Milan districts, led an evangelistic effort in Ypsilanti, Michigan, and served as associate publishing secretary.10 Dykes became an ordained minister in 1952.11 Four years later he accepted an offer from Pine Forge Institute, in Pine Forge, Pennsylvania, to teach English and serve as the residential dean for men.12 In 1959 Dykes became the editor in chief of Message magazine. Subsequently he rekindled the support of the regional conferences for the publication and broadened its circulation worldwide. During his seven and a half years with Message he had the privilege of serving as a delegate to the Eighth United Nations Educational, Scientific, and Cultural Organization (UNESCO) National Conference in Boston, Massachusetts, in 1961. The following year he attended the U.S. State Department Foreign Policy Conference, held at the University of Kentucky, Louisville, in Louisville, Kentucky.13 In 1967 he returned to Pine Forge to head the English Department.14 He remained there until 1971, when he accepted an offer to join the faculty of the English Department at Oakwood College. Through his persistent efforts, in the following year he launched "Project Radio," an on-campus AM frequency station called WOAK. Under his directorship the project flourished and obtained an FCC license to operate a 25,000-watt FM station. In 1978 Oakwood's new station, WOCG 90.1-FM, began broadcasting. Dykes served as the station's first general manager. His vision prompted the college to further develop its mass communications offering from an associate degree to a Bachelor of Arts degree. In keeping with the college's evangelistic mission, he contended that mass media is the most effective way of promulgating the gospel. From 1976 to 1977 Dykes served as the interim chair of the Division of Humanities at Oakwood College.15 He continued working at Oakwood until his retirement in 1987.16 In the course of his professional career Dykes authored a plethora of articles featured in such publications as Signs of the Times, Youth's Instructor, Message, Insight, Adventist Review, College People Magazine, Opportunity Magazine, and the New York Herald Tribune.17 In 1978 he published a collection of poetry titled The Cosmos Electric and Variant Verses.18
In retirement Dykes remained active in church, academic, and cultural activities. Serving as an elder at the Oakwood College church, he was the director of personal ministries and a Sabbath School teacher. Moreover, he was an active participant in prison ministries. As a consequence, he had the pleasure of bringing several souls to Christ. In 1988 he organized the Friends of the Cultural Arts Society, a group created to encourage scholarship, networking, creativity, and the sharing of expertise.19 Retirement provided Dykes with more time to write. Subsequently he produced a collection of poetry titled Graffiti and Grace (1989), and began writing Gadflies of God: Four Biographical Essays, featuring Sojourner Truth, William Wilberforce, Florence Nightingale, and Martin Luther King, Jr. Before his passing he was also in the process of compiling material for another book tentatively titled Love Letters to My Grandchildren.20 Moreover, in 1987 and 1988 he won the Golden Poet's Award from the World of Poetry Organization.21 Dykes died on June 24, 1990, in Huntsville, Alabama, at the age of 71.
Dykes will be remembered as a man of vision, a gifted poet, a beloved educator, a skilled administrator, and a compassionate pastor, who used his rare talents in the service of God and His church.
Sources
"Biography of James E. Dykes." Oakwood University Archives.
Detroit, Wayne County, Michigan, Marriage Certificates. Michigan Department of Community Health, Lansing, Michigan.
Dykes, James E. "Personal Profile of James Elmore Dykes." Oakwood University Archives.
Dykes, James Elmore. "Application to Enter Oakwood Junior College." October 6, 1942. Oakwood University Archives.
"Funeral Notice for James E. Dykes." College Relations, June 26, 1990. Oakwood University Archives.
"James E. Dykes." Oakwood University Archives.
"James Elmore Dykes obituary." Oakwood College Church, June 27, 1990. Oakwood University Archives.
"The Way They Were!" Oakwood Magazine, Fall 1990.
Notes