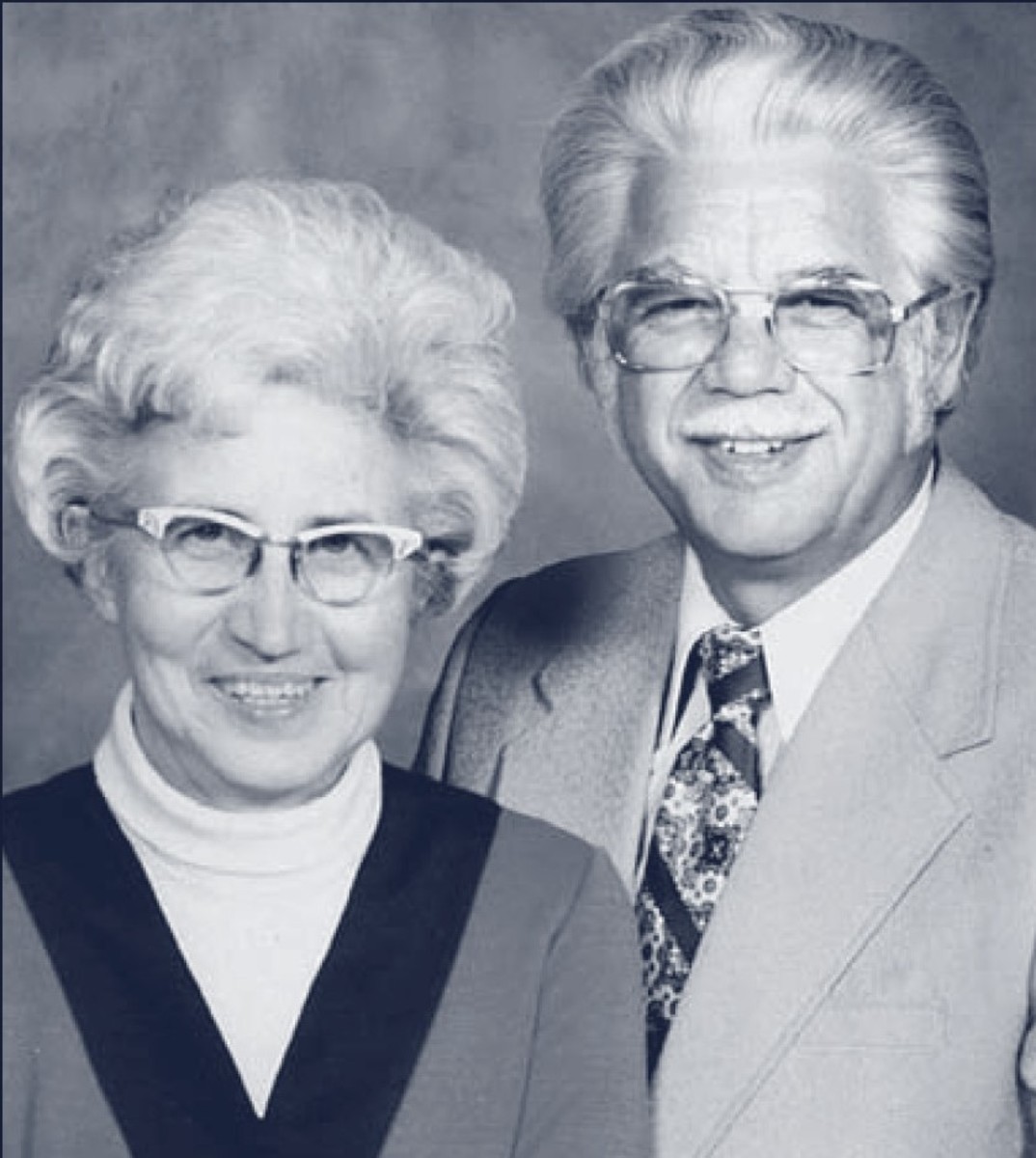 Hohensee, Herbert George (1920–1995) and Marjorie Lucille (Miller) (1920–1990)
×
Dan Shultz, emeritus professor of music, Walla Walla University, has researched and written extensively about Seventh-day Adventist music history and musicians. His publications include A Great Tradition–a history of music at Walla Walla University, and the Adventist Musicians Biographical Resource–an encyclopedia with biographies of over 1100 Adventist musicians. He founded the International Adventist Musicians Association, serving as its president for ten years and editing its publications and website for over thirty years. Shultz and his wife, Carolyn (nee Stevens), live in College Place, Washington.   
First Published: August 29, 2021
Herbert Hohensee, best known as the baritone in the Faith for Today quartet and leader of the group for several years, served in a variety of leadership capacities with the Faith for Today telecast and Adventist media ministries for more than three decades. Marjorie Miller Hohensee, a pianist and organist with Faith for Today, was also a pioneer and innovator in multiple aspects of special education.
Early Education, Marriage, and the Military
Herb was born in Aberdeen, South Dakota, on November 29, 1920, the oldest of three children and one of two sons of William Herbert and Sara Dora Unterseher Hohensee. His father worked as a railroad clerk.1 His mother, who was very musical, gave the children piano lessons, starting at an early age. While in elementary school Herb sang in a small sextet and took violin lessons in seventh and eighth grades.2
While attending Plainview Academy, an Adventist high school in Redfield, South Dakota, Herb sang in the choir and a male quartet and frequently as a soloist. He entered Union College in Lincoln, Nebraska, as a music major in 1938. When the United States entered World War II during his fourth year at college, he was drafted into the army. He trained as a lab technician at Fitzsimmons General Hospital in Denver.3
While at Union, Herb met Marjorie (Marge) Miller, a talented pianist who became his accompanist. Born in Lincoln, Nebraska, on August 31, 1920, Marge was the only child of Palmer John and Harriet Maude Bickell Miller.4 She started piano under her mother, a pianist. After Herb was drafted, he and Marge married on December 24, 1942, in Denver.5 They would have a son, William G., and two daughters, Tamara Lucille (Congleton) and Harriet Joan (Butsch).6
Herb was transferred to McKinney, Texas, to serve as medical supply sergeant at a military hospital opened there. He excelled at typing, and that was the job assigned him for his three years in Texas. During this time, he became known as "Ho," a name he liked and would be called for the rest of his life by friends and family.7
A Beginning in Music Ministry
While Herb was serving in the army in Texas, he and Marge attended an evangelistic series conducted in Dallas by Fordyce Detamore. Bob Metcalfe, the singing evangelist for the campaign, soon befriended the young couple. In the Fall of 1946, Metcalfe invited them to join him for his own meetings in Toronto, Canada, where he spoke, Herbert sang, and Marjorie played piano.8 This was the beginning of the Hohensees' music ministry for the church.
After that winter in Canada, they returned to Union College, which had mushroomed in size with the enrollment of World War II veterans. Hohensee became part of a music program housed in a new building and had 600 students, 400 of them in lessons. He thrived in this setting and enjoyed making music with fellow students Harold Lickey, Lyle Jewell, and Wayne Hooper. At the beginning of his senior year in the fall of 1947, he was hired, along with Hooper, to teach as a college instructor, and, following graduation in 1948, taught at Union for two more years.9
Marge completed bachelor's and master's degrees in speech therapy at the University of Nebraska, one of the first to complete a graduate degree in this discipline at the university. She was Herb's accompanist whenever he sang, a practice that would continue throughout their 48 years of marriage. In fact, as long as she lived, Marge was the only accompanist Herb would use in his many appearances as a soloist.10
Faith for Today and New York City
Hohensee took a study leave in 1950 to pursue graduate work at Westminster Choir College in New Jersey. His connection with Faith for Today, the new Adventist television program broadcast from New York City, started that Fall, just as he was beginning his studies. The Faith for Today (FFT) team invited Hohensee to sing in the program's quartet in October 1950 after learning about him from a fellow student at Westminster, who, though not a Seventh-day Adventist, was singing in the quartet on an interim basis.11
Although he started on a part-time basis, by February 1951 Hohensee had been hired full-time and began working to form a permanent quartet. By the end of the summer of 1951, two former friends from Union College, Harold Lickey, a first tenor, and Lyle Jewell, a bass, were hired to join Hohensee and Walter Isensee, replacing the two professionals who had been singing in the interim. This newly formed group sang together for the next three years, becoming the first all-Adventist Faith for Today quartet.12
Hohensee led the quartet for thirteen years, choosing the music that would be performed, coordinating songs to enhance the message of each broadcast. Through these years changes in personnel occurred and the television program became a more sophisticated operation, progressing from live on-the-air production to film, and, in time, from black and white to color.13
From his first year at FFT, Hohensee's role went beyond music. To save the program money, he established the first in-house offset printing press. He started a filing system that tracked contributions and requests for Bible studies and other materials, and he was also in charge of the studio. In that position, he oversaw all aspects of sound in post-production work, including the mixing and creation of the sound track for the program.14
Shortly after the couple's move to New Jersey in 1950, the State Teachers College in Newark hired Marjorie to teach the basic public speaking class required of all potential teachers in the state, and to direct its speech clinic. Marge also joined the FFT staff in 1951, overseeing the Bible School, and for a short time serving as editor of Telenotes, a monthly paper sent to viewers.15
In 1953, when a vacancy for organist arose at FFT, she agreed to "fill in" for three months while a search was made. The three months became nearly eight years. Marge served as organist full-time until 1958 and as needed until 1960, when New York City hired her to be an itinerant teacher for children with speech problems, working with over 300 students each week in six different schools.16
Since she was a pioneer in a new area of education, she had to develop her own lesson plans, approaches, and techniques. When FFT moved to California in 1972, Marge had held her position with the city school system for eleven and a half years, and she was within six months of being able to retire with a pension. But she had developed such a dislike for New York that she moved anyway, despite the financial loss.17
In 1955 a doctor suspected that Herb was in the early stages of multiple sclerosis. Because the diagnosis was not conclusive, the doctor advised Marjorie not to tell Herb. For three years she agonized over the possibility of losing her husband at an early age, only sharing this news with William and Virginia Fagal, founders and hosts of FFT. The first MS attack lasted for five weeks without physical indication that Herb had been sick. The second attack came three years later and lasted longer. Marjorie told him then about his disease and that no medication or treatment was recognized for his condition.
Their quest for help led them to Dr. Max Jacobson, a physician in Manhattan, who became well-known and eventually controversial for his unconventional methods in treating celebrities and politicians, including President John F. Kennedy. For fourteen years Herb was under Jacobson's care, often sharing a waiting room with Hollywood actors who flew to New York just to see the doctor. After some of his problematic practices came to light, Dr. Jacobson lost his medical license in 1975 and died in 1979. Nevertheless, Herb Hohensee never had another attack of multiple sclerosis.18
Hohensee was ordained on June 30, 1962, at the recommendation of Pastor William Fagal. Though Herb had never pastored a church, the ordination acknowledged the contribution his music had made in the ministry of the church and the effect it had had on the lives of many. When the studio began to film in color, brighter lighting had to be used. Because Hohensee's sensitivity to this increased lighting caused severe headaches, he left the quartet in 1963, but continued in key production activities.19
California and the Adventist Media Center
When FFT moved to a building of its own on Long Island in 1964, Hohensee led out in the construction and updating of a production studio. When FFT again moved, this time to Thousand Oaks, California, eight years later, it became part of the Adventist Media Center, which combined the various denominationally-owned mass media ministries. As technology advanced, Hohensee took additional training in Hollywood to better fulfill his duties as the media center's Director for Film and Video Services, a position he held until he retired in 1982.20
The Ventura, California, school system hired Marge to teach language to disturbed children. In handling children with behavioral and emotional as well as speech difficulties, she leaned heavily on the writings of Ellen White. She believed that even those with learning challenges could make progress if multiple sensory stimuli were used and creatively applied her concepts in the learning process with great success.21
She established relationships not only with her students, often becoming a mother figure to them, but also with their parents, seeking to let God use her to help them through crises in their own families. She taught for 24 years, retiring in 1984.22
Marge had strong convictions about the importance of constructive early childhood experiences and the impact of what pregnant women experienced on prenatal development. Her belief in the latter concept predated widespread acceptance of that idea.23 Despite her busy schedule as a teacher, she still found time to play piano and organ, activities she thoroughly enjoyed.
Ministry in Retirement
The Hohensees remained in southern California for six years following retirement, then moved to Battle Ground, Washington, in 1988. Herb assisted the Heralds, an independent quartet that formed in 1982 when the King's Heralds quartet was discontinued by the Voice of Prophecy. He took care of their office, handling duties such as receipting and correspondence.24
With Marge's gifts in speech and accompanying and Herb's talent of singing, the couple ministered in their retirement years by giving well-received presentations that interspersed homily with solos. In 1978, after they attended a Marriage Encounter seminar, they became leaders in that popular weekend experience for strengthening marriages, presenting over 100 programs involving over 3000 couples in the next twelve years.25
In December 1990, a car accident in Vancouver, Washington, involving a drunken driver killed both Herb's 91-year-old mother, Sara, and his wife of 48 years, Marjorie, who was 70 years old. Although Herb and his sister were in the car, they survived. 26 It was a stunning loss, and in the months following Marjorie's death, Herb sang very little. Following his marriage to Naomi Harris on July 19, 1991, however, he began to sing again, occasionally for church and at Plainview Academy reunions, with Naomi as his accompanist.27
Herbert Hohensee died from pancreatic cancer on June 27, 1995, in Battle Ground, Washington, at age 74.28
Sources
Fagal, Virginia. "A Look at Faith for Today." Youth's Instructor, February 2, 1965.
Fagal, William and Virginia. This is Our Story. Mountain View, CA: Pacific Press, 1980.
"Herbert 'Ho' Hohensee obituary." Oregonian, July 10, 1995. GeneaologyBank.com. Accessed June 29, 2021. https://www.genealogybank.com/doc/obituaries/obit/10059DFFDEA20AB2-10059DFFDEA20AB2.
"Marjorie Lucille Miller Hohensee." Find A Grave, Memorial ID no. 42442146. Accessed June 30, 2021. https://www.findagrave.com/memorial/42442146/marjorie-lucille-hohensee.
"Marjorie Lucille Hohensee obituary." North Pacific Union Gleaner, February 4, 1991.
"Sara Hohensee obituary." North Pacific Union Gleaner, February 4, 1991.
Matthews, G. M. "A Mighty Influence." Atlantic Union Gleaner, January 18, 1954.
Ruybalid, M. Keith. "Original Faith for Today Quartet presents concert." Columbia Union Visitor, January 7, 1982.
Shultz, Dan. "Herbert G. Hohensee." International Adventist Musicians Association Notes, Summer/Autumn 2007.
Shultz, Dan. "Marjorie (Miller) Hohensee." International Adventist Musicians Association. Accessed June 30, 2021. http://www.iamaonline.com/.
"Union College Expands Music Department." Northern Union Outlook, July 15, 1947.
"United States Census, 1930," database with images. FamilySearch. Accessed June 30, 2021, https://familysearch.org/ark:/61903/1:1:XQJT-YM8.
Notes