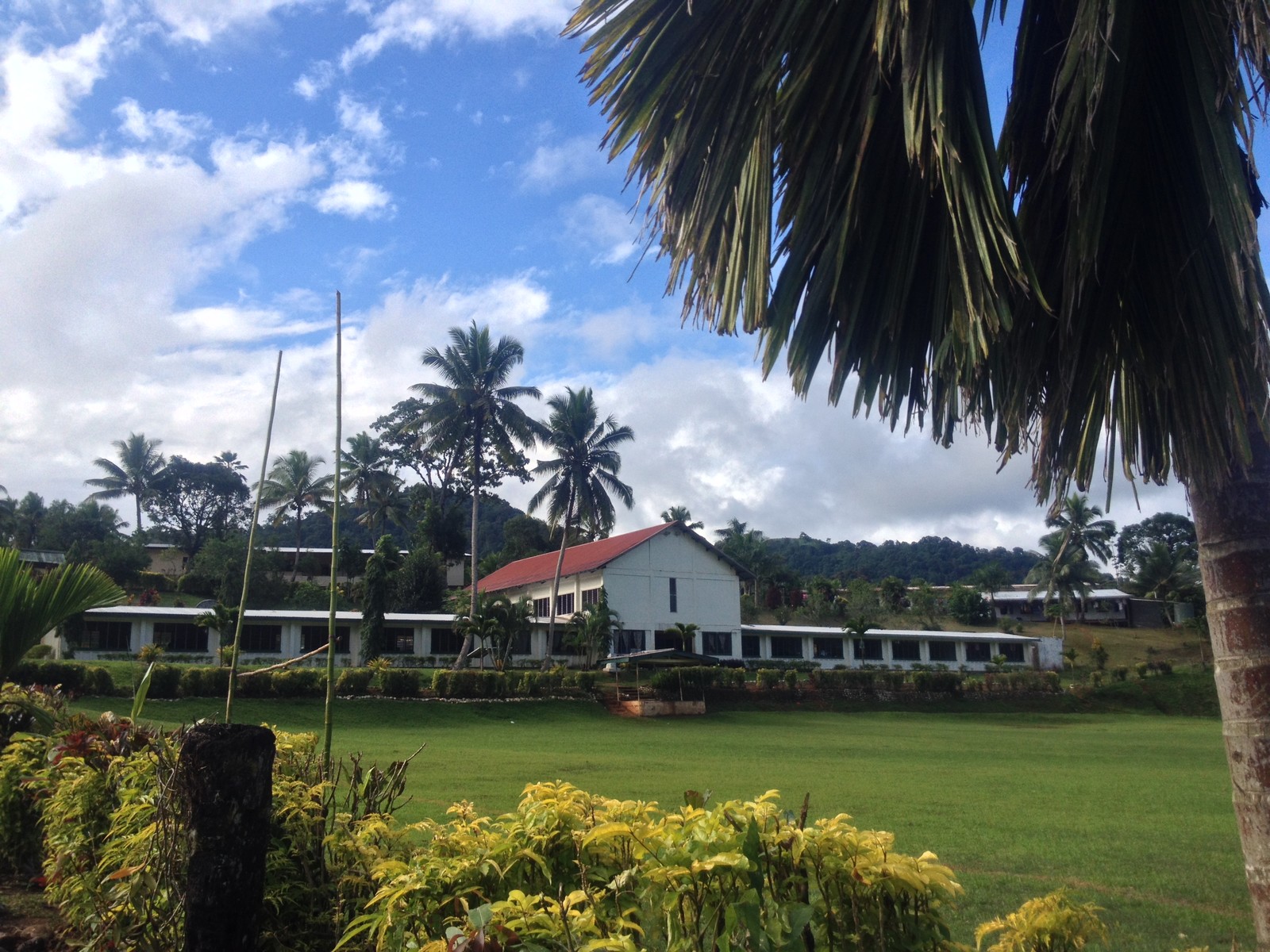 Navesau Adventist High School, Fiji
×
Milton Hook, Ed.D. (Andrews University, Berrien Springs, Michigan, the United States). Hook retired in 1997 as a minister in the Greater Sydney Conference, Australia. An Australian by birth Hook has served the Church as a teacher at the elementary, academy and college levels, a missionary in Papua New Guinea, and as a local church pastor. In retirement he is a conjoint senior lecturer at Avondale College of Higher Education. He has authored Flames Over Battle Creek, Avondale: Experiment on the Dora, Desmond Ford: Reformist Theologian, Gospel Revivalist, the Seventh-day Adventist Heritage Series, and many magazine articles. He is married to Noeleen and has two sons and three grandchildren.
Navesau Adventist High School is a Seventh-day Adventist secondary school in the Wainibuka Valley on the island of Viti Levu, Fiji.
A Fitful Beginning
In 1921, a fifty-five-acre freehold property was procured for an intermediate school at Navuso (later known as Navesau) on the north bank of the Wainibuka River in Viti Levu, Fiji. Throughout the year, missionaries Gordon Branster, Harry Steed, and Royce Lane worked to build teachers' homes, school buildings, and student dormitories.1
During the previous year, 1920, Branster and his wife, Ida, had conducted a primitive school upstream at Naqia with nothing more than a blackboard, some chalk, and a few picture rolls.2 The building of the mission station at Navuso was prolonged and some teaching was attempted but classes lapsed until further accommodation was provided for students. The institution, under the name Wainibuka School, was re-opened on April 1, 1924, as a boarding school for young men and women. Branster and Wanda Haberman, the latter in charge of the girl's two dormitories, were the teachers.3 The following year, Steed and his wife, Viola, replaced Branster. Saimoni Nalaubu also took some classes because the enrollment had reached its capacity of one hundred students, ranging in age from eight to eighteen. Many who completed the grades advanced to Buresala Training School.4 Late in 1925, the enterprise began to be referred to as the Navuso Intermediate School.5 The name continued to be used until 1938.6
Consolidation
In 1927, Eva Edwards replaced Haberman as assistant to the Steeds. The school itself was a basic structure of milled timber framing enclosed with plaited bamboo and a grass thatch roof. Conditions were most inappropriate. It was one large room in which three teachers ran their classes simultaneously for the 120 students. The Fijian government had granted the institution tax exemption.7 Edwards spoke of one Fijian teacher, Tevita Ralave, who was assisting them.8
When the Steeds left in 1931, Leonard Wilkinson replaced them,9 followed by Arthur Dyason in 1933,10 Malcolm Lansdown in 1934,11 and John Martin in 1938. During Martin's tenure as headmaster, the name of the institution was changed to Wainibuka Central School.12 It suspended operation in 1940.13
Restoration
More than two decades after its closure the Navesau villagers determined they would re-open the school. Strong opposition from other denominations rose against the project; however, when it became known that the school would accept students of other races and creeds, in addition to Fijian Seventh-day Adventists, the objections dissolved. Indian farmers donated timber from their properties and members from all faiths joined in to build classrooms, dormitories, and teachers' homes from local materials. When it opened in February 1964, the school reached its full capacity of 128 students. Young men and young women from many faiths, including Adventists, Methodists, Roman Catholics, and Hindus, constituted the integrated classes.14 Marika Tuiwawa served as headmaster with four Fijian assistant teachers. It was named the Navesau Central School.15
It was not long before the grass and bamboo buildings were deemed inadequate. Funds generated from the sale of Big Week books in Australasia were used to finance European-style classrooms and dormitories during the time that Fred Cracknell was headmaster.16 The re-building program was completed in the summer of 1970-1971 when a Fly-n-Build team from Australia and New Zealand erected a concrete block kitchen and dining room facility.17
The school offered the first four grades of high school and to reflect that fact, the name was changed to Navesau Junior Secondary School in 1975.18 Enrollment had rose to 230.19 Expatriate headmasters who succeeded Cracknell were David Faull (1974-1976),20 Donald Dickens (1977),21 Garry Knowles (1978)22 and R. N. Gilchrist (1979-1982).23
A New Era
Gilchrist was the last of the expatriate headmasters. There followed an unbroken line of Fijian headmasters, beginning with Walpole Talemaitoga. The school had always struggled with less than satisfactory passes in the Form 4 government examinations because the admission level was deliberately low in order to give under-achievers some opportunity to improve. However, in 1985 the intake standard was raised and, as a result, there was a 100% pass rate in the 1986 Fiji Junior Certificate exam. It was the first time this had occurred at Navesau.24 Those who succeeded Talemaitoga were Peniasi Dakua,25 Poniparte Senikau (four separate periods),26 Viliame Sususewa,27 Ratu Moses Dranibaka,28 Jone Fifita,29 Eroni Vaqewa30 and Samuela Ligabalavu.31 During this period, there were from eight to twenty-five Fijian teachers who assisted, depending on the enrollment figures.
In 2012, the school was expanded to the full secondary level of six grades and its name was changed to Navesau Adventist High School. Josua Qalobula was the headmaster,32 followed by Adi Kelera Gasewa Vulai33 and Sanaila Sumo.34
In the second decade of the twenty-first century, secularization of the Fijian education system by the government made it increasingly difficult for private schools. In 2016, the Open Merit Recruitment Selection System was implemented, forbidding schools receiving government money from teaching religion classes during normal school hours. The new requirements also prohibited hiring headmasters on the basis of religious belief. Despite prolonged negotiations with government officials, no exemptions could be extracted. At the beginning of the 2019 academic year, church leaders therefore voted to discontinue the receipt of government education grants and pay the teachers and staff from their own funds, essentially becoming a privately-funded institution.35
Sources
Branster, G[ordon]. "Our Intermediate School in Fiji." Australasian Record, October 18, 1920.
Cowled, C[hristopher] J.L. "Navesau–The Success Story." South Pacific Record and Advent World Survey, August 16, 1986.
Edwards, Eva E. "Thirteenth Sabbath at Wainibuka School, Fiji." Australasian Record, October 31, 1927.
Haberman, Wanda E. "A New and Exciting Experience at Navuso School, Fiji." Australasian Record, December 7, 1925.
Lane, R[oyce] W. "Closing Exercises at Wainibuka School, Fiji." Australasian Record, January 28, 1935.
Lansdown, L[ewis] A. "Operation Fly-n-Build." Australasian Record and Advent World Survey, April 26, 1971.
Lee, Gordon A. "In Fiji There's a Flood Time." Australasian Record and Advent World Survey, February 17, 1969.
Martin, H[arry] R. "Educational Work in Fiji." Missionary Leader, July 1927.
Millsom, R[ex] A. "We Carve a School Out of the Jungle." Australasian Record and Advent World Survey, December 14, 1964.
Parker, C[alvin] H. "Progress in the Central Polynesian Conference." Australasian Record, May 16, 1921.
Seventh-day Adventist Yearbook. Hagerstown, MD: Review and Herald Publishing Association, 1984-2014.
Seventh-day Adventist Yearbook. Nampa, ID: Pacific Press Publishing Association, 2015-2018.
Seventh-day Adventist Yearbook. Washington, D.C.: Review and Herald Publishing Association, 1927-1983.
Stackelroth, Jarrod. "Fiji Mission to Privatise Boarding School." Adventist Record, February 16, 2019.
Stewart, A[ndrew] G. "A Sanctuary in the Woods." Australasian Record, October 5, 1925.
Stewart, A[ndrew] G. "Strengthening the Stakes in Fiji." Missionary Leader, August 1931.
Stewart, A[ndrew] G. "The Wainibuka School Re-opened." Australasian Record, June 2, 1924.
Talemaitoga, W[alpole]. "It Pays to Be Christlike." Australasian Record and Advent World Survey, August 5, 1974.
Notes