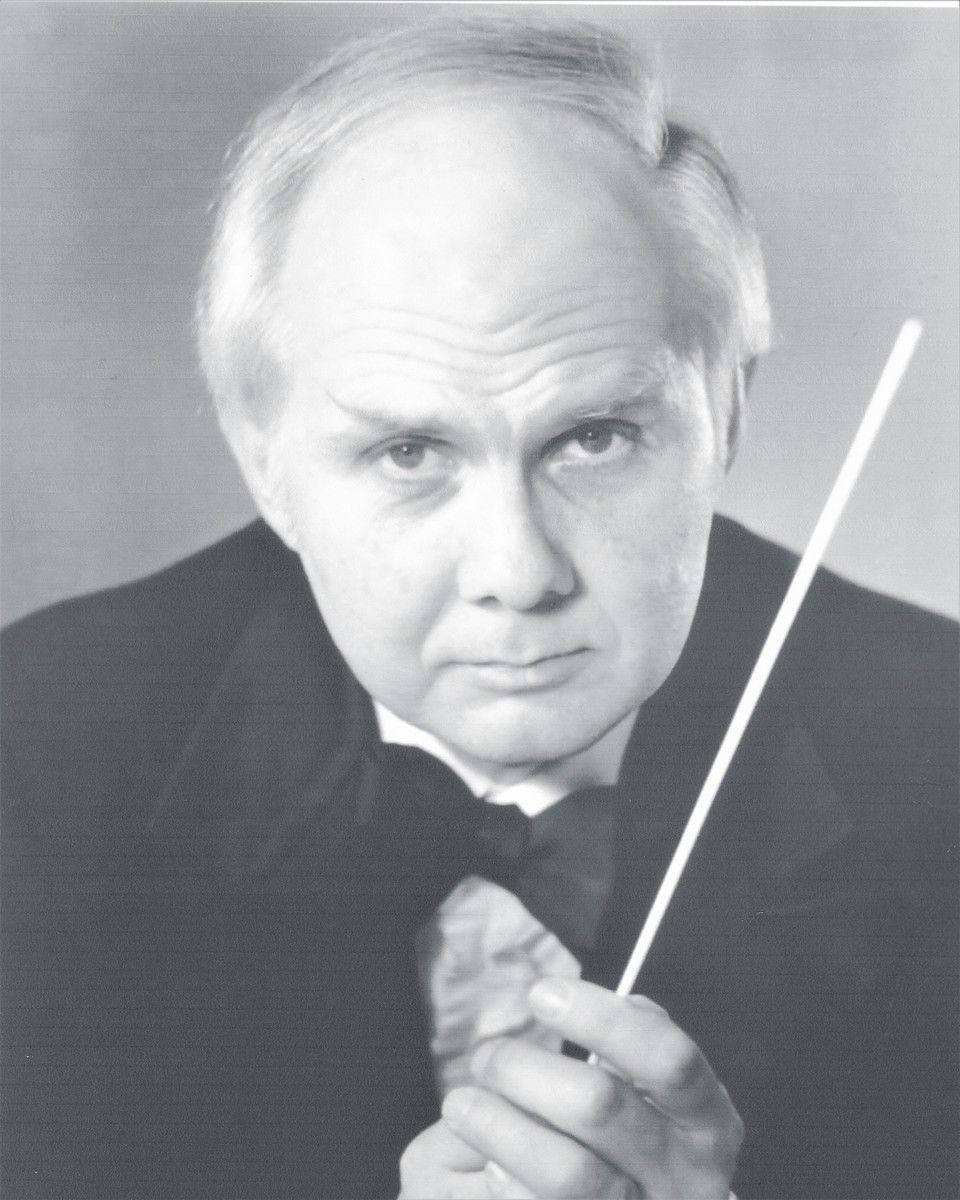 Hill, Paul Rush (1933–1999)
×
Dan Shultz, emeritus professor of music, Walla Walla University, has researched and written extensively about Seventh-day Adventist music history and musicians. His publications include A Great Tradition–a history of music at Walla Walla University, and the Adventist Musicians Biographical Resource–an encyclopedia with biographies of over 1100 Adventist musicians. He founded the International Adventist Musicians Association, serving as its president for ten years and editing its publications and website for over thirty years. Shultz and his wife, Carolyn (nee Stevens), live in College Place, Washington.   
First Published: February 15, 2022
Paul Hill, a music teacher at Seventh-day Adventist schools for nearly two decades, was a nationally noted choral conductor hailed for his role in making Washington, D.C., one of the nation's premier centers for choral music.
Education and Early Career in California
Paul was born in Cincinnati, Ohio, on November 2, 1933, the youngest of four children of Benjamin Rush and Irene Pearl Smith Hill.1 He attended Adventist schools in southern California, graduating from Newbury Park Academy in 1952 and from La Sierra College (now University) near Riverside in 1956. He achieved early musical success playing brass instruments. At Newbury Park he was a prize-winning trombonist and at La Sierra a soloist with the concert band. He also played tuba in a marching band in a Tournament of Roses Parade in Pasadena, California.2
Prior to his final year of college at La Sierra, Paul married Merrilyn Irene White on June 8, 1955.3 They would have four children, Kathleen, Karen, Roger, and Randall.
Hill began his career as the band conductor at Loma Linda Academy in 1956. However, during his first year there the choir director left the school and Hill was asked to lead the choir. He found working with the sound of the human voice so intriguing and satisfying he switched from instrumental to choral teaching.4 In the next three years, he established the Lolinians, a select choir of 24 voices that gained recognition for performance at an exceptional level.5 Hill also completed a master's degree in conducting and church music at the University of Southern California, and sang in the nationally known Roger Wagner Chorale during his four years teaching academy in Loma Linda.6
Columbia Union College Years
In 1960 Hill joined the faculty of Southwestern Junior College (now Southwestern Adventist University) in Keene, Texas.7 His work with the Mizpah Choraliers during his two years there elicited favorable notice and an invitation to teach at Columbia Union College (now Washington Adventist University), Takoma Park, Maryland, in 1962. In his first year at the college, Hill created Pro Musica, a select choral ensemble, from the larger college choir and established a sound and performance level that drew gifted singers to both groups during the next eight years.8
The discipline and drive for excellence that he instilled in the singers resulted in a quality of sound that attracted attention in the musical world beyond Adventist circles. The Columbia Union College (CUC) choirs performed at Carnegie Hall in New York City in 1967,9 and went on to performances with the Philadelphia Orchestra and National Symphony (Washington, D.C.) on an ongoing basis. For students, singing in Hill's choirs was an exhilarating experience and also one in which they learned important lessons that stayed with them in their subsequent lives and prepared them for service and leadership in churches and schools.10
During his time at CUC, Hill began to guest conduct choirs at large Adventist gatherings and other music festivals. Opportunities to guest conduct noted orchestras and choirs, including the Roger Wagner Chorale, increased as he became known for his ability to create inspiring performances and experiences for participants.11 In 1970 he organized and directed a choir for the General Conference session held in Atlantic City.12
The Paul Hill Chorale and the Washington Singers
Hill left his position at CUC in 1970 – a change that enabled him to devote more time to an off-campus choral group he had established in 1967, the Paul Hill Chorale. The chorale was a semi-professional ensemble, formed to provide a meaningful outlet for his students after they graduated. In 1969, when a choir scheduled to perform with the National Symphony was suddenly unavailable, Hill was contacted to help. Because the program required a large chorus, he added 44 additional singers to his 36-member ensemble and in just two weeks prepared them to join with the orchestra in a performance of Beethoven's Fidelio.13
The success of the chorale on this occasion and others, such as a performance of J. S. Bach's motet "Jesu meine Freude," at the National Cathedral, led to an invitation for the group to sing at the opening ceremonies of the John F. Kennedy Center for the Performing Arts in 1971. Over the subsequent 25 years the chorale and related ensembles under Hill's direction would perform at the Kennedy Center nearly 200 times.14
Beginning in 1973 Hill became the conductor and coordinator of the Kennedy Center's annual "Messiah Sing-along" concerts which continued for the next 20 years. In that same year and continuing through 1976, when the nation celebrated its Bicentennial, Hill presented programs of American choral music at the Kennedy Center and in 27 states that were enthusiastically praised by reviewers in Newsweek, Time, and the New York Times. His musical direction of a public television production of Gian Carlo Menotti's opera The Old Maid and the Thief also received excellent reviews. Hill and the chorale received an Emmy Award in 1978 for their work in a nationally televised performance of Menotti's The Unicorn, the Gorgon, and the Manticore.15
Hill also formed the Washington Singers, a professional chamber choir as a companion ensemble to the chorale in 1980. The singers performed in the White House, at Lincoln Center in New York City, and toured in five countries in Europe where they sang in famous venues such as Notre Dame de Paris and the Cathedral of Chartres in France and the San Marco Cathedral in Italy.16 During these years Hill also taught voice and conducted choirs at Georgetown University, the University of Maryland, and in the summers at Peabody Conservatory of Music.17
Final Years
In 1992 Hill returned to CUC to conduct the choir as a part-time faculty member. He relished the chance to work once again at the school where he had experienced some of the most satisfying years in his career. Tragically, a debilitating illness, amyotrophic lateral sclerosis (Lou Gehrig's Disease), would end his work at the college in 1994.
Though severely incapacitated and unable to communicate verbally, he continued to conduct his other choral groups for another year, in the end conducting only with his eyes and through motions with his head. He made his final appearance as conductor of the chorale at the Annual Christmas Candlelight Concert given in Kennedy Center in December 1995, with President Bill Clinton and his family in the audience. Following a profoundly moving conclusion of the program, with tears flowing freely as the choir sang carols by candlelight in the darkened hall, Hill wrote the following to them:
Suffice it to say that I do not like the prospect of not conducting any more Christmas concerts. However, we have learned, or should have learned when we were very young, that when gifts are all opened there simply aren't any more . . . we must fully enjoy the gifts we were given, and that is precisely what I intend to do.18
Hailed by critics for the excellence of his choral work, Hill was given one of this country's most prestigious choral honors, the Michael Korn Founders Award for Development of the Professional Choral Art, in 1992.19 He was awarded a Medallion of Excellence by CUC on May 3, 1997, for "his outstanding leadership, indefatigable efforts and intense commitment to the pursuit of excellence in music composition and performance." He was awarded an honorary doctorate by American University in Washington, D.C. eight days later, on May 11.20
Hill was living in Potomac, Maryland, when he died on September 27, 1999, at age 65.
Sources
"Benjamin Rush Hill." FamilySearch. Accessed September 22, 2021. https://www.familysearch.org/tree/person/sources/K694-LSC.
Cottrell, Raymond. "Session Highlights." ARH, June 21, 1970.
Ford, Herbert. "Talents of Music." Pacific Union Recorder, December 20, 1954.
"Gala Festival Scheduled." Pacific Union Recorder, March 16, 1959.
Hill, Paul. "Pro Musica rejoices in 30-year reunion," Columbia Union Visitor, December 15, 1994.
Kramer, Gabe and Mary Ann Hadley. "St. Paul Oratorio sung in memory of SWAU former professor." Southwestern Union Record, May 2000.
"L.S.C. Band to Tour State." Pacific Union Recorder, April 27, 1953.
Long, Richard E. "CUC Choir Sings at Carnegie Hall." Columbia Union Visitor, February 9, 1967.
"The Master Chorale of Washington." Kennedy Center. Accessed September 22, 2021. https://www.kennedy-center.org/artists/m/ma-mn/the-master-chorale-of-washington/.
McClure, Charlotte Pedersen. Editorial. Columbia Union Visitor, January 1, 1995.
"Michael Korn Founders Award for Development of the Professional Choral Art." Chorus America. Accessed September 22, 2021. https://www.chorusamerica.org/awards/michael-korn-founders-award-development-professional-choral-art.
Molotsky, Irvin. "Paul Hill, 65, Founder of Washington Chorus." New York Times, September 29, 1999.
"Music, nursing teachers join faculty for new school year." Columbia Union Visitor, August 15, 1992.
Osborn, Richard. "A great teacher: what he means to me." Columbia Union Visitor, December 1, 1998.
Osborne, Jan. "Shenandoah Valley Academy Sings for Paul Hill." Columbia Union Visitor, August 1, 1997.
"Paul Hill receives Medallion of Excellence." Columbia Union Visitor, June 15, 1997.
"Pro Musica Features Renaissance Music." Columbia Union Visitor, April 4, 1968.
Scott, Sharon. "Paul Hill, a Life in Harmony." Washington Post, September 30, 1999.
"Southern California Happenings." Pacific Union Recorder, December 10, 1951.
Weil, Martin. "Conductor Paul Hill Dies at 65; Founded 180-Voice Choral Group." Washington Post, September 28, 1999.
Notes