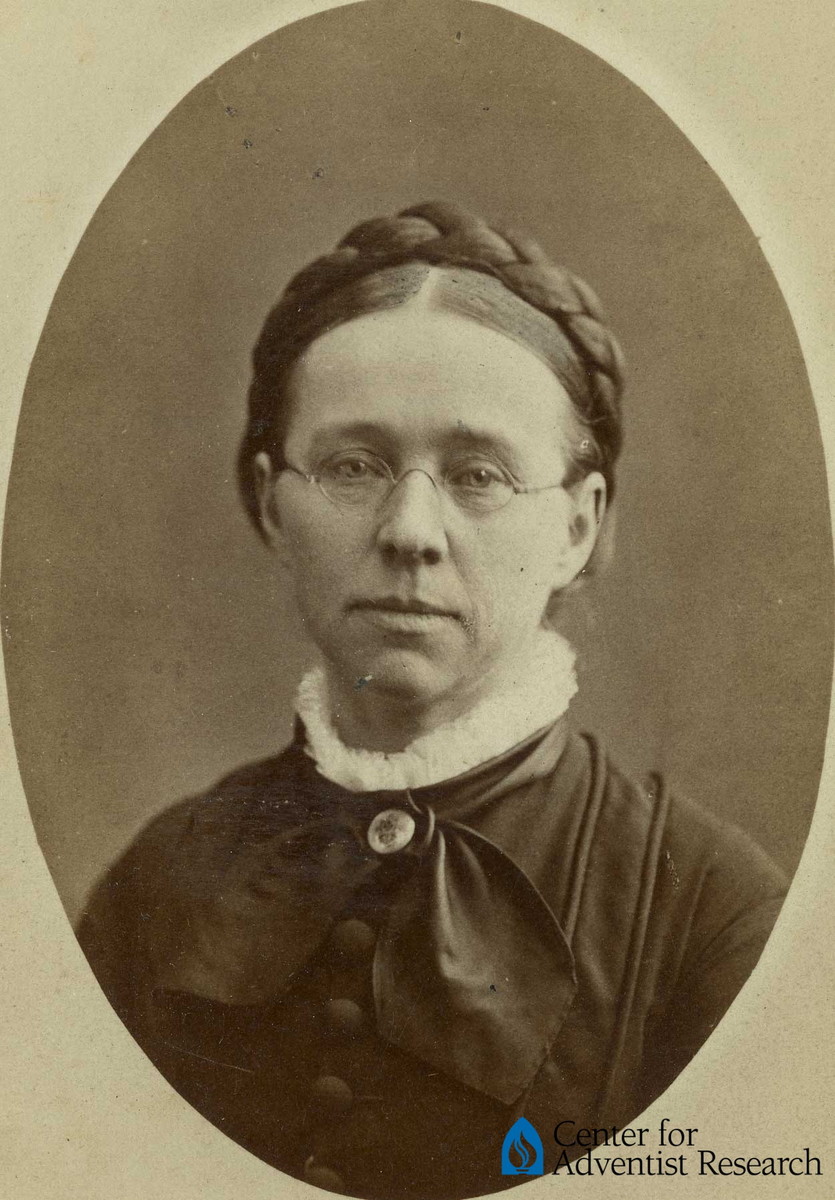 Chapman, Minerva Jane (Loughborough) (1829−1923)
×
Brian E. Strayer, Ph.D. (University of Iowa). Strayer taught history at Jackson (MI) Junior Academy, the University of Iowa, Southern Adventist University, and Andrews University for 41 years. He has written 10 books, 120 scholarly and professional articles, 40 reviews and critiques in French and Adventist history and directed three Adventist heritage tours of New England.  He writes a weekly column ("The Past Is Always Present") in the Journal Era and shares Adventist history at camp meetings, schools, and churches.
Minerva Jane Loofborough (later Loughborough) was an editor and General Conference administrator.
Early Life
Minerva Jane Loofborough was born October 29, 1829 in Victor, Ontario County, New York, to Nathan B. Loofborough (1802-1839), a skilled carpenter, and Minerva Norton Loofborough (1801-1894), a housewife. Minerva was the second of five Loofborough children, with others being: William Kerr (born 1827), John Norton (1832), Eber C. (1837), and Sarah Diantha (1840).
As the daughter and granddaughter of Methodist exhorters, Minerva and her siblings often played "church" in their home on Main Street (today State Route 96) only a few yards from the Methodist Episcopal Church that her grandfather, Nathan Loofborough, had built. Around 1850 or 1851 several family members, including Minerva, changed the spelling of their surname from the Irish-sounding "Loofborough" to the more genteel English-sounding "Loughborough." Minerva converted to Sabbath-keeping Adventism about the same time as her younger brother John, probably after hearing J. N. Andrews preach in September 1852 in nearby Rochester.1
Editor and General Conference Administrator
In 1857 Minerva, then twenty-eight, married Oscar A. Chapman, probably a local Methodist; he never became a Seventh-day Adventist. In 1866 Minerva and Oscar Chapman moved to Battle Creek, Michigan, where Minerva joined the staff of eleven workers at the Review and Herald press as a typesetter. From 1875 to 1879, she was the editor of Youth's Instructor. During the late 1870s, she expanded the paper from four- to occasional eight-page issues; increased the number of black and white illustrations; and added children's musical scores. Her editorial skill proved so exceptional that the delegates to the 1879 session gave her a standing vote of gratitude.
In 1875 James White asked Minerva to be secretary and treasurer at the Review and Herald press. In 1876 she was elected both secretary and treasurer of the General Conference Tract and Missionary Society. From 1876 to 1883 she served as the secretary of the Seventh-day Adventist Publishing Association. Between 1877 and 1883 she was also the treasurer of the General Conference. Thus in 1877, Minerva held four administrative positions simultaneously—Youth's Instructor editor, General Conference treasurer, Publishing Association secretary, and Tract and Missionary Society treasurer. From 1885 to 1887 she also became the Corresponding Secretary of the General Conference.
Between 1884 and 1889, Minerva (as editor) and her niece Winnie E. Loughborough (as assistant editor) significantly increased the page size of each issue of the Youth's Instructor and offered many more black and white illustrations. Besides adding more Bible, nature, and history stories, they also included poems and Bible studies in each issue and periodically inserted the Sabbath School Worker. Although entitled to a salary for filling all of her General Conference positions, Minerva refused to accept except one.
Later Life
Although by 1889 Minerva had resigned from most of her administrative positions, she continued to write for the Youth's Instructor as an editorial contributor for several years. She officially retired in 1893 at age 64 after twenty-six years of service to the Church. Her early retirement was due to the need to care for her mother Minerva until she died in 1894, and then to care for her husband Oscar until he died in 1911. While her famous brother, Elder J. N. Loughborough, traveled the world, Minerva remained in Battle Creek for fifty-seven years. On April 25, 1923, while resting from her housework, she died, probably from a heart attack, at the age of 94. Arthur G. Daniells, director of the new General Conference Ministerial Commission (later Association), remembered her as "an earnest, tireless home missionary, a faithful member of the Sabbath school, a lover of mankind, and a Christian whose life won the confidence of all who knew her. She died as she had lived, in communion and association with her Redeemer."2
Contribution
Minerva Jane (Loughborough) Chapman's chief contributions to the Seventh-day Adventist Church were her nine years as editor of the Youth's Instructor (1875-79 and 1884-89) and twelve years of service in various administrative positions at the Review and Herald press and at the General Conference (1875-87).
Sources
Beach, John G. Notable Women of Spirit: The Historical Role of Women in the Seventh-day Adventist Church. Nashville, TN: Southern Publishing Association, 1976.
"Chapman, Minerva Jane (Loughborough)." Seventh-day Adventist Encyclopedia. Second Revised Edition. Volume 1: A-L. Hagerstown, MD: Review and Herald Publishing Association, 1996.
Daniells, Arthur G. "Minerva Jane Loughborough Chapman obituary." Adventist Review. January 3, 1924.
Strayer, Brian E. John Norton Loughborough: The Last of the Adventist Pioneers. Hagerstown, MD: Review and Herald Publishing Association, 2014.
White, Arthur L. Ellen G. White, Volume 3: The Lonely Years, 1876-1891. Hagerstown, MD: Review and Herald Publishing Association, 1984.
Notes
A.G. Daniells, "Minerva Jane Chapman Loughborough obituary," Adventist Review, January 3, 1924, 22; Brian E. Strayer, John Norton Loughborough: The Last of the Adventist Pioneers (Hagerstown, MD: Review and Herald Publishing Association, 2014), 66-68.↩

Daniells, "Minerva Jane Chapman Loughborough obituary."↩