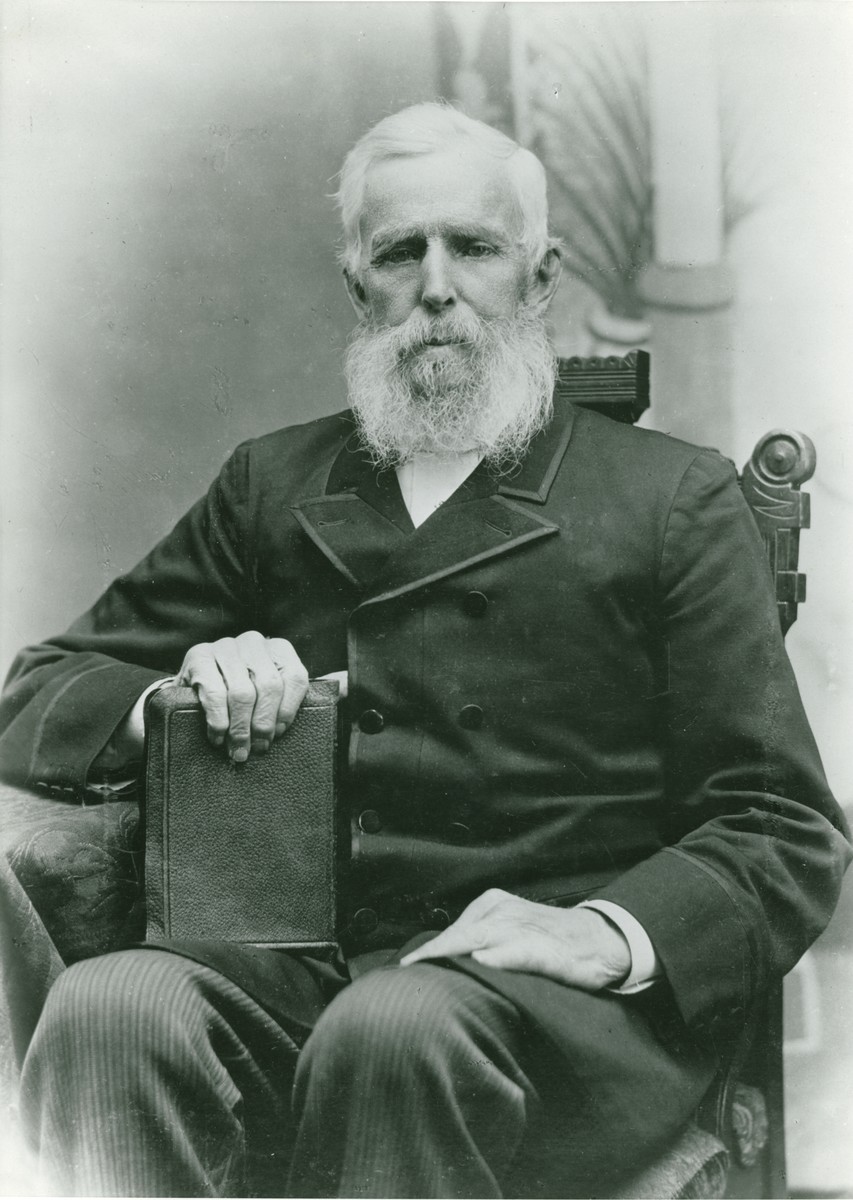 Wheeler, Frederick (1811–1910)
×
Samuel Gomide is a freshman in high school, and currently lives in Maine. He has twice lived in the north of Brazil where his father taught systematic theology at the Adventist seminary.  
First Published: October 17, 2020
Frederick Wheeler was the first ordained minister in the Second Advent movement of the 1840s known to have also proclaimed observance of the seventh day Sabbath as Christian duty.
Early Life and Marriage
Frederick was born on March 12, 1811 to Theodore and Hannah Reed Wheeler (1777-1829; 1783-1834) in Acton, Massachusetts.1 His grandfather, William Reed, served in several companies and regiments of the Continental Infantry from 1775 to 1776 in the American War for Independence.2
On March 25, 1832, thirteen days after his twenty-first birthday, Frederick Wheeler married nineteen-year-old Lydia Proctor (1813-1886) of Washington, New Hampshire, who was a cousin on his mother's side.3 Lydia was also a cousin of William and Cyrus Farnsworth, who would be prominent among her husband's early Sabbath-observing parishioners. Their mother, Martha (Proctor) Farnsworth, was the younger sister of Lydia's father, Israel Proctor.4 Frederick and Lydia would have six children together: George (1834), Theodore (1836), Lucy (1838), Nathan (1840), Mary (1845), and Lydia (1849). Wheeler also had an adopted son, William Henry Anderson.5
Ministry
In 1840, eight years after his marriage, Wheeler was ordained a minister of the Methodist Episcopal Church.6 He began reading William Miller's writings and by the end of 1842, he was convinced about the message of the soon second advent of Christ, and his congregation in Washington, New Hampshire embraced the message as well.7
Wheeler was confronted with the Sabbath question in either 1844 or 1845 following a communion service in which he had emphasized that genuine communion with Christ meant a readiness to keep all of God's commandments. Rachel Oaks, a Seventh Day Baptist who was worshipping with Wheeler's congregation while on an extended stay with her daughter, pointed out to Wheeler that he was not following God's commandment to observe the Sabbath on the seventh day. Wheeler became deeply convicted that Oaks' witness was true to Scripture, and he began keeping Saturday as the Sabbath shortly afterward.8
In August 1844, the Frederick Wheeler family experienced a Millerite camp meeting near Hillsborough, New Hampshire. Joshua Himes, Miller's leading associate, was present amidst the 300 to 400 people attending. Frederick's son, George Wheeler, later recalled that "the singing was delightful." They had no organ but a "few song leaders . . . sat near the speakers' stand, and a man from near Washington would stand on a seat and beat the time for the singing. Then the congregation would sing to beat everything."9
Frederick Wheeler was a farmer-preacher, but taking care of his farm did not prevent him from traveling ministry. His son described an early example of this that took place soon after the Great Disappointment of October 22, 1844: "In the summer of 1845 my father took four of his children and a cow over to his wife's sister's husband, Reuben Spalding, and left them six or eight weeks, while he and mother labored among the people in Vermont."10
During the 1850s Wheeler ministered throughout New England and in New York, many times alongside other pioneers. "I have during the past Winter, visited most of the brethren in western Massachusetts and Connecticut," he wrote in May 1855, adding that he "also spent some time among the Seventh-day Baptists in Rhode Island; and found some among them quite interested to hear on the subject of the Lord's near coming. I have also visited most of the brethren in Maine and some other places."11
After meetings in Washington, New Hampshire, in 1853 at which Wheeler officiated in the baptism of five individuals, James White wrote that he would "heartily recommend Bro. Wheeler to the brethren in Maine, Massachusetts, or wherever he may travel."12 Samuel W. Rhodes and R. F. Cottrell reported in the Review in 1857 that at a conference in Roosevelt, New York, "it was decided that the labors of Bro. F. Wheeler of New Hampshire are needed in Central N. Y., and that it is the duty of the church to defray the expenses of removing his family to his field of labor, and support him in the field."13 Accordingly, the Wheelers moved to Brookfield, New York.
In 1861, Frederick and Lydia Wheeler received a testimony from Ellen White, in which she rebuked them for the course they had taken regarding the Ira Abbey family. They had, in Ellen White's words, "watched Brother Abbey's family for evil, watched for their haltings, and they have been made offenders for a word, and condemned them for things unworthy of notice or remark." Ellen White also admonished Frederick for being against her husband James on the matter of denominational organization.14 James White wrote in the Review that "after an investigation for near two hours at Roosevelt, and the removal of objections," a call was made for all who were in favor of organizing to stand up. Frederick Wheeler "kept his seat." White lamented: "There is everywhere some one to hold back. They have no valid reasons for so doing, still they hold back. The infection was deep and stupefying. . . . What can we expect of the people when ministers stand thus?"15
In this same issue of the Review and Herald, Wheeler published a letter asking for forgiveness for being against organization. About three months later he published a "Confession" in the Review acknowledging his "wrong course toward Bro. Abbey and family." He also confessed that he had "murmured against Bro. and Sr. White" and doubted the visions of Ellen White during the past few months, although he had, for many years, had complete confidence in them.16 Writing almost six years later, Wheeler stated in the Review that he could "now sympathize with" James and Ellen White "in their toils and trials and appreciate their labors and the gift of prophecy more fully than ever before."17
Later Life
The Wheelers spent the remainder of their years in New York state. On March 14, 1886, Lydia Wheeler died at age 73, just two days after Frederick's birthday.18 He would continue for the next 24 years. In 1890, Ellen White wrote:
We were gratified to meet the aged servants of God on this occasion. We have been acquainted from the rise of the third angel's message with Elder [Frederick] Wheeler, who is now nearing 80 years. We have been acquainted with Elders [H. H.] Wilcox and [Charles O.] Taylor for the last 40 years. Age is telling on these old standard-bearers, as well as upon me.19
Wheeler spent his last years with his adopted son, William Henry Anderson. In all, Wheeler's progeny, counting Anderson's children, were "twenty-five grandchildren . . . thirty-nine great-grandchildren, and at least four great great-grandchildren." Five of his children were still living when he died at his home in West Monroe, New York, on October 11, 1910, at age 99.20 As Ellen White put it, Frederick Wheeler was one of the "old standard-bearers."21
Sources
Births, Marriages and Deaths, 1738-1844; Transcript. Massachusetts, Town and Vital Records, 1620-1988, Town and City Clerks of Massachusetts. Massachusetts Vital and Town Records. Provo, UT: Holbrook Research Institute, Frederick Wheeler, Ancestry.com.
Place, A. E. "Lydia Wheeler obituary." ARH, March 30, 1886.
Proctor, William Lawrence, and Mrs. W. L. Proctor, A Genealogy of Descendants of Robert Proctor of Concord and Chelmsford Mass. With Notes of Some Connected Families. Ogdensburg, N. Y.: Republican and Journal Print, 1898.
Rhodes, Samuel W. and R. F. Cottrell, "Conference at Roosevelt, N. Y." Advent Review, and Sabbath Herald, March 19, 1857.
Spicer, W. A. "Our First Minister." ARH, February 15, 1940.
Washington, New Hampshire, New Hampshire, Marriage and Divorce Records, 1659–1947, Frederick Wheeler and Lydia Proctor, Ancestry.com.
Wheeler, F. "A Message From Our Most Aged Minister." ARH, October 4, 1906.
Wheeler, F. "Communication from Bro. Wheeler." ARH, May 15, 1855.
Wheeler, F. "Confession." ARH, December 3, 1861.
Wheeler, F. "From Bro. Wheeler." ARH, August 27, 1861.
Wheeler, F. "Note from Bro. Wheeler." ARH, November 19, 1867.
White, Ellen G. Ellen G. White to Frederick Wheeler, 1861. Letter 20, 1861. Ellen G. White Writings. Accessed September 7, 2020, egwwritings.org.
White, Ellen G. Selected Messages Book 2. Hagerstown, MD: Review and Herald, 2006.
White, James "Eastern Tour." ARH, November 8, 1853.
White, James. "Organization." ARH, August 27, 1861.
Whitney, S. B. "Frederick Wheeler Obituary." ARH, November 24, 1910.
Whitney, S. B. "Life Sketch of Elder Frederick Wheeler." ARH, November 24, 1910
Notes