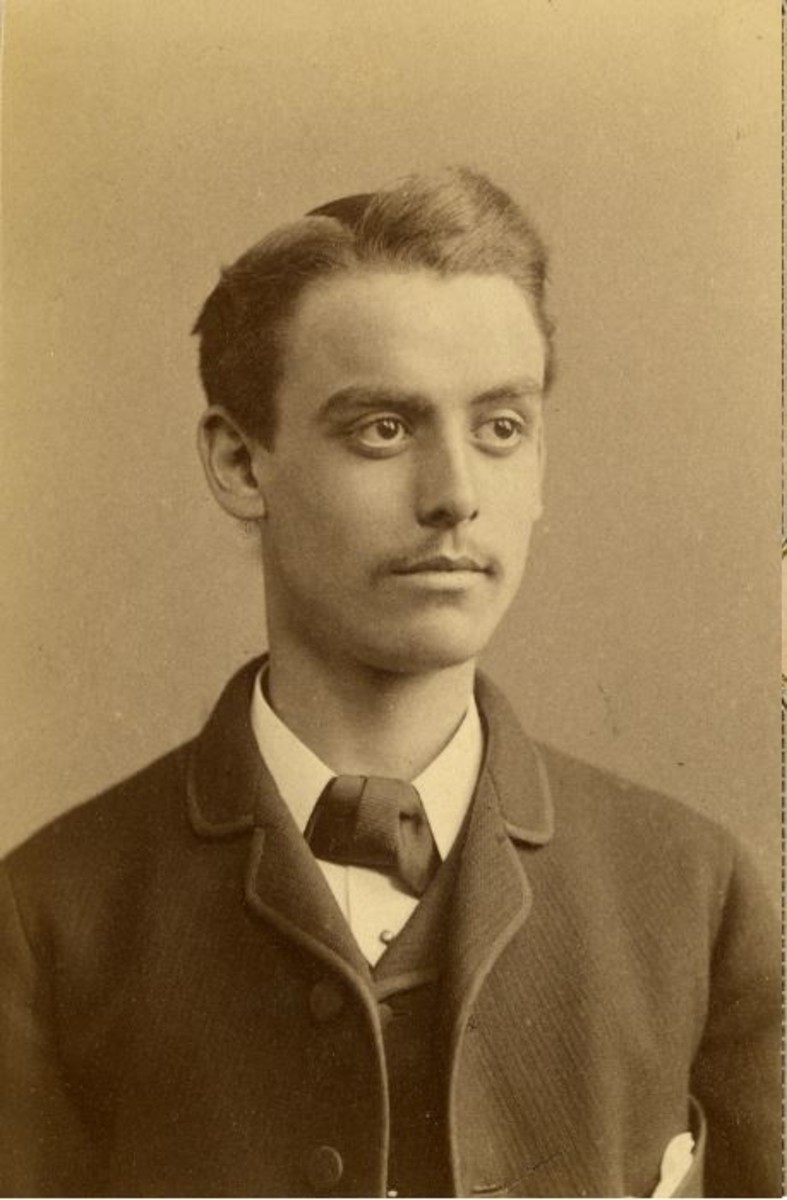 Barnes, Edwin E. (1864–1930)
×
Dan Shultz, emeritus professor of music, Walla Walla University, has researched and written extensively about Seventh-day Adventist music history and musicians. His publications include A Great Tradition–a history of music at Walla Walla University, and the Adventist Musicians Biographical Resource–an encyclopedia with biographies of over 1100 Adventist musicians. He founded the International Adventist Musicians Association, serving as its president for ten years and editing its publications and website for over thirty years. Shultz and his wife, Carolyn (nee Stevens), live in College Place, Washington.   
First Published: January 29, 2020
Edwin E. Barnes, organist, choir director, composer, and singer with a sonorous bass voice, was a pioneer in early Seventh-day Adventist music education and hymnody. He was born in Shirley, Southampton, England, on March 15, 1864, the son of Samuel and Sarah Barnes.1
Adventist Church Musician and Educator
In 1881, at age seventeen, in response to an invitation from John Harvey Kellogg, Barnes moved to Battle Creek, Michigan, where he became organist for the Adventist church and a student at Battle Creek College (BCC). Two years later, he became director of music at BCC, a position he held for almost twenty years.2 He was, with Frank E. Belden, coeditor of and contributor to The Seventh-day Adventist Hymn and Tune Book for Use in Divine Worship (1886), more widely known as Hymns and Tunes, the first significant collection of hymns published by the church.3
As a composer, Barnes wrote several hymn tunes, some of which were named after English towns and one after his first wife's maiden name, Morton, as well as smaller works for organ. Twenty of his tunes were included in Hymns and Tunes (1886) and eight in the Church Hymnal (1941), but only two were retained in the 1985 Seventh-day Adventist Hymnal, Southampton, No. 6, and Morton, No. 554.4
Barnes's European roots led him to return to Europe seven times, where he studied organ, voice, and piano with highly regarded teachers.5 His study with Charles-Marie Widor, virtuoso organist, inspired improviser, and world famous composer, coupled with his conducting, performances, and leadership in music and composing of hymn tunes, gave him a larger-than-life aura, a mystique that enabled him to be the best-known BCC faculty member in the community and an outstanding leader in the city.6
Many in Battle Creek regarded him as the city's most influential musician. While he established his reputation initially as organist at the Battle Creek Tabernacle SDA church, he quickly became known as the community's leading keyboard performer, choir director, and teacher, a reputation that made him irreplaceable at BCC, even after he no longer claimed membership in the Adventist church.
On January 2, 1893, his first wife, Minnie G. Morton, died at age 28 shortly after the birth of their first child, Bessie, on December 24. This tragedy, along with uncertainty at the college over what should be taught in the overall academic program, led him that spring to accept a position as minister of music at the First Congregational Church in Evanston, Illinois, the city's largest church.7
Barnes returned to Battle Creek the following year, disenchanted with life in the larger city of Evanston, and resumed teaching at BCC and giving lessons in his downtown studio. He had married Me(i)rtie L. Sheldon, a member of the Independent Congregational Church (later First Congregational), in February 1894 and joined that church. They would have three children, Gertrude, Lanie, and Edwin, Jr.8
After BCC closed in 1901, was relocated to Berrien Springs, Michigan, and renamed Emmanuel Missionary College, now Andrews University, Barnes continued to provide music on occasion at the Adventist Tabernacle Church in Battle Creek, but his greatest service was as organist and choir director in his role as minister of music at the Independent Congregational Church. Even so, he maintained his contact with his Seventh-day Adventist friends, and when the new Battle Creek Sanitarium was completed in 1903, a year after the old was destroyed by fire, he directed a chorus at the time of its dedication.9
This was a time when increasing conflict between Kellogg and denominational leaders culminated in the doctor's separation from the church (1907). Barnes, having been brought to the U.S. by Kellogg and being a close friend, subsequently lessened his contact with the Seventh-day Adventist church and became more involved with community music activities.10
Battle Creek Conservatory of Music
In 1906 Barnes founded the Battle Creek Conservatory of Music, which quickly became a respected school of music in Michigan. He is described in contemporary accounts as a thorough and energetic teacher whose students were accepted without question into leading music schools in Chicago and elsewhere, both in the U.S. and in Europe. In 1926, because of failing health, Barnes resigned as head of the conservatory and it became part of Battle Creek College, a new school not related to the previous BCC or affiliated with the Seventh-day Adventist church.11
Barnes directed many civic choral groups, emerging over the years as the city's most respected musician. He claimed as personal friends some of the most noted musicians in the United States at that time and was responsible for bringing them and renowned musical organizations to the city for its annual May Festival.
In 1904 Barnes brought the Chicago Symphony, along with Mme. Schumann-Heink and other noted soloists, to the festival, and his large metropolitan choir, the Amateur Musical Club, sang as the chorus in Wagner's Tannhauser. The following year he again brought in the Chicago Symphony and soloists to perform Gounod's Faust with his choral group.12 In 1911 he arranged for Walter Damrosch and the New York Symphony to join with them in a performance of Edward Elgar's The Banner of St. George. In all three instances, Barnes was given an opportunity to conduct the orchestra and chorus. Following the 1911 event, Damrosch sent him a congratulatory letter praising the quality of his work and later sent a signed photograph.13
Barnes was also active in state music activities, serving as president of the Michigan Music Association in 1903 and 1923. He was a member of Rotary International and a delegate to two conventions, one in Salt Lake City, where he was one of three persons given the privilege to play on the famous organ in the Mormon Tabernacle, and another in Edinburgh, Scotland, where he played an important role in the convention's music activities.14
While he was a modest and kind man with an unaffected and sincere approach to others, Barnes was uncompromising in his musical standards. He viewed life as a passage in which one never stopped learning or growing, a journey in which one's spiritual, musical, and intellectual awareness should always be increasing.15
In recognition of his contribution to music and music education, Hillsdale College, a prestigious private school, awarded him a honorary doctorate in 1920.16 Six years later, as he neared the end of his life, he received many accolades from the academic community, the city of Battle Creek, and the First Congregational Church. He was feted at a banquet by the community and honored with a set of "Friendship Chimes," named for him and added to the organ at the church where he had served as minister of music for thirty years.17
As his health declined, Barnes reduced, then stopped, his civic activities. He resigned his position with the church two months before he died on April 11, 1930. At his request, there was no music at his funeral service.18
Contribution
In addition to his notable achievements in the musical world at large, Edwin E. Barnes was the most significant music teacher at Battle Creek College for close to twenty years. As a composer, arranger, and organist, he was a major contributor to early Adventist hymnody and for many years the denomination's leading church musician.
Sources
Barnes, Edwin. "The Importance of a Practical Knowledge of Music." Adventist Review. February 23, March 2, and March 9, 1897.
Barnes, Edwin E. and Franklin Edson Belden, eds. The Seventh-day Adventist Hymn and Tune Book for Use in Divine Worship. Battle Creek, MI: Review and Herald Publishing Association, 1886.
"Church raises fund for Friendship Chimes." Battle Creek Enquirer and Evening News. December 21, 1925.
"College Adds Music School." Battle Creek Enquirer and Evening News, August 19, 1926.
"Dean of Music Dead; Will be Keenly Missed." Battle Creek Enquirer and Evening News. April 15, 1930.
"Friends Pay Last Tribute to Memory of Dr. Barnes." Clipping from unknown newspaper. Edwin Barnes Biography File. International Adventist Musicians Association, College Place, WA. April 17, 1930.
Gage, Mrs. Fred. "Cycle Complete-Just One Graduate." Battle Creek Enquirer and Evening News. July 4, 1926.
Gage, Fred W. "Years of Friendship Recalled." Battle Creek Enquirer and Evening News. April 20, 1930.
Gage, Mrs. Fred W. "Battle Creek, After Half Century, to Recognize Through Complimentary Dinner, Men Outstanding in their Art." Battle Creek Enquirer and Evening News. February 6, 1928.
Hooper, Wayne H. and Edward White. Companion to Seventh-day Adventist Hymnal. Hagerstown, MD: Review and Herald Publishing Association, 1988.
Vande Vere, Emmett K. "In the Students' Eye." Cardinal. Andrews University Yearbook, 1974 (centennial edition).
Vande Vere, Emmett K. The Wisdom Seekers (Nashville, TN: Southern Publishing Association, 1972).
Notes