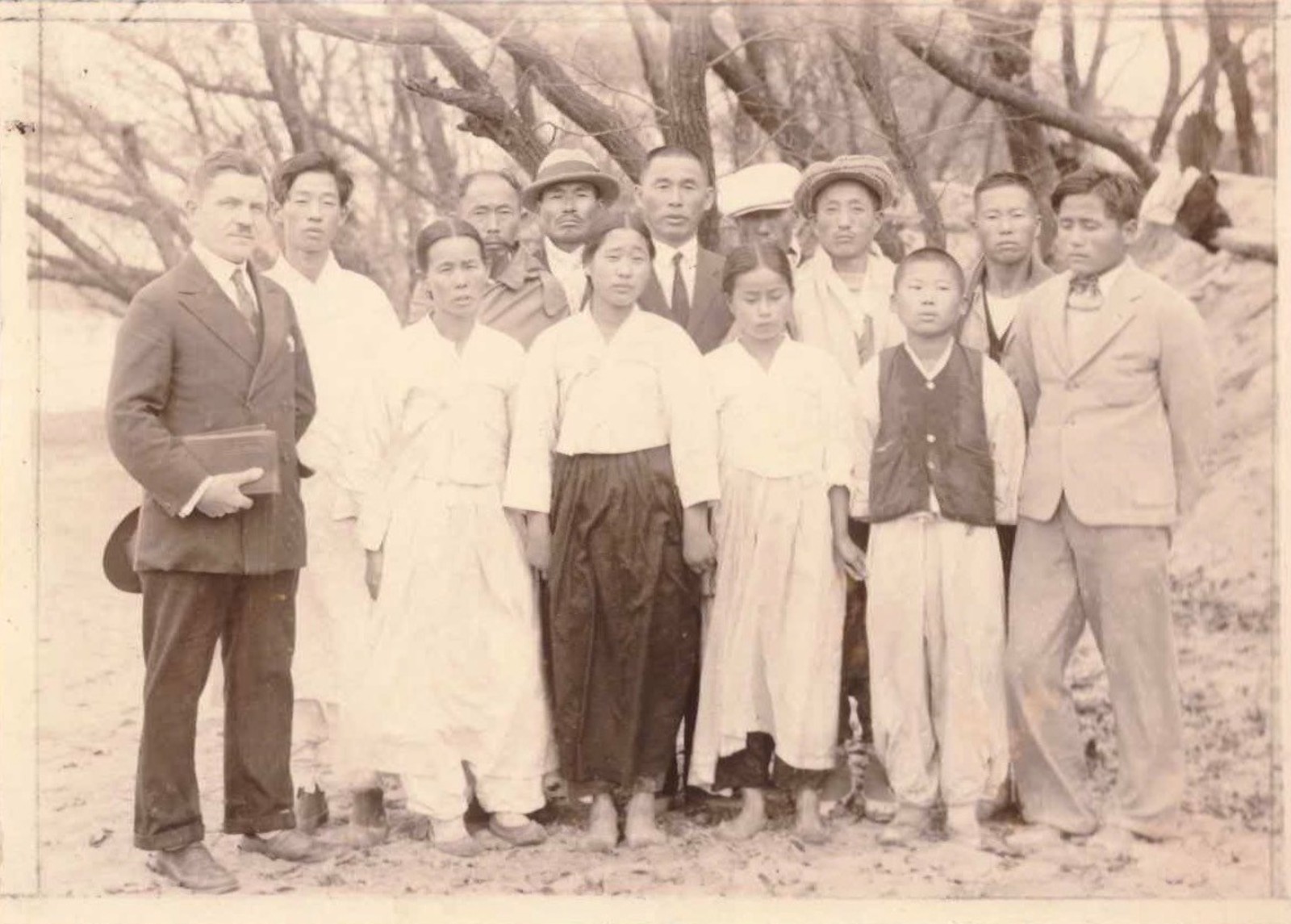 Bahr, Ernst (Earnest) Wilhelm (1897–1968) and Herta (1902–1978)
×
Matti Neumann, M.A. in theology (Friedensau Adventist University) serves as pastor in the Bodensee (Lake Constance) Region.
Ernst (Earnest) W. and Herta Bahr served as Seventh-day Adventist missionaries in Korea. Bahr himself was an administrator in Korea and later served as a pastor in the United States.
Early Life, Education and Marriage
Ernst Wilhelm Bahr1 was born on April 17, 1897, in Groß Jestin near Kolberg.2 His mother was Emilie Bahr, last (1945) living in Pomerania; nothing is known about his father.3 His sister Ida Bahr was head nurse at the Adventist Waldfriede Hospital from 1941.4
After working as a farmer, Bahr attended the Mission Seminary in Friedensau from 1919 to 1921.5 Before he began his missionary service, he first worked as a pastor in Naugard, Regenwalde, Stralsund, Prenzlau, Jagow, Fürstenwalde, and Rathenow in Germany. 6 In 1925, Bahr married Herta Fortenbacher in Danzig.7
In the mission field a daughter and a son were born to them.8 Their daughter's name was Elfriede and she died of diphtheria on December 8, 1931, at the age of almost four and a half years.9 Their son Karl-Heinz Bahr was born on March 18, 1930, in Soonana (Korea) and died in 2016 in the United States.10 Karl-Heinz was also active for many years in the Adventist Church as a pastor and treasurer in South America.11
First Missionary Period
On June 3, 1925, the journey of the Bahr family to their mission service began, which was to last 27 years. In the first year, Bahr, like many other missionaries, had difficulties in learning the Korean language. The work in the mission field was not without obstacles as well. Bahr reported that the distribution of literature, at first his main activity, was made very difficult for all missionaries by the Japanese colonial authorities, who destroyed all literature with the slightest "political connotation." Thorough house searching and body searches by the Japanese secret police were also commonplace.12
After learning the language, Bahr began preaching in Korean in various provincial towns of Korea and held public meetings. He also did pioneering work when he visited places where people had not yet been baptized.13 At the end of 1927, Bahr was transferred14 from Seoul to Seishin.15 From there he was able to reach new places, baptize people, hold tent meetings, plant churches, and build chapels.16 Also in Keizan (today's South Korea), where the Bahrs had been transferred at the end of 1929, Bahr reached many people by way of conducting large tent meetings.17 This is where the tragic death of little Elfriede occurred in 1931. Since moving there, Herta Bahr struggled with several diseases.18
From 1931 on, Bahr was the acting mission director. Later he held this office officially.19 As a publishing director,20 Bahr, who did this service with enthusiasm, was able to achieve considerable success.21 Denominational leaders suggested that the Korean "Signs of the Times" was the magazine with the widest reach in Korea, with 38,000 to 40,000 copies per month.22
Second Missionary Period
Around 1940 the Bahrs were forced to flee to the Philippines due to the warlike unrest in Korea. There they were able to continue their work and remained until 1945. Not much is known about this period; but evidently they were not spared the hardships of the Second World War while there. The Bahr family spent some time in internment under American occupation. However, after the Philippines were occupied by the Japanese, German citizens were released and enjoyed certain privileges under Japanese occupation. During this time Bahr used his freedom to travel and supported American Adventists who found themselves in Japanese internment. In doing so, he risked his life in the service of the church and his fellow man.23
From 1949, Bahr served as president of the Korean Union Mission. After he had to flee with his family in June 1950 due to the onset of the Korean War, he returned only 4 months later to start rebuilding the church work in Korea.24 During this time, he also served as Chairman of the Boards of the Korean Junior College in Seoul and of the Seoul Sanitarium and Hospital.25
After an extended home leave in the United States and Germany from 1951 to 1952, Bahr returned to the mission field without his wife.26 After his return, however, he suffered a nervous breakdown27 and had to travel back to the United States for further treatment. Unfortunately, his state of health ended his missionary activity and his office as president of the Chōsen Union Mission.
Later life
After the Bahr family took American citizenship in 1951, they spent their last years there. For three and a half years, Ernst Bahr served as a pastor in a German-speaking congregation in Detroit, Michigan. He died on February 5, 1968, in Angwin, California.28 Herta Bahr died on January 11, 1978, at the age of 76, in Takoma Park, Maryland.29
Contribution
During his time in Korea, Bahr was instrumental in reaching new areas in Northern Korea, pioneering in many places as a colporteur, but also as an evangelist through tent meetings. Through his work as a publishing director in the Korean Union Mission, Signs of the Times magazine became one of the most influential magazines in Korea, attracting many people to baptism.30 In times of war, Bahr not only took his responsibility as president of the Chōsen Union Mission and cared for his territory in these difficult times, but he also risked his life for this service. Bahr's missionary service is representative of many of his generation who took on responsibilities both in church planting and through administrative responsibility in church leadership and institutions. Although the difficult period of the Korean War and his health conditions did not allow him to continue working beyond this particular period, as one of the early workers in the Korean field, he contributed to the development of the Seventh-day Adventist Church into an established organization beyond the first steps of development.
Sources
Alsip and Persons Funeral Chapel. "Karl-Heinz Friedrich Bahr." Alsip and Persons Funeral Chapel. Accessed May 20, 2019. https://www.alsippersons.com/tributes/Karl-Heinz-Bahr.
Bahr, Ernst. "Aus Nordkorea." Der Adventbote, January 1, 1929.
______. "Nachrichten aus Korea." Der Adventbote, April 1, 1930.
______. The Biennial Report - Chosen Union Mission Publishing Department." Far Eastern Division Outlook, June 15, 1937.
______. "Colporteur Work in Korea." ARH, September 15, 1937.
______. "Zum 13. Juni: Japan rechnet auf Euch am 13. Sabbat." Der Adventbote, June 15, 1928.
Bahr, Ernst and Herta, "Auf der Reise nach Korea." Der Adventbote, May 15, 1925.
______. "Aus Korea." Der Adventbote, November 15, 1927.
_______. "Nachricht aus Korea." Der Adventbote, October 1, 1926.
Bahr, E. L. "Frankfurt a. M. - Berlin." Der Adventbote, November 15, 1924.
Bahr, Ida. "Die Oberschwester hat das Wort." Der Adventbote, May 1, 1950.
Campbell, G. A. "On to Singapore." Far Eastern Division Outlook, January 1937.
______. "Publishing Department, Far Eastern Division." ARH, June 17, 1937.
Effenberg, J. H. "Missionar Ernst Bahr." Der Adventbote, May 1, 1968.
"Family at Rest." Gleaner (Northwest Adventists in Action), May 2016.
"In Remembrance." ARH, April 4, 1968.
Mills, R. C. "Isle of Refuge in Korea." ARH, March 1, 1951.
Ogle, Mary. "Sabbath September 27: Some Pay More than Dollars." Missions Quarterly, 1947.
Pudewell, Walter. "Ein weiteres Kindergrab im Südkoreanischen Missionsfelde." Der Adventbote, April 1, 1931.
"Sad Word from Kaizan." China Division Reporter, January 1, 1931.
Seventh-day Adventist Yearbook. Washington D.C.: Review and Herald Publishing Association, 1908-1950.
Notes