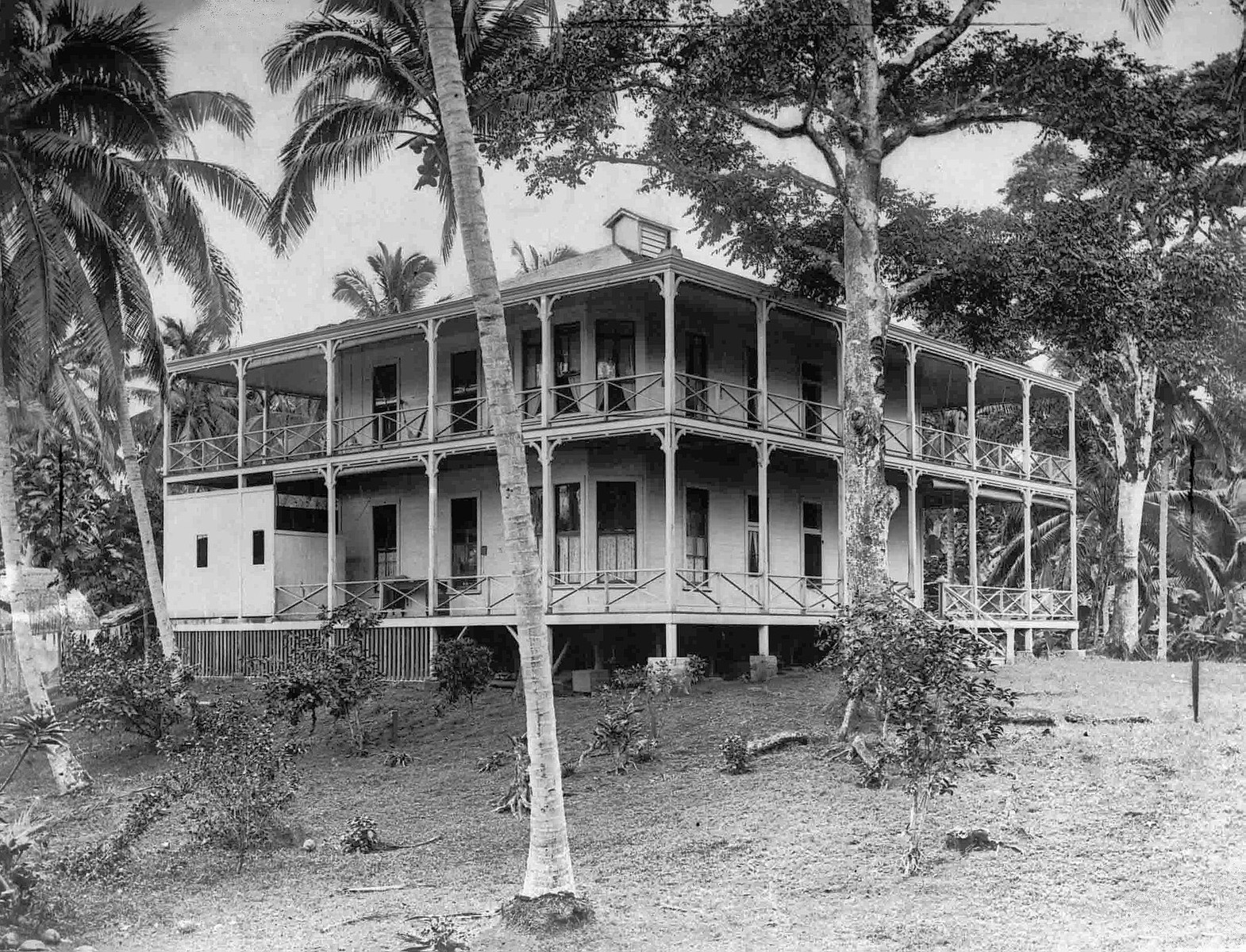 Samoa Sanitarium
×
Milton Hook, Ed.D. (Andrews University, Berrien Springs, Michigan, the United States). Hook retired in 1997 as a minister in the Greater Sydney Conference, Australia. An Australian by birth Hook has served the Church as a teacher at the elementary, academy and college levels, a missionary in Papua New Guinea, and as a local church pastor. In retirement he is a conjoint senior lecturer at Avondale College of Higher Education. He has authored Flames Over Battle Creek, Avondale: Experiment on the Dora, Desmond Ford: Reformist Theologian, Gospel Revivalist, the Seventh-day Adventist Heritage Series, and many magazine articles. He is married to Noeleen and has two sons and three grandchildren.
First Published: July 20, 2020
The Samoa Sanitarium operated on the outskirts of Apia, the capital of Samoa. between 1895 and 1905. It was built largely at the impetus of Dr. Frederick Braucht.
Preliminary Stage
Among the missionaries aboard the Pitcairn on its 1895 voyage through the Pacific were physician Frederick Braucht and his wife Mina. Initially, the General Conference appointed them to pioneer medical work in New Guinea,1 but within months those plans were changed, the doctor preferring self-supporting medical work in Fiji. When he arrived in Fiji, he found the British authorities would not accept his qualifications, so he reboarded the Pitcairn and disembarked in Samoa, beginning medical work in Apia on November 15, 1895.2 Captain Graham of the Pitcairn lamented the fact that he was obliged to sail so far (past Samoa to Fiji) only to be met with a rebuff.3 After all, prior to leaving America the information about proper qualifications could have been obtained by letter.
German authorities in Samoa accepted Braucht's American medical and dentistry qualifications. Within a month of arrival at Apia, Braucht leased a dilapidated warehouse at Mata'utu and renovated it with the help of his father-in-law, Dudley Owen. Braucht became known as "the Jewish Doctor" for his observance of Saturday. At the time, Apia had only one other doctor, an old German surgeon whose methods were outmoded.4 Europeans and Samoans alike flocked to Braucht from the start. Emily McCoy, a Pitcairn Island nurse, assisted Braucht. She reported over one thousand medical treatments given in the first six weeks, in addition to eighty dental cases and seven surgical operations. Everything was conducted under primitive conditions.5 Braucht's ultimate aim was to build a small sanitarium that would accommodate his family, office, surgery, and patients.
Permanent Building
Braucht and Owen lost no time in searching for a suitable site for a sanitarium. At the same time Owen made an impassioned plea to American Adventist farmers to make cash donations to fund its construction.6 American farmers responded so generously that Owen had to call a halt to their giving.7 A suitable site was found on an elevated position on the outskirts of Apia where they rented one property and eventually bought another on the opposite side of the road. Generally speaking, the institution was planned to function as a self-supporting one. In mid-1896, they began to accumulate local building supplies and Merritt Kellogg arrived to lead out in the construction of the building. The Foreign Mission Board paid for some of the timber.8 Kellogg remained for approximately twelve months, staying long enough to make the institution functional by mid-1897. Kellogg incorporated wide verandahs in the design as protection from the hot sun. A portion of the upstairs verandah was enclosed and served as an operating theater. European bed patients were admitted into the sanitarium itself and Samoan patients were accommodated in a smaller building on leased ground opposite the sanitarium.9 After Braucht and his wife and nurse McCoy moved into the building, Owen completed the finishing touches.10
Early in 1899, Delos Lake arrived from America to begin an industrial school, but found himself increasingly assisting at the sanitarium.11 In March of that year, an armed uprising under rebel King Mata'afa took place in Apia. Braucht and Lake assured Mata'afa they wished to remain neutral in the warfare. Throughout the few months of turmoil the sanitarium was left untouched despite looting elsewhere, but the conflict reduced clientele.12
In July 1899, Braucht attended the Australasian Union Conference session at Cooranbong, New South Wales.13 He was persuaded that his services were desperately needed at Christchurch Health Home, New Zealand, and that other American medics could replace him in Samoa. He sailed to New Zealand in August to secure government registration papers, then returned to Samoa to settle business affairs.14 By February 1900, he was back in New Zealand.15 In the meantime Nurse McCoy did what she could with simple treatments at the Sanitarium.
Dr. Archelaus Stuttaford and his wife, Mina, arrived at Apia in mid-1900 to serve on a temporary basis for a few months. He had worked as a printer at Pacific Press, but then studied medicine. He came with little experience and a reputation of being a better printer than he was a physician.16 During his brief tenure, a patient presented with an ulcerated wrist that had been treated by the local German doctor. Amputation was recommended but the patient resisted. His condition rapidly deteriorated and finally he agreed to amputation, but it was too late. He died a week after the operation, too weak to recover.17 In the minds of the local people, Stuttaford was at fault and the good reputation of the institution suffered.
Local confidence was restored somewhat with the arrival of Dr. George Gibson and his wife, Minnie, in October 1900. He only remained twelve months before swapping places with Braucht in Christchurch.18 Braucht found the medical work had deteriorated in his absence and he entertained the idea of moving to American Samoa.19 Although he persevered, he was forced to retire to America in 1903 because his wife became ill.20 Doctors Alfred and Maude Vollmer replaced him about October 1903.21 Apart from Nurse McCoy, who transferred out when Braucht returned to America, there was a succession of nurses to assist, including William Floding,22 James Southon, and Sara Young, another Pitcairner.23
The Vollmers could only stay for two years before Alfred Vollmer's tuberculosis forced their return to America in October 1905 where he died a few months later.24 Nurses Southon and Young battled on, but Young died of pneumonia in July 1906,25 and Southon married a local girl and began working on a plantation.26
Demise
No more doctors were appointed after the Vollmers left in late 1905, and the building slid into disrepair.27 In 1907, John Fulton pled for some evangelistic work to be done in Samoa, and consequently Joseph and Julia Steed were appointed to reactivate the Adventist mission there.28 Government officials in Apia resisted the introduction of the Adventist mission, saying there were already enough religions in Samoa. Steed explained to the governor that Seventh-day Adventists intended to do more medical work and also operate schools.29 The governor relented and the following year, 1908, ownership of the sanitarium property was transferred from Braucht to the Australasian Union Conference,30 but the sanitarium itself was not revived.
Assessment and Contribution
The nine-year enterprise was based on the John Kellogg model with the operative words being "self-supporting" and, "philanthropic." The philosophy was commendable, but the Samoan venture suffered because it only had one arm. Medical work was spoken of as the right arm of the Advent message, with evangelism being the other arm; but, in this case there was no left arm. The doctors and nurses were so overwhelmed by medical work that they had no time for traditional evangelism. Not until Steed arrived was there a left arm for the model, but by then the right arm had been amputated. The whole enterprise was poorly planned and for that reason it ultimately failed, despite the sacrificial efforts of a number of devoted medical missionaries.
Sources
"Alfred Martin Vollmer," ARH, March 29, 1906.
Braucht, F[rederick] E. "Medical Missionary Work in Samoa." Union Conference Record, July 17, 1899.
Braucht, F[rederick] E. "Samoan Medical Mission." Union Conference Record, July 19, 1899.
"Brother and Sister W.E. Floding…" Union Conference Record, vol. 5, no. 16, November 1, 1902.
"Brother James Southon, our nurse…" Union Conference Record, January 15, 1906.
Caldwell, W[alter] F. "Our Work at Samoa." The Bible Echo, June 29, 1896.
Chapman, E[lliott] C. E[lliott] C. Chapman to W[illiam] C. White. March 22, 1900. Ellen G. White Estate.
"Dr. Braucht and family…" Union Conference Record, September 1, 1899.
"Dr. Braucht arrived in Auckland…" Union Conference Record, March 1, 1900.
"Dr. Braucht, of Samoa…" Union Conference Record, May 20, 1899.
"Dr. F. E. Braucht, who went to…" ARH, February 25, 1896.
Dr. G.H. Gibson arrived at Sydney..." Union Conference Record, December 1, 1901.
Gates, E[dward] H. "Development, Openings and Needs of the Work in Polynesia." Union Conference Record, June 1, 1900.
Gates, E[dward] H. "Mission Notes." Union Conference Record, December 1, 1901.
Gates, E[dward] H. "Reports from the Field." Union Conference Record, April 1, 1903.
Gates, E[dward] H. "Among the Islands." Union Conference Record, May 1, 1904.
Graham, J[ohn] E. "The 'Pitcairn's' Visit to Samoa." The Bible Echo, December 16, 1895.
Lake, D[elos] D. "Samoa." The Missionary Magazine, April 1900.
Lake, D[elos] D. "A Missionary Trip in Samoa." The Missionary Magazine, April 1902.
McCoy, Emily. "Encouraging Report from Samoa." The Bible Echo, March 16, 1896.
McCoy, Emily. "Samoa." The Gleaner, May 1897.
Owen, D[udley] A. "A Letter from the Islands." ARH, April 21, 1896.
Owen, D[udley] A. "Samoa." ARH, January 12, 1897.
Owen, D[udley] A. "Apia, Samoa." ARH, December 14, 1897.
Owen, [Dudley A]. "Affairs in Samoa." ARH, May 16, 1899.
Parker, C[harles] H. "Samoa." Union Conference Record, February 17, 1908.
Parker, C[harles] H. "Samoa." Union Conference Record, September 7, 1908.
Steed, J[oseph] E. "Samoa: The Revival of Our Work in That Field," Mission Exercise, May 14, 1910. Cooranbong, New South Wales: Avondale School Press, 1910.
Stuttaford, A[rchelaus]. "About Samoa." Union Conference Record, March 1, 1901.
"The sad news has reached us..." Union Conference Record, August 20, 1906.
"We are pleased to hear…" Union Conference Record, November 1, 1899.
"When Dr. F. E. Bracht and company..." ARH, November 26, 1895.
Notes