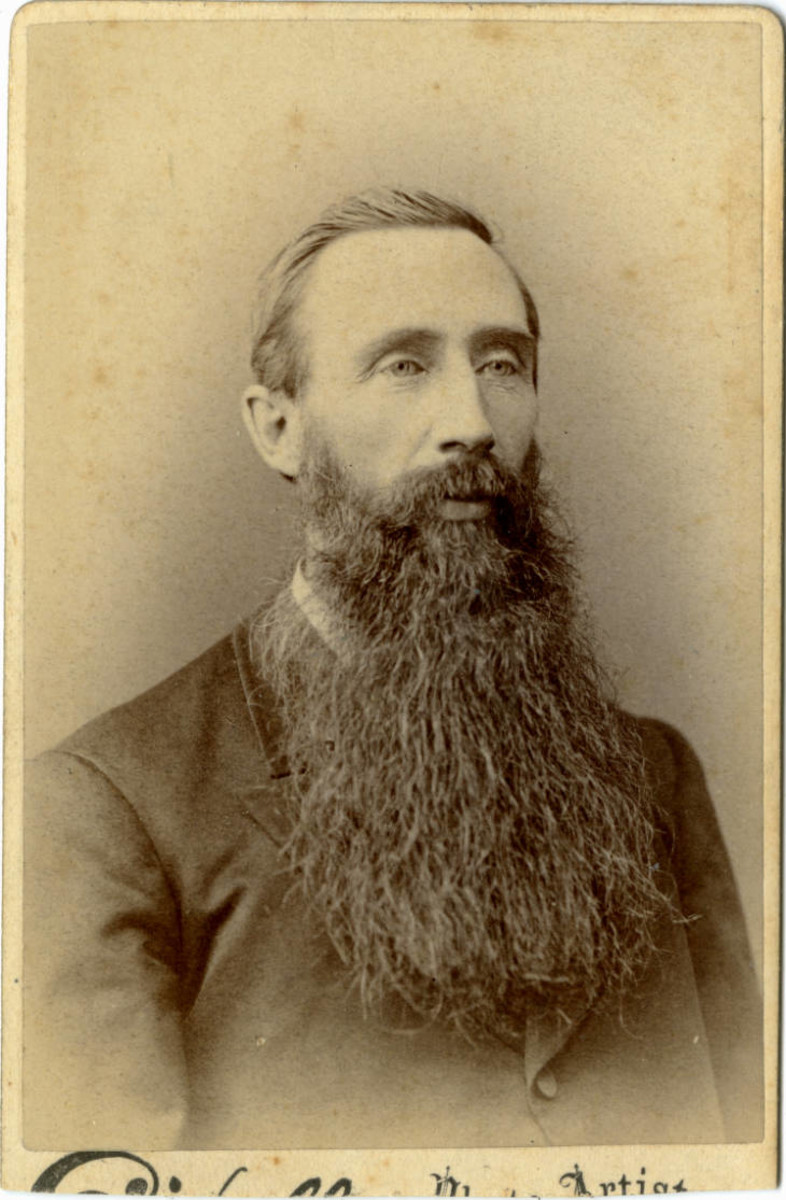 Bell, Goodloe Harper (1832–1899)
×
Michael W. Campbell, Ph.D., is North American Division Archives, Statistics, and Research director. Previously, he was professor of church history and systematic theology at Southwestern Adventist University. An ordained minister, he pastored in Colorado and Kansas. He is assistant editor of The Ellen G. White Encyclopedia (Review and Herald, 2013) and currently is co-editor of the forthcoming Oxford Handbook of Seventh-day Adventism. He also taught at the Adventist International Institute for Advanced Studies (2013-18) and recently wrote the Pocket Dictionary for Understanding Adventism (Pacific Press, 2020).
First Published: August 23, 2020
As the founding teacher of the denomination's first official sponsored school, Goodloe Harper Bell is considered by some historians as the "founder" of the educational work of the Seventh-day Adventist Church.1 Despite earlier attempts, Bell founded the first permanent Adventist school in Battle Creek, Michigan. His efforts also included educational administration, serving as an author and editor (including numerous textbooks), and an active promoter of the Sabbath School. He was remembered by Drury R. Davis as a quiet and unassuming person who was "the least appreciated man" of the early Adventist pioneers.2
Early Life and Family
Goodloe Harper Bell's family came from New England and migrated westward. He was the oldest of ten children born to David and Lucy Ann (née Blodgett) Bell in Watertown, New York, on April 7, 1832. His father was originally from Vermont, and his mother from Massachusetts.3 He moved west with his family, settling in Ottawa County, Michigan. Here he farmed and worked as a teacher and inspector of the schools in the counties around Grand Rapids from 1854 through the 1860s. At one point Bell studied at the reform minded Oberlin College. In his early years he was a Baptist and later became a Disciple.4
At age 19 he taught at a small country school where he met Catherine Mary Stuart5 (1836-1866) who he married at age 21. Together they had four children: Clara A. (1851-1911), Ida (d. 1854), "Eva" Evangeline Bell Giles6 (1857-1931), and Junia A. Florer (1864-1948). Due to overwork and the death of Catherine, his own health failed, causing him to seek medical treatment in 1866 at the Health Reform Institute in Battle Creek, Michigan. During a second visit the next year he became attracted to the Adventist faith. Soon after his conversion he met Harriet Eliza7 (1834-1906) whom he married, and they had one son, David Omar Bell8 (1871-c. 1895).
Adventist Education
While Bell was recuperating at the Health Reform Institute, he inquired about where Adventists had their school. He took "pity at this oversight and appeared anxious to help remedy this situation," as J. O. Corliss remembered. Bell started with some private tutoring. A young aspiring minister, A. O. Burrill, having realized his own need for education, went to James White asking him for counsel about how to obtain more training. James White advised him to employ Goodloe Bell as a private tutor and he is reported to have been Bell's first pupil in Battle Creek.9 Another early student, Ademar Vuilleumier, was a young man from Switzerland who could only speak French. Apparently, Bell early on developed the first English as a second language (ESL) program. By 1868 these individual pupils had coalesced into a modest "select school" that first started meeting on the second floor of the original Review building, which by that point was used as a storage facility. During this first phase, one person remembered that there were between six to eight young people between the ages of 16 to 20 who were Bell's patrons. "The methods of teaching were so unique," remembered J. O. Corliss, "without the usual commitment to memory of dry book rules, and the word was soon heralded about that Professor Bell was the very best kind of teacher."10
Contributions
The next year, 1869, Bell accepted the responsibility as superintendent of the Battle Creek Sabbath School and began editing the Youth's Instructor. Bell would remain actively engaged in organizing and promoting the work of Sabbath Schools, particularly for children, for the rest of his life. He developed the very first series of Sabbath School lessons for children. Each week he prepared lessons, worked on recitations, kept records, and promoted sound scholarship. When the General Conference Sabbath School Association was formed in 1878, he became the first recording secretary and later served as president.
Early efforts at tutoring to the "select school" officially morphed into the opening of the first Seventh-day Adventist School officially on June 3, 1872. The Review and Herald reported that 12 students were present on opening day, with 2 more who soon afterward joined them. A special "grammar class" was arranged so that some of the "office hands" could attend early in the morning. The article reported that there was "an excellent spirit of zeal and hearty good-will" during this first term. Although this was "a small beginning" Review readers were urged to not forget the school in their prayers.11
This first school was next expanded into Battle Creek College, which officially opened on June 12, 1874. Bell's efforts had culminated in the birth of Adventist education as a major institutional branch of the Seventh-day Adventist Church. Bell was an educator to his core and remained actively engaged in education in some form or another for the rest of his life.
After the first school year, he was joined by Sidney Brownsberger, who served as the school principal. Bell then headed the English department. Bell later clashed with Alexander McLearn in 1882 which led to his resignation from the college on February 20, 1882. This conflict culminated in the closing of Battle Creek College for the 1882-1883 school year. Bell left for South Lancaster Academy in Massachusetts, where he taught for the subsequent two years. Afterward Bell returned to Battle Creek, where he worked to develop textbooks and started a periodical, The Fireside Teacher, that focused on pedagogy and the development of textbooks.
Accident, Death, and Legacy
Goodloe H. Bell died on January 16, 1899 in a horse and buggy accident when, on his way to hear some of his students recite, the horse was frightened by a flying piece of paper. "At a fearful rate of speed," the buggy crashed into a "trolly-wire pole" throwing Bell out of the carriage. Despite a valiant effort by physicians at the Battle Creek Sanitarium, he never regained consciousness. His funeral, held on January 19, 1899, was reported to have been the largest ever held in the Dime Tabernacle with the exception of James White service. Six of his students acted as pallbearers.12 He is buried with other early Adventist pioneers in Oak Hill Cemetery in Battle Creek, Michigan.13
Works by G. H. Bell (First Editions Only)
Bible Lessons for Little Ones. 8 vols. Battle Creek, MI: Review and Herald, c. 1880s.
Complete Grammar. Battle Creek, MI: Review and Herald, 1896.
Defense of Eld. James White and Wife. Compiled with J. N. Andrews and Uriah Smith. Battle Creek, MI: Steam Press of the Seventh-day Adventist Publishing Association, 1870.
Elementary Grammar. Battle Creek, MI: Review and Herald, 1896.
Guide to Correct Language: A Book of Ready Reference in Three Parts. Review and Herald, 1882.
Natural Method in English: Consisting of a Series of Graded Lessons for the Use of Schools. Arranged for the Convenience of Teachers, and Especially Adapted to Private Study. Battle Creek, MI: The Fireside Teacher Co., 1881.
Progressive Bible Lessons for Children: to be Used in Sabbath Schools and Families. Battle Creek, MI: Steam Press of the Seventh-day Adventist Publishing Association, 1872.
Progressive Bible Lessons for Youth: to be Used in Sabbath Schools, Bible Classes, and Families. Battle Creek, MI: Steam Press of the Seventh-day Adventist Publishing Association, 1875.
Rhetoric and Higher English. Battle Creek, MI: Review and Herald, 1897.
Studies in English and American Literature. Chicago: Ainsworth, 1897.
Sources
Bartholf, J. C. "Goodloe Harper Bell." Youth's Instructor, February 9, 1899.
Corliss, J. O. "Early Experiences—No. 8, Divine Providences." ARH, March 6, 1919.
"Goodloe Harper Bell." Ancestry, ancestry.com. Accessed December 8, 2020.
Lindsay, Allan G. "Goodloe Harper Bell, A Pioneer Seventh-day Adventist Christian Educator." Ed.D. diss., Andrews University, 1982.
________. "Goodloe Harper Bell: Teacher." in G. R. Knight, editor, Early Adventist Educators. Berrien Springs, MI: Andrews University Press, 1982.
_________. "Bell, Goodloe Harper," in Denis Fortin and Jerry Moon, editors, The Ellen G. White Encyclopedia. Hagerstown, MD: Review and Herald, 2013.
Seventh-day Adventist Encyclopedia. Hagerstown, MD: Review and Herald Publishing Association, 1996. S.v. "Bell, Goodloe Harper."
Smith, Uriah. "A Sad Calamity." ARH, January 24, 1899.
"The S.D.A. School." ARH, June 11, 1872.
Notes