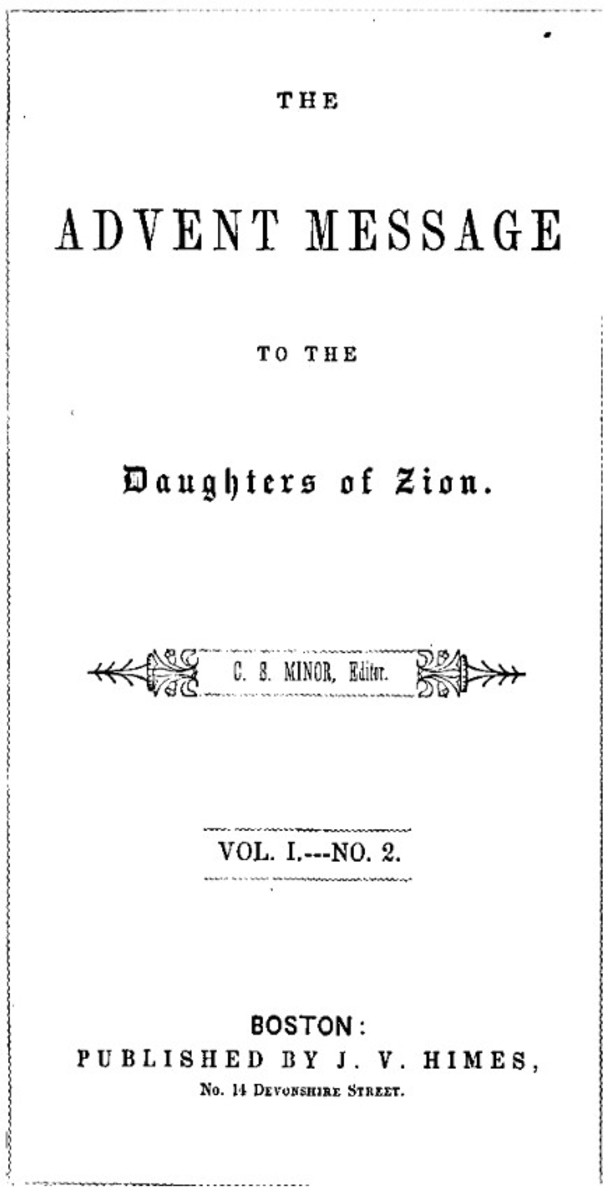 Minor, Clorinda Strong (1809–1855)
First Published: September 26, 2020
Clorinda Strong Minor, a Millerite preacher and editor, was the first missionary, albeit unofficial, of Sabbath-keeping Adventism to the Jews in Palestine.
Early Life and Family
Clorinda Minor was born in Philadelphia, Pennsylvania, probably in 1809.1 She credited her mother for a devout Christian upbringing: "From my earliest recollections, through the influence of a devoted and praying mother (whom I lost at an early age), I have, with more or less desire, been seeking to know and serve the living God," she wrote in her journal. For the first 24 years of her life Clorinda was a faithful, active member of the Congregational Church. She described her congregation as a church of "puritan ancestry" that "with little sectarianism, cherished attachment and reverence for the ministry and churches of all evangelical Protestantism." She had "entire confidence in the Scriptures," understanding them in "their most literal and definite sense in regard to present, practical duty and future promise."2
When she was about 24, Clorinda became disillusioned by the hypocrisy and form of godliness she perceived in the leading churches of the era. She began to read all the Christian books she could find, including commentaries and Christian biographies. Those books, in her words, "confirmed my sense of the great degeneracy of our common profession of religion, in its general falling away, coldness of love, and weakness of spiritual life." The spiritual life of her church and of the Christians she knew did not satisfy her desire for closeness to God and experiencing the same Holy Spirit power as did the early church.
Worried about her own spiritual level, she "struggled with fasting and tears, for a greater nearness to the life of Christ," thinking that "no corporate or general failure is any excuse for Individual unfaithfulness." From time to time she felt blessed with the presence of God, but discouragement returned again and again.
It was in this state of mind that Clorinda Minor, by then married to a wealthy Philadelphia merchant, heard for the first time the Adventist message preached by William Miller in 1842. As she put it, she heard "the Gospel of 'the kingdom of God is at hand' and the pre-millennial advent of our blessed Lord and Saviour Jesus Christ."3
Proclaiming the Advent Message
Minor not only accepted the Second Advent message but fervently promoted it. She became a much sought-after Millerite preacher, a contributor to Millerite journals, and, with Emily C. Clemens, editor of a Millerite paper for women – The Advent Message to the Daughters of Zion.4 The periodical first appeared in May 1844.5 "It was comprised of short articles and some poetry, and presented the Adventist essentials in simplified, condensed form to make special appeal to women readers," according to LeRoy E. Froom. "Prophecy had a vital place, with emphasis on women's unique place in the work of warning and entreaty. And there was recourse to history as it has played its part."6 A gifted poet, Minor also ably discussed doctrinal, prophetic, and chronological matters.7
An advertisement Clorinda placed in a local Philadelphia newspaper in October 1844 warned: "I believe, according to the Scriptures, that the Lord Jesus Christ will be revealed, in the clouds of Heaven, on the tenth day of the seventh month, which agrees with the 22nd instant, I therefore entreat all whom this may reach, to prepare to meet their God."8
After Jesus did not come back as predicted, Clorinda was among those who continued to believe that the interpretation of the prophecy as ending in 1844 was correct. She participated in Adventist conferences, and in 1848 accepted the Sabbath teaching along with those who would later become the Seventh-day Adventists. However, since she left America for Palestine in 1849 and died in 1855, she never formally affiliated with the Sabbatarian Adventist movement.
After much biblical research, she became convinced, along with some other Adventists such as Hiram Edson (who wrote a booklet on the topic9) that Jesus did not return in 1844 because the gospel must be preached to the Jews before His return. She believed not only that the Jews must accept Jesus and their land be prepared for Christ's return, but the seventh-day Sabbath must be restored to Christians.10 Furthermore, according to her understanding of Scripture, the Jewish people had to return to their land before the second coming of Jesus. Such beliefs were not common among American Adventists. William Miller preached that a "spiritual Israel" would fulfill the biblical promises in Palestine and not ethnic Israel. Edson's views did not prevail among other Seventh-day Adventists, whose position would be similar to Miller's.
Work in Palestine
Close to the time that Hiram Edson published his booklet, Clorinda Minor, filled with conviction, decided to sail to Palestine, departing from New York in May 1849. During the middle of the nineteenth century, the number of Jewish people living in the United States remained relatively small. That is why, in order to preach the gospel to the Jews, Minor's mind first went to Jews dwelling in Palestine. It was a perilous and difficult journey. When she arrived, she visited Jaffa and Jerusalem and met John Meshullam, a Jew who had accepted Jesus as his Savior through the preaching of Joseph Wolf.11
Meshullam owned a hotel in the Old City of Jerusalem and felt he had a mission to the Jews, whom he called in his correspondence, "God's chosen people" and "His [God's] afflicted people."12 He had founded an agricultural settlement in Artas, close to Bethlehem, and Clorinda Minor worked with him there for a short time. Soon, with a clearer understanding of what the Jews in Palestine needed, she decided to return to the United States to solicit her friends for funds and recruit volunteers for the settlement in Palestine.
In early November 1851, she and several other American visionaries headed back to Palestine with a large supply of seeds, along with agricultural tools. Her son, Charles Albert Minor, who accompanied her, described his mother's group as "a small band of Sabbath-observing Christians not linked to any organized sect [denomination]." Arriving in Palestine in March 1852, Minor resumed collaboration with Meshullam at Artas. While there her group "erected their large tent, twenty-two feet in diameter and eleven feet high, for a tabernacle and Sabbath worship,"13 and joined Meshullam in observing Shabbat. Of the Jews who came to visit the Artas farm, she wrote, "They love us because we keep their Sabbath."14
An argument with Meshullam ended their relationship, and in March 1853 Minor and her American friends rented land near Jaffa where a small farming community of 70 Jewish families led by Rabbi Judah Halevi already existed. Falestin Niali identifies Minor's project as "the Mount Hope settlement founded…in Wadi Musrara near Jaffa."15 Hiring observant Jews as her farm workers, she eventually became good friends with Rabbi Halevi.16 Minor's venture in Jaffa is regarded as the first American colony established in Palestine.17
Minor promoted the cultivation of citrus fruits such as oranges at Jaffa and became known for her role in introducing modern agriculture into Palestine. Her example helped "motivate Jews to consider farming in Palestine as a realizable enterprise."18
Unfortunately, dysentery contracted late in the summer of 1855 cut her work short, and she died after several pain-filled weeks. Her gravestone near Jaffa is inscribed: "Mrs. C. S. Minor from Philadelphia U.S.A. Industrial Missionary to the Jews. Died Nov. 6, 1855 aged forty-six years. She hath done what she could."19
Legacy
Clorinda S. Minor is recognized today as a pioneer of agricultural settlements in Palestine and for thus contributing to "the new Jewish consciousness that was emerging, and which would lead to political Zionism, the influx of Jews to Palestine, and the establishment of the State of Israel."20 However, she never lost sight of her mission to share her convictions about the second coming of Christ and she convinced many Christians with whom she worked to keep Shabbat on Saturday.21
Sources
Arthur, David T. "After the Great Disappointment To Albany and Beyond." Adventist Heritage 1, No. 1 (January 1974): 5-10.
Brekus, Catherine A. Strangers and Pilgrims: Female Preaching in America, 1740-1845. Chapel Hill, NC: University of North Carolina Press, 1998.
Edson, Hiram. An Exposition of Scripture Prophecy Showing the Final Return of the Jews in 1850. Canandaigua, NY: Ontario Messenger, 1849.
Froom, Le Roy Edwin. The Prophetic Faith of our Fathers: The Historical Development of Prophetic Interpretation. Vol. IV. Washington, D.C.: Review and Herald Publishing Association, 1954.
Himes, J. V. "The Advent Message." The Advent Herald, And Signs of the Times Reporter, May 8, 1844.
Kerman, Sue. Between Heaven and Earth: A Story of Nineteenth-Century Jerusalem. Jerusalem, Israel: Gefen Publishing House, 2011.
Knight, George. Millennial Fever and the End of the World: A Study of Millerite Adventism. Boise, ID: Pacific Press Publishing Association, 1993.
Kreiger, Barbara, and Shalom Goldman. Divine Expectations: An American Woman in 19th-Century Palestine. Athens, OH: Ohio University Press, 1999.
Learsi, Rufus. Fulfillment: The Epic Story of Zionism. New York: The World Publishing Company, 1951.
Minor, Clorinda Strong. Meshullam! Or, Tidings From Jerusalem. Ed. Moshe Davis, America and the Holy Land. New York: Arno Press, 1851, reprinted 1971.
Mosessohn, David N. and Herman Bernstein. "The Jewish Tribune and Hebrew Standard: The American Jewish Weekly." Jewish Tribune, New York (1927).
Naili, Falestin. "Before the Templers: The millenarist settlement in Artas Part II." Jerusalem Quarterly (Summer 2012):50.
Parker, Jane Marsh. "A Fanatic and her Mission–A Story Historical," Parts I-III. The Churchman, October 1896.
Perry, Yaron. "John Steinbeck's Roots in Nineteenth-Century Palestine." Steinbeck Studies 15, No. 1 (Spring 2004): 46-72.
Samuels, Ruth. Pathways through Jewish history. Brooklyn, NY: Ktav Publishing House, 1967.
Shavit, David. The United States in the Middle East: A Historical Dictionary. Westport, CT: Greenwood Press, 1988.
Yothers, Brian. The Romance of the Holy Land in American Travel Writing. New York: Routledge, 2016.
Notes