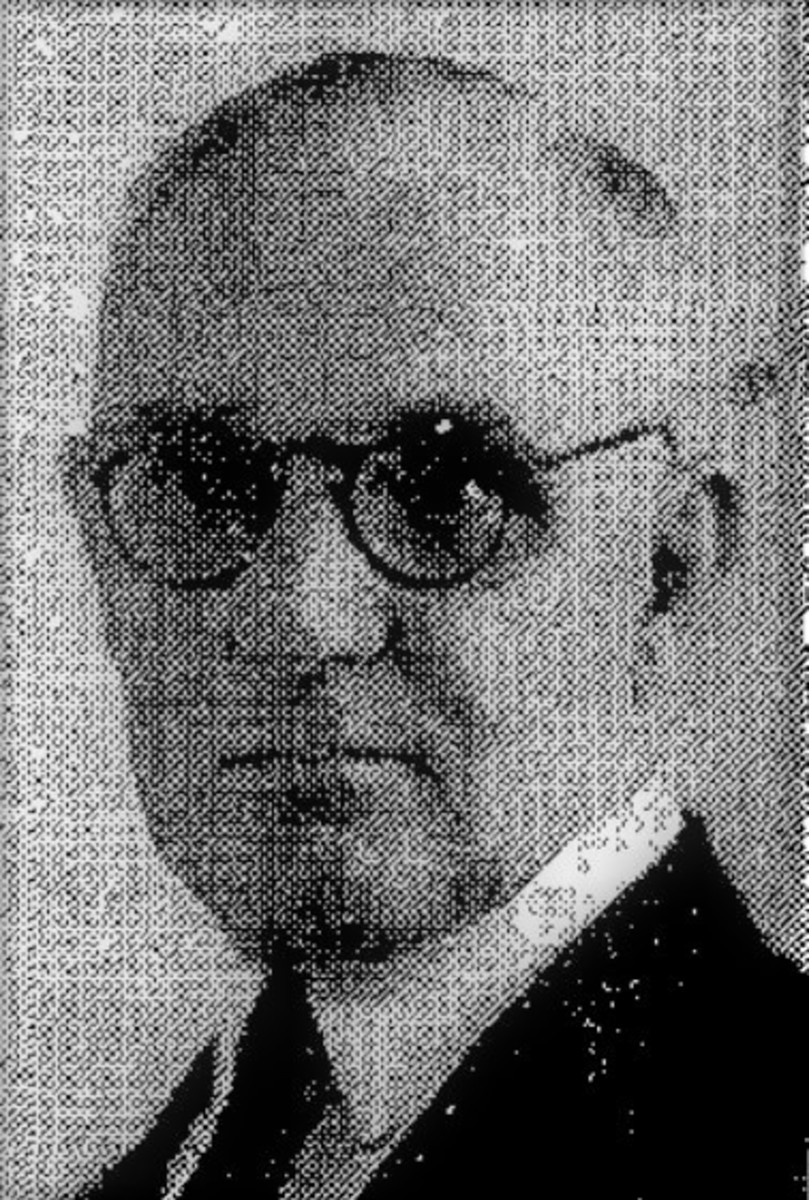 Ogden, Alfred Robert (1874–1948)
×
Dan Shultz, emeritus professor of music, Walla Walla University, has researched and written extensively about Seventh-day Adventist music history and musicians. His publications include A Great Tradition–a history of music at Walla Walla University, and the Adventist Musicians Biographical Resource–an encyclopedia with biographies of over 1100 Adventist musicians. He founded the International Adventist Musicians Association, serving as its president for ten years and editing its publications and website for over thirty years. Shultz and his wife, Carolyn (nee Stevens), live in College Place, Washington.   
First Published: September 30, 2020
Alfred R. Ogden served for nearly fifty years as a pastor and president of conferences and union conferences in the United States and Latin America.
Early Life, Education and Marriage
Alfred was born in Muscatine, Iowa, on May 7, 1874, the oldest of seven and one of three sons of John R. and Mary Ann Bechtel Ogden. His parents moved to Great Bend, Kansas when Albert was three and lived there for the next six years. They then moved to Wichita, Kansas, where he completed both elementary and high school. While living there the Ogdens became charter members of the Wichita Seventh-day Adventist church organized in 1886.1
Alfred became a colporteur at age 16 and in September 1891, a year later, enrolled at Union College in Lincoln, Nebraska, one of 73 students present on the first day when the new college opened for classes. It was a challenging year filled with hardship on a campus of not-quite-finished buildings, very little heat, and more than the usual amount of rainfall on a sea of mud, bridged only by makeshift slippery wooden sidewalks. Even so, by the end of the school year, enrollment had climbed to 301 and morale was high.2
He continued to colporteur in the summers and in 1894 also became involved in evangelistic meetings. After graduating from the Biblical Course in 1896 and completing the Scientific Course in 1897,3 Alfred married (Esta) Mae Meek in May 1898. They worked in the Kansas Conference before leaving for mission service in South America in 1901.4
Service Throughout the Western Hemisphere
Ogden served as superintendent of the West Coast Mission, which included Ecuador, Peru, Bolivia, and Chile. Unfortunately, Mae became seriously ill with a high fever which continued for weeks after the birth of their first child, Beatrice Maxine (Squier) in October 1902.5 They returned to the American Midwest in 1903, where Ogden resumed ministry in the Kansas Conference, eventually serving as religious liberty secretary (1905-1906), and then vice president of the conference (1907-1908).6 A second child, Orland, was born in Wichita on October 8, 1908.7
When the Missouri Conference was divided into two in 1908, Ogden was called to the presidency of the North Missouri Conference.8 In 1912 he began eight years as president of the Iowa Conference before accepting a call to the Northwest to serve as president of the Western Washington Conference. After less than a year in that position, Ogden was elected president of the North Pacific Union in March 1920. He resigned from the union presidency in November 1921 and after a brief interim returned to the helm of the Western Washington Conference from 1922 to 1928.9 During these years, even though in poor health, Mae continued to assist him in evangelistic meetings and directed the children's programs at camp meetings.10 One of those children, Dolores, chose to become part of the Ogden family and became an unofficial "daughter"11 who cared for Mrs. Ogden during her ongoing illness.
The Ogdens returned to the mission field with Dolores in December 1928, living in Havana, Cuba, where Alfred served as president of the Antillian Union for ten years. The tropical climate proved to be too much for Mae, however, who returned to the United States with Dolores to live with her daughter Beatrice in Glendale, California, in August 1929. She became seriously ill in early 1931 and died on December 20, 1931.12
In his years of service, Alfred wrote articles for Adventist publications on a wide range of topics. These included: events where he was working, such as the devastation of hurricanes that struck Santo Domingo (1930)13 and Puerto Rico (1934);14 reports from the field such as "Special Meetings in the Antillian Union" (1935)15 and "Ninety-one Persons Buried at Sea" about a mass baptism of 91 in Panama (1945);16 speculative articles on current events such as "Who Will Start the Next War?" (1943);17 and others about spiritual concerns, such as "Forget God's Sabbath – Forget God" (1930).18
Ogden completed his service in Cuba and then served as president of the Caribbean Union Conference, headquartered in Trinidad. His last assignment was to serve in the Panama Conference in the War Service Commission and as pastor of the Panama City English Church.19
He was living in Cristobal, Panama, when he died on December 26, 1948, at age 74. He was buried in Forest Lawn Cemetery in Glendale, California, with H.M.S. Richards assisting in the service.20
Legacy
The Ogden's son, Orland, was a musician and a successful businessperson who eventually owned a large music store in Portland, Oregon. Orland would in his own unique way continue the Ogden legacy in assisting in the work in countries outside the United States.
When he became aware of the needs in university music departments and churches in Mexico and in South America in the early 1990s, he and his wife, Joan Jungwirth, donated over thirty pianos, including four nine-foot concert grands and six smaller grands; 15 organs; and band instruments, valued at just under a million dollars, to four schools: the University of Montemorelos in Mexico, and Sao Paulo, Chile Adventist, and River Plate universities in Brazil, Chile, and Argentina, respectively.21
The schools at Chile and River Plate were of special interest to Orland because of his parents' pioneering work in those regions of South America. These instruments helped them establish fully equipped music schools. River Plate responded by naming their music building the Ogden School of Music, to commemorate the role that the Ogden family had played in the Adventist church in their country.22
Sources
"Alfred Robert Ogden obituary." ARH, February 24, 1949.
Barnett, Erin Hoover. "Musical businessman Orland Ogden dies." The Oregonian (Portland), May 10, 2002.
Esteb, Adlai A. "Alfred Robert Ogden obituary [1]." Central Union Reaper, January 25, 1949.
Mohr, F. I. "Mae Meek Ogden obituary." North Pacific Union Gleaner, January 19, 1932.
Smouse, A. R. "A.R. Ogden obituary [2]." Northern Union Outlook, February 8, 1949.
Notes