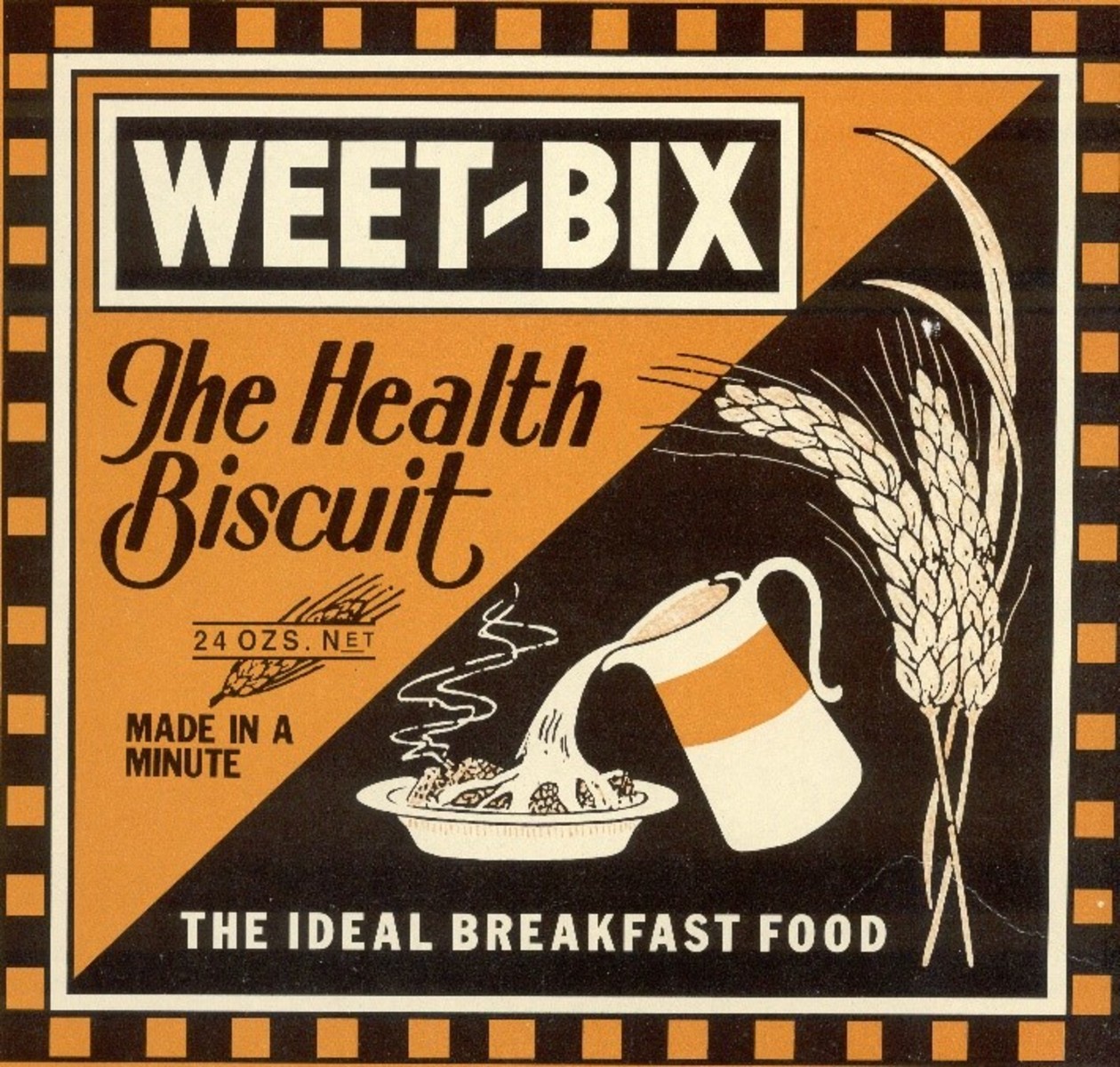 Sanitarium Weet-Bix, South Pacific Division
×
Julie Praestiin (Dip. Management, Newcastle University, Australia) commenced her career in public relations in 1979. In 1983, Julie and her husband Axel commenced working for ADRA in Bolivia and Colombia (SA) until 1992. Julie then joined Sanitarium, leading the corporate communications function from 1995, including the management of the heritage archives. Since 2005, Julie has served ADRA Australia as a board member. In authoring Sanitarium's historical story, Julie's sees God's definitive leadership in the health food business.
First Published: July 25, 2020
Weet-Bix is a wheat-based breakfast cereal produced by Sanitarium Health Food Company.1 The malty biscuit is well known throughout Australia and New Zealand as one of the healthier cereals on the breakfast food market.2 It has been a staple for many families for more than 90 years. It is low in sugar, 97 percent whole grain,3 and made with 100 percent Australian-grown wheat, vitamins, and minerals.4
Discovering Wheat Flakes
In the 1890s in Battle Creek, Michigan, Dr. John Harvey Kellogg was focused on producing healthy foods to replace the diet of most Americans at the time.5 As director of the Battle Creek Sanitarium, a health institute established by the Seventh-day Adventist Church, he was concerned that his patients' poor health was a result of poor diet.6
One of the most common medical complaints at that time was dyspepsia, a term used for a range of digestive complaints. Dr. Kellogg saw a need for a grain-based health food, believing that his patients' digestive processes would benefit if the grains were precooked to break down the starch. Dr. Kellogg and his brother Will used cooked, rolled, and baked grains to make a variety of healthy foods to serve his patients as they recovered.7
The Kellogg brothers had been unsuccessfully trying to process cooked wheat grains by squeezing them between two eight-inch rollers. The resulting mush stuck to the rollers and had to be scraped off, initially with a chisel and later a long printer's knife.8 Then, one Thursday or Friday in April 1894, they cooked a batch of wheat, but before it could be rolled, the men were called away. It was not until the Saturday evening that the Kelloggs returned to their experiment. The cooked wheat grains had gone moldy, but undeterred, the brothers decided to try rolling them anyway. To their surprise, large, smooth flakes emerged that were easily peeled off, ready to be placed in the oven for drying and crisping.9 They had discovered this secret to success by accident: if they tempered the cooked wheat to allow moisture to move evenly through the cooked grain, then the grain could be easily rolled, with the individual flakes preserved for baking.10
On May 31, 1895, Dr. Kellogg filed an application to patent the process of preparing flaked cereals from wheat and other grains, which was granted on April 14, 1896.11 They named the new wheat-flake product Granose,12 and it was also soon available as cereal biscuits.13 This discovery changed the way the Western world ate breakfast, with cereals advertised as suitable for every meal.14 By 1906 Dr. John Harvey Kellogg and Will Keith Kellogg went their separate ways, with younger brother Will establishing his own cereal empire, Kellogg's Cereal Company.15
The Good News Spreads
The early Seventh-day Adventist community in Australia, encouraged by church leader and visionary Ellen White and her son William (Willie) C. White in healthy living, were eager to access Dr Kellogg's nonmeat products.16 Initially they received health products from Battle Creek Sanitarium in America,17 but local production was needed because of the challenges of importing products that would not go stale on the journey.18
Willie White was instrumental in establishing a health food bakery. He engaged American baker Edward C. Halsey,19 trained at the Battle Creek Sanitarium,20 to come to Melbourne to supervise the preparation of the products.21 On April 27, 1898, the Sanitarium Health Food Company (SHF) was registered as a business.22
The first Granose mill was purchased from Willie White, who had secured one when he was in the United States and brought it into Australia.23 It was installed in Cooranbong, NSW, in September 1899, along with an imported biscuit-cutting machine, a biscuit press, and ovens.24 The move to Cooranbong was authorized by the Adventist Health Food Committee, as the church had already established Avondale College there.25 In May 1899 Halsey began at the Cooranbong factory, and by the end of that year he produced the first Granose biscuits ever made in Australia.26 By 1910 there were six full-time workers and 17 part-time student workers. Production from the factory included 45 tons of Granose, and a second Granose mill was put in place to cope with the increased demand.27
Granose in New Zealand
During these early years interest in the health food work had also begun to grow in New Zealand. G. A. Brandstater initially established a Health Home in Linwood, Christchurch, which was soon moved to Papanui. There, he was joined by Dr. Frederick Braucht, a former colleague of J. H. Kellogg.28 Dr. Braucht requested of the Australian Sanitarium board that it send him a baker to help prepare health foods for the home.29
Edward Halsey accepted the invitation, arriving in Christchurch on January 11, 1901. He moved to Papanui and established his bakery in a small, red wooden shed behind the Health Home.30 Sidney H. Amyes, a wealthy farmer, was so keen to see the enterprise grow that he funded the purchase of a small oven, which cost £55, and later became the unpaid manager, working alongside Halsey. Amyes was a man of vision: he was determined that New Zealanders should have access to the products that were gaining prominence in the United States.31 Amyes and Halsey made a formidable team, building the fledgling business first through church members, then bringing the products to the public through grocers.32
By 1922 a new factory had been built in Christchurch.33 The popularity of Granose biscuits had production lines working at top speed. In the month of June 1924 the factory produced and sold the equivalent of three months' production the previous year, yet the output still lagged behind demand.34
Demand for Granose Grows
From 1900 Sanitarium had about twenty years without serious competition in the breakfast food market and reported remarkable growth in sales of Granose, especially during World War I, when it was purchased by the Australian government to help feed the ANZACs.35 However, during this time the price of wheat, the main ingredient of Granose, rose substantially, and supplies were uncertain.36
Production at the Cooranbong factory increased significantly from the end of the war until the mid-1920s because of rebuilding of the plant.37 The Australasian Record dated October 30, 1922, described the entire ground floor as storing raw materials and machinery for manufacturing. The largest oven was capable of baking ten thousand Granose Biscuits at a time and the smaller one about half that quantity. These ovens revolved day and night, six days a week, averaging about 18 tons of biscuits per week.38
In the years from 1923 to 1927 new mills and presses were ordered to meet supply for an increasing demand for Granose.39 It was reported in July 1924 that seven railway trucks of Granose were expected to be dispatched in one week, a record.40 However, after the war and into the 1920s, rival health food and breakfast cereal companies appeared.41
Sanitarium responded in its printed health food material: "There are many kinds of biscuits on the market, but we doubt if there are any so carefully prepared and so pure in their makeup as Granose Biscuits. Granose Biscuits . . . consist of wheat, the whole wheat, and nothing but the wheat."42
Competition Emerges
Emerging rival companies included Cerix Puffed Wheat and Rice, Kellogg's Corn Flakes, and several important competitors also producing wheat biscuits.43 Cereal Foods Limited was established in Sydney in 1923 and launched its rival product, Vita-Brits. J. H. Camp, the sales manager for Vita-Brits, was formerly the general secretary of SHF44 and had intimate knowledge of Sanitarium's business. Vita-Brits were much like Granose, but sweeter.45
Arthur Shannon, businessman and senior elder of the Stanmore SDA Church, was also interested in making a sweet cereal biscuit similar to Granose and had the backing of family money.46 In 1925 Shannon visited the Battle Creek Food Company and the W. K. Kellogg Food Company in North America.47 When he returned, he established Grain Products Limited (GPL). Shannon engaged engineer Norman Jeffes, baker Frederick Foots, and sales and marketing professional Bennison Osborne to help him with the fledging company.48 Jeffes, an engineer, had worked at the Sanitarium factory making Granose and for Cereal Foods making Vita-Brits.49 Fred Foots was a baker who had worked at SHF Cooranbong and knew the recipe for Granose. 50
Bennison Osborne had worked for the SHF Melbourne café and joined GPL to handle the sales and marketing, later managing the operations.51 GPL took the Kellogg brothers' basic Granose formula and added some sugar and malt to produce a more palatable product.52 Sanitarium had omitted sugar from Granose, given its focus on healthy foods, but the product lacked the flavor of the Weet-Bix biscuit.
The First Weet-Bix Factory
The first Weet-Bix factory built in 1926 at 659-661 Parramatta Rd, Leichhardt,53 was a very basic two-story structure. Alan Evans, who worked there, recalled the machinery as crude, using a horse-and-pulley system to raise the bags of wheat to the cooking floor.54 By November 1926 the production of Weet-Bix was beyond the experimental stage and manufacturing was well under way.55
GPL provided many SDA church members with Sabbath-free work, as it was difficult at the time to find regular employment that did not require working on Saturday mornings.56
The Naming of Weet-Bix
Arthur Shannon had asked his next-door neighbors, the Clarke family, to help him name his new product. Young Iris cast the deciding vote in a family discussion in favor of naming the new breakfast food Weet-Bix.57 Shannon also sought the input of staff and brought two packets into the factory to show the packers: Sun-Bix and Weet-Bix. The former was a more attractive packet, but the staff thought that because the biscuit was made of wheat, Weet-Bix was the better name.58
A New Way of Marketing
Shannon and Osborne developed a new way of marketing Weet-Bix. They sold on consignment, with ten Chevrolet trucks sent throughout the suburbs to distribute Weet-Bix and collect cash for goods sold in the previous week. This strategy proved appealing to grocers, who weren't required to pay up front.59
The product was advertised in newspapers by GPL, which also ran write-in competitions and missing-word competitions. These often included rhymes about Johnny Weet-Bix and his family, depicted as a wholesome preteen boy.60 Customers returned the completed entries to GPL with part of a Weet-Bix packet. First prize was £5.61 The price of Weet-Bix in June 1928 was two-pound packets for one shilling and sixpence.62
Home to Sanitarium
The competition from GPL's Weet-Bix was soon visibly impacting sales of Granose, despite SHF refining its marketing. Some tension toward Shannon from SHF was reported on account of the loss of market share.63 To grow its share in the grain products market, SHF improved its sales methods, but more significantly decided to attempt to buy out its immediate competitors in Australia and New Zealand.64 The Weet-Bix business in 1928 was very successful, so it was a prime target.65
The impact of Weet-Bix on Sanitarium Health Foods had reached the highest levels of church administration. C. K. Meyers, secretary of the General Conference of SDAs in the United States, visited Australia in 1928 and persuaded Shannon to sell the Australian operations of GPL, explaining that it was going against God's work with a sweeter, more popular biscuit. Shannon was loyal, and so he sold the business to the denomination.66 The sale was dated October 30, 1928, commemorated by SHF as the beginning of Weet-Bix. The sale was, in effect, a gift to the church, at the extraordinary price of only £15,000, with 10 percent deposit and the balance over ten years at 7 percent interest. It also included an option to potentially purchase the New Zealand business in the future, where manufacturing had begun the previous year. SHF continued to manufacture Weet-Bix at the Parramatta Road premises for some years, paying rent of £15 per week to Shannon, who still owned the factory.67
At the beginning of 1931 the SHF board decided to move the manufacturing of Weet-Bix to Cooranbong to provide more employment to Avondale College students and to make economies.68 As a result of the restrictions on interstate transport during World War II, Sanitarium later opened food factories in Brisbane and Adelaide.69 By 1942 Weet-Bix production began at Sanitarium's Roma Street factory in Brisbane,70 and in 1958 moved to the current factory at Moorooka.71
Kiwis Embrace Weet-Bix
Weet-Bix was initially imported into New Zealand from in 1926.72 Ian Malcolm Macfarlane, a salesman for GPL and a friend of Bennison Osborne's,73 set up the distribution agency there.74 Manufacturing began in 1927,75 when Norman Jeffes moved to Christchurch to establish a Weet-Bix factory in Belfast Street on behalf of GPL. This factory provided a significant expansion in the quantity and availability of Weet-Bix in New Zealand. In 1928 Jeffes established a second factory on Randolph Street, Auckland.76 This move was in direct competition to Granose.
Bennison Osborne remained an employee of GPL in Sydney for a short time after its sale and subsequently took on the management of the Christchurch factory, with the support of Macfarlane.77 All three still worked for Shannon.78 SHF endeavored to combat the Weet-Bix expansion in New Zealand by developing Sweetweets, its own biscuit minimally sweetened with honey. Sweetweets competed quite successfully in New Zealand against Weet-Bix for a number of years.79
In 1929 Shannon decided that he would discontinue his flake biscuit operation in New Zealand. SHF purchased GPL New Zealand for a price of £30,000 in April 1930, with changeover official on May 23, 1930.80
Weet-Bix production at the Christchurch factory ceased in November 2011 as a result of earthquake damage, but it is still produced at Sanitarium's Auckland premises.81
Weet-Bix in South Africa
With the sale of GPL New Zealand to Sanitarium, Jeffes, Osborne, and Macfarlane moved to South Africa to explore new ventures.82 Jeffes established a wheat biscuit business at Wynberg, where he converted the decommissioned Wynberg Electric Power Station into a factory. Jeffes managed the operations, supported by Macfarlane and Osborne in sales.83 The name and product Weet-Bix were trademarked in South Africa by the new company called Weet-Bix "Cape" (Pty) Limited. Shannon again provided the financial backing and owned all the shares, regularly visiting to check on the company's progress.84
Weet-Bix was a great success, and plans were made for a second factory in Johannesburg. However, when the machinery arrived in Cape Town, it was hijacked by colleagues turned rivals Osborne and Macfarlane. They had been dissatisfied with the arrangements in South Africa and felt they could make more money on their own, so they went to the United Kingdom to establish a breakfast biscuit industry there.85
Weet-Bix operated successfully for many years in South Africa under the direction of Norman Jeffes. He and Shannon eventually offered the business to the SDA Church in South Africa, but the church declined.86 In October 1948 Shannon sold the South African Weet-Bix factory and business to the large wheat farmers cooperative known as Bokomo (Bolandse Koperatiewe Molenaars). It was a term of the sale that any SDA employees were always to be given Sabbath privileges.87
Sanitarium Health Food Company has a continuing relationship with Bokomo in South Africa in regard to technology sharing, intellectual property, and brand licensing. In July 2019 U.S. giant PepsiCo announced it plans to acquire Pioneer Foods, parent company of Bokomo, securing the future of Weet-Bix in Africa.88
Weetabix in the UK
Meanwhile, Osborne and Macfarlane registered their new business in London under the name British and African Cereal Company Pty Limited. Osborne had modified the Weet-Bix recipe while he was in South Africa, and along with Macfarlane, obtained private funding for their enterprise.89 Business commenced in 1932 in an unused gristmill at Burton Latimer, near Kettering90 in Northamptonshire, England.
Trademarks for the Weet-Bix name and recipe were already held in Australia, New Zealand, and South Africa by others, yet Osborne and Macfarlane proposed to use both for their UK operations. Shannon heard of their plans and took the matter to Scotland Yard.91 Osborne and Macfarlane also needed to float shares of the British and African Cereal Company to establish the business, so Shannon purchased more than 50 percent of the shares through intermediaries.92
As a shareholder, Shannon attended a company meeting in the UK in 1932, unannounced. He told a shocked Osborne and Macfarlane that he owned most of their shares and that they were unable to legally call their product Weet-Bix.93
As a result, the English product became Weetabix, produced according to a modified recipe, with finer flakes, rounded corners on the oblong biscuit, and a different texture and taste to the original. Weetabix are described as smaller, sweeter, and more bricklike in appearance than Weet-Bix.94
Osborne and Macfarlane rented disused buildings from Whitworth Brothers, from whom they also purchased wheat.95 The venture was unsuccessful, and after a few months an advertising agency took them to court for a £1,000 bill. They also owed Frank George, of Whitworth Brothers, money for wheat, and he eventually took over the company as a bad debt. In 1936 the new owners named the company Weetabix Limited.96
The ongoing ramifications of this legal battle mean that even today Sanitarium is unable to sell Weet-Bix in markets where Weetabix owns the trademark. Sanitarium currently sells Weet-Bix in the UK and China under the brand name Nutri-Brex.97
Marketing Through the Decades
Over the years the Sanitarium Weet-Bix brand became synonymous with providing a healthy, satiating start to the day. During World War II Weet-Bix was included in the ANZACs' ration kits, described as "Australia's favorite high-nutrition cereal/biscuit."98
Sanitarium started to issue collectors' cards in Weet-Bix packets in 1941 in New Zealand, and from 1942 in Australia. These included such themes as national history, geography, flora and fauna in the early years, through to sporting heroes and teams in the 1990s and 2000s.99
New Zealander Sir Edmund Hillary, the first man to successfully climb Mount Everest, along with Tenzing Norgay, took Weet-Bix on his trek to the top of the world, consuming it along his successful journey to the summit on May 29, 1953.100
The 1950s saw the start of above-the-line marketing as television commercials were introduced, featuring the tagline "Weet-Bix are wonderful."101 By 1985 Aussie and Kiwi kids had become "Weet-Bix kids," as the famous jingle102 penned by Pat Aulton headlined the brand's iconic advertising campaign,103 cementing Weet-Bix's position as the market leader in breakfast cereals.104
However, this position began eroding in the mid-1990s through strong competition from Nutri-Grain's Ironman campaigns and Kellogg's Corn Flakes, as time pressure for parents began winning over nutrition.105 In response, Weet-Bix launched a short "sugar" campaign in 1996, comparing the nutritional value of Weet-Bix against its sugary competitors. While this was effective in the short term, when the campaign concluded, sales began to slip again. 106
Keeping nutrition in focus, Sanitarium followed up with an advertisement featuring a row of children eating Weet-Bix sprouting the line: "Nine out of ten nutritionists recommend kids eat Weet-Bix." This backing from nutritionists had emerged from research conducted by Weet-Bix's advertising agency Saatchi & Saatchi. The campaign took Weet-Bix to a new market share high, reestablishing Weet-Bix as Australia's top-selling breakfast cereal.107
Weet-Bix Teams Up With Sport
Sport and physical activity have been part of Weet-Bix's DNA since the introduction of the sports collectors' cards in the 1990s.108 During that time the first New Zealand All Blacks and Cricket Australia sponsorships marked the start of a new era for the Weet-Bix brand. More sporting partnerships followed, including the Australian Wallabies rugby team, the Fiji Rugby Sevens team and individual sponsorship arrangements with renowned sportspeople. This support has helped entrench the brand as part of each nation's sporting culture.109
Weet-Bix also established Kids TRYathlon in New Zealand and Australia, an inclusive, noncompetitive event that has encouraged thousands of children to get involved in physical activity.110
Product Developments: Weet-Bix Evolves
On November 5, 1987, Sanitarium opened a new $7.2 million complex at Castle Hill in Sydney, superseding its previous wholesale branch at Lewisham. This became a distribution center for all of the company's products in New South Wales (NSW), and a base for the growing export business in Asia, the Far East, and the South Pacific.111
In the late 1980s, with Weet-Bix the most popular breakfast food in Australia, it became apparent that the Cooranbong factory was insufficient to meet demand and a site at Berkeley Vale (NSW) was purchased. By 1992, the factory had been built and production had commenced,112 and Weet-Bix is manufactured there and at the Brisbane factory to this day.
Notwithstanding the original biscuit's iconic status and long history, the Weet-Bix brand has evolved over the years in response to breakfast trends, dietary requirements, and population health challenges. In the mid-1970s Sanitarium added several variants to Weet-Bix, including Mini Weet-Bix.113 Good Start, later renamed Weet-Bix Multigrain, was introduced in 1984. Weet-Bix Hi Bran and Weet-Bix Oat Bran followed,114 then Fruity-Bix in 1994.115 Weet-Bix Crunch was launched in October 2005 and was later renamed Weet-Bix Bites, along with the Fruity-Bix range, in 2009.116 Weet-Bix Kids, with lower sugar and more fortification, was launched in 2006.117 Weet-Bix Blends, including varieties Cranberry and Coconut, Multigrain, High-Fibre, Apple and Cinnamon, were introduced in 2016, further growing the brand's range.118
In 2014 Sanitarium introduced Gluten-Free Weet-Bix made from sorghum, to the welcome response of celiac- and gluten-sensitive consumers.119 The company's Carmel factory in Perth, Western Australia, is dedicated solely to the gluten-free product to eliminate the risk of wheat contamination.120
In 2016 the original Weet-Bix cereal relaunched in China under the brand name Nutri-Brex, seizing the opportunity to tap into the world's biggest emerging ready-to-eat cereal market. Chinese consumers are increasingly adopting Western breakfast habits and are attracted by quality ingredients and good food safety credentials.121
In September 2017 Weet-Bix Cholesterol Lowering was launched,122 the first cereal in Australia to include the Heart Foundation's recommended two grams of plant sterols per serve.123 In recognition of this innovation, Weet-Bix Cholesterol Lowering was named Australian Healthy Food Guide's 2017 Product of the Year.124
In March 2019 Sanitarium introduced Weet-Bix Protein in response to consumer demand for products with protein.125 Throughout these developments Sanitarium Weet-Bix has been at the forefront of the breakfast category in Australia and New Zealand. New products are generally launched in Australia to establish success before being introduced to the New Zealand market, which does not have the volume to support large batch sizes on its own.126
The Future of Weet-Bix
From its humble beginnings Weet-Bix has prospered for more than a century to become the most consumed breakfast cereal in Australia and the number-one brand by value,127 the number-one cereal brand in New Zealand by value,128 and the leading cereal brand in Fiji.129
Sanitarium Weet-Bix is now one of Australia and New Zealand's most trusted brands, voted by consumers as Australia's Most Trusted Breakfast Food in the Annual Reader's Digest Trusted Brands awards for the past six consecutive years. 130 In New Zealand, Sanitarium has won the equivalent award for Most Trusted Breakfast Food for eight of the past nine years, with six consecutive wins to 2019.131
Weet-Bix is enjoyed in more than 44 countries around the globe.132
Sources
Australasian Conference Association Limited board minutes. July 20, 1923.
Australasian Conference Association Limited board minutes. July 13, 1923.
Australasian Conference Association Limited board minutes. April 22, 1930.
Australasian Union Conference board minutes, January 7, 8, 1931.
Australian Grocery Data Nielsen Scantrack MAT to May 19, 2019.
Amyes, S. H. Untitled article. The Sanitarium Traveller, September 1934.
Bagnall, John Baskerville. Arthur Shannon and the Beginnings of Weet-Bix. Unpublished manuscript. Private collection of John Baskerville Bagnall. March 2014.
———. "A Talk About Weet-Bix—The Early History." Wordpress.com. Accessed April 10, 2019. https://weetbixhistory.wordpress.com/weet-bix/.
Brisbane Courier, June 15, 1928.
Burton Latimer Heritage Society. Burtonlatimer.info. Accessed August 5, 2019.
De Berg, Marian. Stories From Sunnyside—Ellen White in Australia, 1891–1900. Warburton, VIC: Signs Publishing, 2017.
"Dr. Braucht arrived in Auckland . . ." Union Conference Record, March 1, 1900.
Evening Post (Wellington, New Zealand), March 8, 1927.
Evening Post (Wellington, New Zealand), September 22, 1928.
"Farewell to Loveable Larrikin." March 17, 2009. Accessed April 9, 2019. https://www.sunshinecoastdaily.com.au/news/farewell-loveable-larrikin/348171/.
Fisher, G. S. "Early Experiences in Health Food Work—Part 1." SanCo News, vol.1 no.1, March 1939.
Foreign Mission Board meeting minutes. April 1894.
Giblett, E. J. "Food Factory Avondale." Australasian Record, February 13, 1911.
Gray, R. W. "Where Honour Is Due," SanCo News, vol. 2, no. 2, March/April 1971.
Halsey, Edward C. Diary. April 17 and 19, 1894.
Halsey, E. C. Diary. November 15, 1900, to March 1, 1901.
Han, Esther. "Health Star Ratings Is the World's Best Food Labelling System, Say Experts." Sydney Morning Herald Online, October 26, 2016. Accessed June 17, 2019. https://www.smh.com.au/business/consumer-affairs/health-star-ratings-is-the-worlds-best-food-labelling-system-say-experts-20161028-gscv7p.html.
"Have You Had Your Sorghum? Gluten-free Weet-Bix Helps Combat Diabetes." July 25, 2018. Accessed June 28, 2019. https://news.curtin.edu.au/stories/sorghum-arc-collaboration-develops-gluten-free-weet-bix/.
Health Food Committee minutes, March 7, 1898.
Health Food Committee minutes, December 16, 1897.
Health Food Committee minutes, December 22, 1897.
Health Food Committee minutes, February 3, 1898.
"Health Food Department." Australasian Record, October 30, 1922.
"Health Food Department." Australasian Record, August 25, 1924.
"Health Food Notes." Australasian Record, August 2, 1915.
Herbert, A. S. "Edward C. Halsey Obituary." Australasian Record, January 17, 1927.
Hogan, Andrea. Australian Healthy Food Magazine Awards 2017 winners announced. Australian Food News Online. October 16, 2017. Accessed June 12, 2019. http://www.ausfoodnews.com.au/2017/10/16/australian-healthy-food-mag-awards-2017-winners-announced.html.
"How Sanitarium Launched Gluten-Free Weet-Bix." July 26, 2017. Accessed June 28, 2019. https://www.marketingmag.com.au/hubs-c/weet-bix-case-study/.
Hudson, Kenneth. Industrial History From the Air (online). Cambridge, UK: Cambridge University Press, 1984.
"Hunch Sparks Weet-Bix Strategy." August 10, 1999. Accessed June 25, 2019. http://www.adnews.com.au/66D9AA2A-D7FC-48E7-9CDE9DCD946A78B1.
Markel, Howard. "The Secret Ingredient in Kellogg's Corn Flakes Is Seventh-day Adventism." July 28, 2017. Accessed June 24, 2019. https://www.smithsonianmag.com/history/secret-ingredient-kelloggs-corn-flakes-seventh-day-adventism-180964247/.
Morse, G. W. "Location of the Food Factory." Union Conference Record, September 15, 1898.
———. "The Health Food Business." Union Conference Record, November 15, 1898.
New Zealand Grocery Data Nielsen Scantrack MAT to June 2, 2019.
O'Connell, Jan. Australian Food History Timeline. Sydney, NSW: New South Publishing, University of New South Wales Press Limited, 2017.
"Our Current Partners: Sanitarium." Accessed June 11, 2019. https://www.heartfoundation.org.au/get-involved/our-current-partners/sanitarium.
"Our Health Food and Café Work." Australasian Record, June 14, 1915.
Palmer, E. R. "The Health Food Factory." Union Conference Record, December 1, 1899.
Powell, H.  B. The Original Has This Signature: W. K. Kellogg. Englewood Cliffs, N.J.: Prentice-Hall, 1956.
Pulse Insights. "Wave 18.1—Cereal /Breakfast Foods, Fiji Nationally, August–October 2018."
"Producing Nutri-Brex for China." SanCo News, vol. 77, issue 3, 2016.
"Ration Packs From WW2." Unofficial history of the Australian and New Zealand Armed Services. Accessed June 5, 2019. http://www.diggerhistory.info/pages-food/ww2-rat-pax.htm.
SanCo News, vol. 2, no. 2, March/April 1971.
Sanitarium board meeting minutes, October 28, 1900. Documented in Halliday, H. J. "Source Material for S.H.F. History." January to March 1962.
Sanitarium Health and Wellbeing. Wheat Specification for Purchasing (3329\). February 18, 2019.
Sanitarium Health Food Company. "Chain Performances Fiji, Overall Cereal Sales." January to March 2019.
Sanitarium Health Food Company Descriptive Booklet and Recipes. Cooranbong, NSW: Avondale Press, 2014.
Sanitarium Health Food general board minutes, August 23, 1932.
Sanitarium Health Food general board minutes, January 7, 1931.
Sanitarium Health Food general board minutes, May 2, 1933.
Schwarz, R. W. John Harvey Kellogg, M.D. Nashville: Southern Publishing Association, 1970.
Shannon, Arthur. "On a World Tour." Australasian Record, July 13, 1925.
Stoltz, Garth "Duff." "A Taste of Cereal." Adventist Heritage 15, no. 2 (Fall 1992).
"Union Conference Proceedings." Australasian Record, July 22, 1901.
United States Patent Office. "Flaked Cereals and Process of Preparing Same." April 14, 1896. Accessed June 25, 2019. https://patentimages.storage.googleapis.com/54/89/59/6d9aad382846f0/US558393.pdf.
Van Heerden, Pierre. "A message From the GM." SanCo News (NZ), vol. 73, no. 1, 2012.
"We are exceedingly busy . . ." Australasian Record, July 14, 1924.
Weet-Bix Cards 1942–2008, Unpublished document. SHF Archives. Sizes and album/poster details taken from Howieson, P. Catalogue and Card List of Weet-Bix 1942–2006 (2005).
"Weet-Bix Carried by Hillary on Himalayan Adventure!" Advertisement in Australian Women's Weekly, March 30, 1955. https://trove.nla.gov.au/newspaper/rendition/nla.news-page4812489.pdf.
Weet-Bix jingle audio file. Accessed April 9, 2019. http://www.mcaskill.com.au/audio/Pat%20Aulton%20Weetbix.mp3.
"Weet Bix Rebrands for Breakfast in China." Accessed July 2, 2019. https://finance.nine.com.au/business-news/weetbix-rebrands-for-breakfast-in-china/927e6df9-63f8-4920-843b-a898d6271990.
White, W. C. W. C. White to Dr. J. H. Kellogg, September 25, 1896. Letter Book 10.
White, W. C. W. C. White to AUC Executive Committee, July 4, 1897. Letter Book 11A.
Yu, Douglas. "Pepsico to Acquire Pioneer Foods for 17 Billion Creates sub-Saharan African Business Unit." July 22, 2019. Accessed December 17, 2019. https://www.forbes.com/sites/douglasyu/2019/07/22/pepsico-to-acquire-pioneer-foods-for-17-billion-creates-sub-saharan-african-business-unit/#1d7544c8178d.
Notes
The author, who is head of Corporate Communications, Sanitarium Health Food Company, acknowledges the assistance of Sara McGregor as a contributing writer and Alan Fisher, heritage archivist, Sanitarium Health Food Company, in the preparation of this article.↩

Esther Han, "Health star ratings is the world's best food labelling system, say experts," The Sydney Morning Herald Online, October 26, 2016, accessed June 17, 2019, https://www.smh.com.au/business/consumer-affairs/health-star-ratings-is-the-worlds-best-food-labelling-system-say-experts-20161028-gscv7p.html.↩

Trish Guy, Sanitarium nutritionist, email to author, June 24, 2019.↩

Sanitarium Health and Wellbeing, Wheat Specification for Purchasing (3329\), February 18, 2019, 2.↩

John Baskerville Bagnall, Arthur Shannon and the Beginnings of Weet-Bix, unpublished manuscript, private collection of John Baskerville Bagnall, March 2014, 2.↩

Ibid.↩

Howard Markel, "The Secret Ingredient in Kellogg's Corn Flakes is Seventh-Day Adventism," July 28, 2017, accessed June 24, 2019, https://www.smithsonianmag.com/history/secret-ingredient-kelloggs-corn-flakes-seventh-day-adventism-180964247/; R. W. Schwarz, John Harvey Kellogg, M.D. (Nashville: Southern Publishing Association, 1970), 116–120; H. B. Powell, The Original Has This Signature: W. K. Kellogg (Englewood Cliffs, N.J.: Prentice-Hall, 1956), 88–90.↩

Schwarz, 118; Powell, 91.↩

Schwarz, 118; Powell, 91, 92.↩

Garth "Duff" Stoltz, "A Taste of Cereal," Adventist Heritage 15, no. 2 (Fall 1992): 6.↩

United States Patent Office, "Flaked Cereals and Process of Preparing Same," April 14, 1896, accessed June 25, 2019, https://patentimages.storage.googleapis.com/54/89/59/6d9aad382846f0/US558393.pdf.↩

Bagnall, 2.↩

Advertisement, Good Health, April 1896.↩

John Baskerville Bagnall, "A Talk About Weet-Bix—The Early History," Wordpress.com, accessed April 10, 2019, https://weetbixhistory.wordpress.com/weet-bix/.↩

Markel, "The Secret Ingredient in Kellogg's Corn Flakes is Seventh-Day Adventism."↩

Bagnall, Arthur Shannon and the Beginnings of Weet-Bix, 3.↩

W. C. White to Dr. J. H. Kellogg, W.C. White Letter Book 10, September 25, 1896, Letter Book 10, 471.↩

Bagnall, Arthur Shannon and the Beginnings of Weet-Bix, 3.↩

W. C. White to AUC Executive Committee, July 4, 1897, Letter Book 11A, 80.↩

A. S. Herbert, "Edward C. Halsey Obituary," Australasian Record, January 17, 1927, 7.↩

W. C. White to AUC Executive Committee.↩

G. S. Fisher, "Early Experiences in Health Food Work—Part 1," SanCo News, vol.1 no.1, March 1939, 3.↩

Health Food Committee minutes, March 7, 1898.↩

Health Food Committee minutes, December 16, 1897; December 22, 1897; February 3, 1898; G. W. Morse, "The Health Food Business," Union Conference Record, November 15, 1898, 114.↩

G. W. Morse, "Location of the Food Factory," Union Conference Record, September 15, 1898, 96, 97.↩

E. R. Palmer, "The Health Food Factory," Union Conference Record, December 1, 1899, 8.↩

E. J. Giblett, "Food factory Avondale," Australasian Record, February 13, 1911, 6.↩

Foreign Mission Board meeting minutes, April 23, 1894, 97 (PDF 115); "Dr. Braucht arrived in Auckland . . . ," Union Conference Record, March 1, 1900, 15.↩

Sanitarium board meeting minutes, October 28, 1900, 111, as documented in H. J. Halliday, "Source Material for S.H.F. History," January to March 1962.↩

E. C. Halsey, diary, November 15, 1900, to March 1, 1901.↩

S. H. Amyes, untitled article, The Sanitarium Traveller, September 1934, 9, 10.↩

"Union Conference Proceedings," Australasian Record, July 22, 1901, 25.↩

"Health Food Department," Australasian Record, October 30, 1922, 71, 83, 84.↩

"Health Food Department," Australasian Record, August 25, 1924, 6, 7.↩

Jan O'Connell, Australian Food History Timeline (Sydney, NSW: NewSouth Publishing, University of New South Wales Press Limited, 2017), 72.↩

"Our Health Food and Café Work," Australasian Record, June 14, 1915, 4; "Health Food Notes," Australasian Record, August 2, 1915, 7.↩

"Health Food Department," 71, 83, 84.↩

"Health Food Department," 83.↩

Australasian Conference Association Ltd. board minutes, July 20, 1923; July 13, 1923.↩

"We are exceedingly busy . . . ," Australasian Record, July 14, 1924, 8.↩

Bagnall, Arthur Shannon and the Beginnings of Weet-Bix, 4.↩

Sanitarium Health Food Company Descriptive Booklet and Recipes (Cooranbong, NSW: Avondale Press, 1914), 5.↩

Bagnall, Arthur Shannon and the Beginnings of Weet-Bix, 4.↩

Ibid.↩

Ibid., 4, 5.↩

Ibid., 5.↩

Arthur Shannon, "On a World Tour," Australasian Record, July 13, 1925, 3.↩

Bagnall, Arthur Shannon and the Beginnings of Weet-Bix, 4.↩

Ibid., 10, 11.↩

Glynn Litster, interview with John Baskerville Bagnall, 2010, as cited in Bagnall, Arthur Shannon and the Beginnings of Weet-Bix, 12.↩

Bagnall, Arthur Shannon and the Beginnings of Weet-Bix, 9.↩

Ibid., 5.↩

Ibid., 13.↩

Alan Evans, interview by Glynn Litster, Melody Park, July 13, 1990.↩

Bagnall, Arthur Shannon and the Beginnings of Weet-Bix, 15.↩

Ibid., 21.↩

Ibid., 16.↩

Alan Evans, interview by Glynn Litster, Melody Park, July 13, 1990.↩

Bagnall, Arthur Shannon and the Beginnings of Weet-Bix, 17.↩

Ibid., 18.↩

Ibid., 17–19.↩

Brisbane Courier, June 15, 1928, 1.↩

Bagnall, Arthur Shannon and the Beginnings of Weet-Bix, 20, 21.↩

Ibid., 21.↩

Ibid.↩

Alan Evans, interview with Glynn Litster, as cited in Ibid.↩

Ibid., 22.↩

SHF general board minutes, January 7, 1931, 273.↩

Alan Fisher, email to author, February 20, 2020.↩

Bill Coe, interview with Glyn Litster, July 15, 1990; R. W. Gray, "Where Honour Due," SanCo News, vol. 2, no. 2, March/April 1971, 5.↩

Sanco News, vol.2, no. 2, March/April 1971, 1.↩

Evening Post (Wellington, New Zealand), March 8, 1927.↩

Bagnall, Arthur Shannon and the Beginnings of Weet-Bix, 22.↩

Evening Post (Wellington, New Zealand), September 22, 1928.↩

Bagnall, Arthur Shannon and the Beginnings of Weet-Bix, 22, 23.↩

Ibid., 23.↩

Ibid.↩

Ibid., 25.↩

Ibid.↩

Australasian Conference Association Ltd. board minutes, April 22, 1930.↩

Pierre van Heerden, "A message from the GM," SanCo News (NZ), vol. 73, no. 1, 2012, 3.↩

Bagnall, Arthur Shannon and the Beginnings of Weet-Bix, 26.↩

Ibid.↩

Ibid.↩

Ibid., 28.↩

Ibid.↩

Ibid., 29.↩

Douglas Yu, "Pepsico to acquire Pioneer Foods for 17 billion creates sub-Saharan African business unit" Forbes.com, July 22, 2019, accessed December 17, 2019, https://www.forbes.com/sites/douglasyu/2019/07/22/pepsico-to-acquire-pioneer-foods-for-17-billion-creates-sub-saharan-african-business-unit/#1d7544c8178d.↩

Bagnall, Arthur Shannon and the Beginnings of Weet-Bix, 26, 27.↩

Kenneth Hudson, Industrial History from the Air (Cambridge, UK: Cambridge University Press, 1984), 47 (online edition), accessed May 29, 2019, https://books.google.com.au/books?id=3DY9AAAAIAAJ&printsec=frontcover&source=gbs_ViewAPI&redir_esc=y#v=onepage&q&f=false.↩

Bagnall, Arthur Shannon and the Beginnings of Weet-Bix, 27.↩

Ibid., 27.↩

Ibid.↩

Ibid., 27, 28.↩

Burton Latimer Heritage Society, Burtonlatimer.info, accessed August 5, 2019.↩

Bagnall, Arthur Shannon and the Beginnings of Weet-Bix, 30.↩

Julie Praestiin, email message to author, June 20, 2019.↩

"Ration Packs From WW2," unofficial history of the Australian and New Zealand Armed Services, accessed June 5, 2019, http://www.diggerhistory.info/pages-food/ww2-rat-pax.htm.↩

P. Howieson, Catalogue and Card List of Weet-Bix 1942–2006 (2005).↩

"WEET-BIX carried by Hillary on Himalayan adventure!" advertisement in Australian Women's Weekly, March 30, 1955, 38, https://trove.nla.gov.au/newspaper/rendition/nla.news-page4812489.pdf.↩

Kylie Collins, video file of 1950s Weet-Bix classic ad.mp4, emailed to author, June 25, 2019, accessed June 25, 2019.↩

Audio file of Weet-Bix jingle, accessed April 9, 2019, http://www.mcaskill.com.au/audio/Pat%20Aulton%20Weetbix.mp3.↩

"Farewell to Loveable Larrikin," Sunshine Coast Daily, March 17, 2009, accessed April 9, 2019, https://www.sunshinecoastdaily.com.au/news/farewell-loveable-larrikin/348171/.↩

"Hunch sparks Weet-Bix strategy" AdNews.com, August 10, 1999, accessed June 25, 2019, http://www.adnews.com.au/66D9AA2A-D7FC-48E7-9CDE9DCD946A78B1.↩

Ibid.↩

Ibid.↩

Ibid.↩

Howieson, Catalogue and Card list of Weet-Bix 1942-2006, 2005.↩

James Felsch, email to author, May 14, 2019.↩

https://tryathlon.com.au/, accessed June 4, 2019.↩

Official Opening program, Castle Hill branch, November 5, 1987.↩

Official Opening program, Berkeley Vale factory, August 17, 1995.↩

Alan Fisher, email message to author, June 11, 2019.↩

Ibid.↩

Alan Fisher, email message to author, June 12, 2019.↩

Kylie Collins, email message to author, June 6, 2019.↩

Ibid.↩

Ibid.↩

"How Sanitarium launched Gluten Free Weet-Bix," Marketingmag.com.au, July 26, 2017, accessed June 28, 2019, https://www.marketingmag.com.au/hubs-c/weet-bix-case-study/.↩

"Have you had your sorghum? Gluten-free Weet-Bix helps combat diabetes" News.Curtin.edu.au, July 25, 2018, accessed June 28, 2019, https://news.curtin.edu.au/stories/sorghum-arc-collaboration-develops-gluten-free-weet-bix/.↩

"WeetBix rebrands for breakfast in China," 9Finance Business News, Cached, accessed July 2, 2019, https://finance.nine.com.au/business-news/weetbix-rebrands-for-breakfast-in-china/927e6df9-63f8-4920-843b-a898d6271990; "Producing Nutri-Brex for China," SanCo News, vol. 77, issue 3, 2016, 5.↩

"WeetBix rebrands for breakfast in China."↩

"Our Current Partners: Sanitarium," accessed June 11, 2019, https://www.heartfoundation.org.au/get-involved/our-current-partners/sanitarium.↩

Andrea Hogan, "Australian Healthy Food Magazine Awards 2017 winners announced", Australian Food News, October 16, 2017, accessed June 12, 2019, http://www.ausfoodnews.com.au/2017/10/16/australian-healthy-food-mag-awards-2017-winners-announced.html.↩

Kylie Collins, email message to author, June 6, 2019.↩

Tanne Andrews, email message to author, January 23, 2019.↩

Australian Grocery Data Nielsen Scantrack MAT to May 19, 2019.↩

New Zealand Grocery Data Nielsen Scantrack MAT to June 2, 2019.↩

Sanitarium, "Chain Performances Fiji, Overall Cereal Sales," January to March 2019, and Pulse Insights, "Wave 18.1—Cereal /Breakfast Foods, Fiji nationally, August—October 2018."↩

Darlene Delaney, email message to author (first of two on), July 3, 2019.↩

Ibid. (second of two on July 3, 2019).↩

Phillip Harlett, email message to author, June 27, 2019.↩