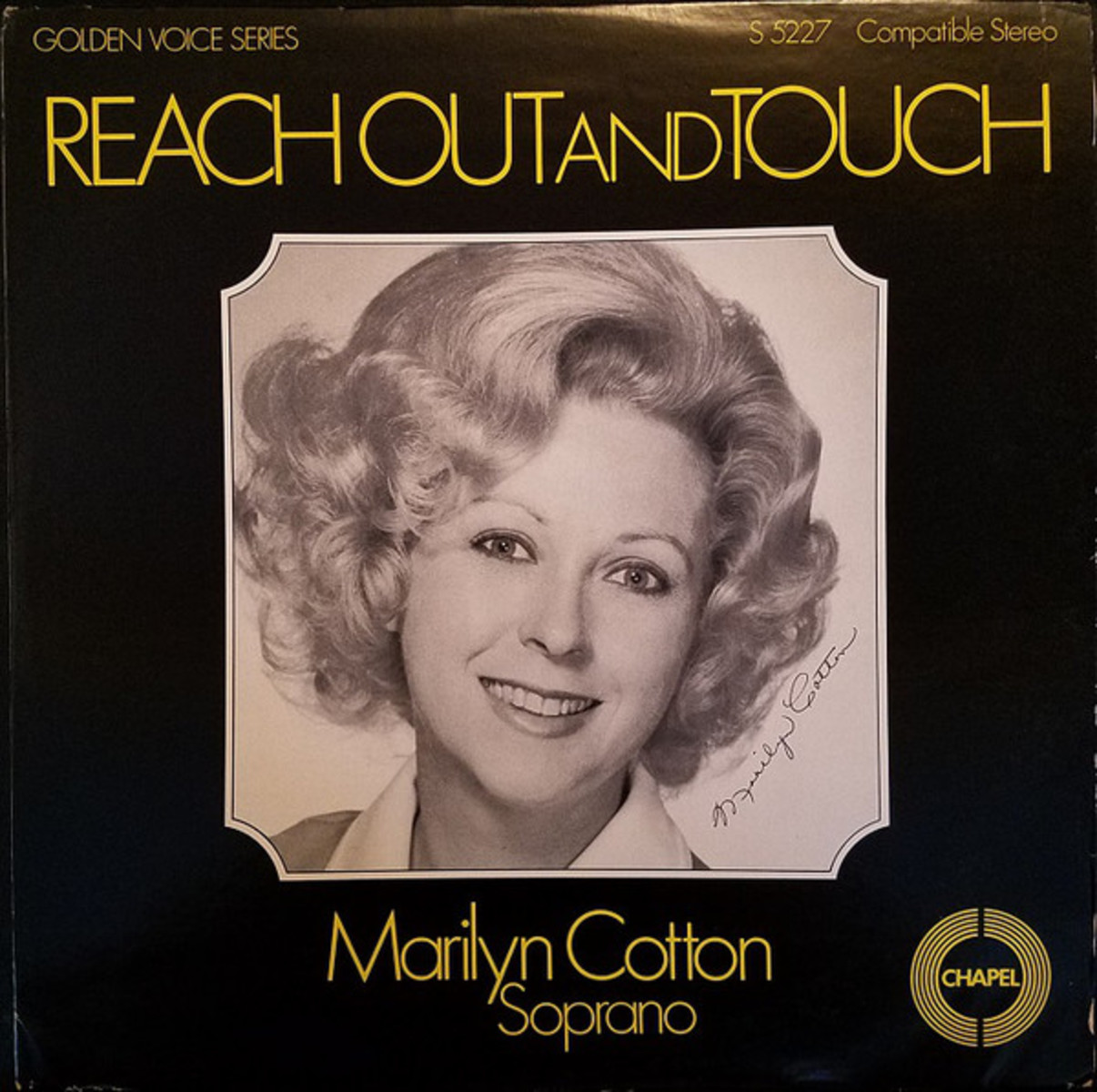 Cotton, Kittie Marilyn Dillow (1933–2016)
×
Dan Shultz, emeritus professor of music, Walla Walla University, has researched and written extensively about Seventh-day Adventist music history and musicians. His publications include A Great Tradition–a history of music at Walla Walla University, and the Adventist Musicians Biographical Resource–an encyclopedia with biographies of over 1100 Adventist musicians. He founded the International Adventist Musicians Association, serving as its president for ten years and editing its publications and website for over thirty years. Shultz and his wife, Carolyn (nee Stevens), live in College Place, Washington.   
First Published: October 19, 2020
Marilyn Cotton, a lyric soprano, sang for Adventist television broadcasts from the early 1950s through the opening decade of the twenty-first century and was a featured soloist in countless evangelistic campaigns around the world.
Early Life and Musical Training
Born in Red Bank, Tennessee, on December 14, 1933, Kittie Marilyn Dillow was the youngest daughter of Oddie Clifford and Thelma Bolton Dillow.1 Her mother was organist for the local Seventh-day Adventist church and a music teacher. Marilyn started singing as a toddler and made her first recording at age three. However, it was an incident that took place when she was seven or eight years old that drew her mother's attention to the remarkable talent that her daughter was displaying. Marilyn and a friend were playing what they called a "piano game" in which her friend would play a note and Marilyn would identify the note without looking. Her mother "immediately contacted a music conservatory in nearby Chattanooga and they told her it was perfect or absolute pitch, a gift that few had, and invited her to bring me in for an examination," Marilyn recalled.2
Formal musical training to nurture Marilyn's talent began – first with piano lessons and later with vocal training under Ellen Turrentine, a former opera singer then residing in Chattanooga. In her training the emphasis was on light opera, but in her performance career Marilyn would shift the emphasis to gospel music, her "first love."3
Marilyn's mother was a leader in social activities in their town, and Marilyn often sang at meetings of the different clubs with which her mother was associated. At age eleven Marilyn began singing professionally as a paid member of the choir at the Episcopal church in Chattanooga. From age fourteen to seventeen she sang the soprano solos in performances of the Messiah presented at Southern Missionary College (SMC), now Southern Adventist University, in nearby Collegedale, Tennessee.
Faith for Today and Carnegie Hall
In 1952, at age eighteen, Marilyn was hired as a soloist on Faith for Today, a pioneering religious telecast in New York City hosted by William Fagal. During this time, she studied voice with Charles Norman Granville, a Metropolitan Opera coach, and Madam McClune Williamson, an artist who had sung years earlier with the celebrated Enrico Caruso. Marilyn also had an opportunity to sing sixteen times in Carnegie Hall when Fagal and the Faith for Today quartet held evangelistic meetings there.4
While attending SMC as a college student, Marilyn had sung in a women's trio with fellow students Frances Bumby and Mary Ellen Carden (later Byrd). Marilyn introduced the trio to Fagal and, following an audition, they were also hired to sing for the program as a regular feature during the 1952-1953 schoolyear and the following summer.
During that year they worked full-time, not only singing but also assisting as secretaries and at the telephone switchboard and performing other duties. Marilyn worked for gifted writer and producer Elaine Giddings. Her duties included typing the first draft of the weekly script developed by Giddings and Grace Fields.5
A Voice for Evangelism
At her mother's insistence, Marilyn enrolled at Washington Missionary College (later Columbia Union College, now Washington Adventist University) in Takoma Park, Maryland, in the fall of 1953. There she continued voice study under William Carey. Shortly after arriving on campus, she met Daniel Francis Leigh Cotton, a 1952 theology graduate of Pacific Union College who was studying at the Seventh-day Adventist Theological Seminary, then located nearby on the Washington, D.C. side of Takoma Park. They married on February 27, 1955, and would have four daughters: Patti, Jenni, Beth, and Lori.
Following Daniel's completion of his Bachelor of Divinity degree at the seminary in 1956, he was hired to pastor a church in Camden, New Jersey. In the summer of 1959 he was ordained, and that fall began teaching theology at Columbia Union College.6 While he taught at the college, Marilyn sang as a hired soloist for The Little Country Church, an interdenominational telecast that originated in Richmond, Virginia.
During this time, she met evangelist George Vandeman and started singing as a soloist for his telecast, It Is Written, which had started in 1956. She would sing as a primary soloist for the telecast for 38 years, most of those during Vandeman's 36-year tenure as speaker.7
Throughout the late 1950s and into the 1960s, both Marilyn and Daniel, a tenor, frequently sang in duets or as soloists at official meetings of church leaders, as well as in evangelistic efforts. In 1959 the Cottons relocated to California, where he taught in the religion department at La Sierra College (now La Sierra University), and then worked as an administrator in the Loma Linda area, where they raised their family.
Throughout her career Marilyn Cotton sang countless times as a featured soloist in church services and concerts, and at regional, national, and international Adventist church conclaves. Although she was known primarily for her singing of sacred music, she also occasionally performed secular music and concerts.
Cotton was a featured artist on the Chapel Records label, releasing her first record, When Tears Hide Tomorrow, in 1970. Additional recordings followed and as their daughters, all talented singers, became older, they joined both Marilyn and Daniel in singing publicly and in a highly praised family album, Christmas with the Cottons, released through the Quiet Hour in both CD and tape formats.
Final Years
The Cottons' continued their ministry even after formal retirement. Daniel served on the board of Quiet Hour Ministries (QHM) for several years beginning in 1992 and was the board chair for a portion of that time. Marilyn performed part time with the QHM overseas teams. In her work with that organization and during her career as a singer she traveled and performed throughout the United States, as well as in India, Nepal, Hong Kong, China, Romania, Russia, Lithuania, Cuba, and Canada.8
In 2011, as she neared the age of 80, Marilyn Cotton observed:
Gospel music is my great love, for it is true. Nothing can compare with the story it tells – of the soon coming of our Lord, Jesus Christ. I count it the greatest privilege of a lifetime to have been able to promote the coming of our Lord through the medium of music.9
The Cottons were living in Loma Linda, California, when Marilyn died on May 20, 2016, at age 82.10
Record Albums
Cotton Tales with JoRay Beach Cotton (Chapel, 1968)
Christmas With Marilyn (Chapel, 1970)
When Tears Hide Tomorrow (Chapel, 1970)
If God (Chapel, 1971)
Reach Out and Touch (Chapel, 1973)
Marilyn Cotton: It is Written Favorites (It is Written, 1981)
The Cotton Family (It Is Written, 1989)
One Child (The Quiet Hour, 1996)
He Gives Me Songs in the Night (The Quiet Hour, 1996)11
Sources
"Marilyn Dillow Cotton." Legacy.com. Accessed April 12, 2021, http://memorialwebsites.legacy.com/marilyncotton/Homepage.aspx.
"Marilyn Dillow Cotton obituary." Pacific Union Recorder, July 2016.
Wickman, Paul. "Behind the Scenes at Faith for Today, A Week at Our Television Headquarters." ARH, February 19, 1953.
Notes